d, The Boulders Penguin Colony is most popular for viewing the endangered African Penguins in their natural habitat. With a mammoth concerted effort in the last few years, the species is seeing a marvelous recovery. Their numbers have gone from two breeding pairs to a few thousand. But, it's still a tiny number compared to the millions that lived just a century ago.
Basics
The Boulders beach offers views of Penguins in Action on the beach and in the nesting areas under the bushes. It is absolutely amazing to pause and watch them in their day to day activities and different phases of life from birth to adulthood.
This article has our interpretation of penguin life as inquisitive observers on the beach. Please leave us a comment if we misunderstood something. We would appreciate any corrections and elaborations.
The African Penguins are smaller than their well-known cousins in Antarctica, but they are larger than the little penguins we saw in Australia and blue penguins in New Zealand. The adults are about 46cm tall and 4-6Kg in weight.
The African Penguin lifecycle can be divided into four phases is –
40 days as an egg
3 months as a chick
1 year to adolescence and
Adult life. They start breeding after age four.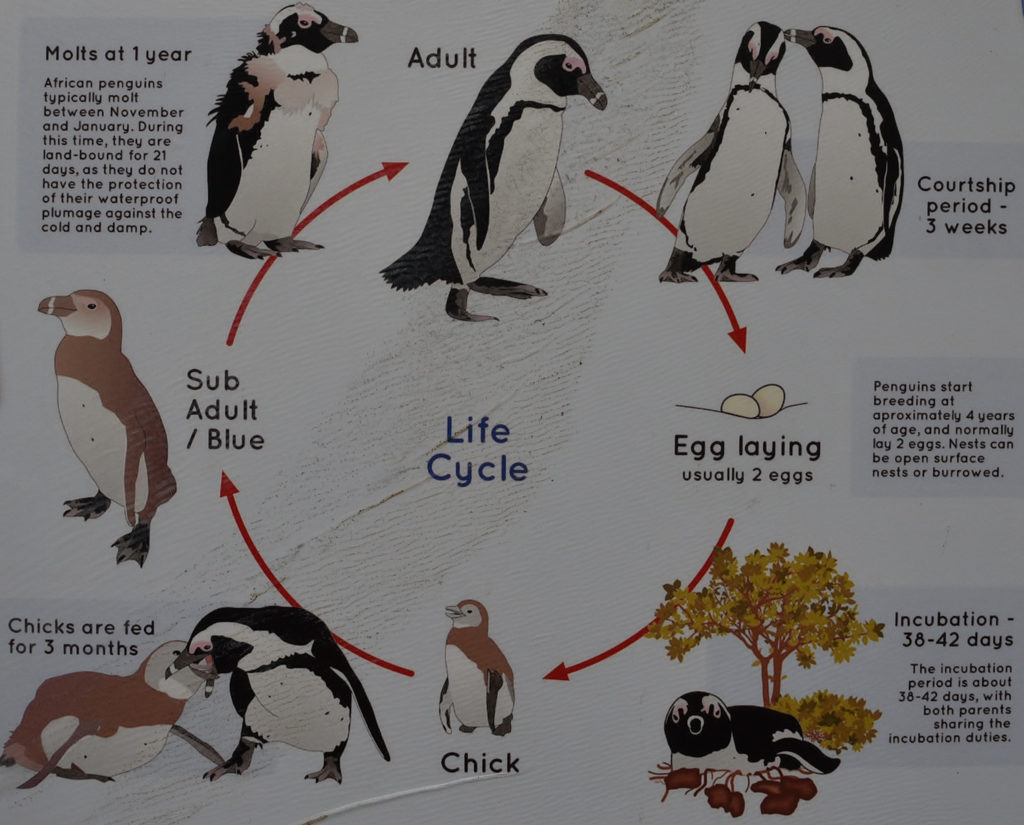 The best viewing location for African penguins is in Boulders beach in Simon's Town south of Cape Town within the National park. Boulders beach is situated along False Bay. The bay is famous for the penguins but it boasts a very rich and biodiverse ecosystem of birds, plants, and fish.
African Penguin Chicks
African Penguins lay their eggs in nests lined with twigs right on the beach or under the bushes hidden from sight. The parents take turns stays in the nest with the baby for a month. Thereafter the parents leave their chicks with fellow babies while they swim out for food.
The babies have a furry brown coat at birth. Within a year, the coat will shed and they will grow the black water-repellent feather.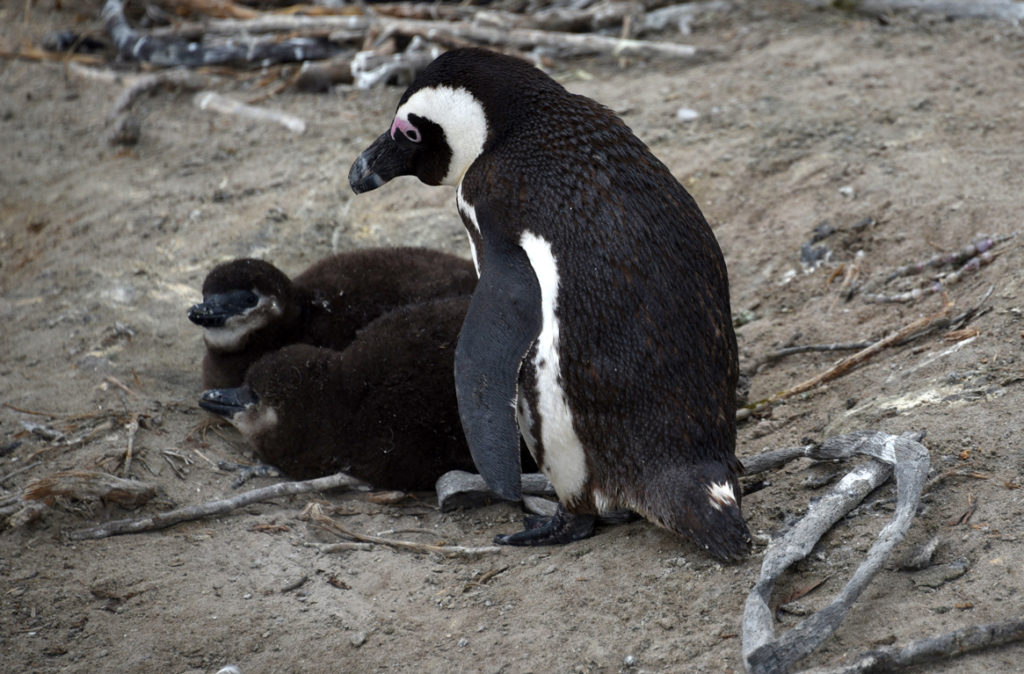 The babies huddle together protection from the cold and from other predators as they wait for food.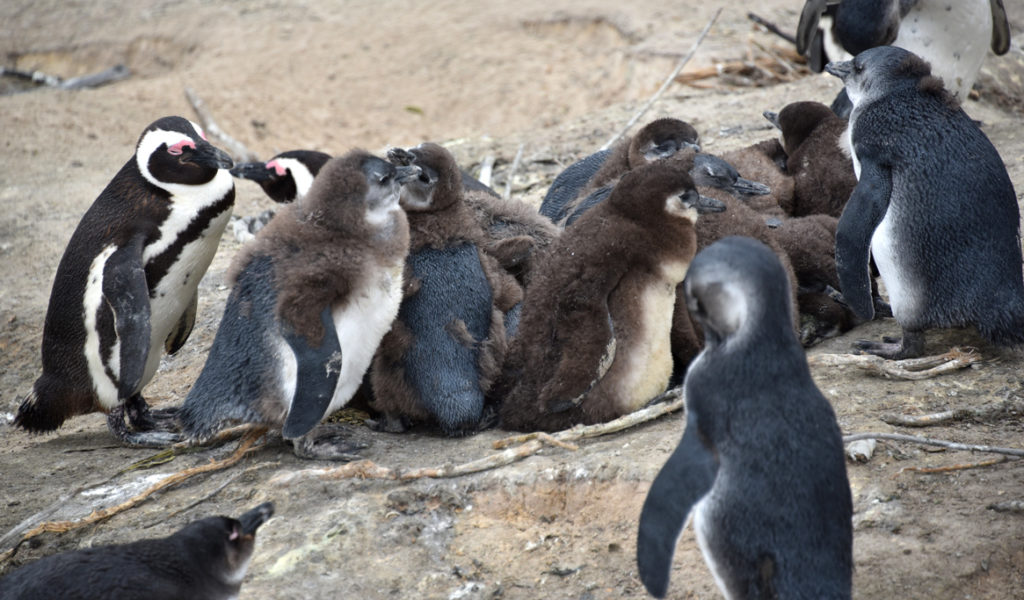 Adolescents African Penguins
Past the chick stage, the young ones shed their furry coat and get brown feathers. During this phase, they are trained to swim, fish and become independent.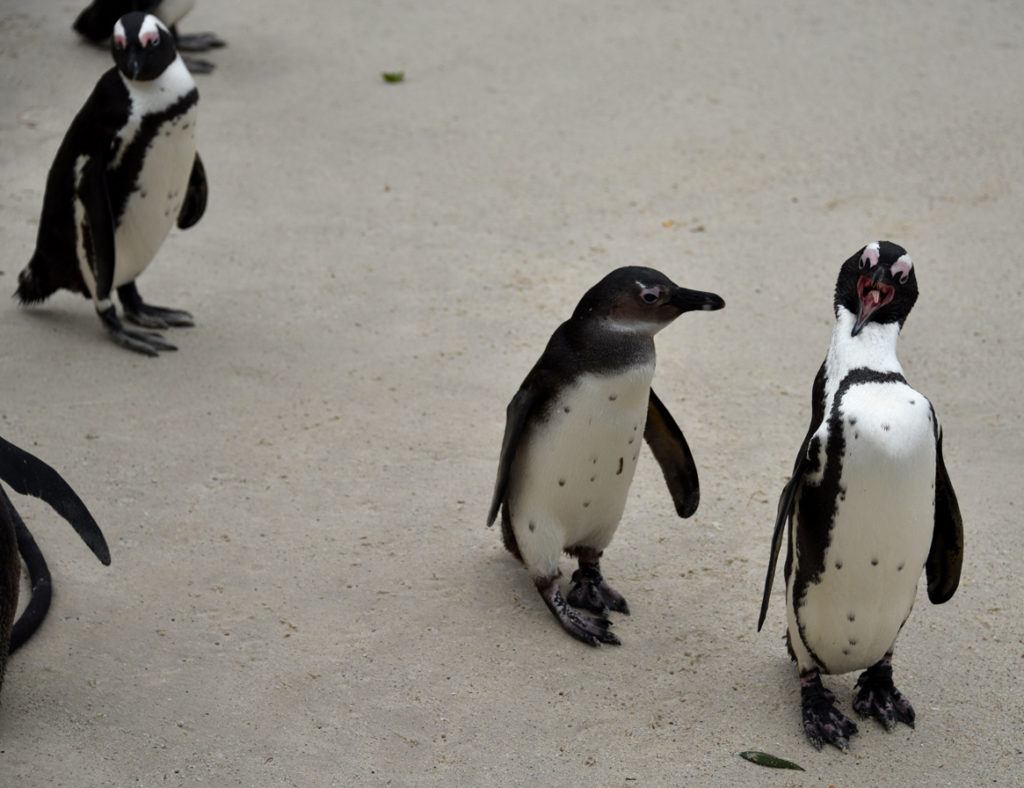 Courtship on Boulders Beach
When the youth are about four years old, they find a mate to start a family together.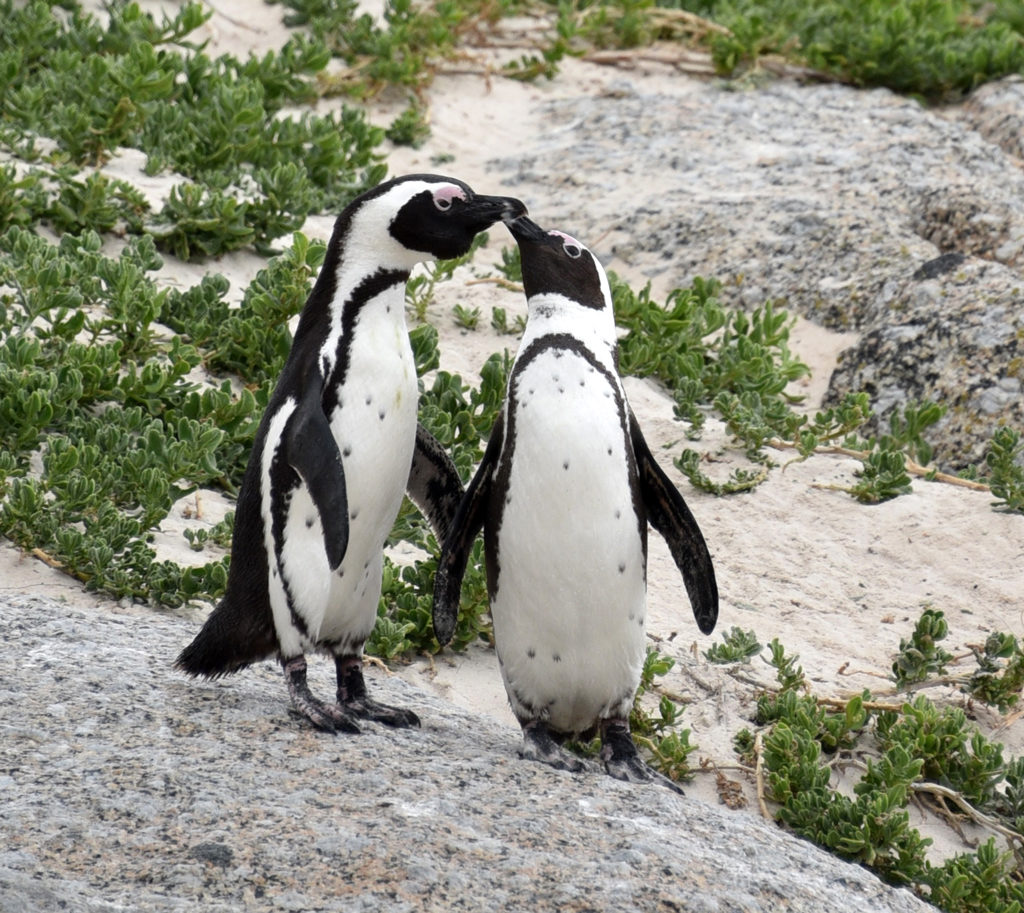 Two lovebirds hang out in Boulders Penguin Colony in Simon's Town, South of Cape Town.
African Penguins court for about 3 months. They also care for the eggs and little ones together. It's nice to see gender equality in this species.
Nesting in Boulders Beach Colony
Nest building is a critical decision for any couple. Like humans, I suspect that penguins put a lot of effort into building their family's nest. We noticed that they put in a lot of effort too. We saw 3 kinds of nests Boulders Penguin Colony –
The clusters of nests on the open beach. Each lined with twigs. These are convenient for parents as they can go for a quick fishing trip.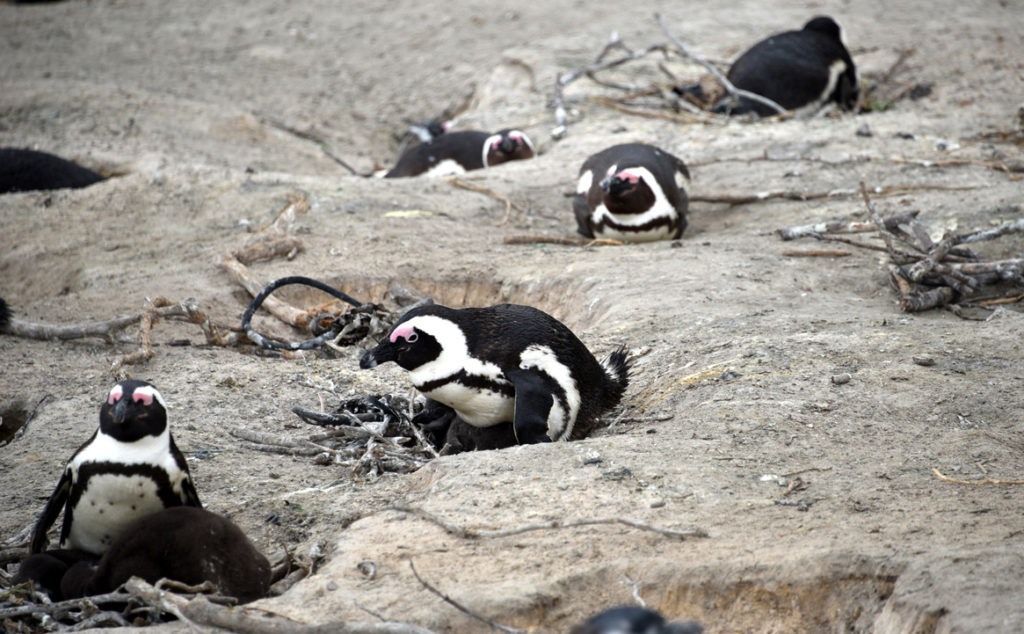 Nests under the dense bush are covered and sheltered from predators but farther from the fish.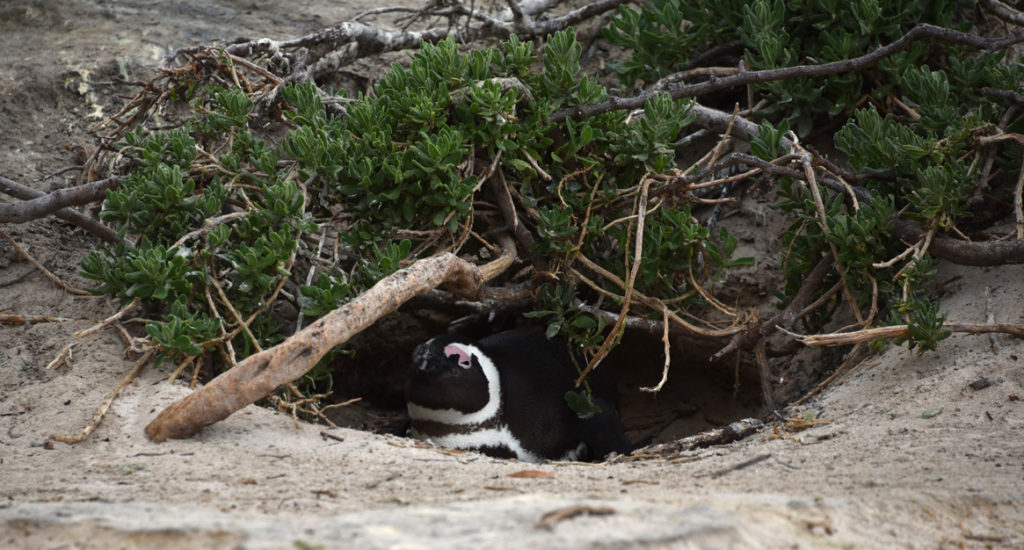 The safest nests are those built inside cylinders that humans half buried for their use.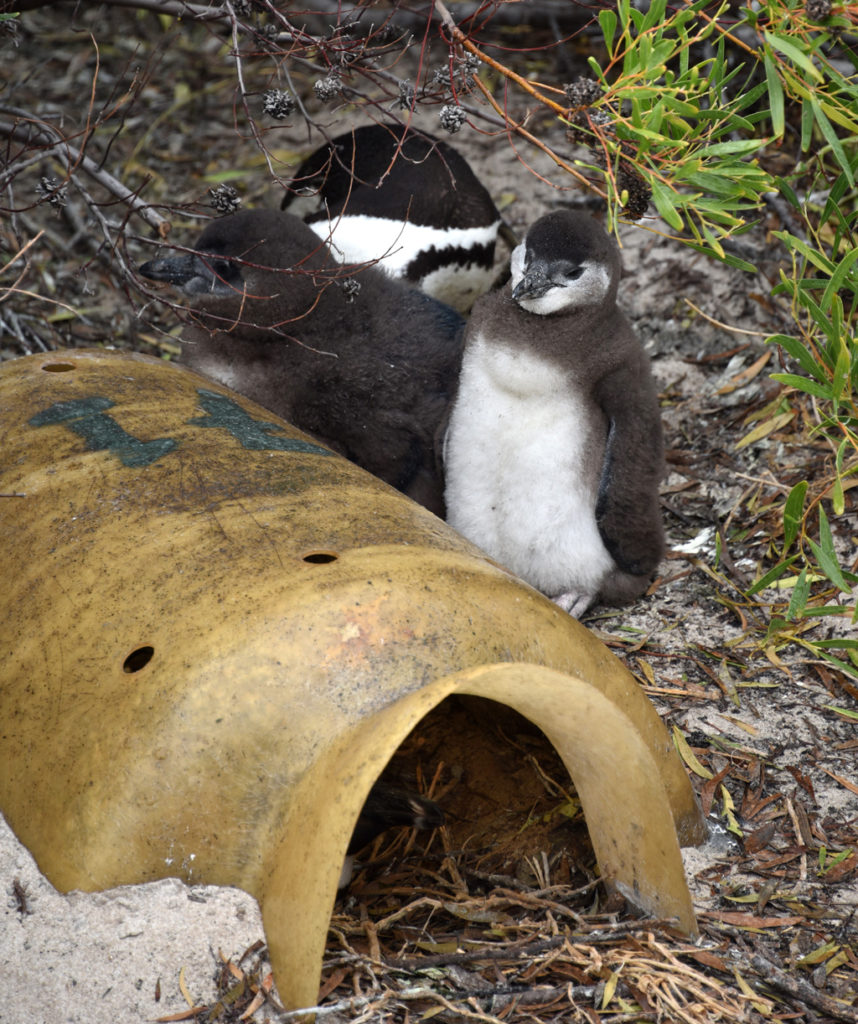 The African Penguins find protected spots to build nests for their eggs and young ones even in Boulders Penguin Colony as predators are eager for young chicks. My guess is that picking a nest is a big decision for the committed couple. This couple seems to be in discussion on nesting strategies.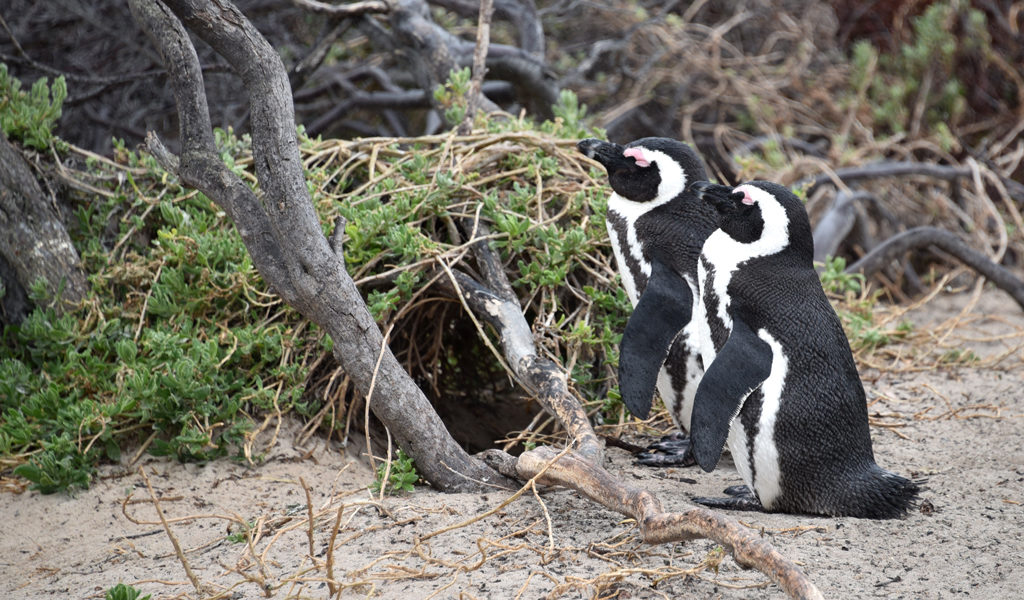 It's so cute to watch the African Penguins argue. Here it seems the two are fighting over a twig, an essential material for building their nest.
There is so much action in Boulders penguin colony! These penguins seem to be in strategic discussions in the nesting areas under the boardwalk.
African Penguins' Life as an Adult
The African Penguins seem to spend much of the day standing on the beach, sunbathing, scratching or cleaning feathers, diving into the ocean on receding waves and walking out with the rising waves.
The African penguins can't fly but they are strong swimmers. Watch how they walk in the waves, jump right in and swim the strong waves. They can swim like ducks on the surface and dive in like fish. They can hold their breath for up to 2.5 minutes. They are such strong swimmers that even in the strongest current they don't go smashing into the large ancient boulders on Boulders beach in Simon's Town south of Cape Town.
African penguins on Boulders Beach seem to swim multiple times during the day and possibly at night. They get their food from the rich fish population in False Bay.
So Cute…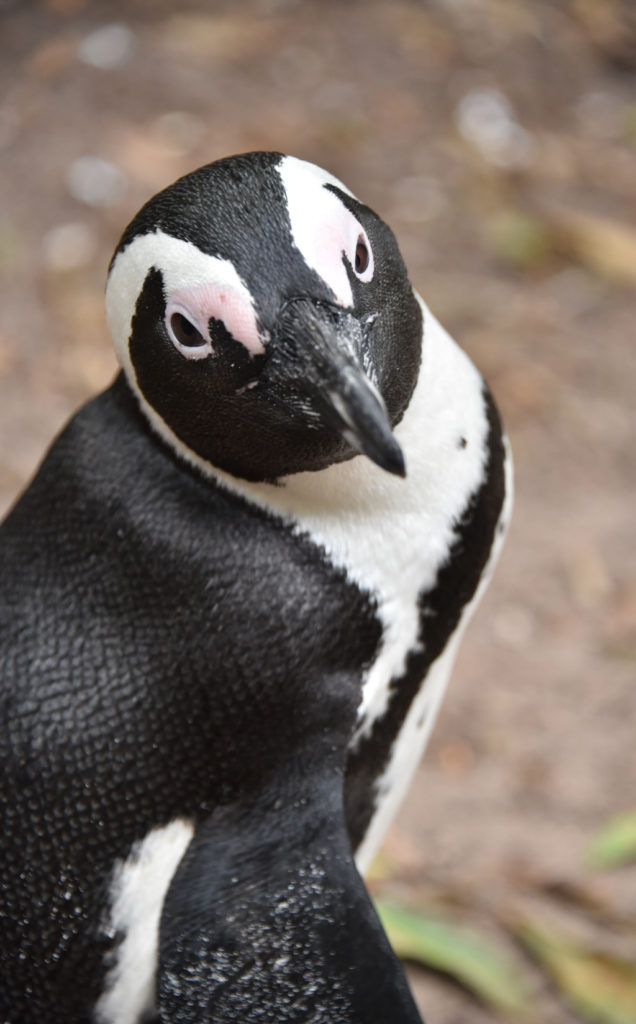 The African Penguins get up close in Boulders Penguin Colony and even like to engage with visitors. Check out the luxurious black coat of this adult and how briskly they walk about.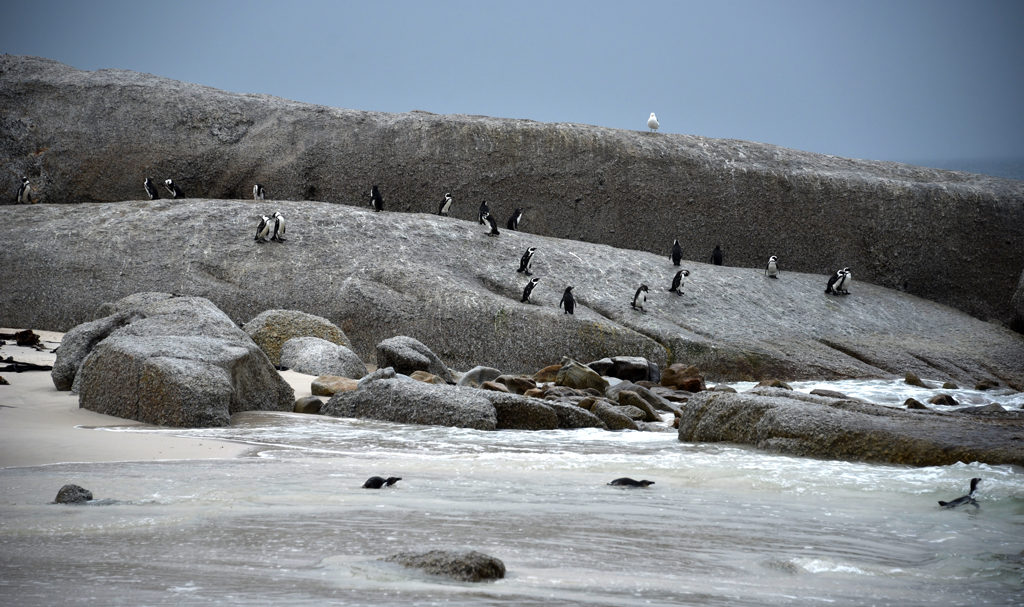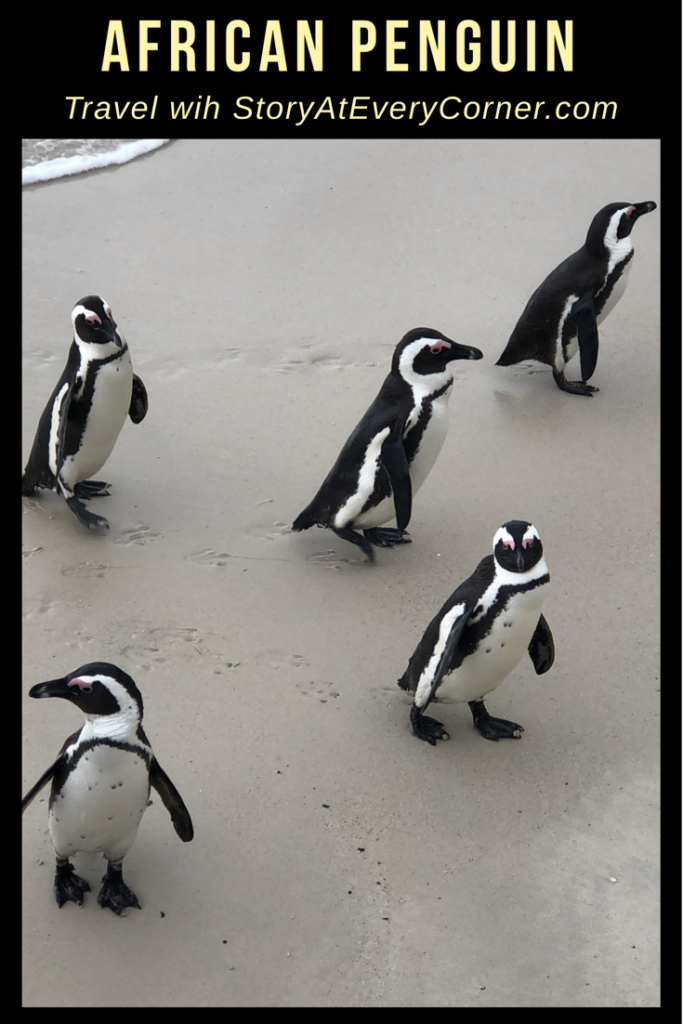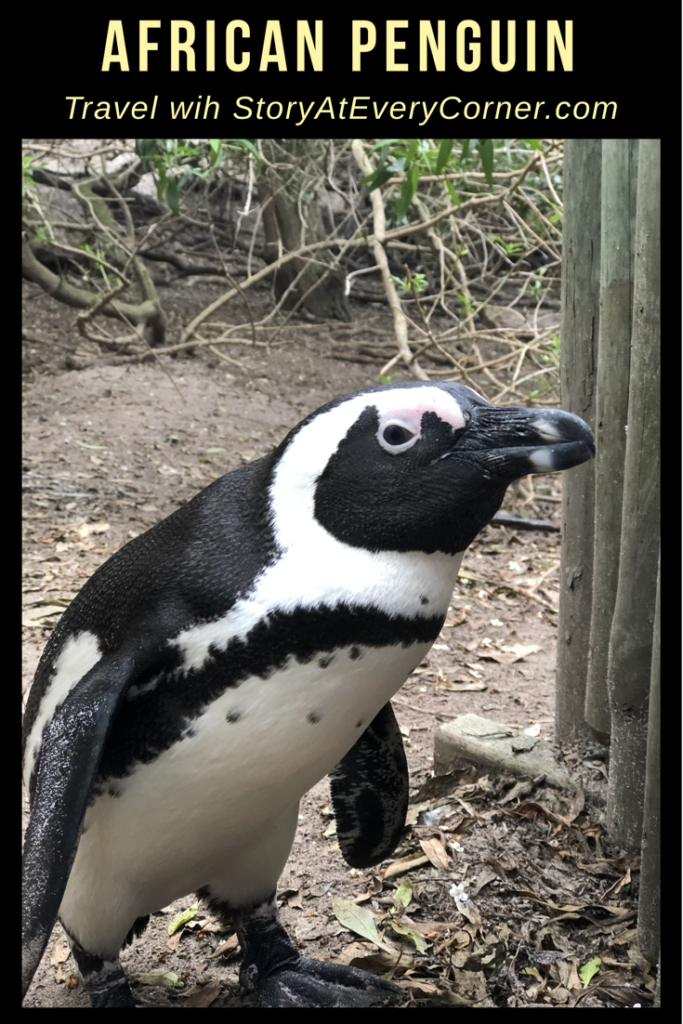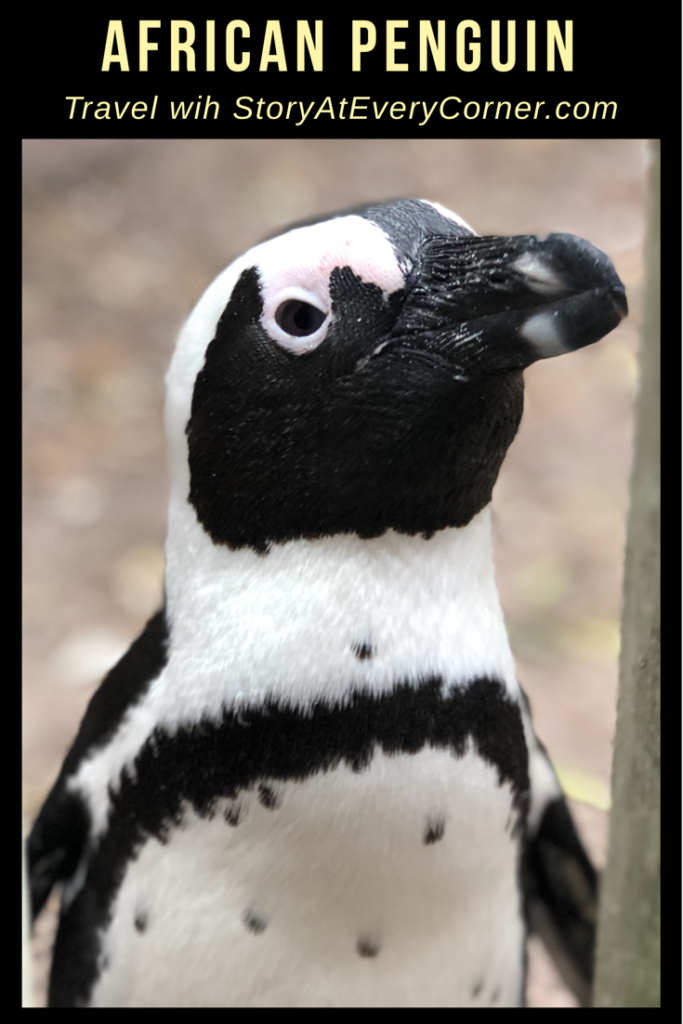 Related Links
More on Cape Town Travel site.