We first came across a haystack like structure on a tree in Kruger national park on Sunset Lake and did know what to make of it.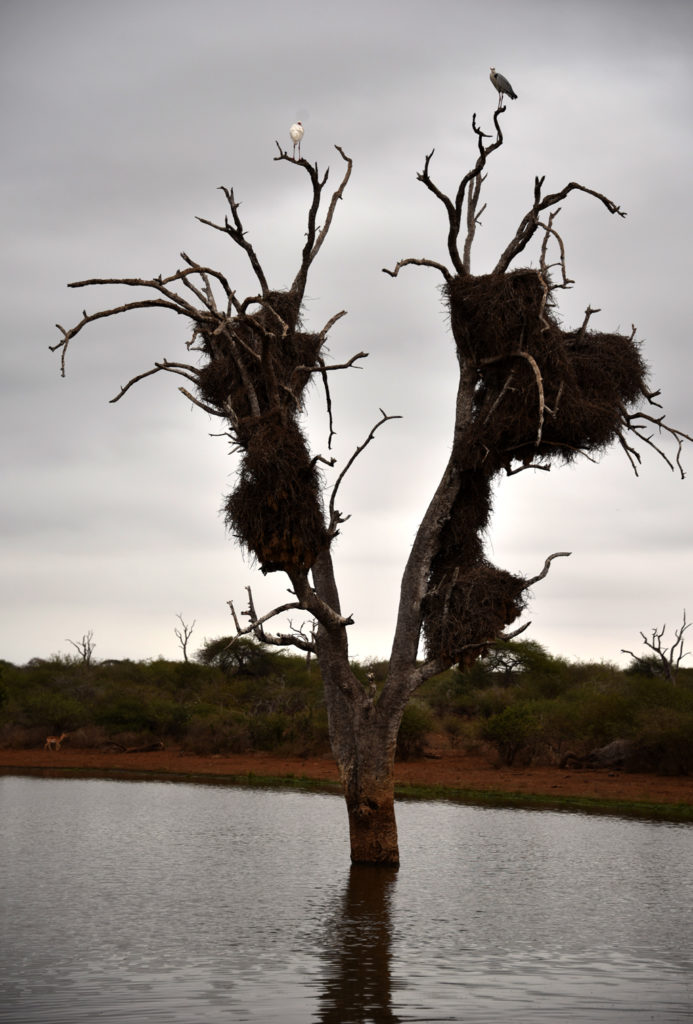 Driving across Namibia we saw tree after tree with what looked like huge haystacks on empty branches.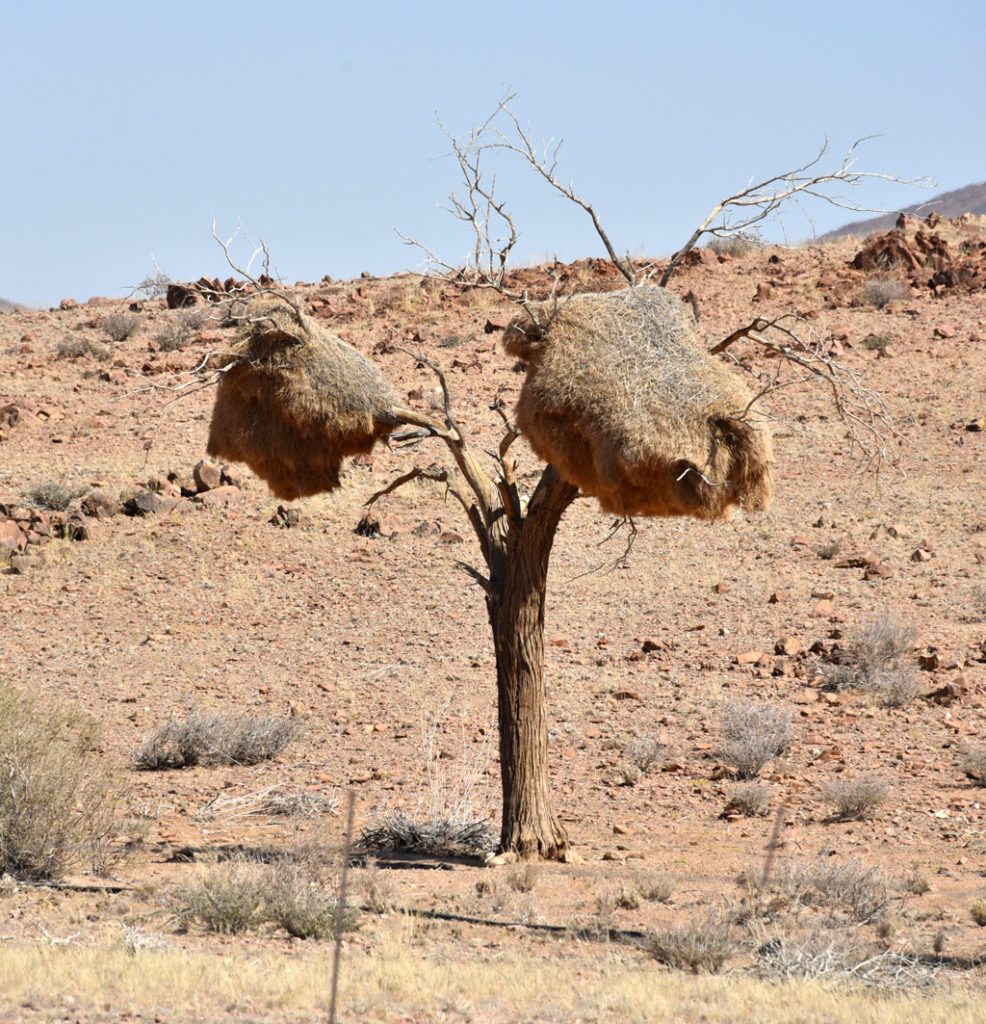 And haystacks on telephone and electric poles.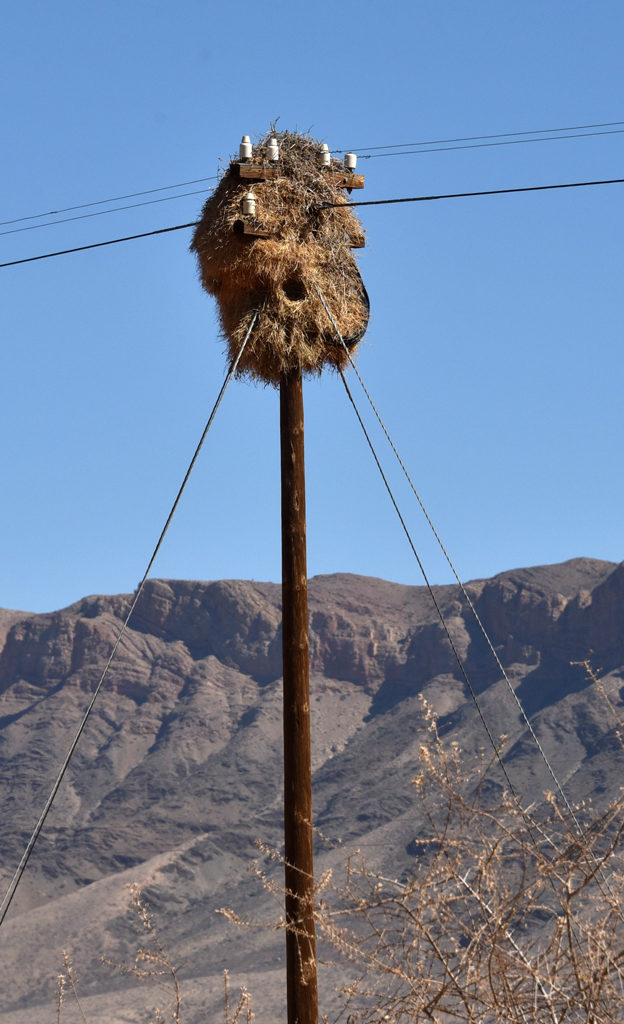 It was really odd. How could a haystack this large get stuck so high? Maybe on bushy trees but how do they get stuck on poles?
We got curious so we started asking around and investigating the structures. To our surprise, found that these structures are built by little sparrow-like birds that live in the arid and semi-arid regions of Namibia and South Africa. As we researched more, it got more and more interesting.
Sociable Weaver Nest
Sociable weaver birds build huge nests on trees and telephone poles. They are easy to spot because they look like a pile of hay stuck on otherwise empty trees or on utility poles. From the top, the nest appears to have a heavy blanket of straws with no holes for entrance. However, hidden underneath are small holes. Each hole/opening is a passage into a chamber where multiple birds live together and eggs are incubated.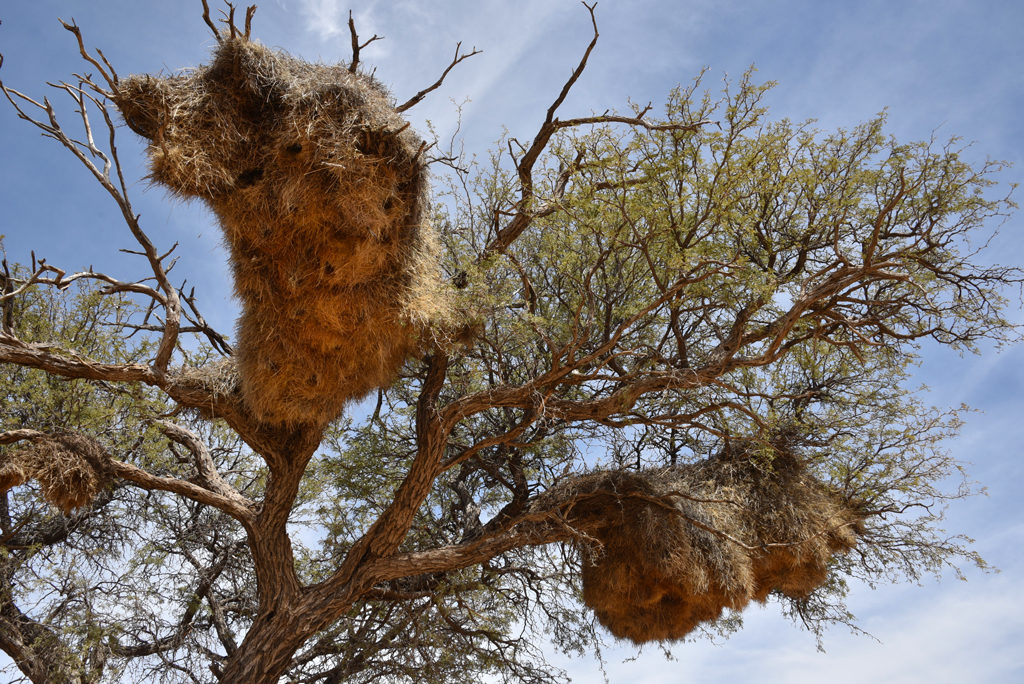 The sociable weaver birds have designed quite an engineering marvel. The large nest's structure is supported strong wooden beams, filled with smaller branches and twigs to keep the structure together. The chambers are then created with independent entrances.
The sociable weaver nest keeps the extended family cool on hot summer days and warm on cold winter nights. The close proximity generates warmth, so they need very little food in to survive the cold winter months.
The family chamber is quite comfortable because it's lined with twigs, cotton bal, s and feathers.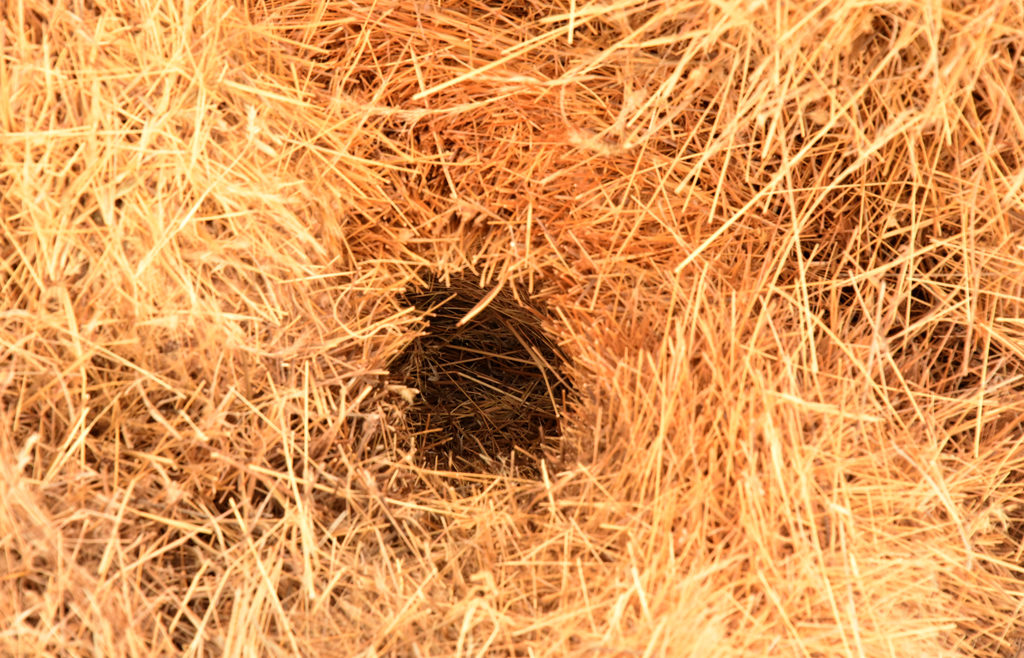 Sociable weaver birds keep expanding the nests so they become enormous. When it rains the nest becomes wet, soggy and heavy. Sometimes the nest become so heavy that the entire tree collapses under its weight.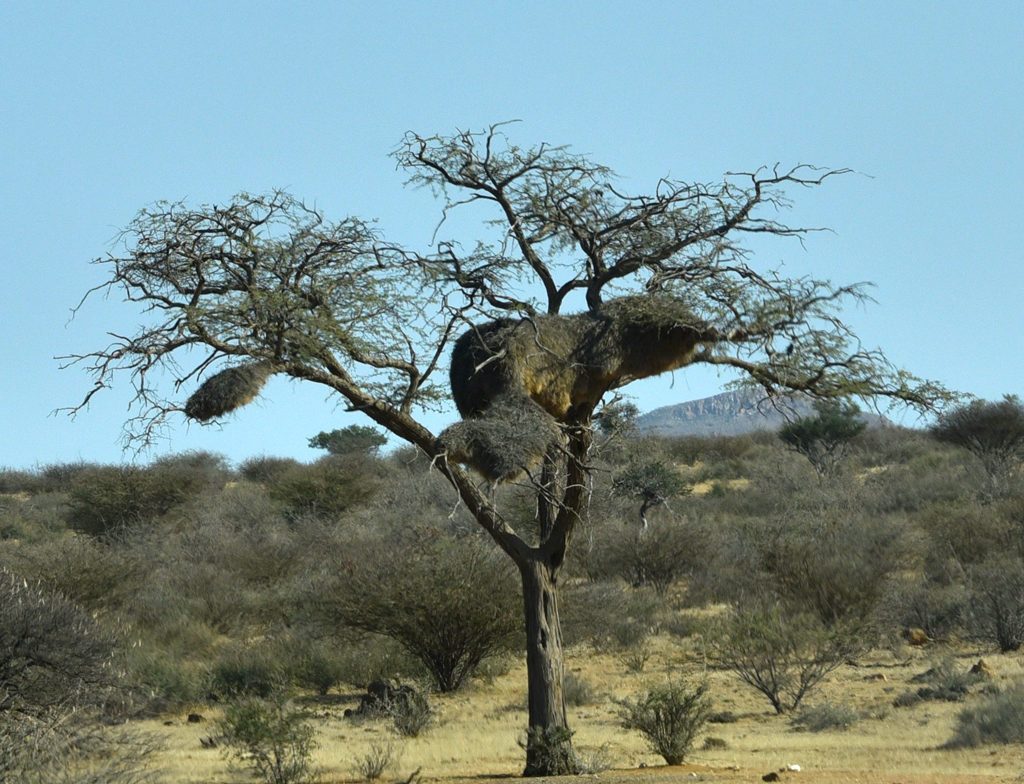 The sociable weavers are the one of the rare birds that keep working on the nests all year long and over generations of birds. Most birds abandon their nest once the babies are grown up and start new nests every year. But, sociable weaver nests have been found to be 100 years old and thriving.
Here is a short video of a sociable weaver nest and the busy birds. Notice the cacophony of noises they made when we moved under the nest.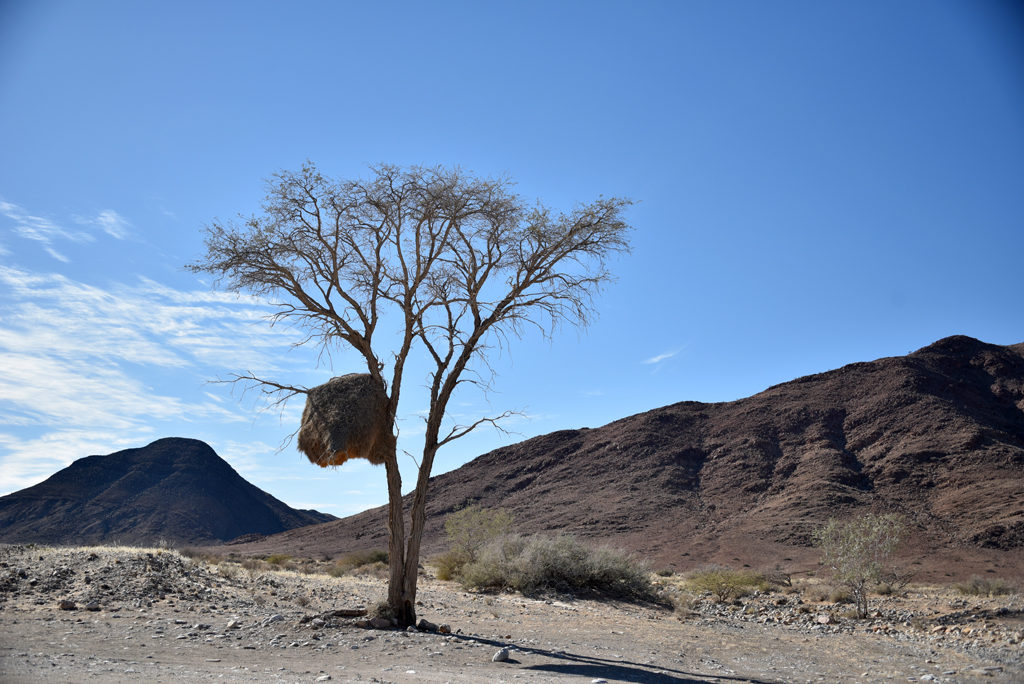 Sociable Waver's Lifestyle and Survival in the Desert
The sociable weaver birds live together as a family unit of parents, older kids and babies.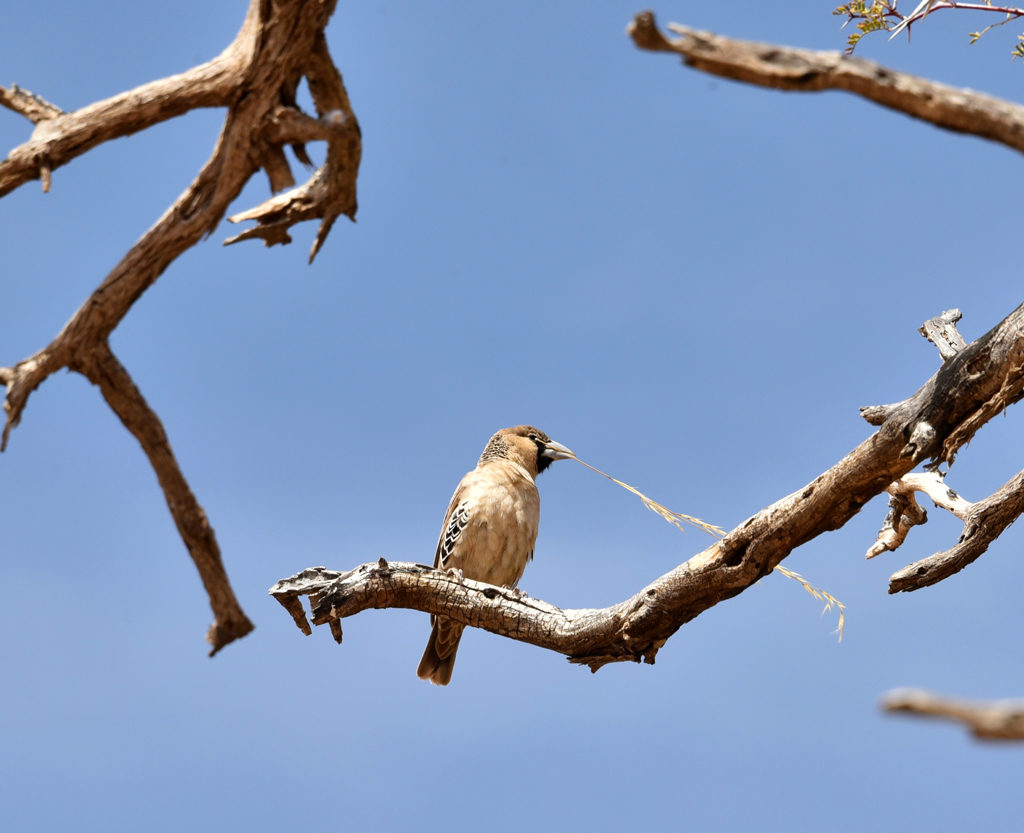 These little birds know how to conserve resources in the arid desert and maximize their lifespan.
Sociable weavers live for nearly 10 years in the extreme conditions of the wild! Their secret to such a long life is a conservation oriented lifestyle. They need very little food and they don't start breeding until they are two years old. They drink almost no water and live mostly on seeds and little desert food.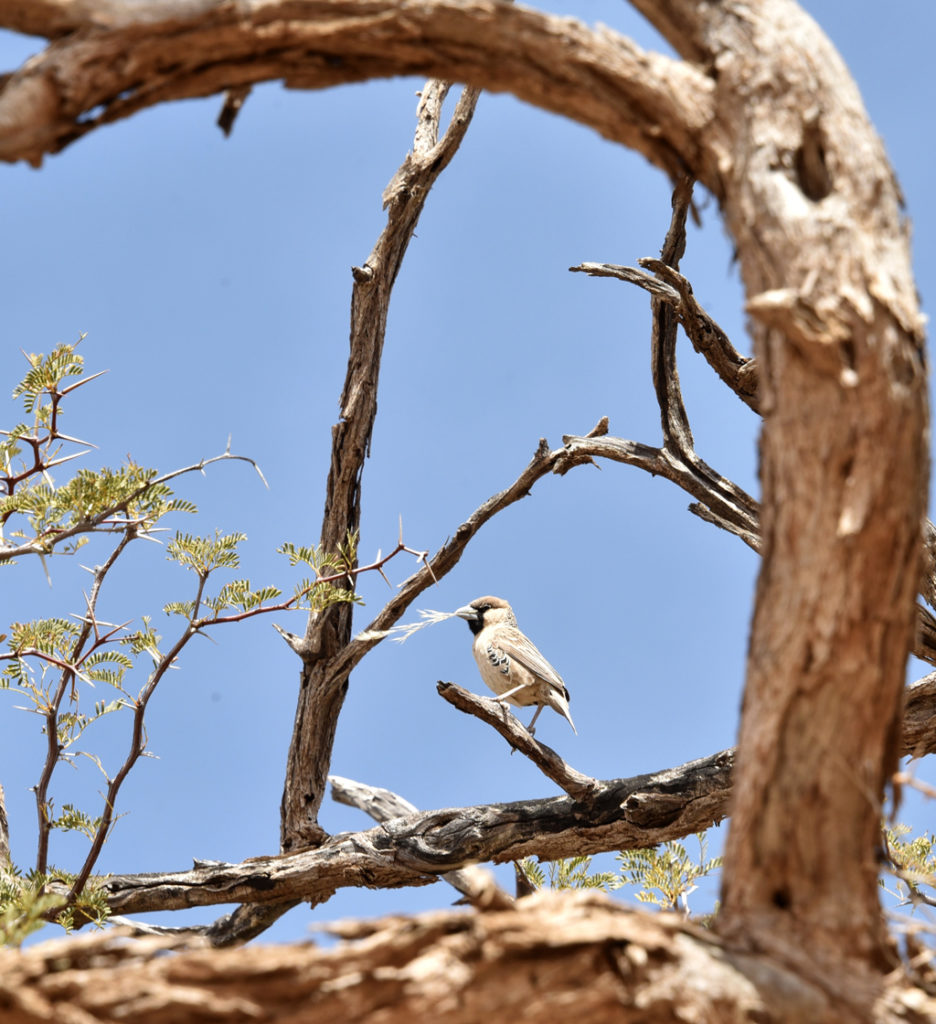 For the first two years of their life, young sociable weaver birds do all the house chores like bringing food and twigs; building and cleaning the nest; and caring for the babies. It's only when they are secure and older, do they move out and start having babies. The kids never leave the nest, they move into another chamber in the same nest and continue supporting each other.
Once sociable weavers start having babies, they have lots of them and that's pretty much all they do. So, the older kids are a crucial link in the long life of a sociable weaver nest.
The sociable weavers help their neighbors with food, child care and house chores – like good human neighbors do in tight communities. They all survive and thrive
together in healthy nests and healthy communities.
Predators and Threats for Sociable Weavers
The sociable weavers nests do a great job of protecting the bird colony from big birds and predators. With the fully covered top area, the large birds can't get to the nests and the babies. However, large birds commonly rest on top of the huge sociable weaver nests.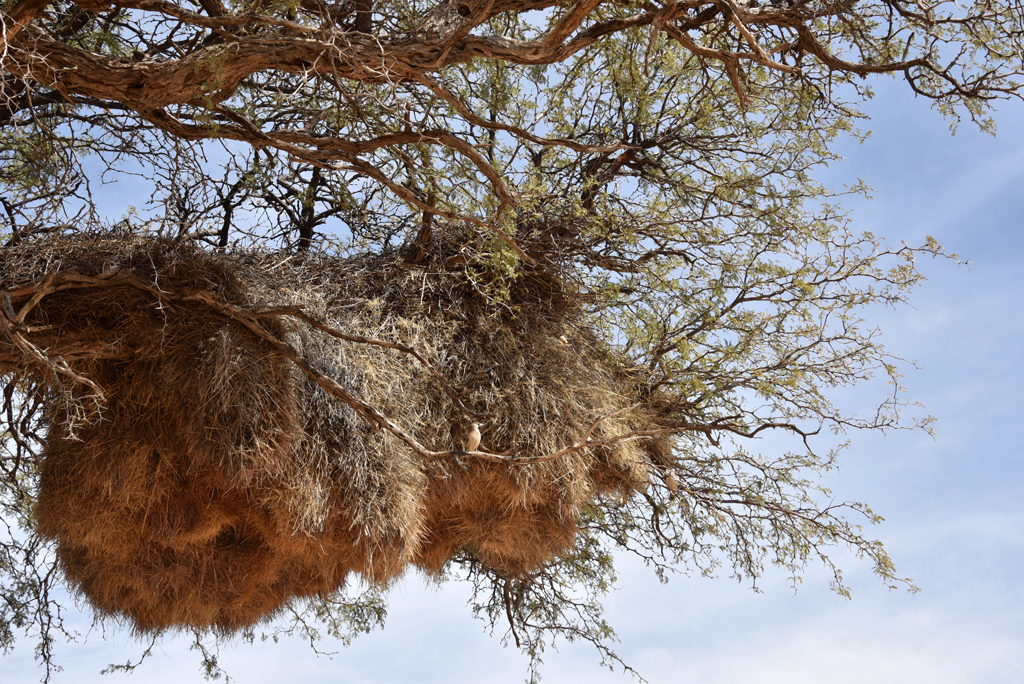 Their main predators include snakes and small mammals. Cobras can wipe out a whole nest filled with eggs in one big sweep. Some predators take over the sociable weaver nest and make it their own home. So, the sociable weaver birds like to build on telephone poles or trees with few branches. Without branches to crawl over its harder for predators to sneak into the nest.
The sociable weavers protect themselves by make deafening shill noises when danger approaches. They can also attack predators in large numbers to protect their nest.
The eagles and big birds perched on the sociable weaver nest make noises with approaching predators and warn the sociable weaver birds inside the nest.
More…
The nests can be easily spotted all long roads in arid and semi-arid parts of Namibia and South Africa.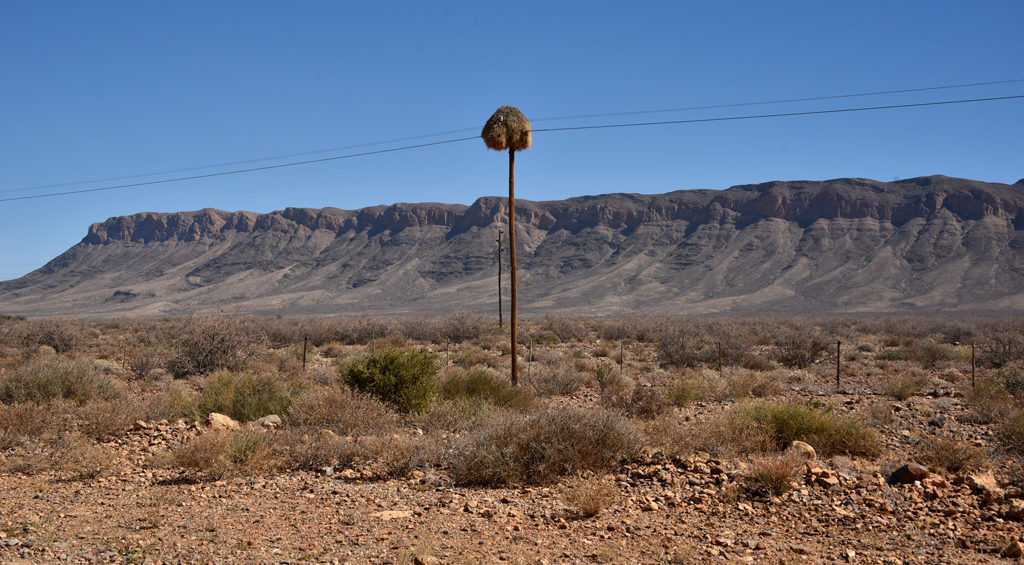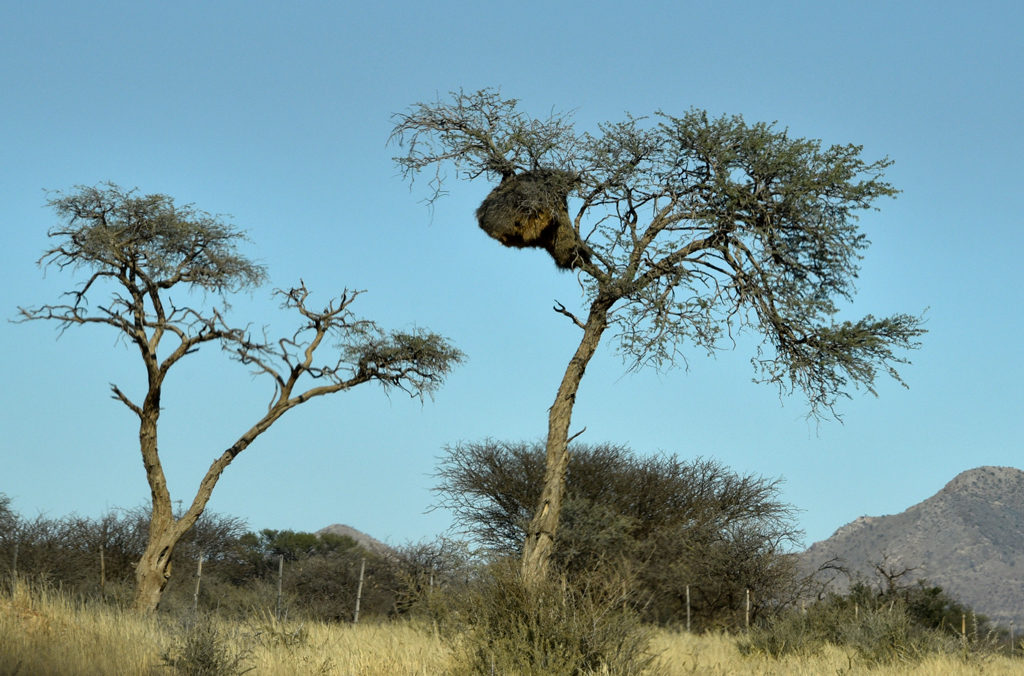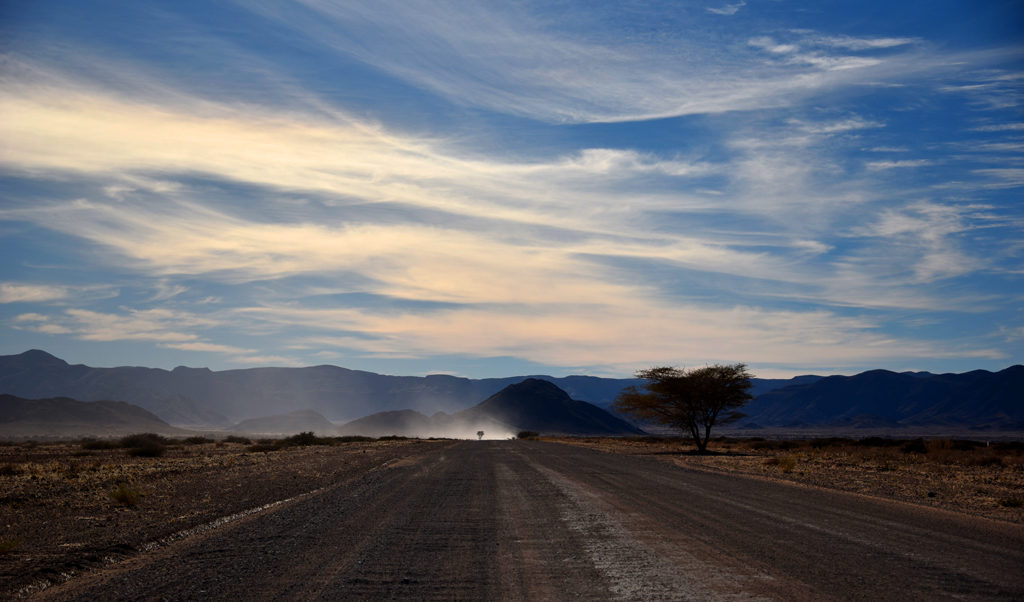 Red-billed Buffalo-Weaver
It turns out that the odd structures we saw in Kruger's Sunset lake is in fact made by Red-billed Buffalo-Weaver.
Thanks, Robert of the African Pygmy Falcon and Sociable Weaver nests project for sharing the information.
Also, thanks Robert for sharing the information that sociable weavers are restricted to the Kalahari and Namib desert.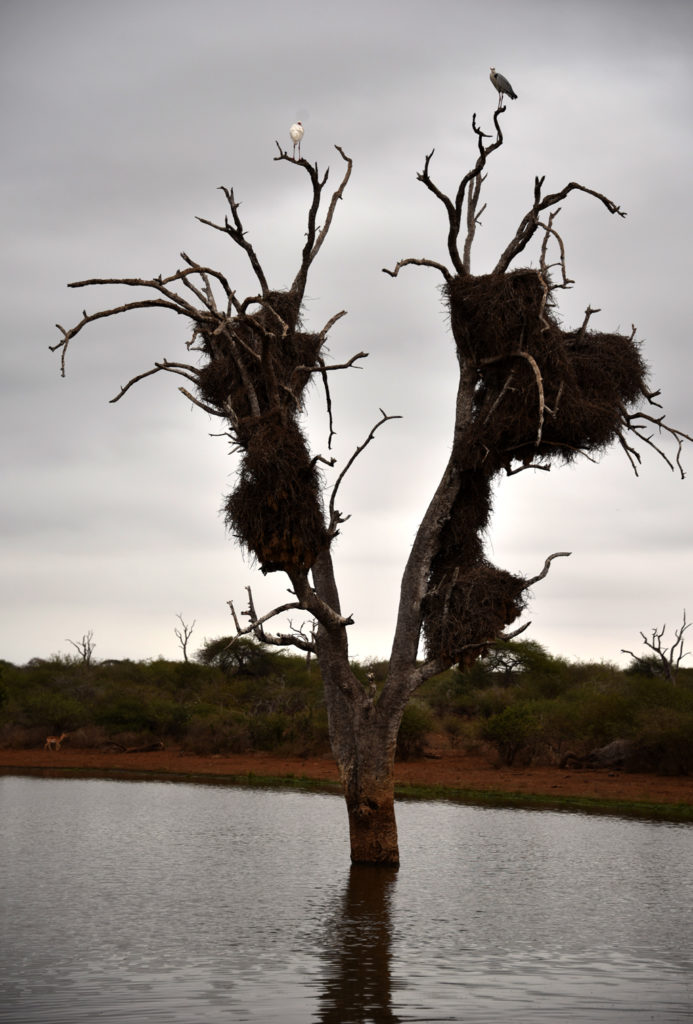 Related Links