As we walked towards the bridge between Zambia and Zimbabwe, a woman walking behind me noticed that I was about to step on a little branch with thorns almost an inch long. She tried to warn me but it was too late. One of the thorns and the branch had securely lodged in my shoe. She promptly bent over, removed the thorn and threw it away along with the branch! I was so glad it didn't make it through the shoe into the sole of my foot.
What a kind, generous and proactive person to instantly rescue a foreign stranger, without a second of hesitation!
We had a long walk across the bridge from Zambia to Zimbabwe so we started chatting and it soon felt like I was talking with a friend I've known forever.
My rescuer's name is Thethelela, which means 'forgiveness' in Zimbabwe. What a beautiful name and such an important character trait for anyone. Thethelela is a public school teacher.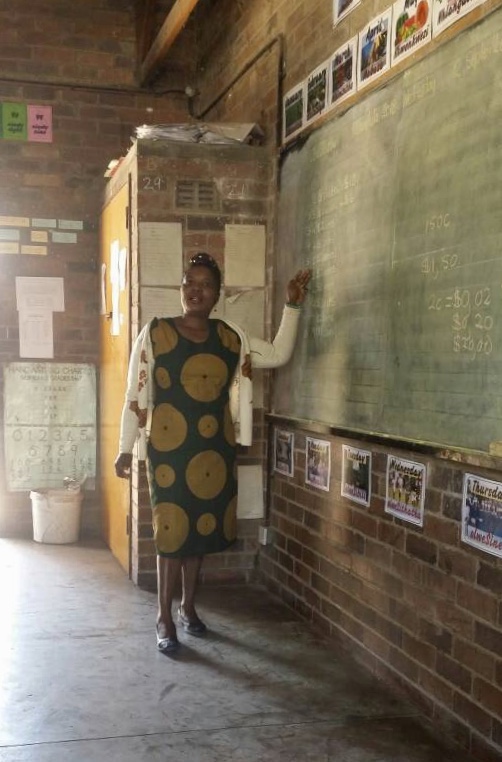 Public Education System in Zimbabwe vs Zambia
I had heard from other locals in Zambia, across from Zimbabwe, that the public school teachers are no good and are usually absent or not present even when they are in the class. After talking with Thethelela I can't believe that perspective. Either the comments were untrue or she is an exception.
Even for Thethelela who seems so good, it must be a challenge to teach in public school. She has 48 students in her class. In comparison, classrooms in private schools have 20 students. Her favorite is Math but she has to teach everything.
I was wondering what she does for her kids. Does she send them to private school? It turns out that she has three teenagers – 2 sons and a daughter. All of them went to the public school system. She worked with them at home and kept the focus. All of her kids are doing well in school and they are fully expected to go to college. "like mother like children" as she says with a chuckle.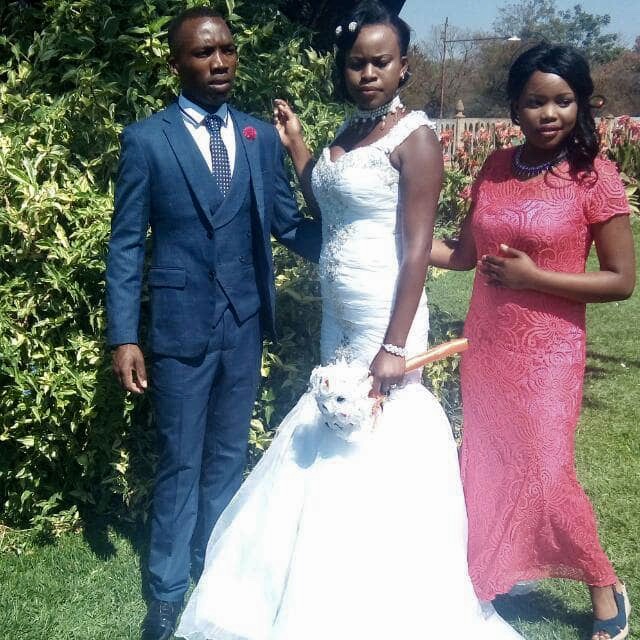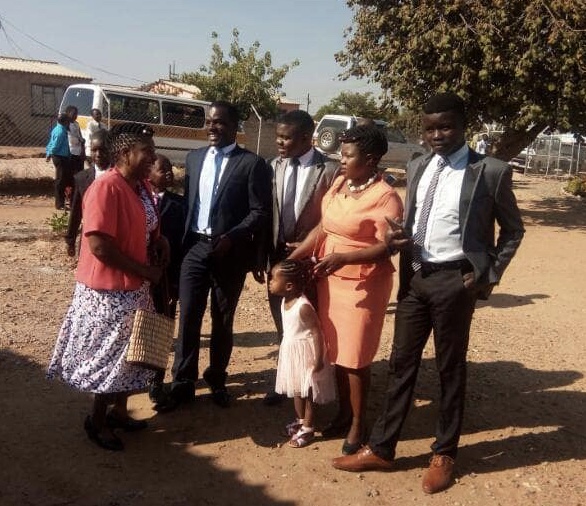 I wanted to know her perspective of teaching the public school system (as opposed to the frustrated parents I had spoken with earlier). Thethelela explained that it's really hard to teach almost 50 kids with all different levels of interest and ability. But she seems to have figured out the techniques for managing large class sizes. Teaching public school is particularly difficult. While some parents are involved in schooling their kids and care for a better education, other parents are not interested at all. Others yet, leave the kids with grandparents to have their own life. It's really hard to teach such large and diverse classes without parent support.
I asked why she was shopping in the middle of a weekday. Shouldn't she be in school? It turns out that school was out due to Zimbabwe's 2018 presidential elections. It was the iconic and much-covered elections, even in the US. Finally, President Mugabe was challenged and lost to the opposition after his multi-decade long tenure. One of the reasons for his loss for the large uproar against his policy of taking away land from the white farmers that own a lion's share of Zimbabwe's land despite decades of apartheid abolishment. The entire school system started summer holidays one week earlier due to the presidential elections. The students will make up school work because schools will start a week early in September.
A School Teacher's Thoughts on Zimbabwe vs Zambia's Economy
The world has heard so much about the economic meltdown of Zimbabwe. Especially the stories about people carrying huge bags of money to get a piece of bread. The paper that notes were printed on cost, a lot more than what the currency was worth.
Things have changed a lot since those horrific years. They use the South African Rand for daily business. Thethelela's opinion is that Zimbabwe has a lot of resources and the government is not utilizing the resources. In comparison, Zambia is doing better in that regard.
Trade Across the Zimbabwe and Zambia Border
Thethelela was returning to Zimbabwe after a brief shopping trip to Zambia. Things she needed are cheaper in Zambia. It seemed like she was carrying things like laundry detergent.
On the other hand, but we saw men on bicycles carrying bags of oranges and heading towards Zambia. It turns out that oranges are cheaper in Zimbabwe so people buy them there and carry them to Zambia to sell for a profit.
The bridge is small and narrow so only one truck can pass over it at a time. This causes a lineup of transportation trucks Zambia-Zimbabwe bridge all day. The trucks carry copper and other minerals across multiple countries like Angola, Zambia, Zimbabwe, South Africa etc. Africa produces huge quantities of minerals, rare elements, diamond and much more. The monkeys seem to enjoy hanging out on the trucks' cargo.
Sugar Ban from Zimbabwe to Zambia
We saw a desk at the Zimbabwe border crossing with stacks bags with brownish crystals. They were about 500gm each. I asked the girl at the desk what she was selling. She said "I'm not selling them. These are your sugar bags." She made no sense. After some conversation, I learned they were bags of sugar she had confiscated from people trying to smuggle some to Zambia.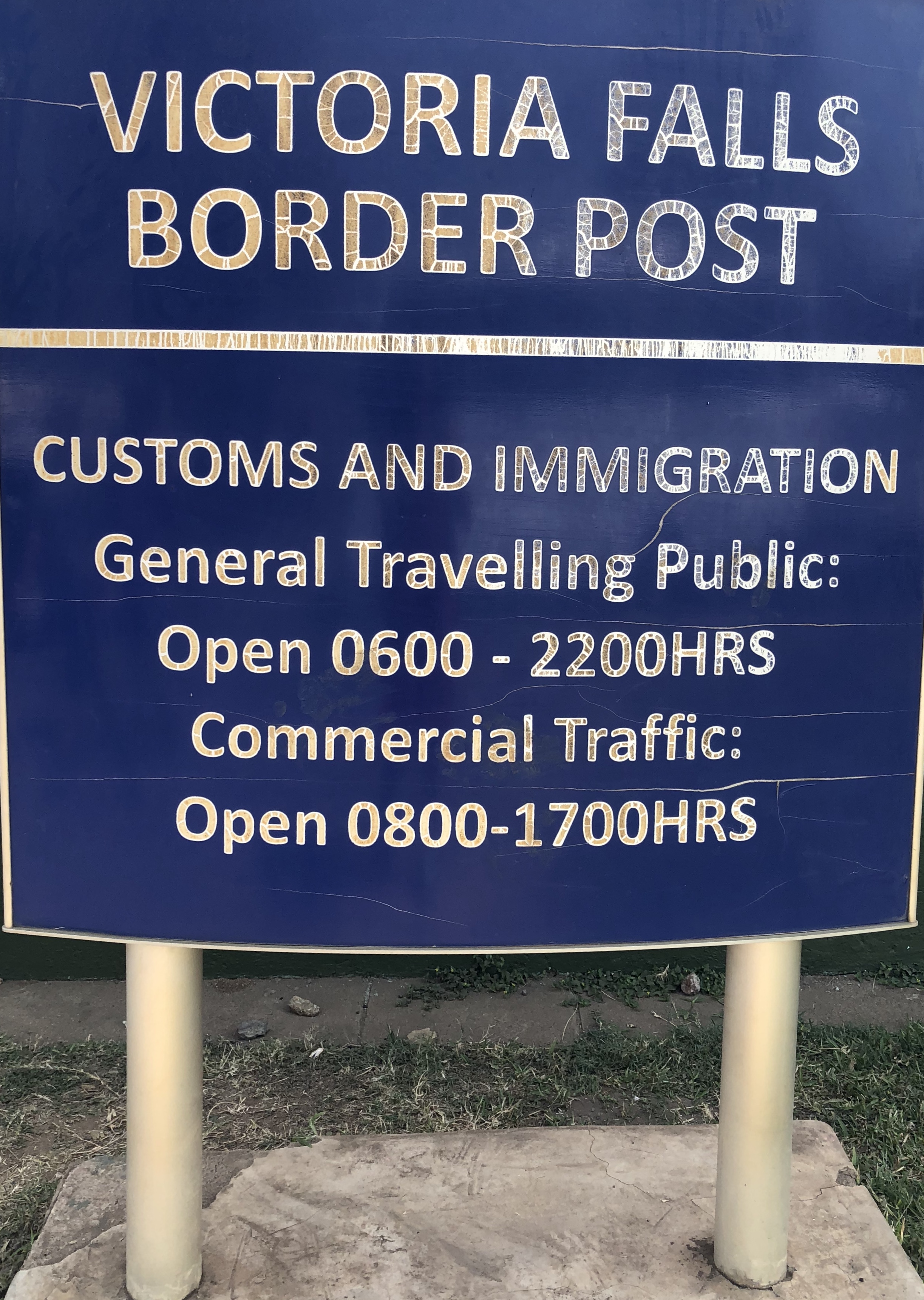 It's banned for people to carry sugar from Zimbabwe to Zambia. Thethelela says their sugar quality is better so if Zambians were able to buy Zimbabwe's sugar, the Zambian sugar industry would collapse. Interesting, the sugar is checked by the Zimbabwe customs and confiscated on exit and not by the Zambian authorities. Good negotiation by the Zambians to save themselves the customs labor cost!
Zimbabwe's 2018 Presidential Elections
Zimbabwe's 2018 presidential elections had happened the week before we reached Zimbabwe. The results were declared the day before our walk over the Zambia-Zimbabwe bridge.
I asked Thethelela what she thought of the outcome of the elections that had just finished. Does she think it will make things better for Zimbabwe? Sadly, she has little hope. All politicians on both sides are the same, corrupt. She's expecting more of the same. For her, life will go on.
Local Tourism
She too took pictures of Victoria Falls from the bridge to show to her kids. That made me realize that she probably doesn't come this way very often. When I asked her which side has better views of the falls, Zimbabwe or Zambia she thought Zambia was better. I think, she thought that Zimbabwe side was just what we could see from the bridge. In any other part of the world, that view in itself would be impressive but for Victoria Falls, it was just a tiny peek.
It makes me wonder how many of the local residents visit the falls? I wonder if there is a free open-to-residents day at the falls? I wish there is such a day so everyone can see what a spectacular place they live in, after all, it's no small feat to be listed as one of the seven natural wonders of the world.