Somewhere in middle of Old Delhi and New Delhi stands a monument over 2,200 years old, representing a unique piece of history for the Jains. My suspicion is that most Jains are unaware of its existence, let alone know its relevance in their history. The monument is one of the pillars of the great king Ashoka, standing tall inside the Feroz Shah Kotla fort. Since I discovered this during my research on Jain history, I have been anxious to see it with my own eyes. During our recent India trip, we got an opportunity to bear witness to this historic monument.
The Ashokan Pillar
Mauryan ruler Ashoka, 273-232 BCE, was a patron of the Buddhist doctrine or Dharma. His pillar edicts assert his desire to support spread of the Dharma throughout the kingdom. This monolithic pillar from the 3rd century BC stands over 13 meter tall. It is made of polished sandstone and has inscriptions in Brahmi script. Sultan Feroz Shah had the pillar brought from Topra, near present day Ambala, in 14th century. The pillar was installed on a three story pyramidal building which was specially commissioned by Feroz Shah inside the Sultanate's fort.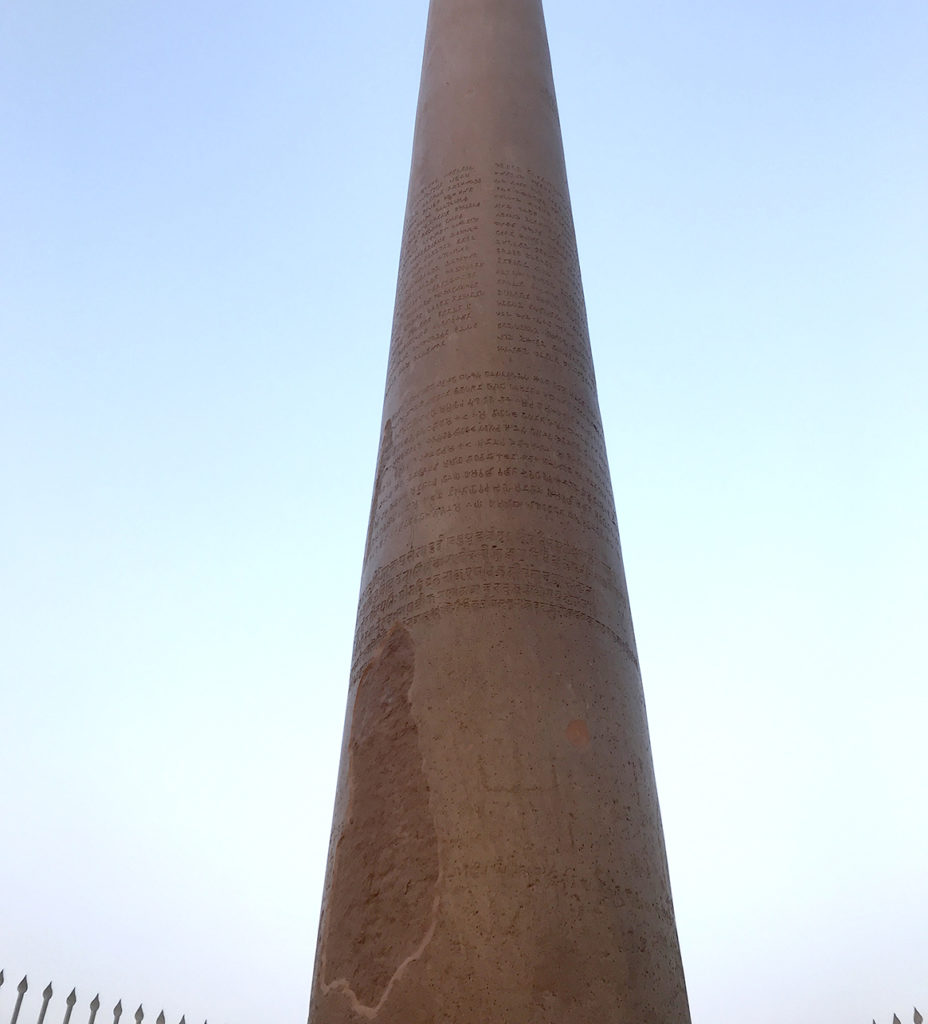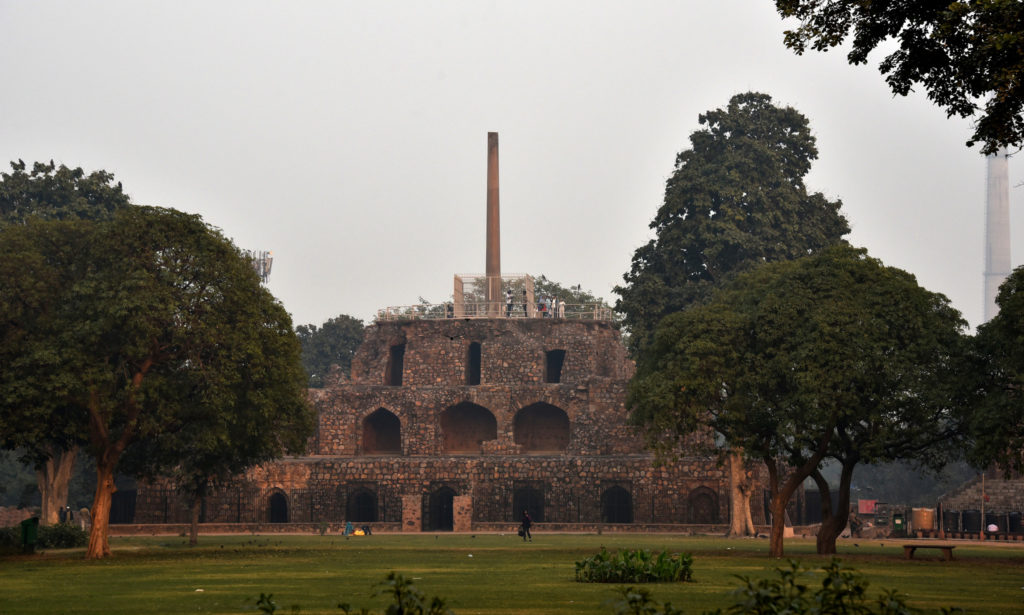 The transportation of the pillar from Topra, 90km from Delhi, was a herculean effort. It involved over 8,000 soldiers and all their equipment. It was transported to the Yamuna river bank on a 42-wheeled cart, loaded on a large boat and brought to this site. Here it was very carefully installed atop the 3 floor palatial structure. While the structure itself is in ruins, the pillar stands tall exuding Ashoka's message on how to govern righteously.
The Ashokan Pillar Edicts
Ashoka's pillars have six edicts describing his governing principles inscribed on them. In addition to the six edicts, the Topra pillar also has a seventh edict. The peculiar seventh edict which is only found on this pillar, goes all around the pillar. It specifies the practicalities by which Ashoka promoted the Dharma. He planted fruit trees, built water sheds and constructed rest houses along the high roads, to provide to humans and animals the opportunity to practice dharma.
Ashoka appointed wise men (Mahamatras, or priests) to preach the dharma. He also appointed Mahamatras to penetrate followers of major doctrines of the time – Brahmins, Nirgranthas and Ajivikas. (Jains were called Nirgranthas or Nigganthas in those times.)  This is the oldest written mention of 'Jains' today.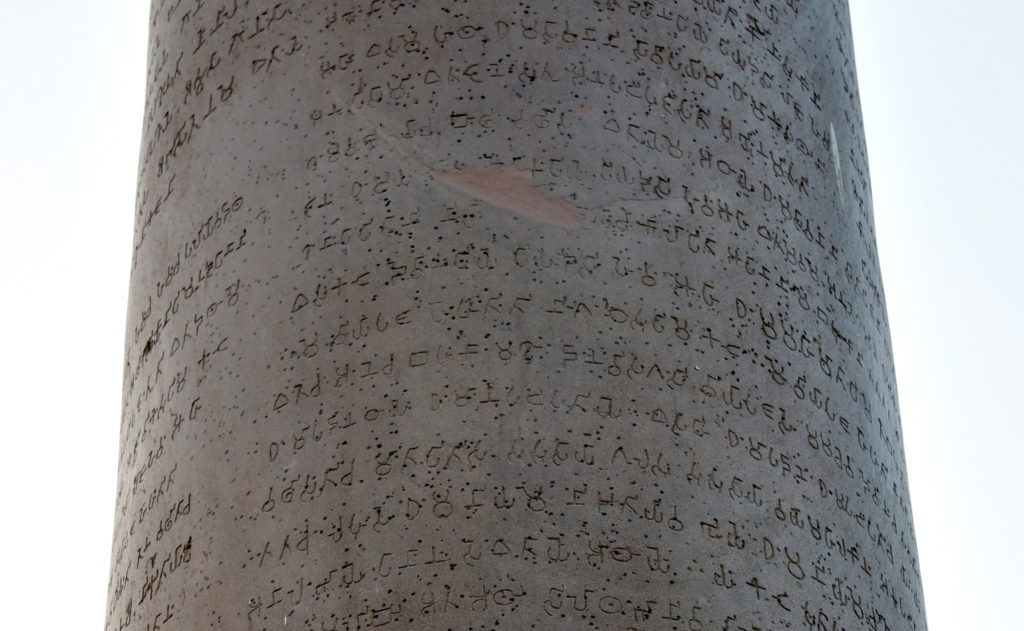 Line #5 of the seventh edict bears the oldest written mention of the Jains [1].

The same line written in Roman script [1] [2] –
ime viyâpatâ hohantiti; niganthesu pime kate, ime viyâpatâ hohantiti : nân pâsandesu pime kate, ime viyâpatâ hohantiti : pativisitha pativisitham tesu tesu te te mahâmâtâ dhammâ mahâmâtâ cha me etesu cheva viyâpatâ, savesu cha anesu pâsandesu. Devânampiye Piyadasi lâjâ hevam âhâ:
A partial translation of line #5 roughly reads like this [1] [2]-
Thus said Piyadasi, Beloved of the Gods:
…Those Dharma-Mahamatras of mine are occupied with various kinds of activities which are beneficial both to ascetics and to householders. …Similarly I have arranged that some of them (Mahamatras) to engage with the Nirgrantha (now commonly known as Jain)…
About Feroz Shah Kotla
Feroz Shah Tughlaq, ruler of the Delhi Sultanate, was a renowned builder. During his reign, Feroz Shah built several mosques, irrigation reservoirs, embankments, hunting lodges and colleges in and around Delhi.
The monumental Feroz Shah Kotla fort was built in the 14th century. It must have been an opulent and massive fortress as is obvious from the ruins of palace rooms, mosque, baoli and other structures. Much of the fort's structure was robbed in the 17th century to build Shahjahanbad.
Feroz Shah Kotla fort is also known for the presence of jinns (spirits). Here you enter the mysterious and spiritual world where beliefs challenge the limits of logic. Devotees of jinns light candles, write letters and offer sweets and fruits to the spirits. All of this is done with the objective of appeasing the jinns and getting long-cherished wishes fulfilled.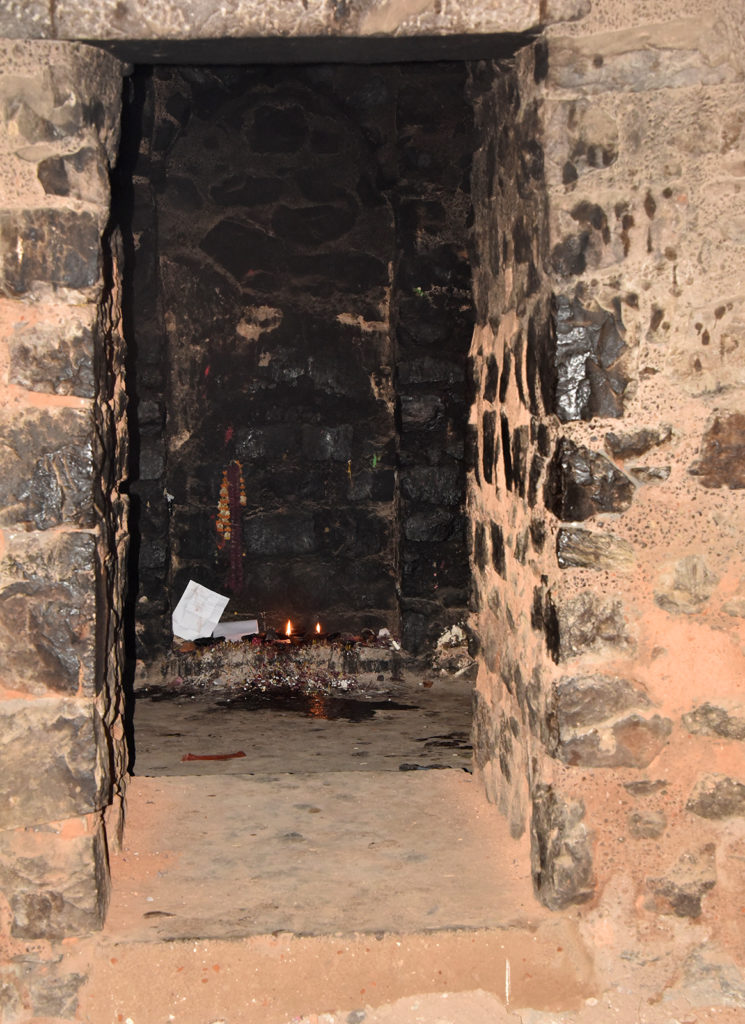 Jami Maszid
The fort is also home to the Jami Masjid, one of the oldest and largest surviving mosques still in use. Built in 1354, it was the largest of seven mosques constructed during Firoz Shah Tughlaq's reign. It was famous for its octagonal dome structure and ornate archways. It was built on top of a series of underground cells.
The mosque's architecture is an example of Tughluq style, which impressed Timur upon his visit in 1398. He was so impressed by the design that he took masons and artisans to Samarkand to build a mosque in the same style.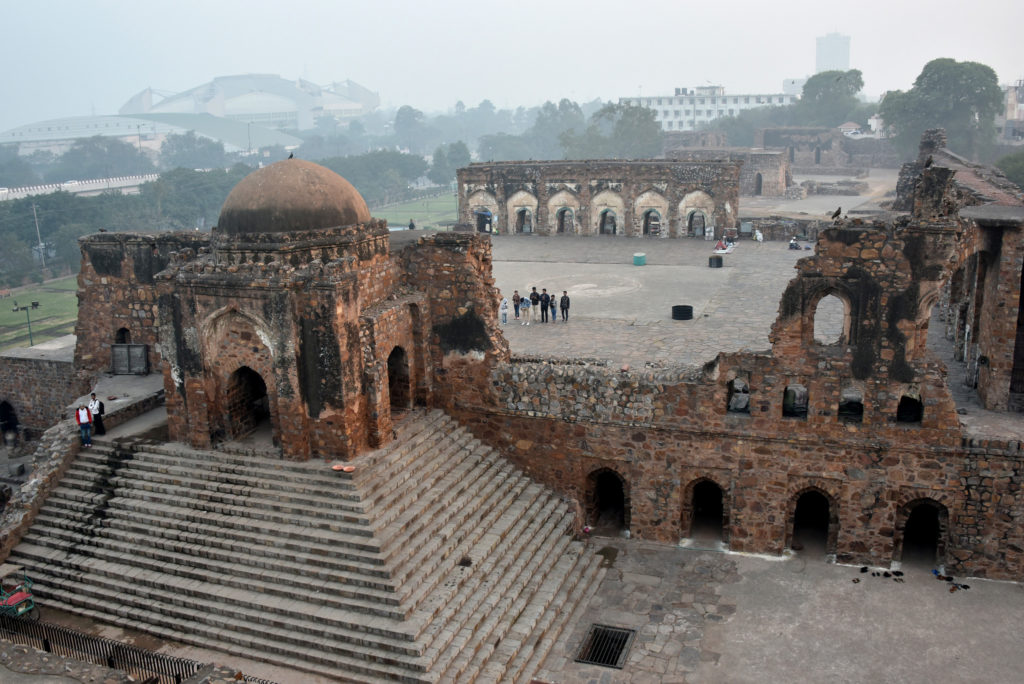 The big open prayer hall, now in complete ruins, is still regularly used by locals to pray. During our visit we witnessed a steady stream of worshippers coming to pray in the open courtyard.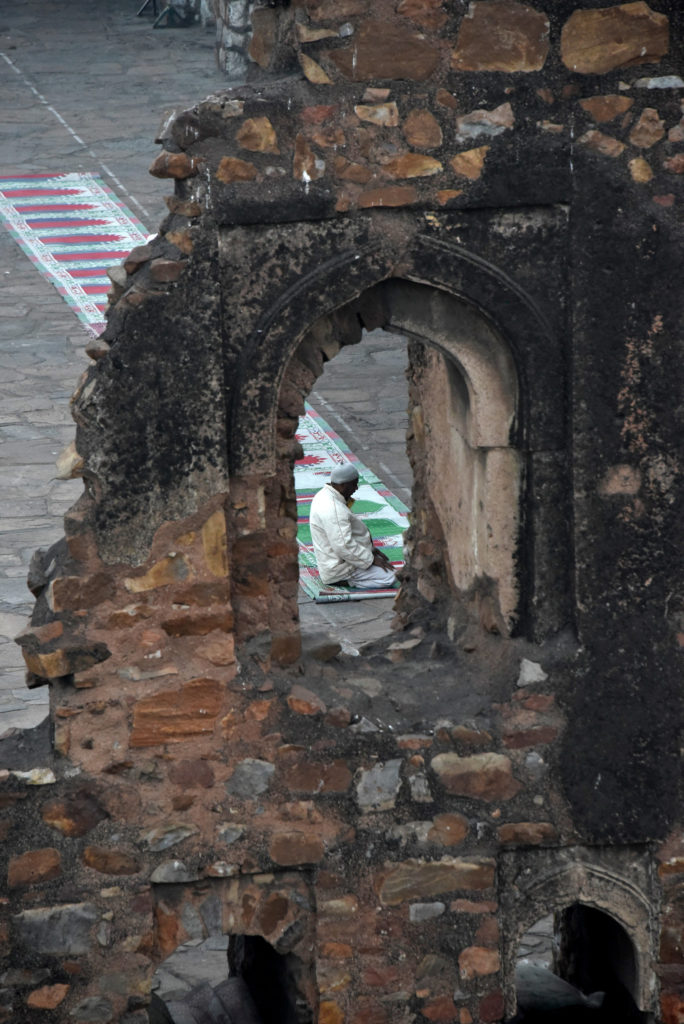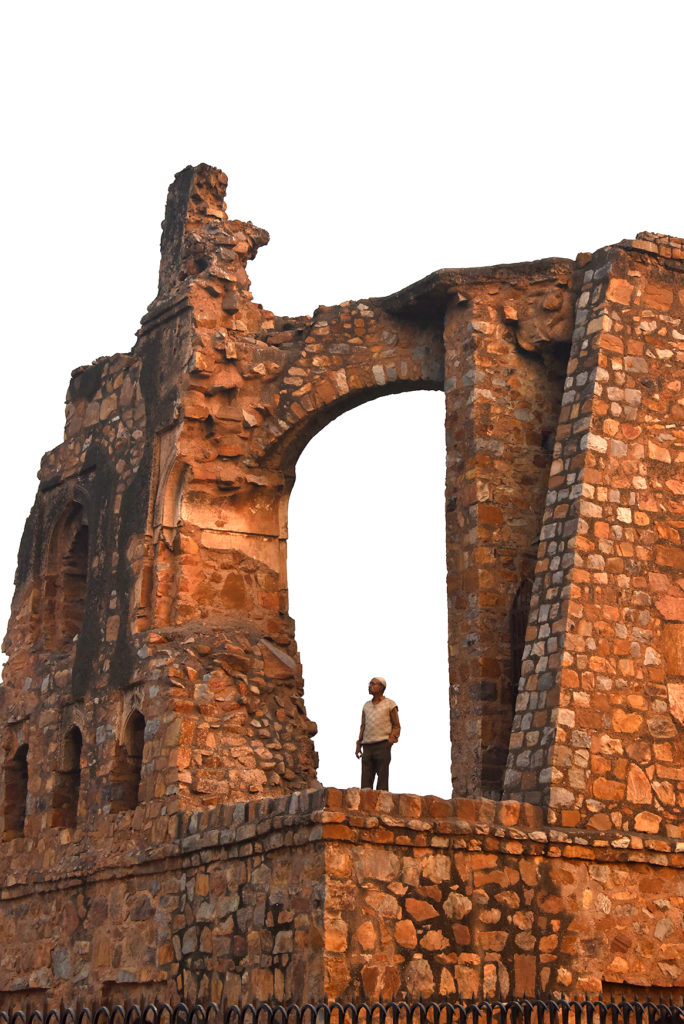 It was an incredible experience visiting what must have been a stunning citadel in the 14th century. Standing on top of the pyramid structure, by the 2,200 year old Ashokan pillar, we were in awe of a great ruler's philosophy of governance. Reading the inscriptions on the pillar with the oldest written mention of Jains was beyond surreal.
Citations:
[1] Prinsep, J (1837).  "Interpretation of the most ancient of inscriptions on the pillar called lat of Feroz Shah, near Delhi, and of the Allahabad, Radhia and Mattiah pillar, or lat inscriptions which agree therewith", Journal of the Asiatic Society. 6: pp600–609.
[2] Sircar, DC (1956). "Inscriptions of Asoka", Publications Division Ministry of Information & Broadcasting, Government of India. pp75.