Gorgeous mosaic tiled stairs are some of the most favorite hidden gems of San Francisco. Here's how to visit the top 3 most beautiful and best-kept secrets in one day – 16th Avenue Tiled Steps, Hidden Garden Steps, and Lincoln Park Steps. As a bonus, read on for more memorable vistas nearby.
Map for Visiting  Top 3 Mosaic Steps of San Francisco
The top 3 mosaic steps of San Francisco was located in the same general area. That makes it easy to visit all of them in one trip, along with beautiful sights near them.
Here is a map to help you plan your route to San Francisco's Tiled Mosaic Steps –
16th Avenue Tiled Steps and Hidden Garden steps are just a few minutes walk apart, within the same neighborhood.
You can drive between the 16th Ave Steps and Lincoln Park or take a 1.5hr walk through Golden Gate Park. There is so much to do there, you could spend a day in Golden Gate Park. I'll cover that in a future post.
There are many beautiful sights around Lincoln Park, including the new Lincoln park and play structure, golf course and walk, Legion of honor, views of the Golden Gate bridge, China beach and more. We left our car parked at the Lincoln Park Steps and walked to the rest of the sights.
1: 16th Avenue Tiled Steps
The 16th Avenue Tiled Steps are the oldest and probably the most popular of the many gorgeous steps on the steep hills of San Francisco. The steps are many flights long from the base to the top of the hill. Each flight is a canvas where the artists have created a beautiful design that flows into its adjacent canvas – the flight of steps below and above it.
This was a huge community endeavor that started in 2003 and completed in 2005. Thereafter additional projects for building the beautiful gardens have been completed with support from local organizations.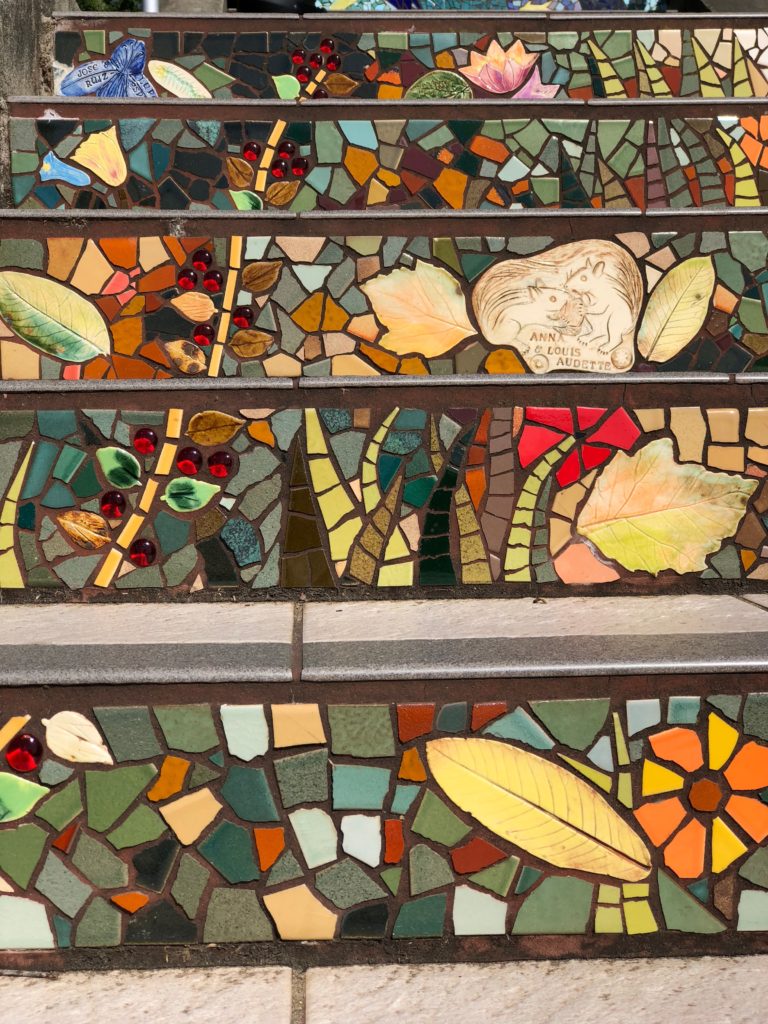 Looking closely, tiles are laid precisely on each step. Together sections of steps combine to create beautiful scenes. The scenes flow seamlessly to create one giant painting of many scenes. It's really quite remarkable! Hats off to the artists, designers, tile makers, all the kids, families and friends that created these masterpieces.
The top of the stairs offers beautiful views of the city. If you have the time, do plan to climb the next hill up for even larger views.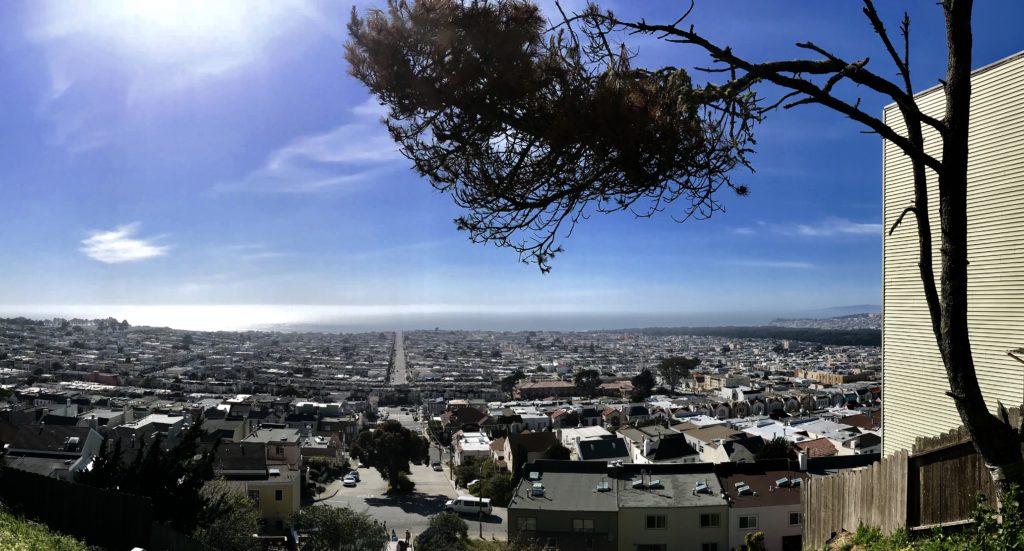 Here's a video of much of the climb up the 16th Avenue Steps –
There were some visitors on the 16th Avenue Tiled Steps but this is still a relatively lesser known attraction, so it's not too crowded. There is no charge to see the steps as its part of a residential neighborhood.
I'm a big fan of succulents, so seeing the succulent garden at 16th Avenue Tiled Steps was exciting. In addition to the popular succulents, the garden features some exotic species. Learn more about them here.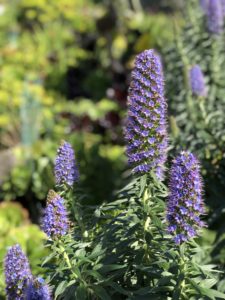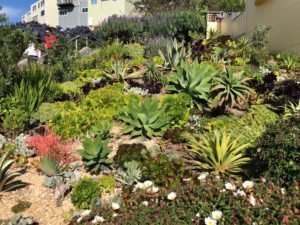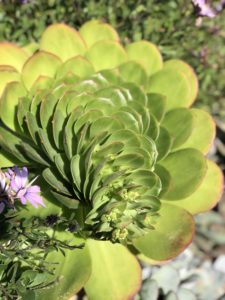 2: Hidden Garden Steps
The Hidden Garden Steps is another amazing community projects. This, literally hidden set of stairs is quite a surprise. They are located within walking distance of the 16th Avenue Tiled Steps. However, they are very easy to miss. Even if you find the stairs, you'll see them from the top. From that vantage point, they look like any other stairs. It's only when climbing up to the great mosaics reveal themselves.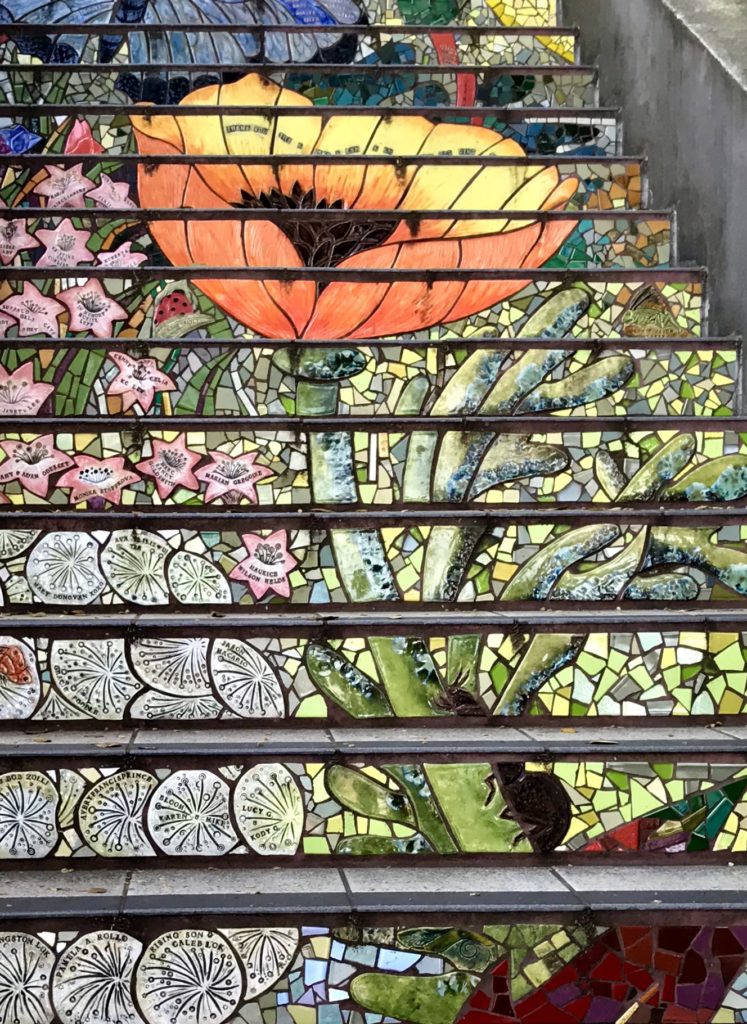 Unlike the 16th Avenue Tiled Steps, the Hidden Garden Steps are very quiet. Only a few people make it there and even fewer people find the mosaic designs.
The Hidden Garden Steps are located in this pristine neighborhood lined with beautiful San Francisco homes. Learn more about them here.
3: Lincoln Park Steps
The Lincoln Park Steps lay in disarray for years. They posed a risk for the people using the stairs and a nuisance for the community.
The Lincoln park steps are built with funds raised by Friends of Lincoln Park and a grant from the San Francisco Recreation and Parks Department, Community Opportunity Fund. The idea initiated in 2007 and the stairs were completed in May 2015 with support from the community, the school, and local government. Learn about the project here.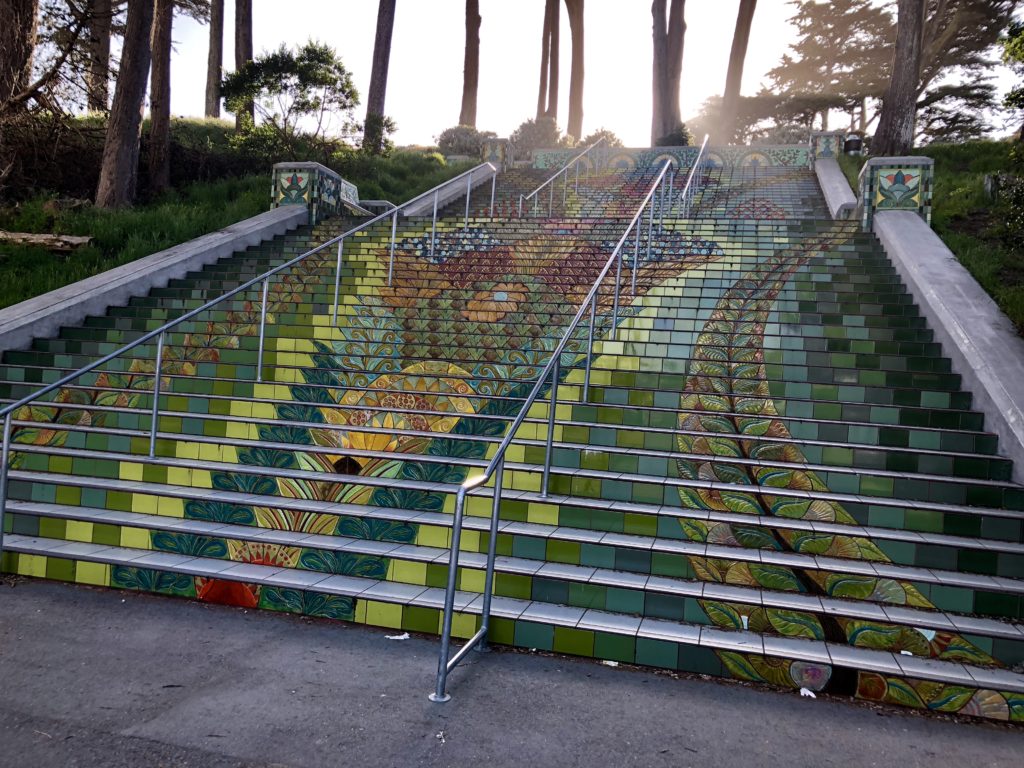 More Around Lincoln Park Steps
If you're in Lincoln Park area and if you have an hour or so to spare, there are some easy walks and areas to explore in addition to San Francisco's Mosaic Steps.
The beautifully restored Lincoln Park Playgroup and Picnic area would be heavenly for the little ones and families. There is also a restroom nearby.
We didn't really explore the Lincoln Park Golf Club. It's certainly beautiful to walk around.
Legion of Honor is an important museum nearby that I have yet to visit.
If you have any visited any of these sites, please do leave your experiences in the comments below for us.
My favorite is the short hike to Lands End Trail and Recreation Area and the beach. Here's a view of my favorite bridge from Lands End –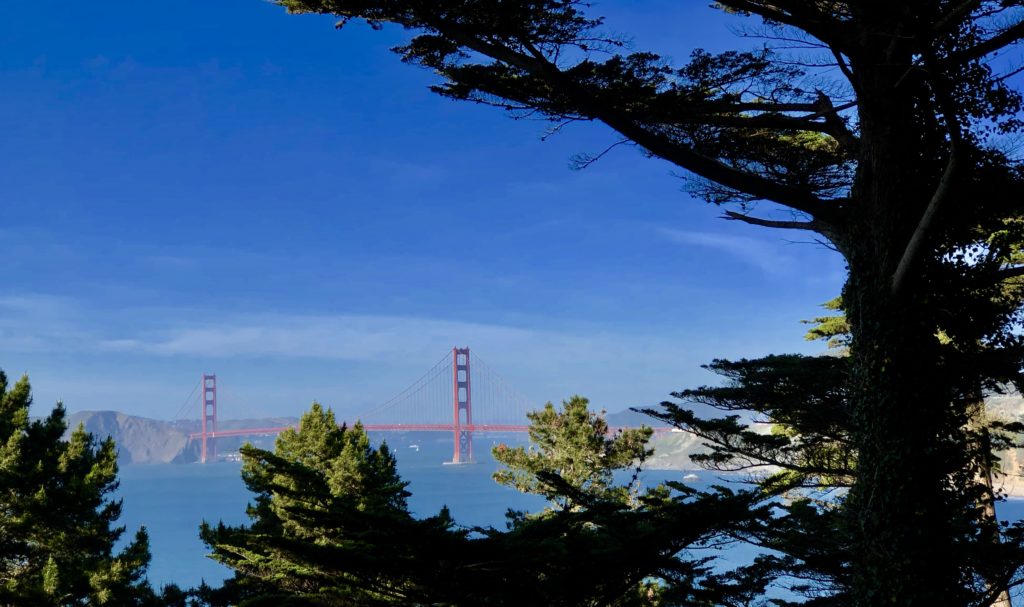 These gorgeous steps rarely ever make it to the list of millions of visitors like Kiyoko from Footsteps of Dreamer that come to our city for a short time. I would highly recommend them for locals and long-term visitors.
If you have a little more time take an e-tuk tour of San Francisco as described by Travel Realizations and discover some beautiful views.
Tips on Visiting San Francisco's Mosaic Steps
16th Avenue Tiled Steps and Hidden Garden Steps are sponsored and built by the community to beautify their neighborhood. Lincoln Park Steps were built by community groups in partnership with local government. It is inspiring to see how neighborhoods, local governments, and non-profit groups can work together to create fantastic art that people use every day in an urban setting.
To get to the steps, use map apps. I use Apple Maps and it got me to the exact spot.
The steps are best viewed from the base. If you approach from the top of the stairs, they will look like any ordinary steps. So, it's easy to miss the mosaics.
When you're visiting the steps, be mindful of the fact that these are community projects built and maintained by the neighbors. So, be respectful of the neighbors and not create litter or noise.
There are no restrooms, restaurants or water fountains in 16th Avenue Tiled Steps and Hidden Garden Steps, just homes of families that built the steps. Lincoln Park Playground has a restroom.
Lincoln Park Steps are facing west, so avoid mid to late afternoon as the sun will make it hard to see or photograph the steps.
Lincoln Park Steps are right next to a school, so likely it will be very busy during school drop off and pick up times.
Don't leave valuables in the car, as cars do get break-ins, even in broad daylight, especially around the16th Avenue Tiled Steps.
Needless to say, dress in layers as the weather changes quickly. Wear comfortable shoes so climbing is comfortable.
Remember to take a charged phone or camera.
Enjoy art. Take nothing but pictures and memories.