While the world knows of the Muslim-Jew conflicts of Israel and the Arab world, little is known of their long history of comradeship Jews and Muslims of Sarajevo.
Here are some stories we heard in Sarajevo from our local guide, taxi drivers and others we came across.
Jews Arrive in Sarajevo
Back in the fifteenth century Jews escaping Spanish and Portugal terror made a home in the Ottoman-ruled regions including Bosnia and Herzegovina, Macedonia and others.
As the Ottoman influence reduced in the seventeenth century, more Jews immigrated to Sarajevo. For centuries Bosnian Muslims and Jews lived as neighbors and friends. Their historical friendship still stands strong.
At its peak, Sarajevo had 12k-14k Jews, about 20% of the population. They flourished in Sarajevo with many prominent leaders and built large synagogues.
The first synagogue in Sarajevo was built in 1581. Since the 1960s it has been preserved as a museum with 450yrs of history. It is said to be a very important museum in Sarajevo.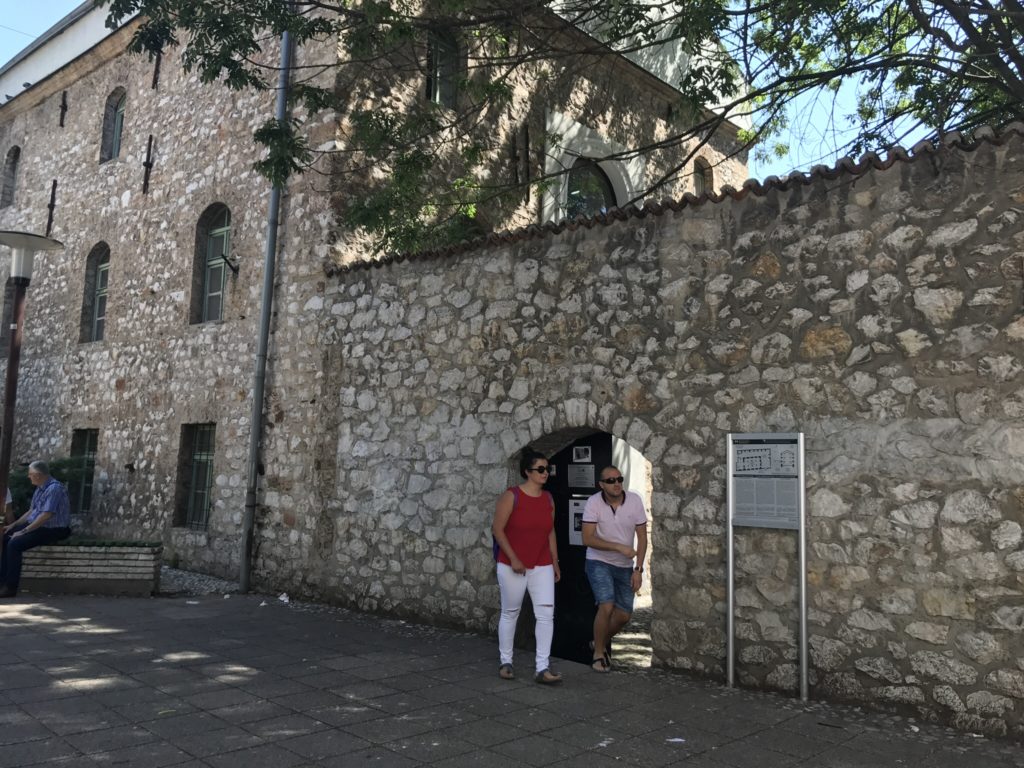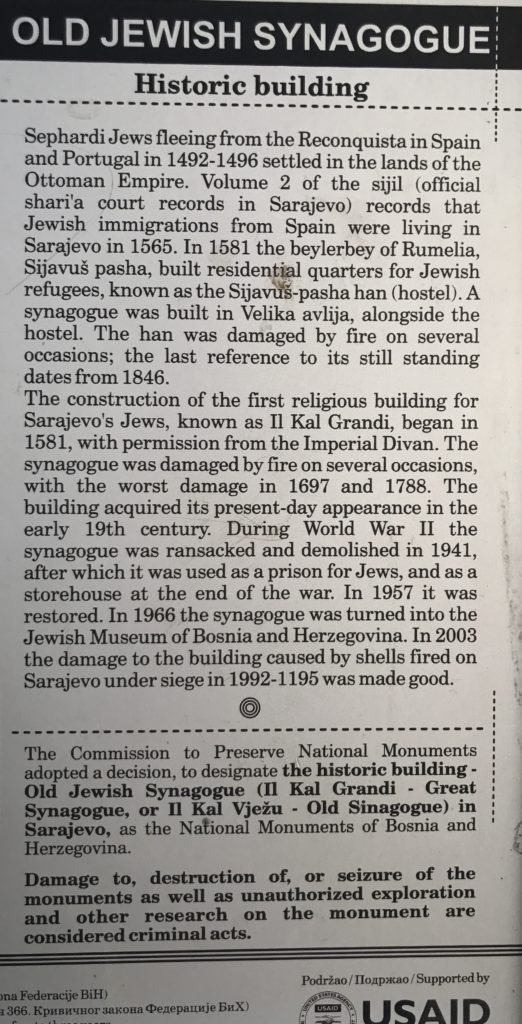 Asknazi Jew synagogue is just up the street. Sarajevo has synagogue, mosques, and churches everywhere, showing how Christians, Jews and Muslims of Sarajevo co-existed then and today.
Sarajevo Jews During World War II
During World War II when Bosnia was occupied by Croatia (a Nazi puppet state then), most Jews, Gypsies, and minorities were marched to the concentration camps. Of the 14,000, some 10,000 were sent to terrible concentration camps. The Bosnian Muslims protected their Jewish neighbors by hiding them in their houses, giving them Muslim names and treating them like family. Many have been awarded the honorable title of Righteous Among the Nations.
Most notably, Nazi wanted to destroy the important Jewish library. It had one of the richest collection of literature in City Hall National Library with 2 million books. The entire library was lit afire. Locals including many Muslims were able to save 30,000 books by throwing out books from the burning library.
A Muslim librarian saved the most important Sarajevo Haggadah. When the Nazi came to destroy one of the most precious collections of Jewish books, librarian put his life at risk and secretly rescued this marvelous and one of the most important books for Jews. Today no one knows the price of the book but when recently transported to a museum for display, it is rumored to have been insured for €75million.
After the WW II, most remaining Jews moved to Israel. But Jews and Muslims of Sarajevo continue to be friends.
Jews during Siege of Sarajevo
Sarajevo has the world's second largest cemetery, second only to Prague (which we visited a couple of years ago). It is set on a hillside with gorgeous views of the city.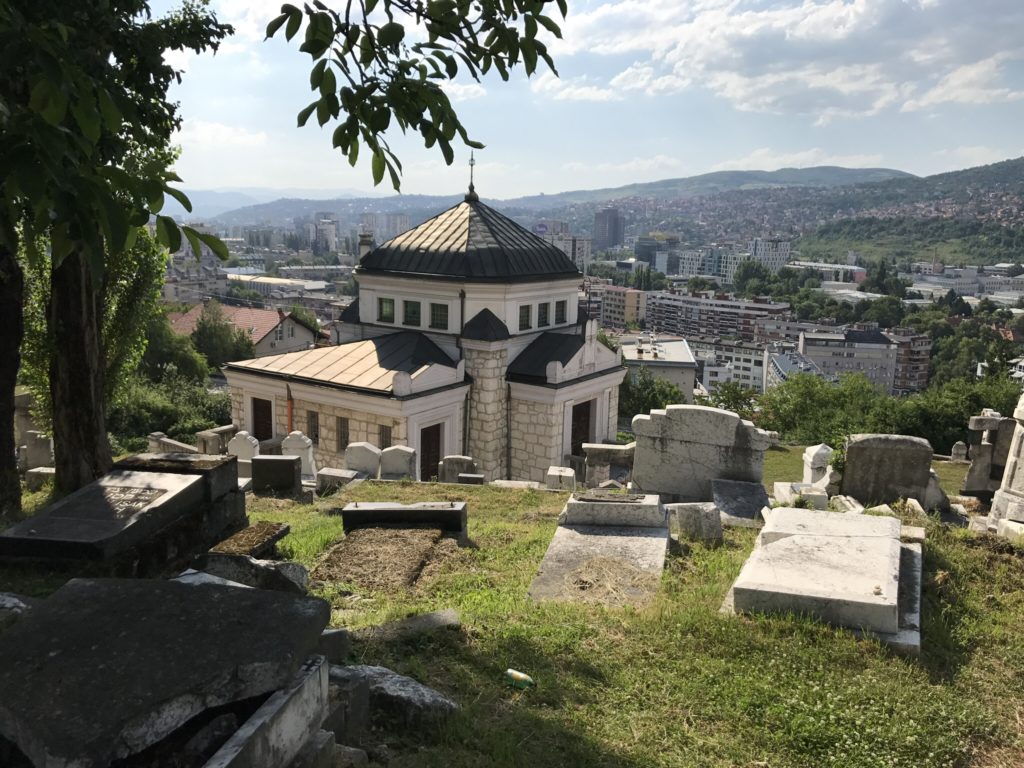 We visited the cemetery during a late afternoon in July. It was beautiful, serene and peaceful with many trees, pleasant breeze, and nice views. Here are a couple of videos from our visit –
During the siege of Sarajevo in 1992-96, Jews did their part, they helped thousands of Muslims escape Sarajevo by air and bus convoys.
The Serbian military used the cemetery as a place to hide snipers and aim down at the city. It was turning out to be lethal for people of Sarajevo. So Jewish leaders did the unthinkable, they even let the Sarajevo forces bomb the cemetery and push back the attacks from the Serbian forces.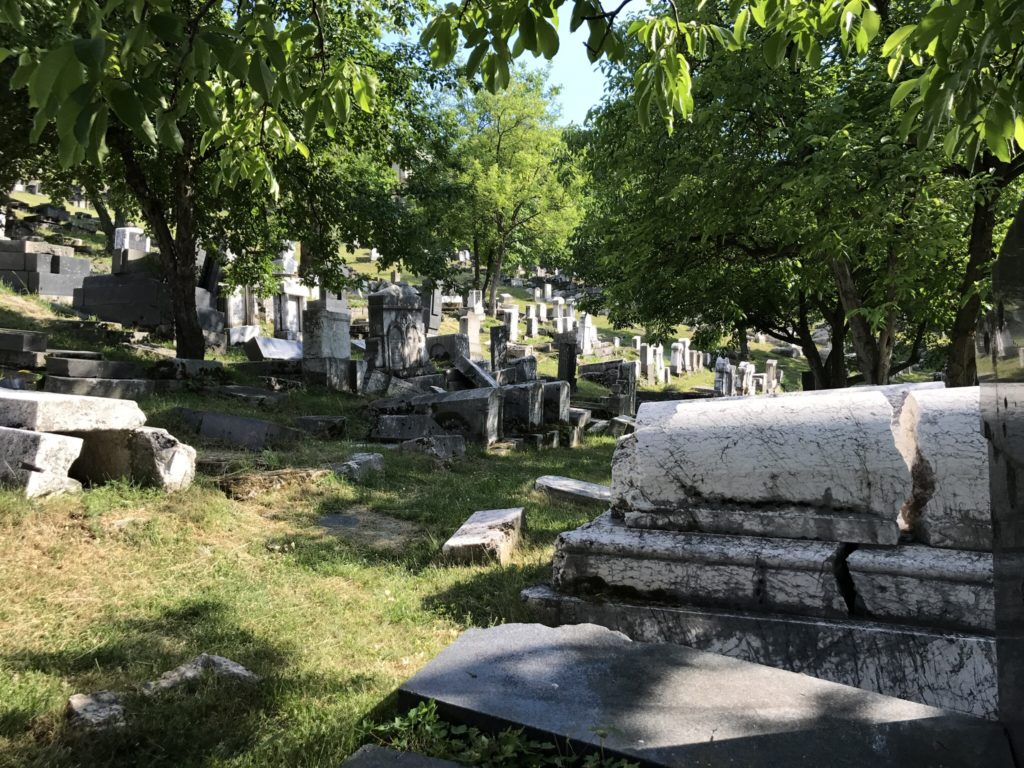 Jews in Sarajevo Today
Before WW II Sarajevo's population was 20% Jews. Under 1,000 Jews left in the city now. Most of the Jews that fled Bosnia during the war stayed in Israel, just a few returned. While there isn't a Jewish president in Bosnia and Herzegovina, many Jews hold positions of prominence and power.
One would hope that Jews and Muslims would draw on their groups' long friendships in Sarajevo and Albani and take the time to understand each other.
You'll also like