The enormous red sand dunes of Namib-Naukluft National Park touch the soul and leave you with a feeling you will remember for the rest of your life. The red dunes of Sossusvlei area (also known as Wind Cathedral Namibia) are evidence of nature's artistic genius and a display of its mastery at incorporating colors, textures, and sounds to create masterpieces and fully immersive experiences. The desert exuberates simplicity and feeling of eternal peace. This is our road trip and itinerary of Naukluft National Park's Sossusvlei, Big Daddy, Deadvlei, Dune 45, Elim Dune starting from Windhoek.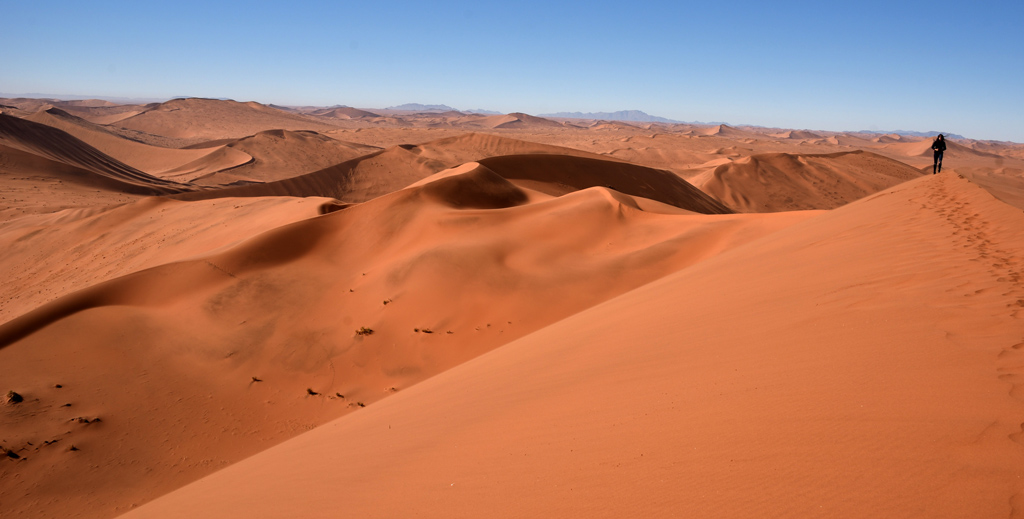 We went to Namibia with the desire to see the world's oldest, highest and most beautiful red sand dunes and we were rewarded with so much more. Namibia is the perfect place to witness nature at its most authentic self with pristine red sand dunes, African wildlife, hiking, beaches, arid mountains, history and believe it or not – city life. The 4 days we spent in Namibia as part of our 14-days in Southern Africa, have left me craving for more.
Windhoek, Namibia's Capital
Windhoek, Namibia's Capital, is a surprisingly modern and beautiful city. As we flew in and then drove to the city, it presented a completely unexpected sight for the capital of a young African country. Windhoek's modern infrastructure, malls, health clubs, music festivals, and extremely well-marked streets were a welcome surprise. Windhoek had no resemblance to the image of a traumatized African country portrayed by our media.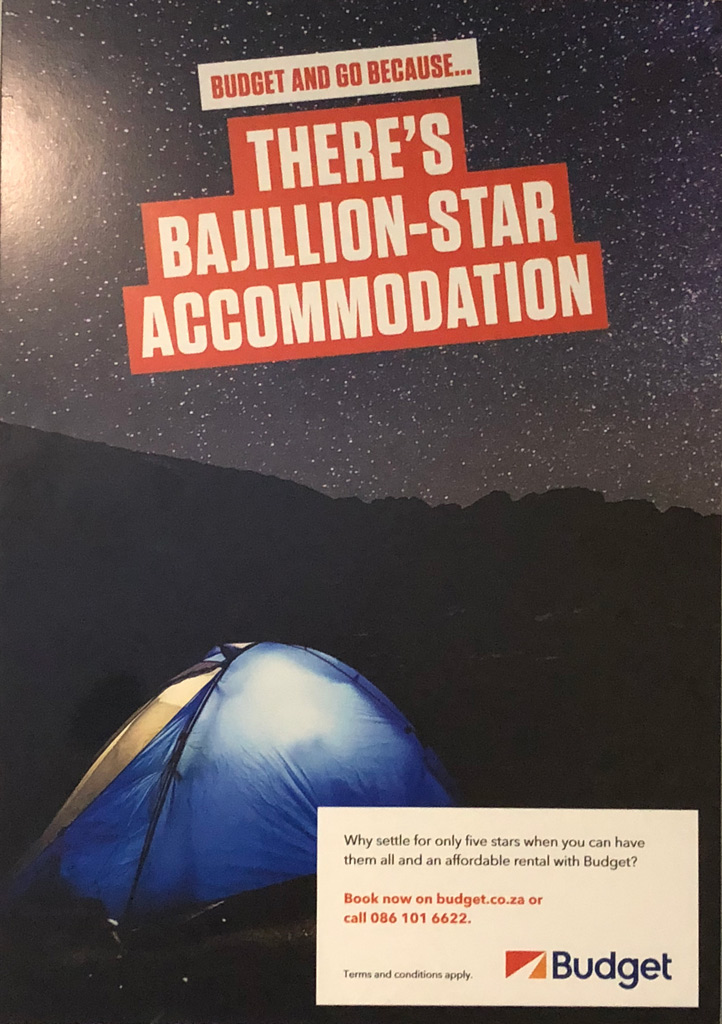 Getting ready for the Namibian Road Trip
At the small but full-service Windhoek airport, we rented our large SUV to drive deep into the Namib desert, through 100s of kilometers of dirt and rocky roads. The Hertz staff wasn't the least bit concerned about the off-road driving. They showed us how to change tires and said to keep the interior clean.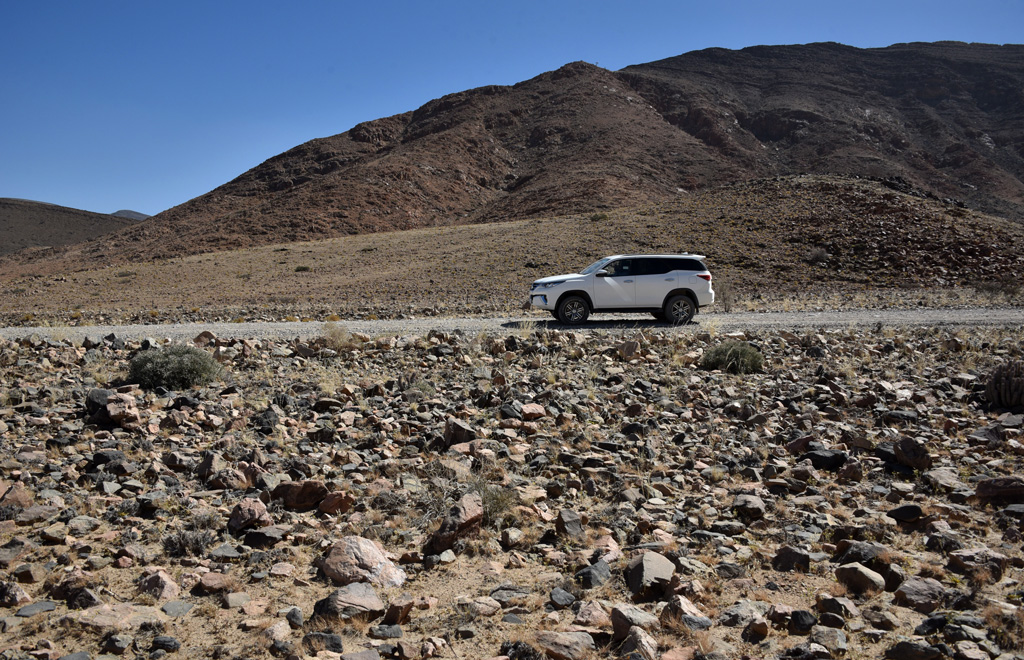 We had dinner at Col'Cacchio Kitchen, in the Grove Namibia mall which is quite trendy and happening. They have a very creative Italian menu with tons of vegetarian and vegan options.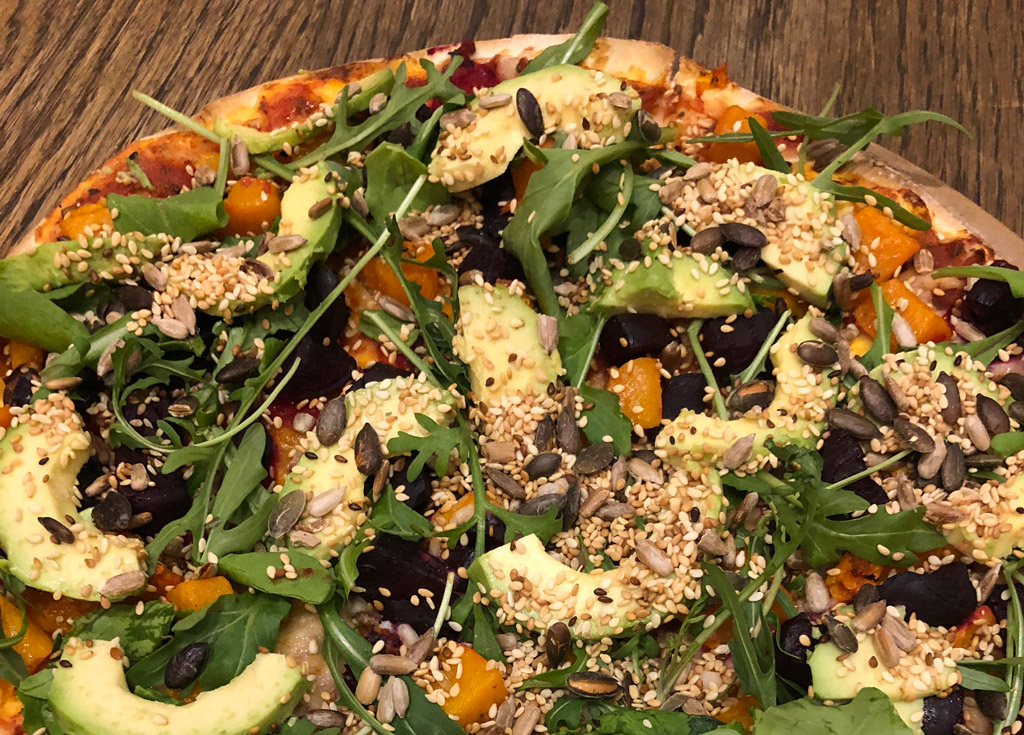 The following morning we shopped for fresh food for the next 4 days at the grocery store in the Largest Mall of Namibia.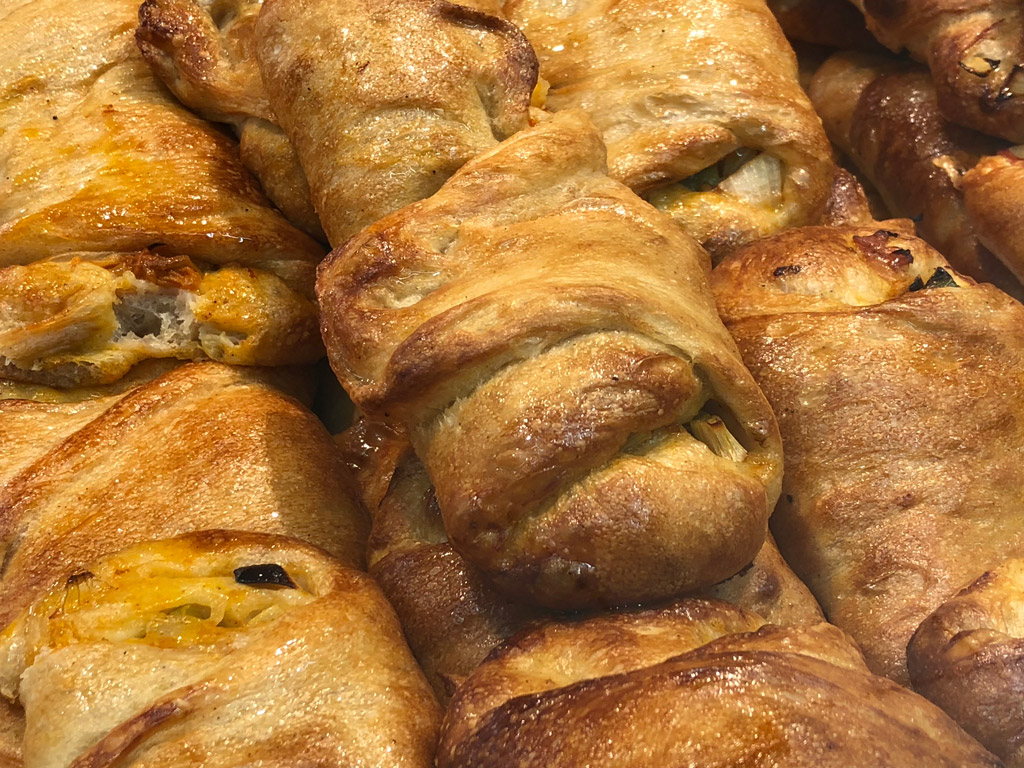 Arebbusch Hotel in Windhoek
We stayed in Arebbusch hotel, but it was really more like a gated community with each pair of rooms set up as a duplex. Each room had a kitchen, outdoor barbecue, sitting area, front, and backyard. Along with shared 'square' with common rooms, pools, restaurant and other entertainment.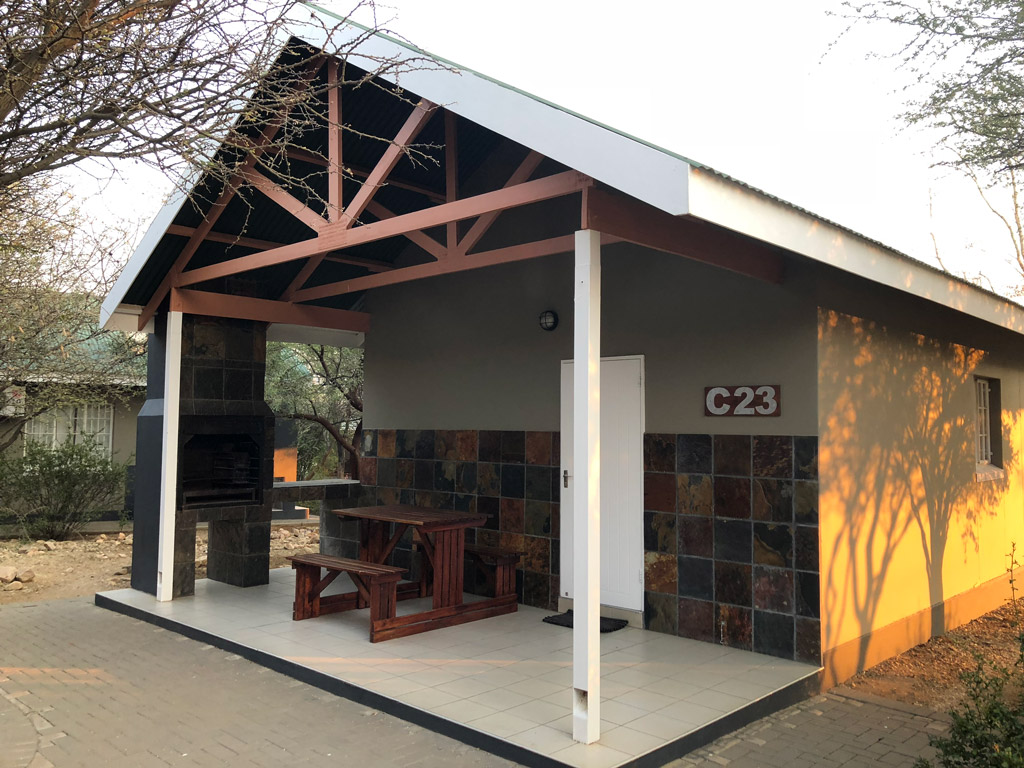 Drive from Windhoek to Sossusvlei via Rehoboth and Sesriem
The drive from Windhoek to Sossus Dune Lodge is 5 hours. So we left Windhoek early in the morning. That we were sure to reach Namib-Naukluft National Park before sunset. Here is a map our the sites we stopped at on this road trip through Namibia.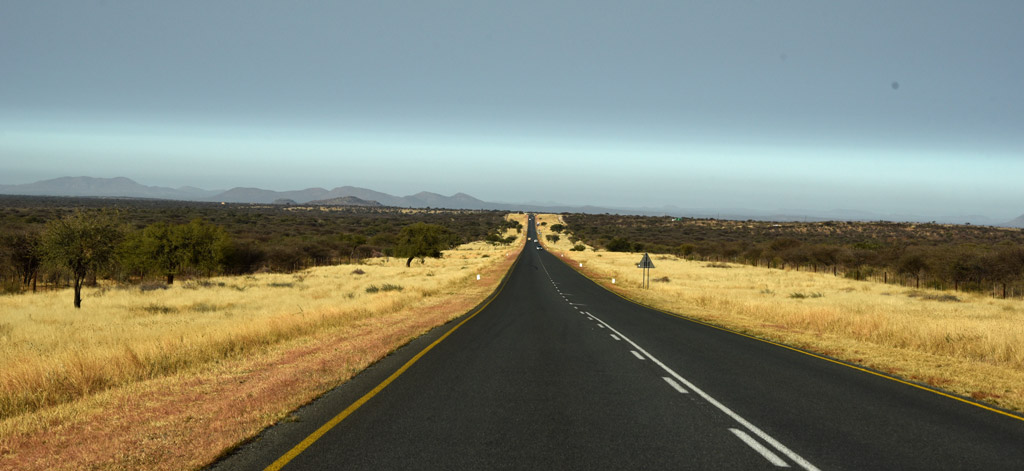 Namibia is one of the world's most sparsely populated countries, as was apparent very quickly after leaving Windhoek. Much of the Namibian population was killed in wars eventually leading to Namibia's freedom from South Africa.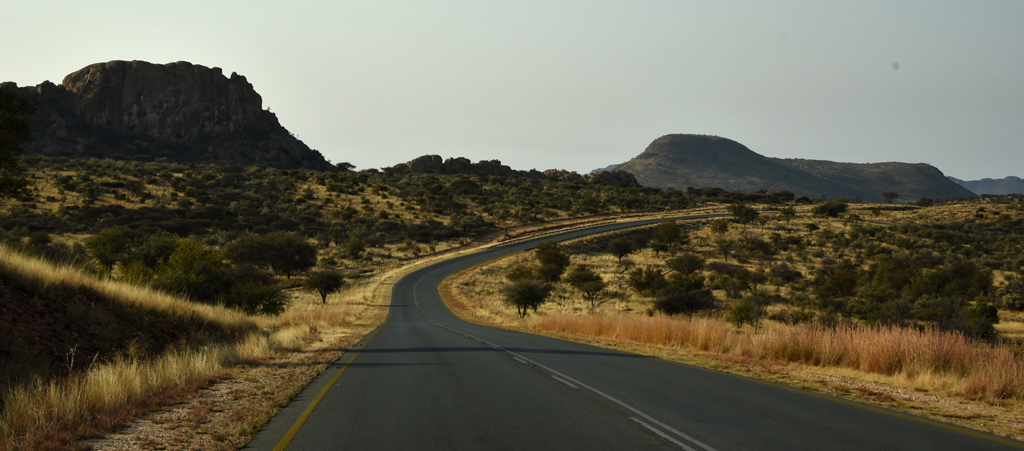 Windhoek to Rehoboth
Rehoboth is the only big town on the way from Windhoek to Sossusvlei. It took us about an hour to get from Windhoek to Rehoboth. The tar road ends in Rehoboth and the unpaved road begins.
The town of Rehoboth looked pretty well off. As we learned later, much of Namibia is doing quite well with good family income, plenty of jobs and a high standard of living. The houses along the main road were quite large and well kept.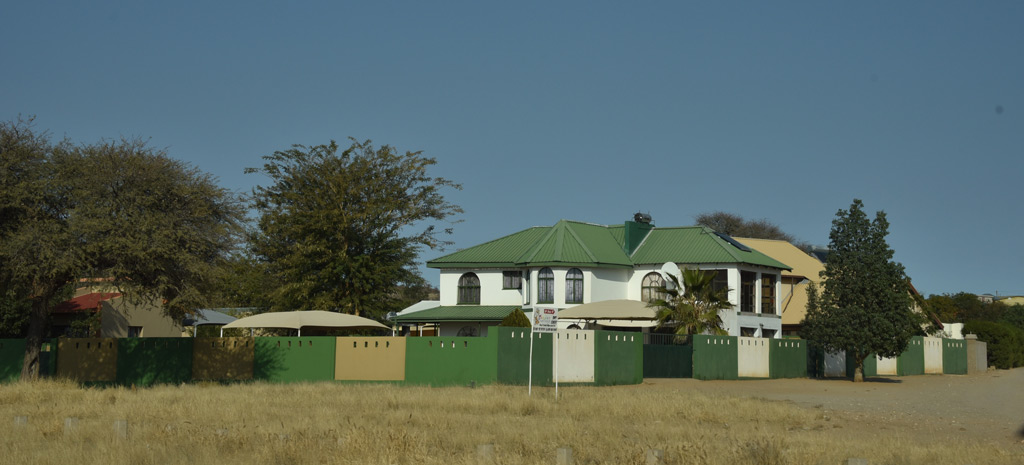 The striking observation was the red school uniform in the town. I've seen school uniforms that are white, gray, blue, pink and others but never red school uniform! I would think that some psychologists or color specialists will have an opinion on the choice of color.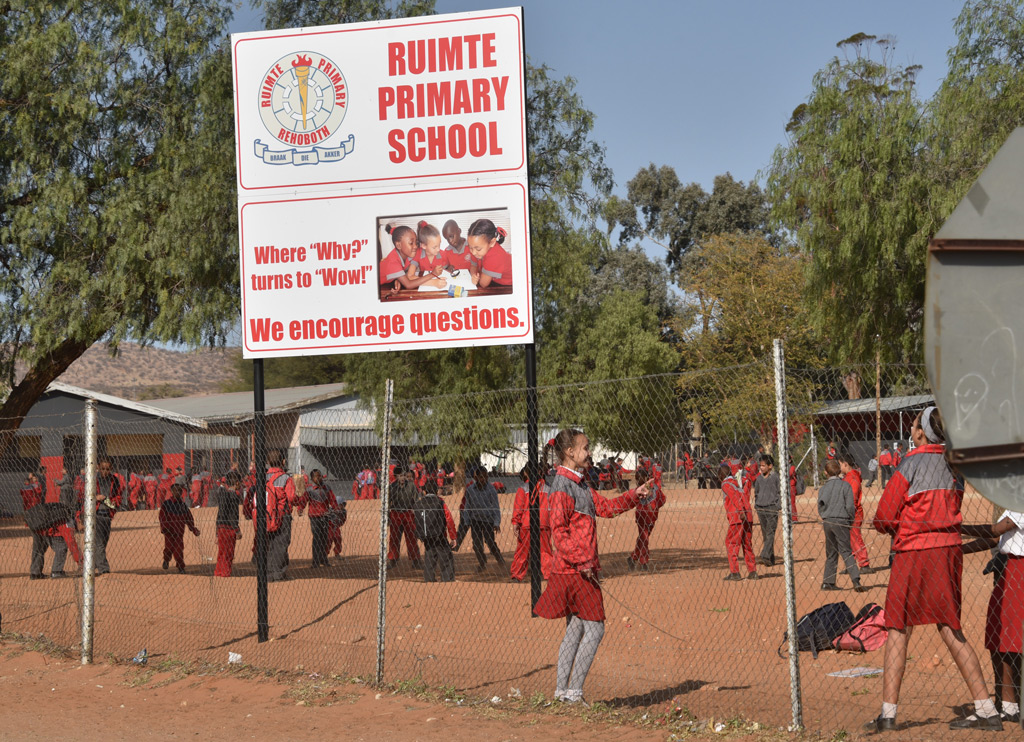 Looking at their Facebook page, Ruimte Primary School looks like a really good school. The Facebook page says "Ruimte Primary School opened its doors in January 1974 with its mission to provide quality education to the community, especially young children."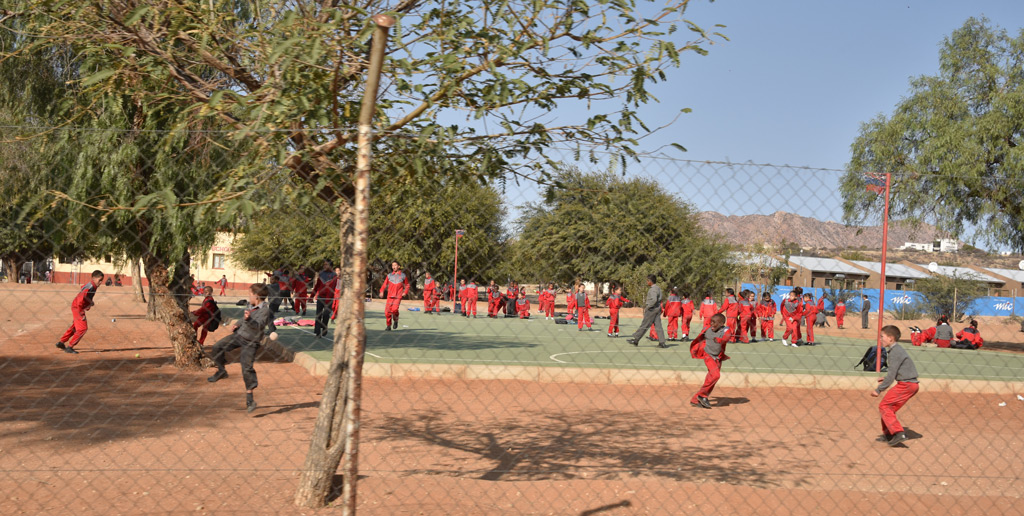 Rehoboth to Namib-Naukluft National Park
After Rehoboth, we went on the dirt roads for the rest of the trip to Sossusvlei – which is a little over 4 hours.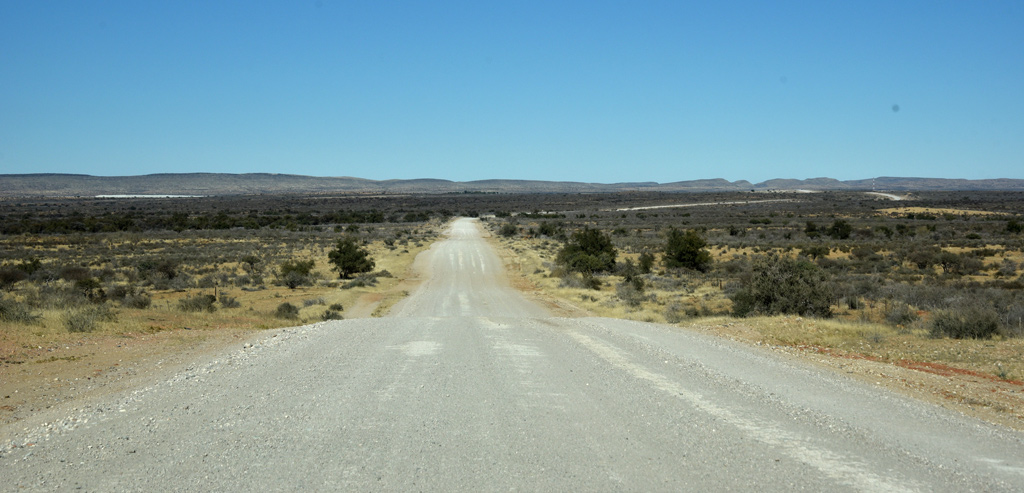 Our drives through Namibia presented some of the most striking landscapes. The long drives went through a vast expanse of open land with almost no towns, no villages and an occasional tourist SUV. The never ending, vast arid plains and mountains of Namibia made me fill with the awe for nature and its wonders, especially when we encountered amazing wildlife that has adapted to this land of extremes.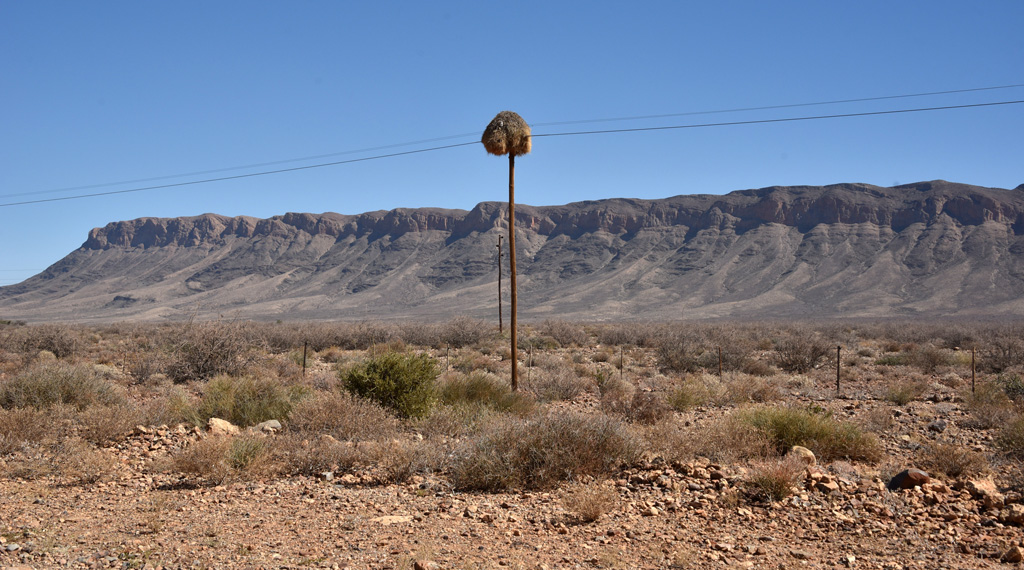 We had decided to use Google maps instead of signs or written maps (Apple maps didn't work at all in Namibia). However, Google Maps took us through a route where the roads were bumpier and longer. During our return, we used the road signs (confirmed with locals) and that worked much better.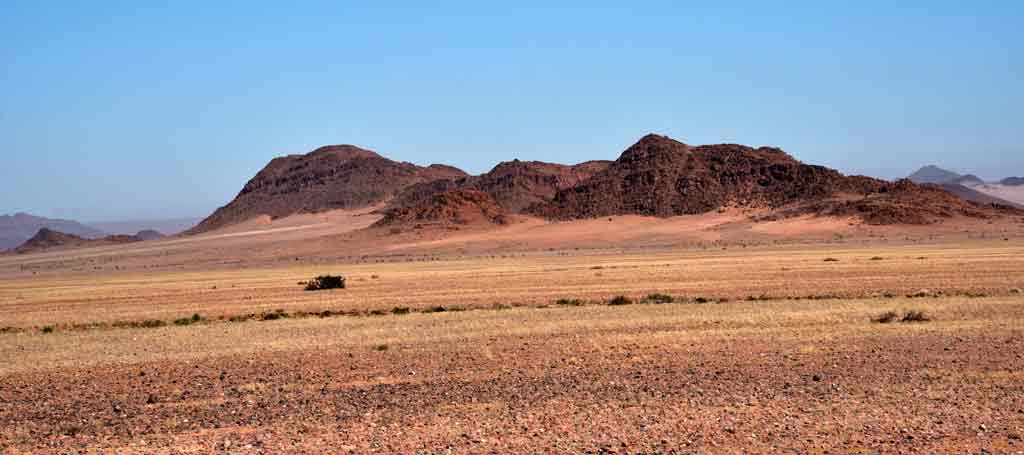 Entering Namib-Naukluft National Park at Sesriem
The Sesriem entrance is a gateway to the enormous and most ancient red sand dunes of Namib-Naukluft national park, also known at Sossusvlei area.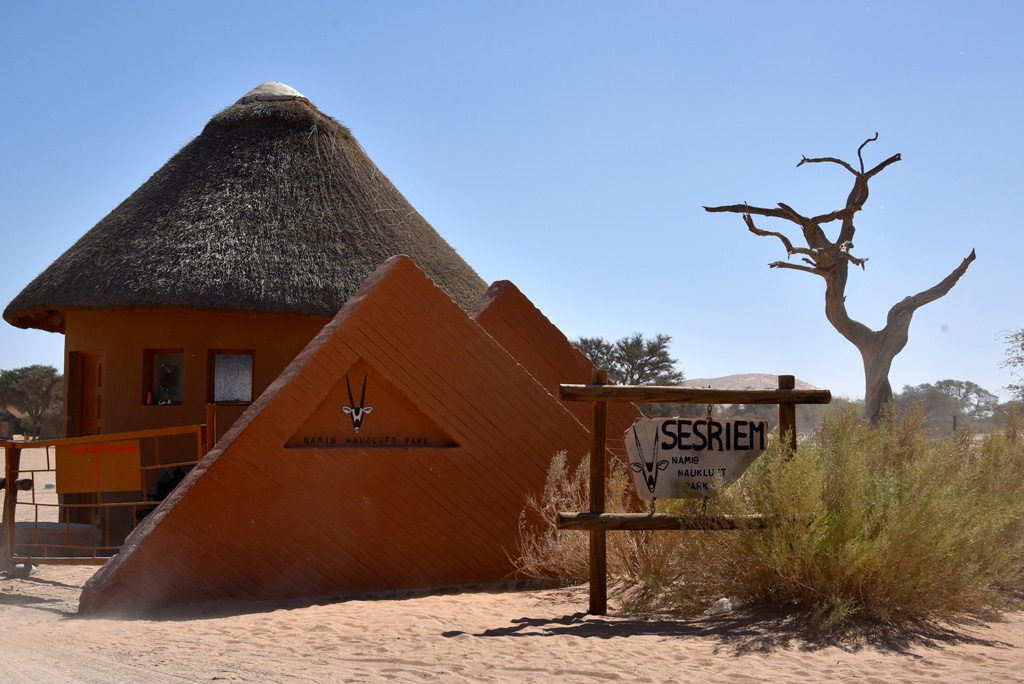 The entrance to Namib-Naukluft National Park has a campsite, a small restaurant and gift shop. The staff checks the reservation printout to allow entrance. Once in the parking area, we registered to enter the national park and paid the park fees for the number of days we planned to stay.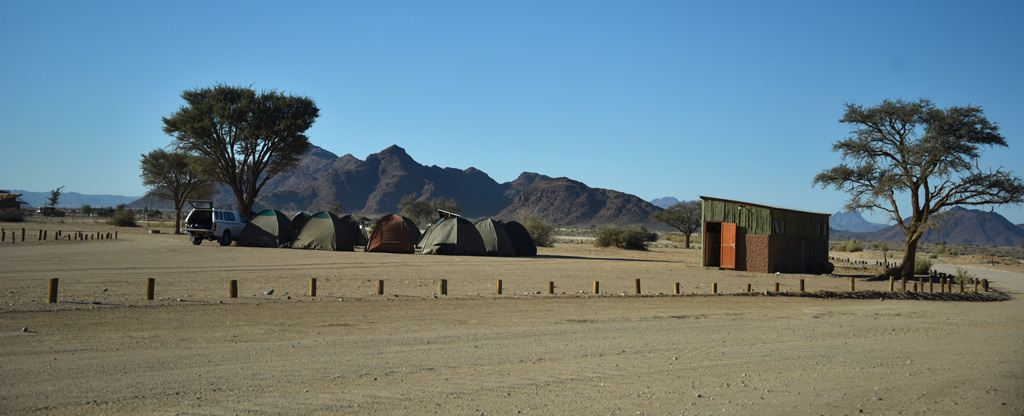 Sossus Dune Lodge
Other than camping, Sossus Dune Lodge is the only accommodation in the Namib-Naukluft National Park. The residents of Sossus Dune Eco-Lodge and park camping are allowed to be on the dunes any time. Everyone else can only visit during the designated park hours that start after sunrise and end before sunrise. So, if you're interested in being on the dunes during the magical hours and enjoy the dunes, Deadvlei, Big Daddy and Dune 45 all to yourself, you'll need to pay the hefty price tag for Sossus Dune resort or rough it in the campsite. Staying at Soussue Dune Lodge will be more than worth it.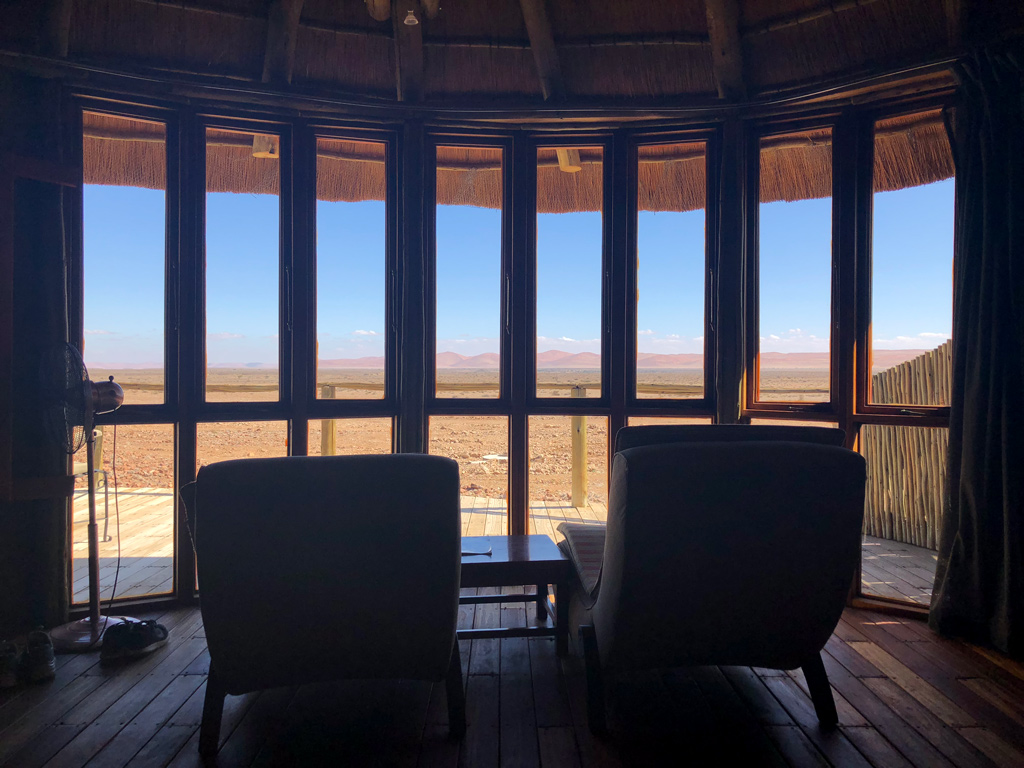 The official website of the lodge is here.
Sossusvlei – Dune 45, Big Daddy, Deadvlei, Elim Dune
Sossusvlei, Namibia is a huge salt pan in Namib-Naukluft national park but many people refer to the entire region as Sossusvlei that includes Dune 45, Big Daddy dune, Dead Vlei etc.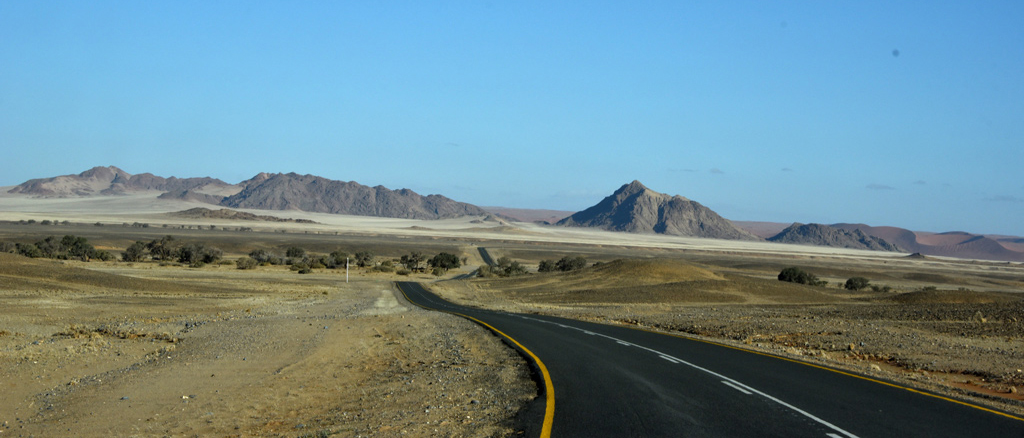 Sunset on Dune 45
Standing on top of Dune 45 all by myself felt unreal. There I was, a tiny speck amongst the enormous red sand dunes that stretched for miles. There I was with no sound on top of Dune 45, except easy winds that were effortlessly sculpting waves on the dunes, just like they have done for thousands of years.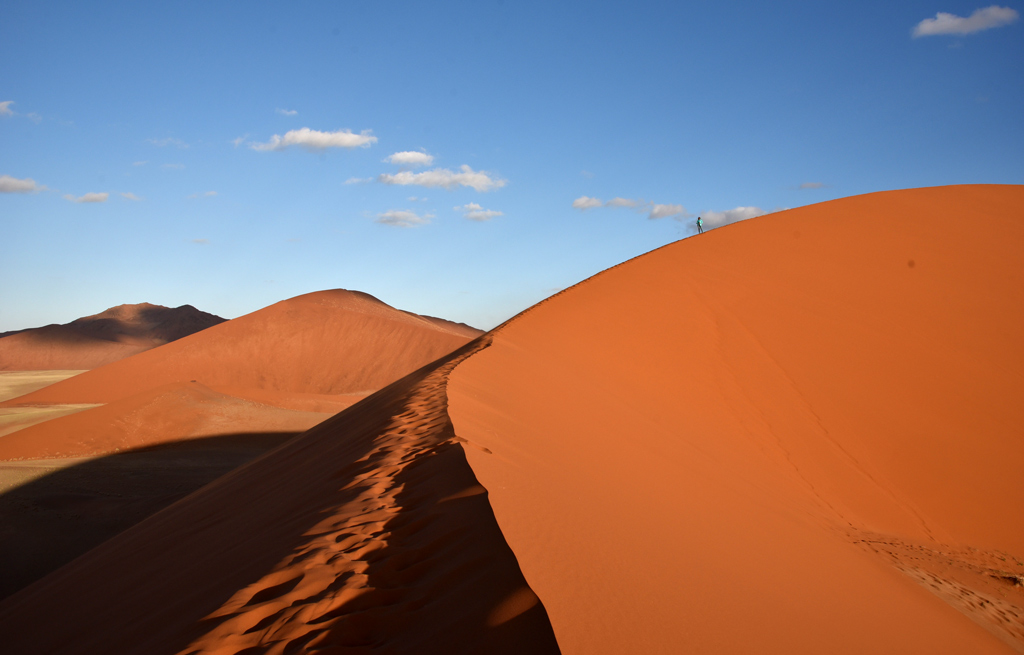 I felt minuscule in size and in time spectrum. What have these dunes seen? Who else has set foot on this beauty only with their footsteps being erased the same day by the continuously sculpting wind, creating wind cathedrals of Namibia? Just like the people before me, I leave nothing but I take with me the feeling of awe.
I leave the dunes with poetry in my heart.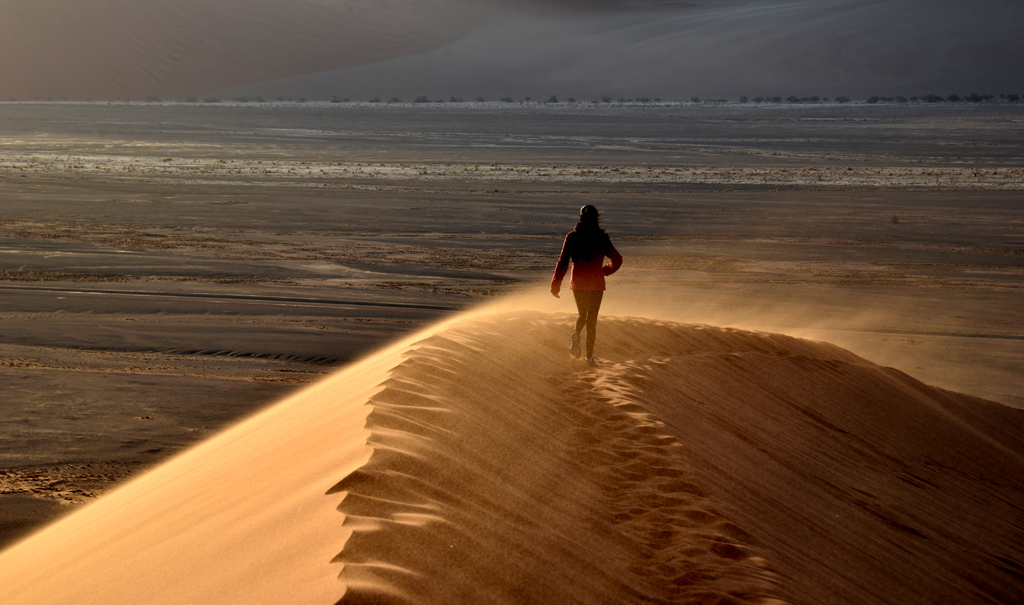 Dune 45 is large but not as huge as Big Daddy or the dunes further out. The amazing sunset on Dune 45 was just what we needed on our first evening in Sossusvlei Namibia. The sights were enough to melt every bit of fatigue from the 4 hours of driving on the bumpy dirt roads.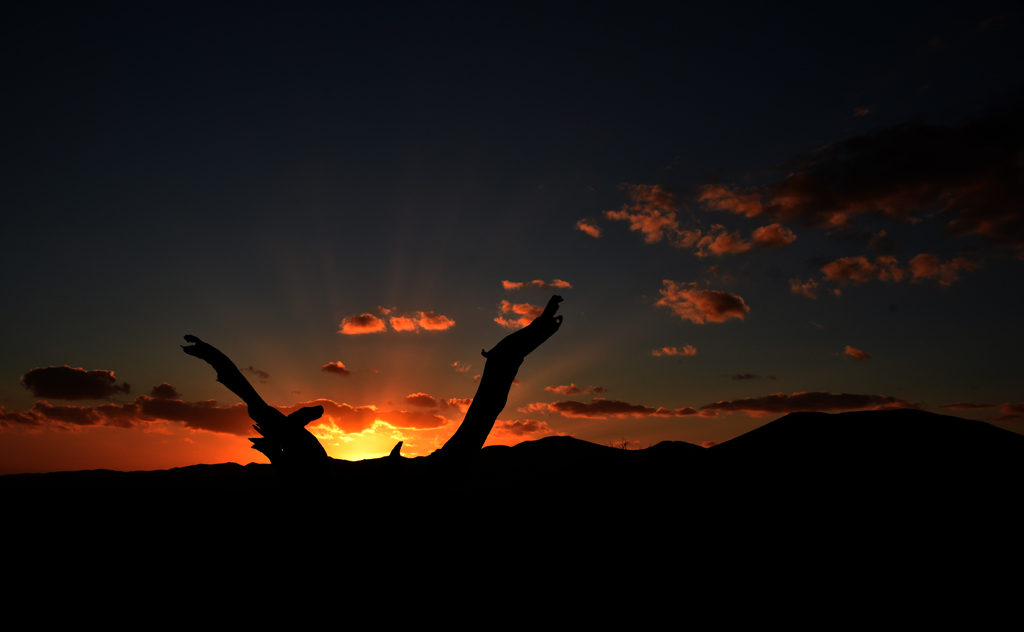 Dune 45 was well marked and quite easy to find. As the name says, it is located 45 km from Sesriem entrance. Be sure to take instructions from the hotel and watch for wildlife along the drive. Wildlife is easy to spot if you're driving at the speed limit and looking around. The vast desert has very little vegetation to hide the animals.
Sunrise on Big Daddy Dune
The Big Daddy dune is the place to enjoy the most beautiful desert sunrise. It is definitely a once in a lifetime experience. So gear up for a 325-meter climb up to the peak of Big Daddy over soft, fluid sand dunes. Bring your comfortable shoes.
We left our room well before sunrise on the frigid winter morning. We were the first car to reach the 2×4 parking, where the sand road begins and 2WDs must park and take the national park shuttle which starts later.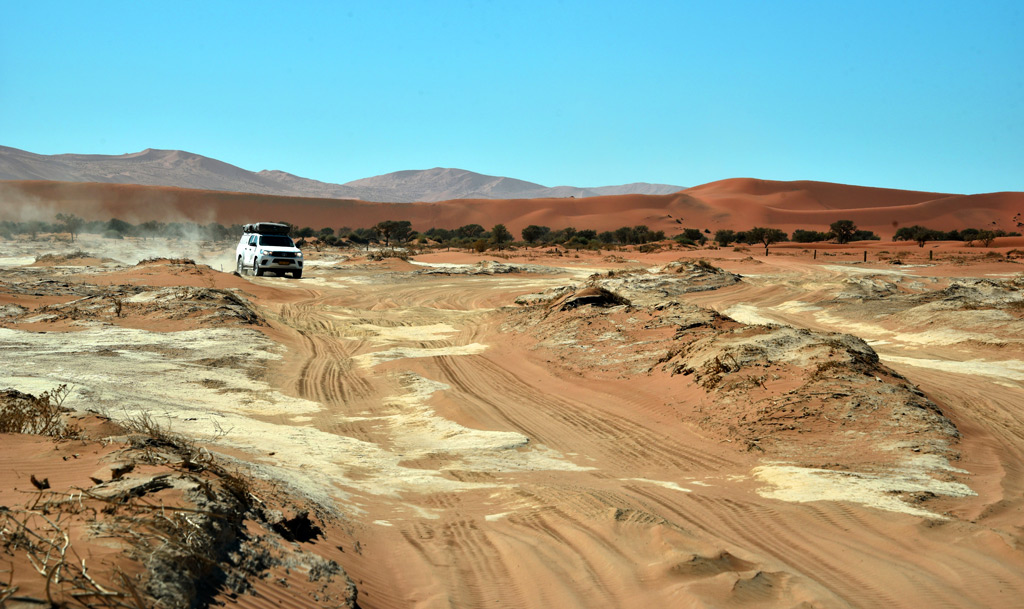 We weren't really sure if we could drive ourselves or if we should take the massive national park trucks on the sand road. Looking at others, gave us the confidence to drive and get to the dune in time for sunrise.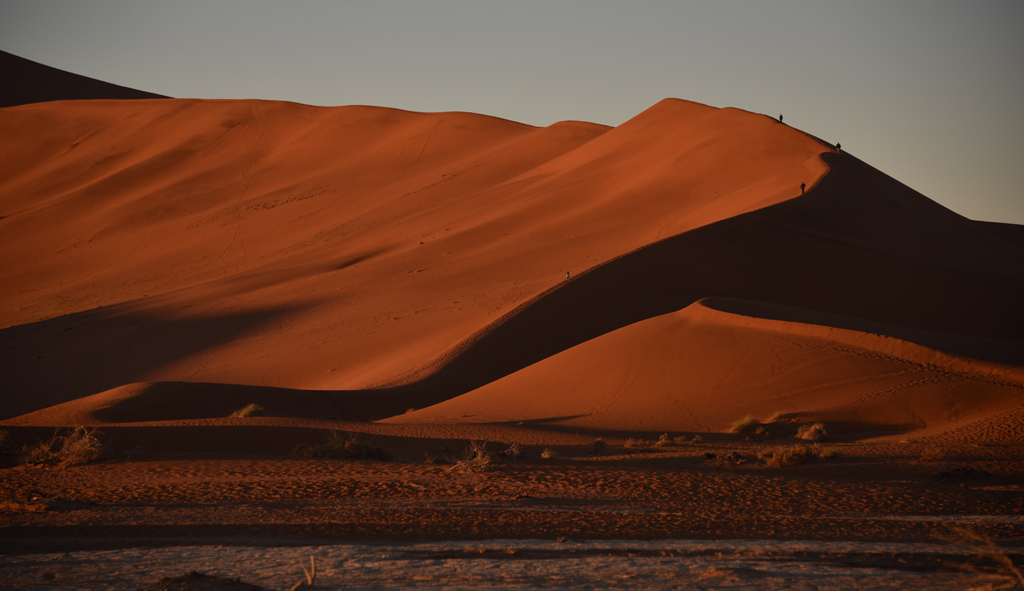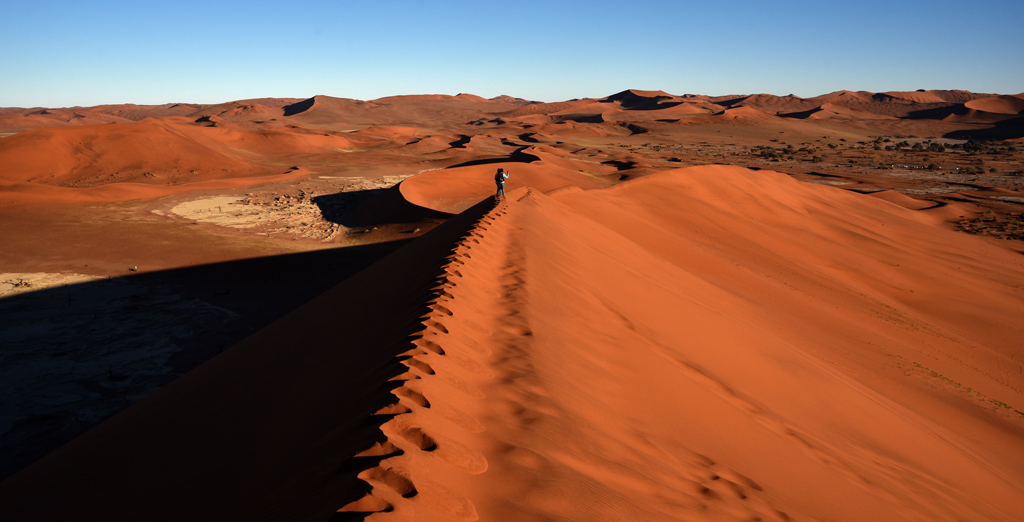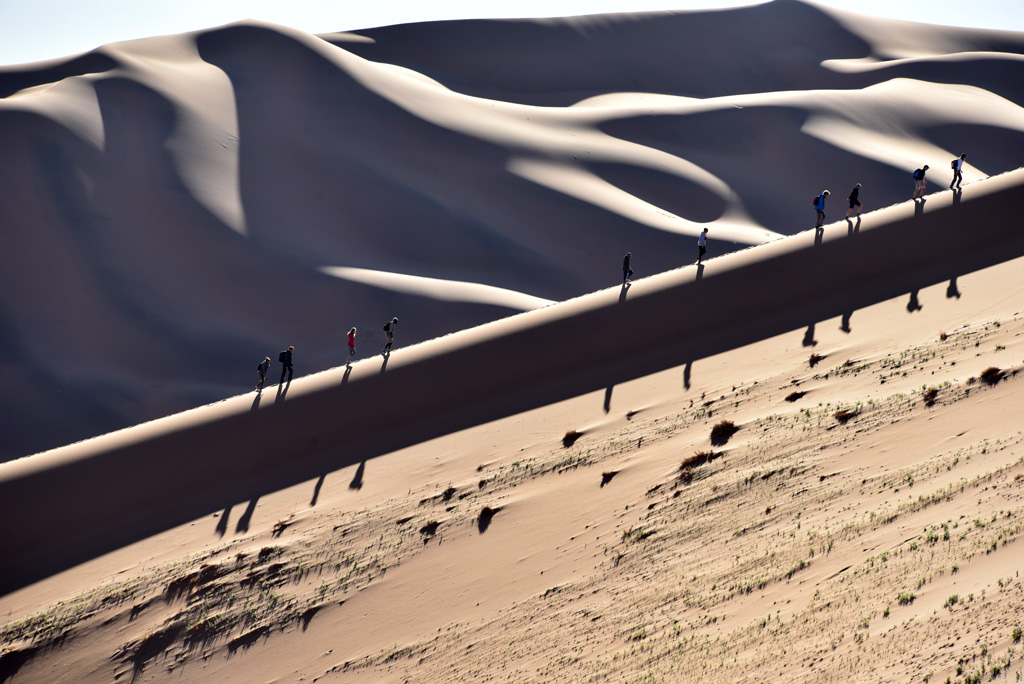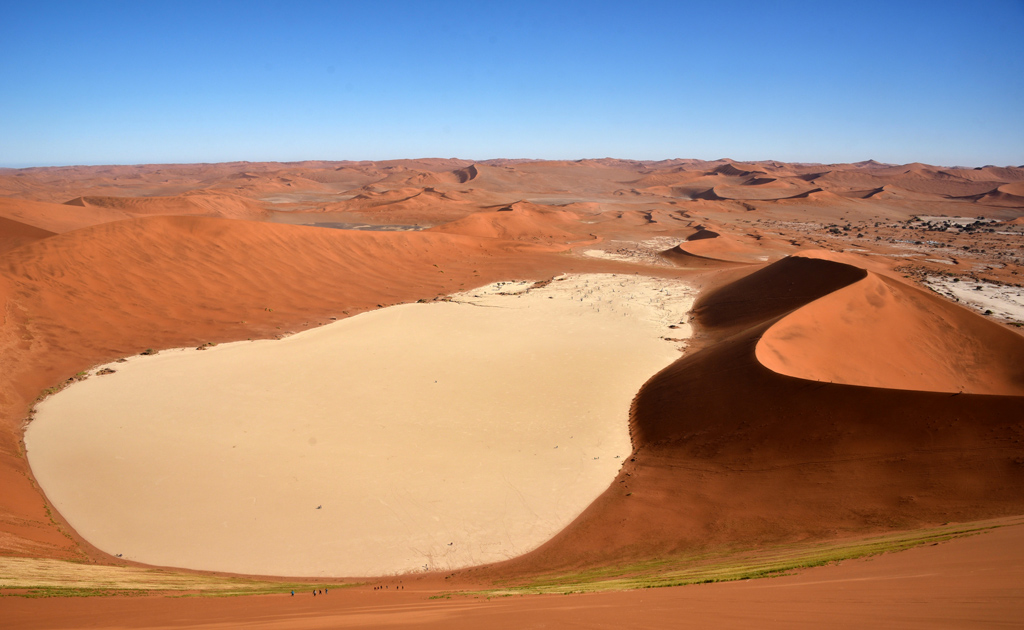 I heard that people staying outside the Namib-Naukluft national park wait at the park entrance until after it opens and then everyone enters in a hurry to get up to Big Daddy and see Deadvlei. It's definitely worth staying in the park to enjoy the sunset and sunrise.
Here's a video of our 8-hour day trip from 6 am to about 2 pm.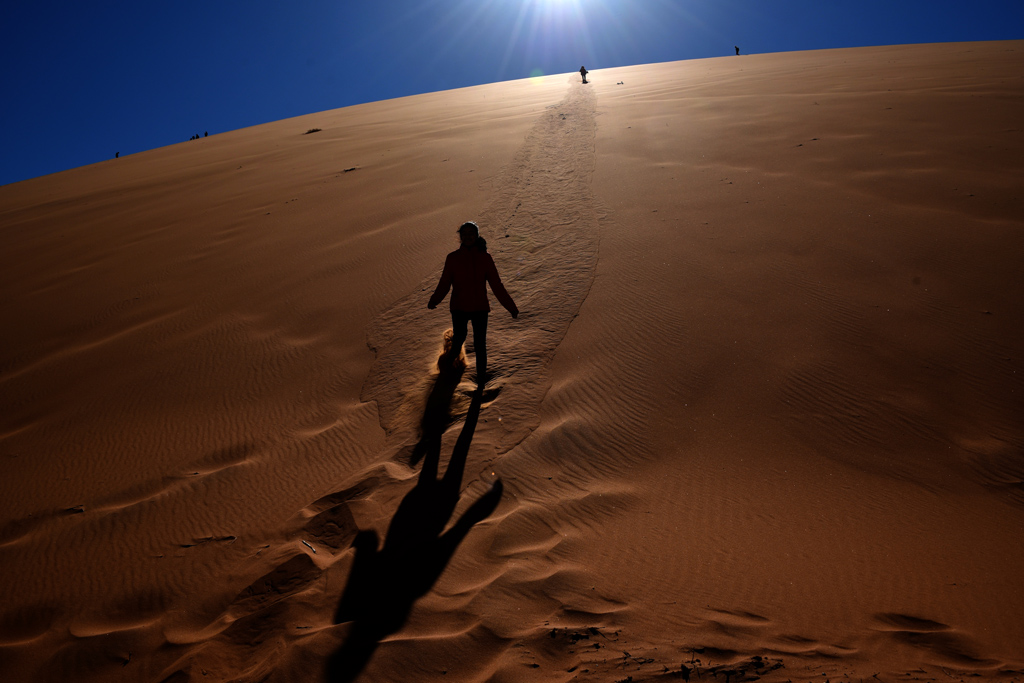 We had planned to spend the morning on Big Daddy but we didn't really plan to climb all the way up. So we didn't bring much water or food with us. The desert generally gets too hot to stay after 9 am, but that winter morning was so pleasant that we kept going. It was totally amazing to be all the way at the top of the world and watch tiny people in Deadvlei.
The clean crisp desert air can be felt by every pixel on your skin. I couldn't possibly explain how amazing it felt, even if I tried my best.
Mid-Day in Deadvlei
Dead Vlei or Dead Valley is the huge salt and clay pan with petrified acacia trees that are standing in place for about 700 years.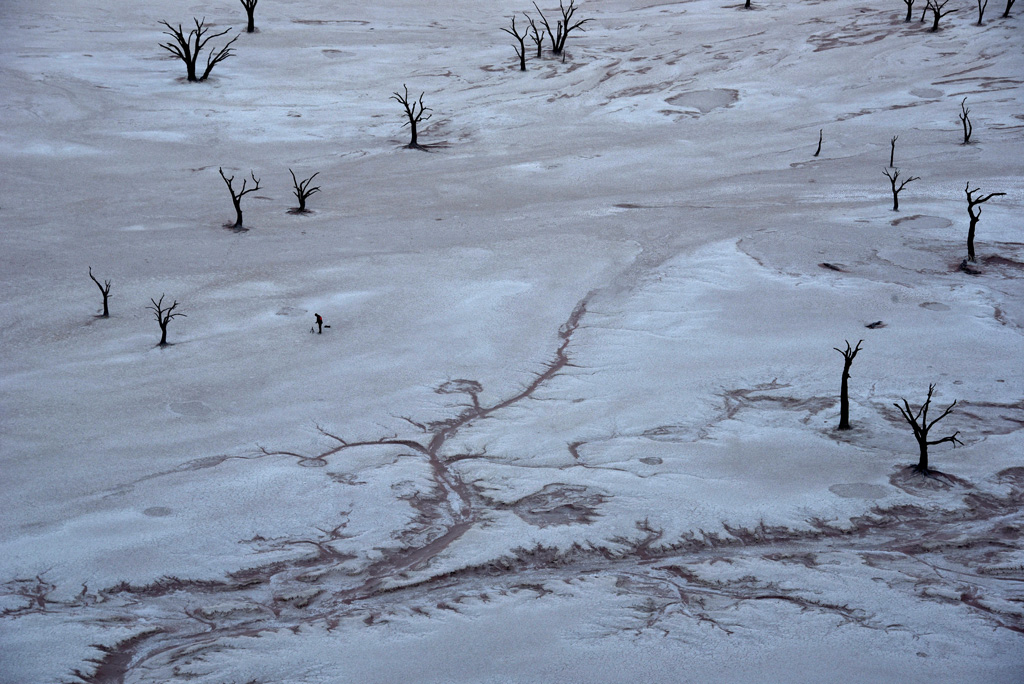 Some of the lakes fill with water if there is sufficient rainfall on the dunes. It's a rare but amazing sight when that happens.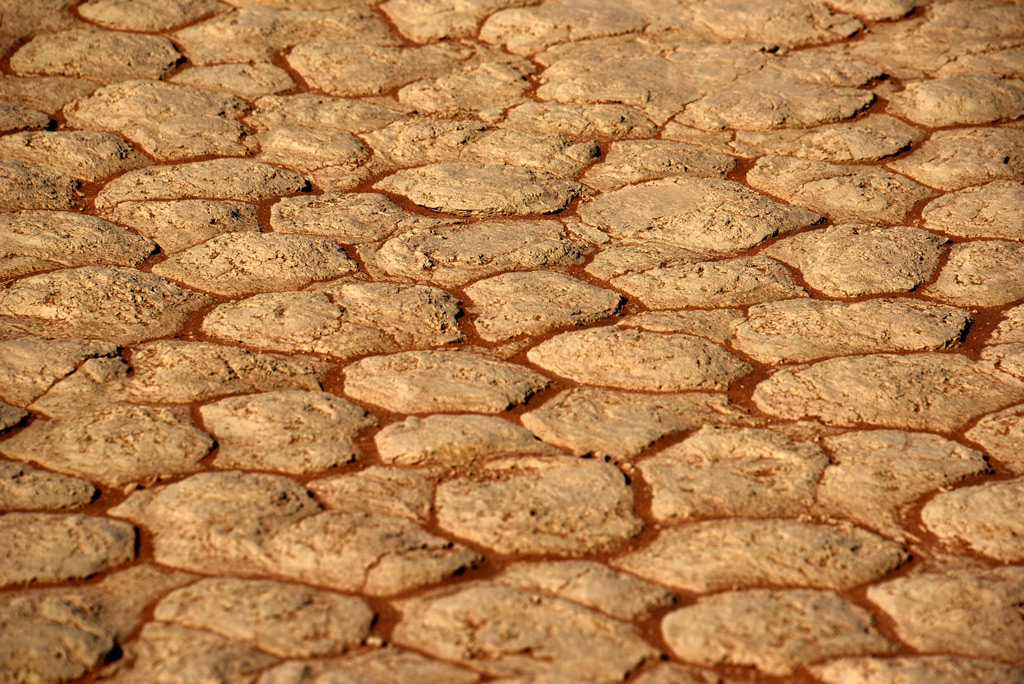 A long time ago Deadvlei was an oasis with many acacia trees. It was a lake filled by a river and rainwater flow from the dunes. As the river changed direction, the white sand & salt hardened and created beautiful patterns. The streams left their signature on the lake bed and the trees froze in time.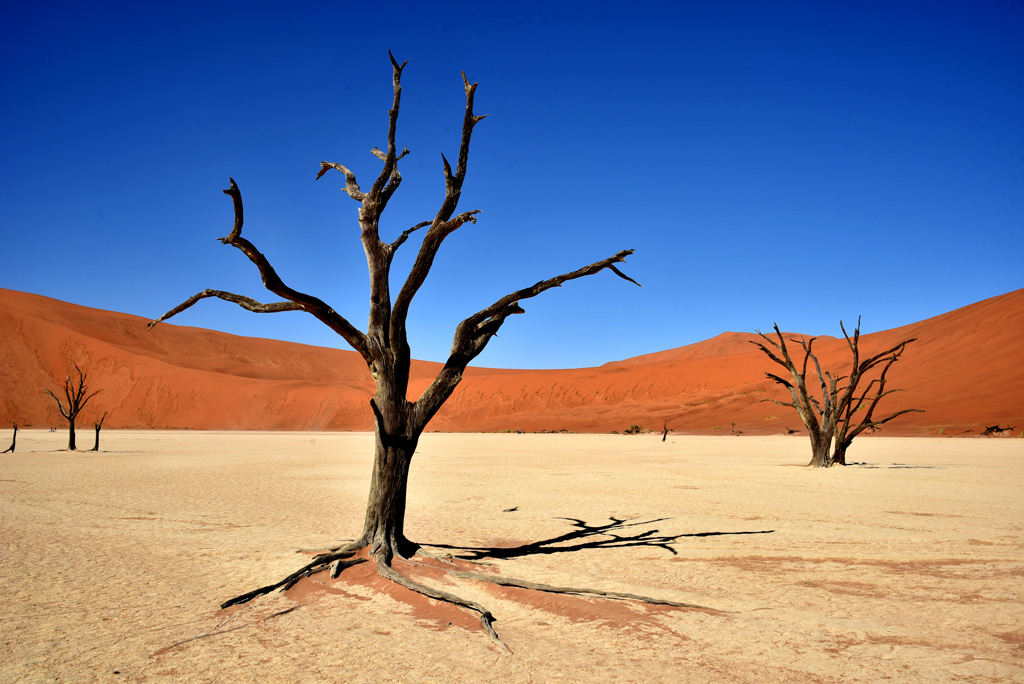 Deadvlei is nature's incredible art created with dried lake and dead trees. Each tree is a masterpiece with three color background – white ground, red dunes, and clear blue sky. No wonder it's showcased in many movies and it's all the rage on Instagram and all social media.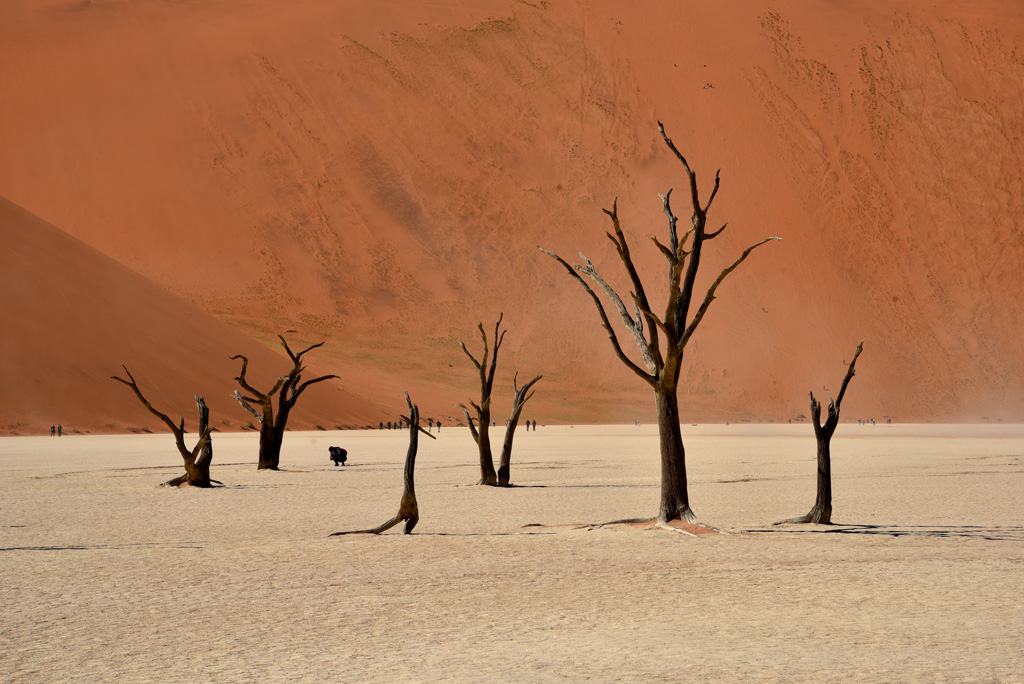 Afternoon Walk on Elim Dune
After an amazing morning on Big Daddy, we got some lunch in the room with warm noodle soup, avocado toast, bhujia, and snacks.
After lounging around for a while we headed to the Elim Dune. The Elim Dunes are part of an older dune system, so there is more vegetation on and around the dunes as compared to Big Daddy. The trees, shrubs, flowers, and grasses, attract more wildlife to Elim Dunes.
The national park staff recommends Elim Rock as the best place for sunset photography in Sossusvlei but it was getting chilly that evening.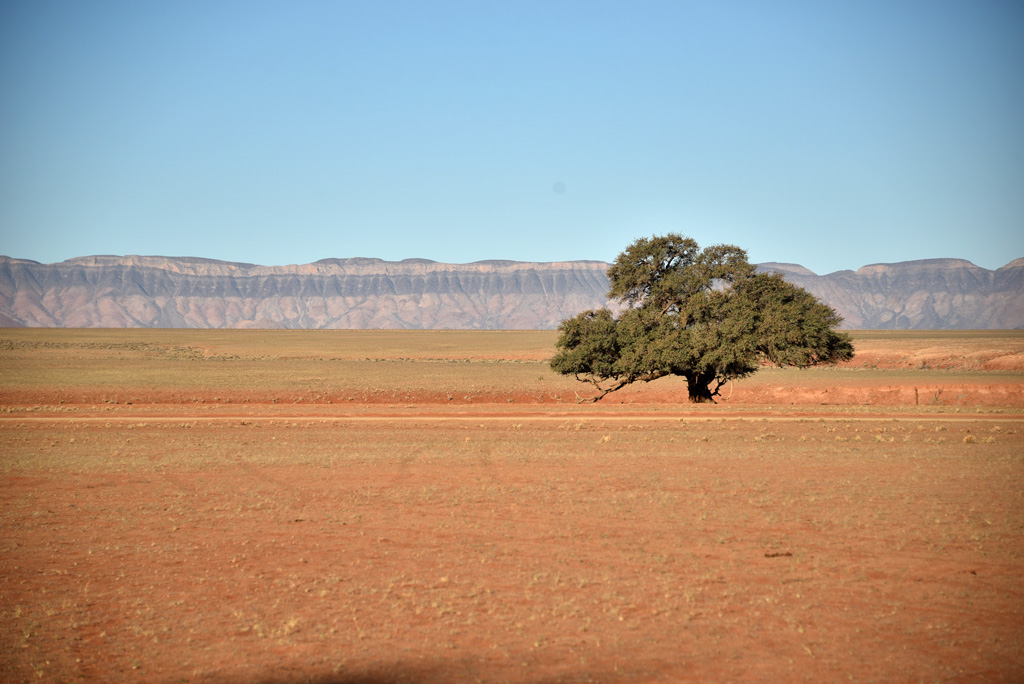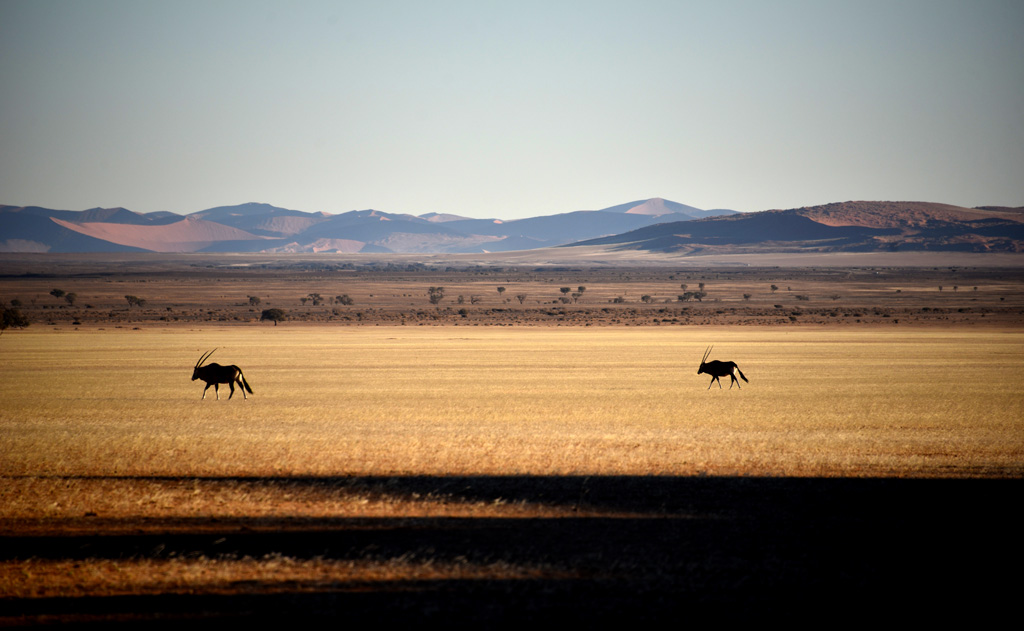 We climbed some of the dunes but then decided to spend more time on the ground and watch the Oryx grazing around. We returned to the resort to film the desert sunset from our room.
Sunset in Sossus Dune Lodge
Given the colder weather that evening, we decide to stay in Sossus Dune Lodge and film the sunset in timelapse. Our room had a spacious outdoor patio, to place the iPhones and watch the sunset. The bonus was watching the occasional wildlife heading home or vehicles driving to the lodge for the night.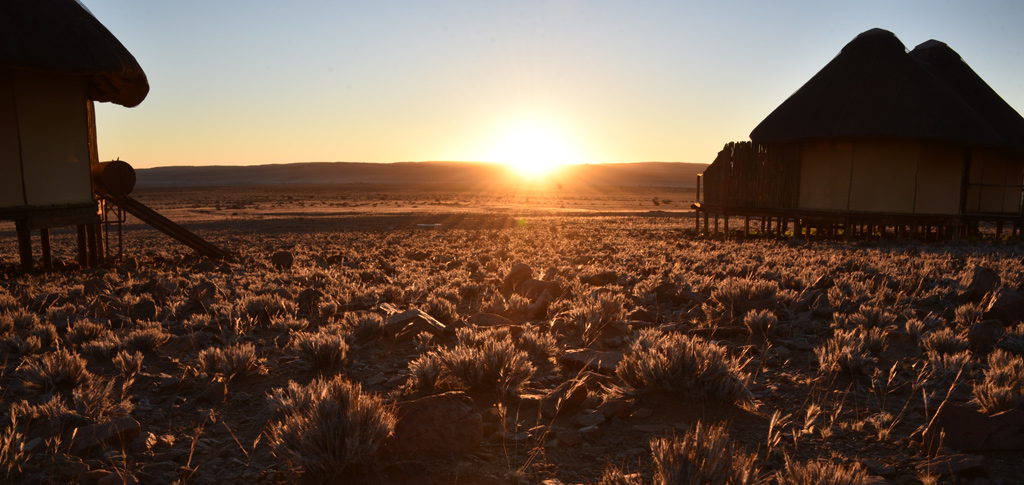 Drive from Sossusvlei to Windhoek via Solitaire and Mountains
On the return drive, we abandoned Google Maps and instead followed the directions locals gave us. It was a more scenic route with much better roads, particularly the section we drove over the mountains.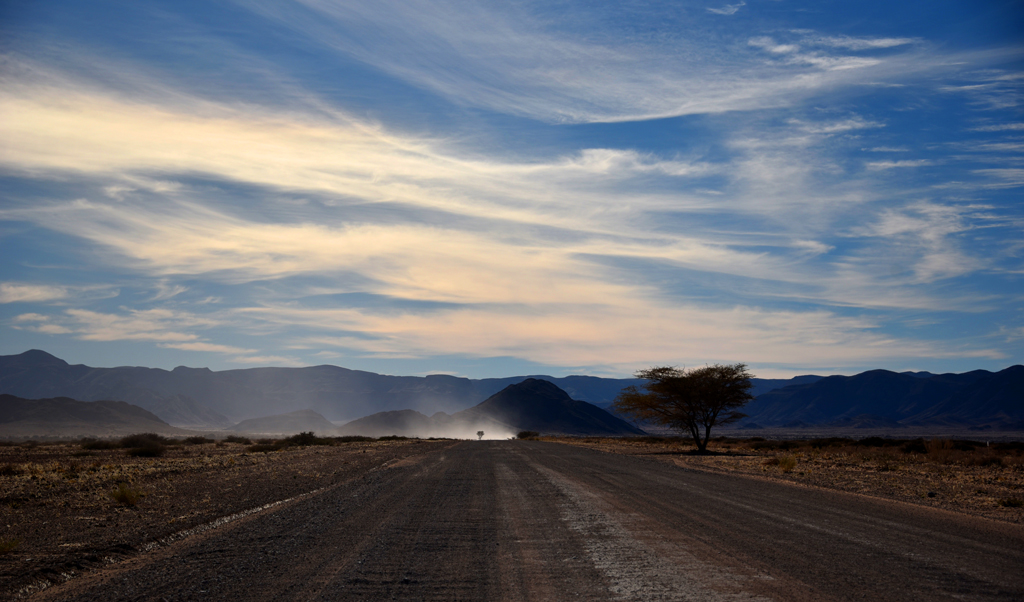 Solitaire, an Instagrammer Favorite
The settlement of Solitaire is the only "town" between Windhoek and Sesriem. It consists of a gas station, a restaurant, two houses, a bakery, and a few old cars.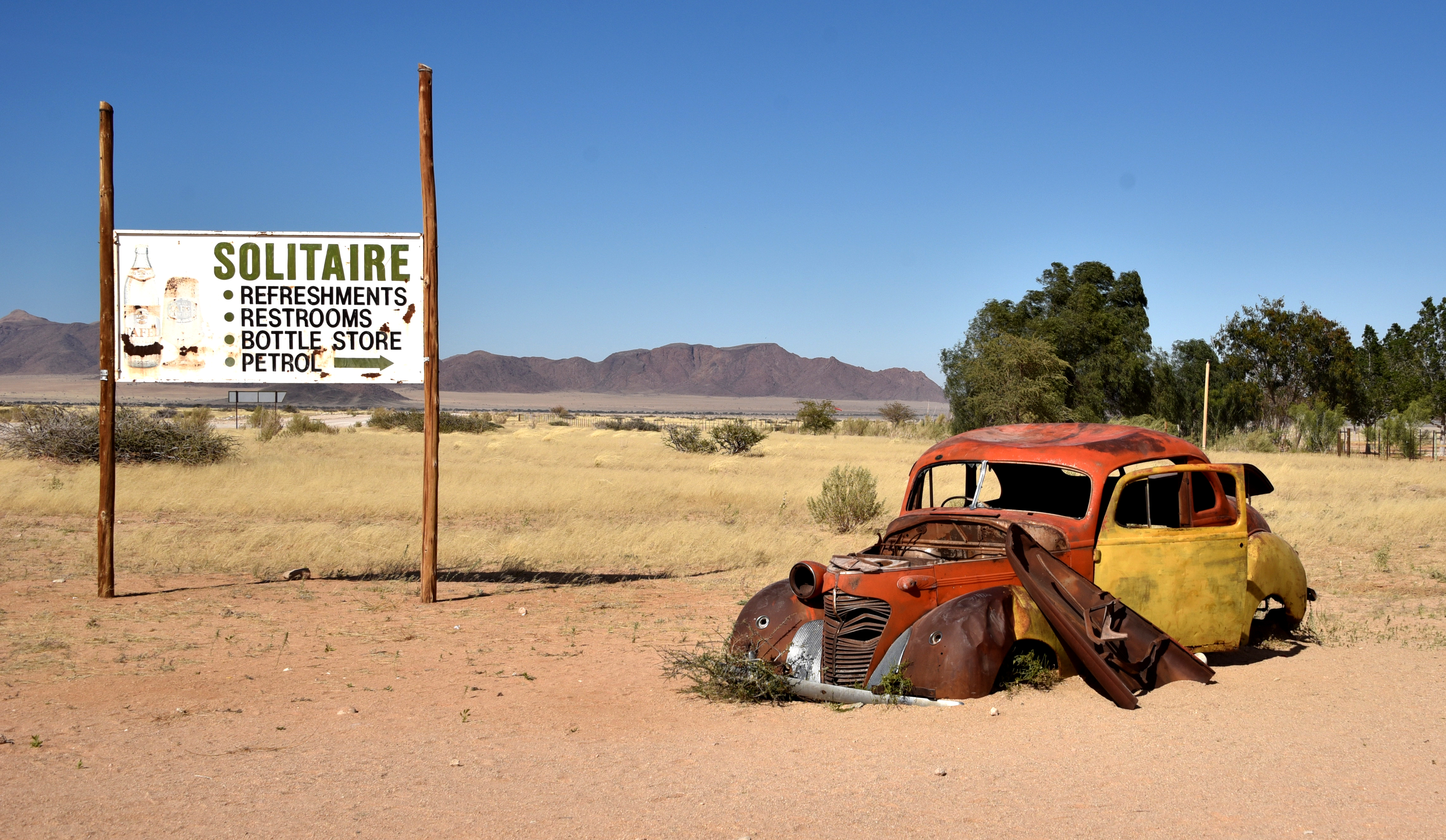 Before the British arrived, Germans in large numbers lived in Namibia. Solitaire is an old German village with many signs of German presence here. The bakery and restaurant are said to be the best German pastries and pies although we were too full to try.
Old German cars and farm trucks are highly photographed. The old cars have put the little town on Instagrammers radar.
Mountain Roads of Namibia
On our return drive, we drove through a Namibian mountain pass. Its a drive through a movie or a different planet.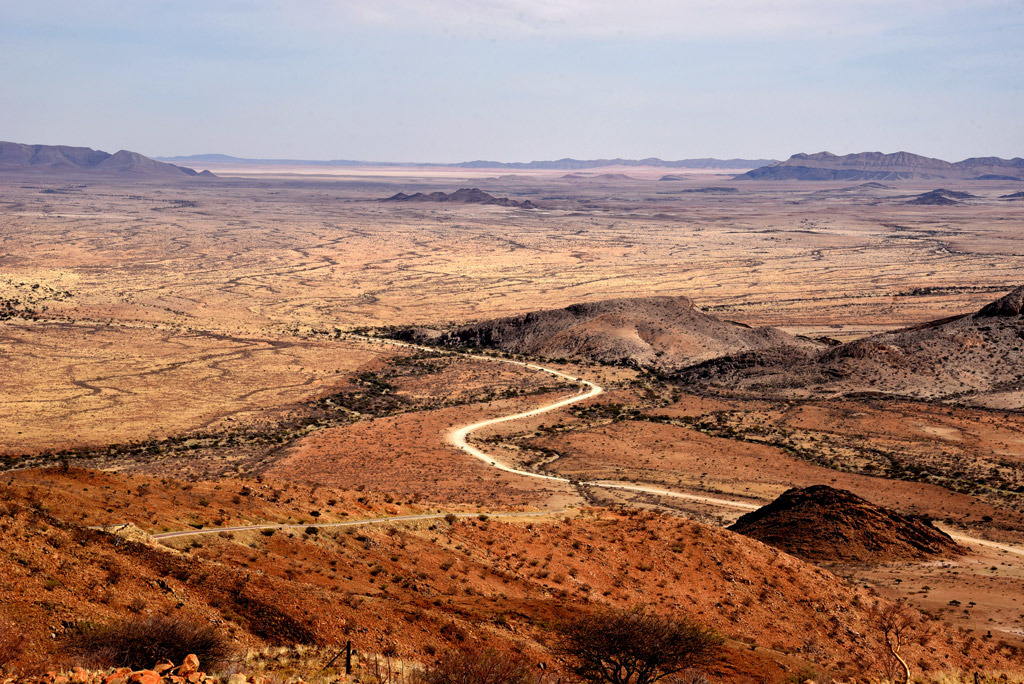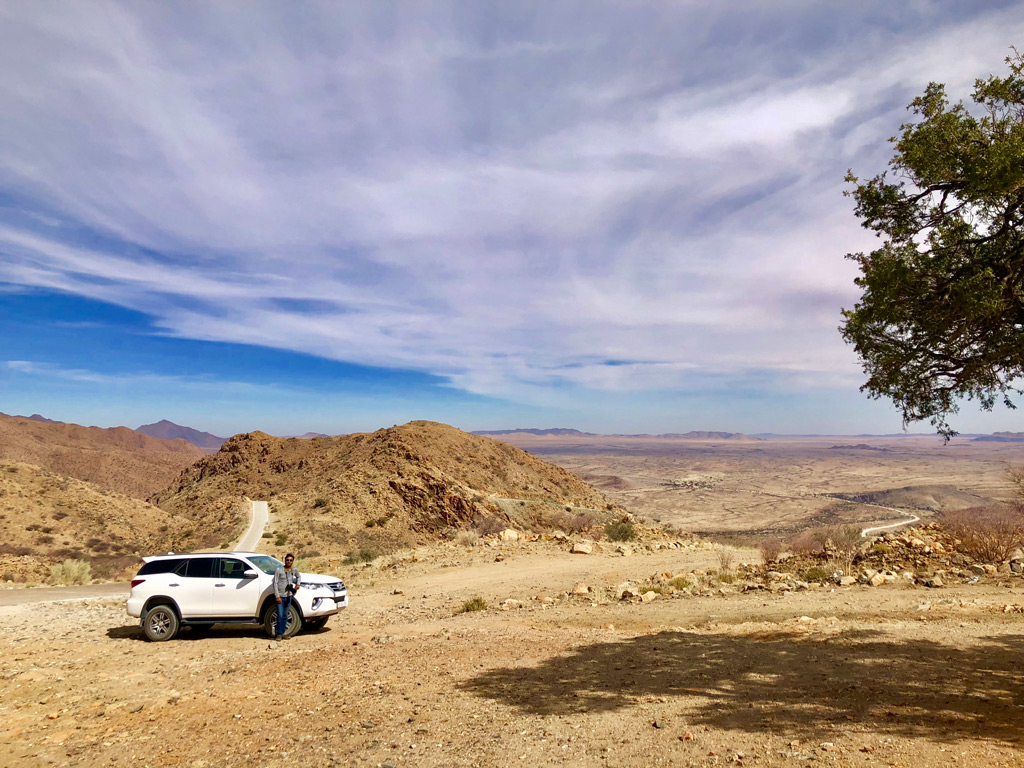 Namibian Wildlife Encounters
Ostrich
Being the shy creatures that they are we couldn't get ostriches very clearly on camera.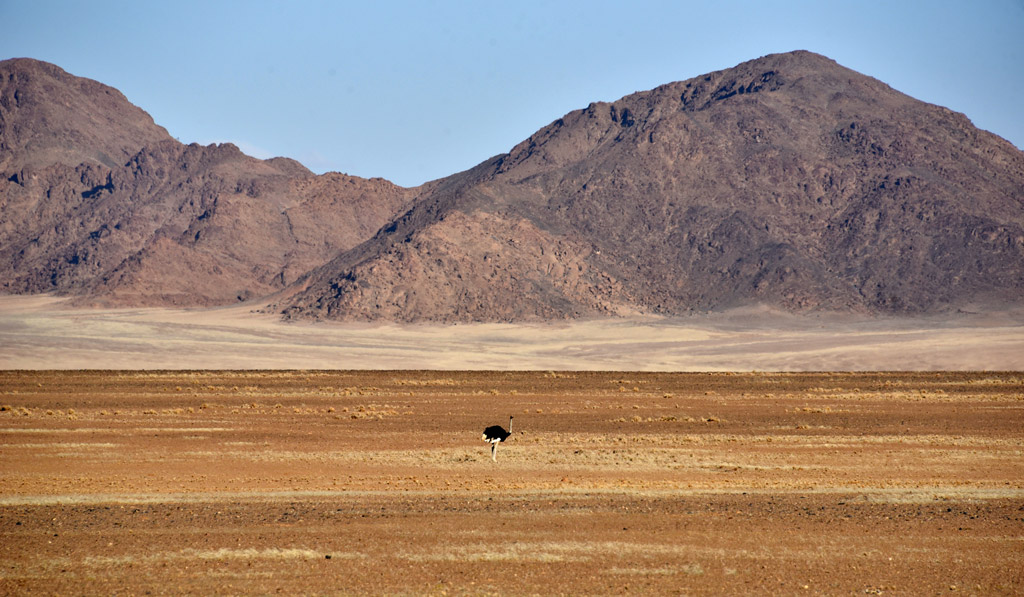 On the drive back from Sossusvlei to Rehoboth, we encountered some ostrich.
NKB_9015 Namibia Ostrich
Oryx
Oryx is a unique antelope species only found in very arid desert regions of Africa and one sub-species in the Middle East.
We saw them at distance on our drive from the resort to the dunes. As we saw them walking towards us, we stopped to watch their behavior.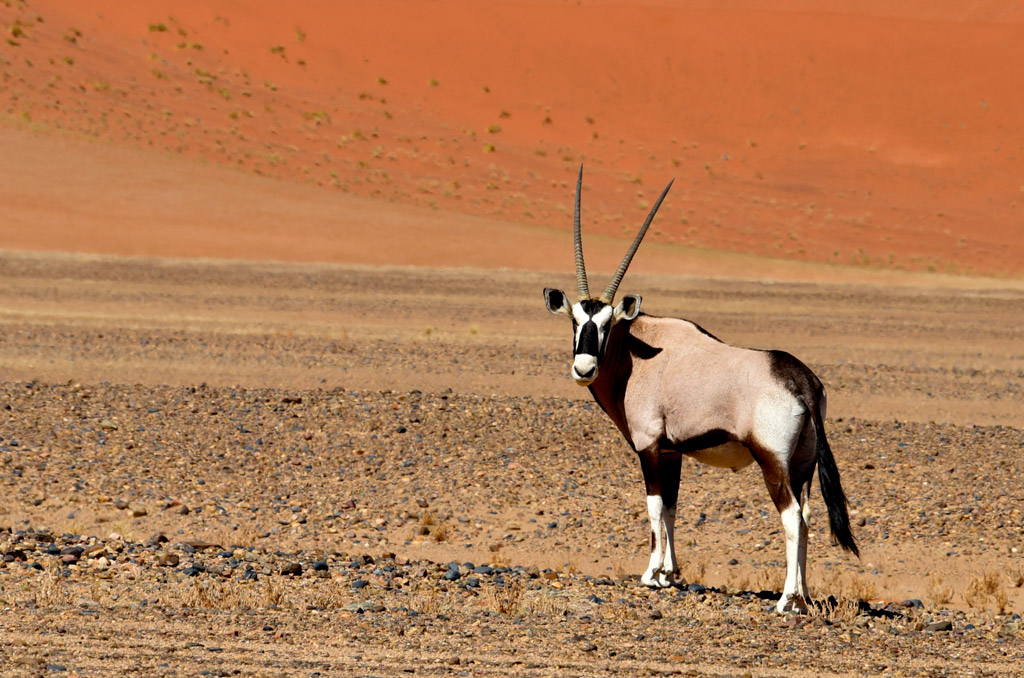 Wildebeest
Along the roads inside the Namib-Nukuluft national park, we just happened to spot a wildebeest. He got up to look at us for a min. He must have felt safe so he sat down again and continued sunbathing.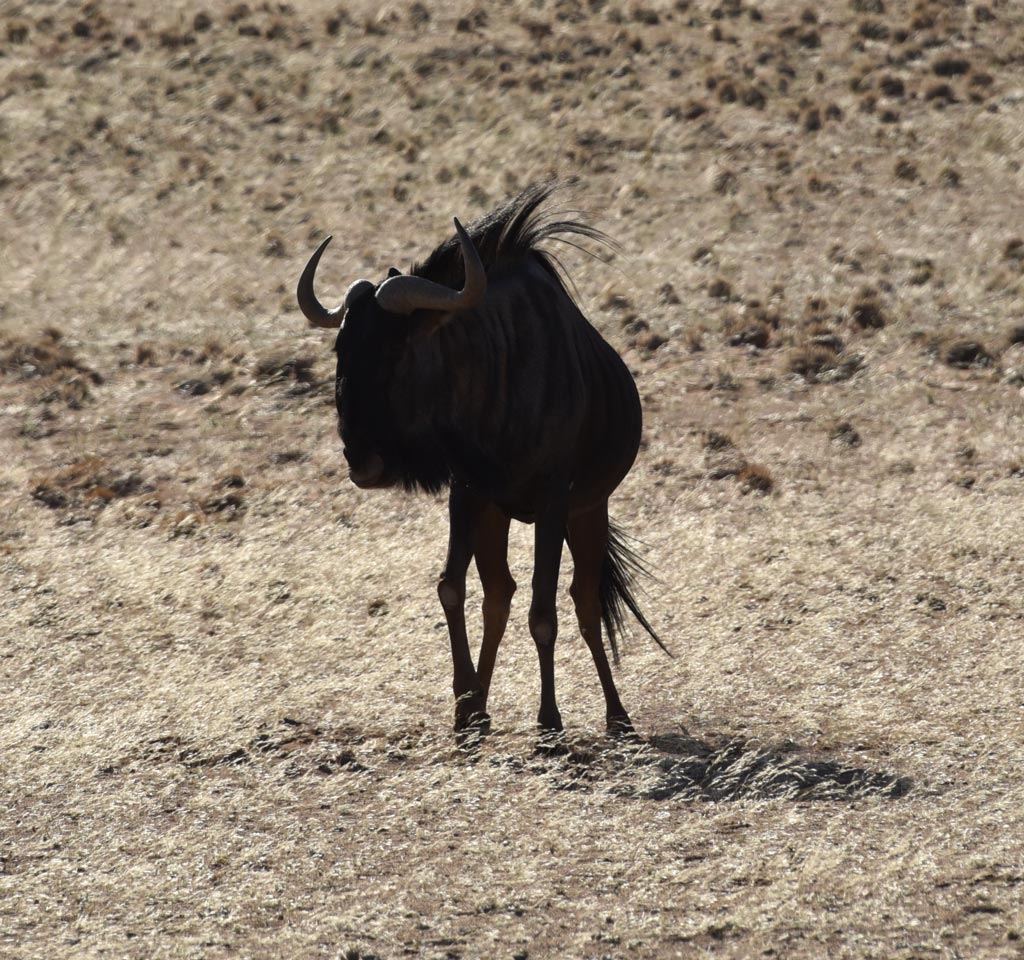 Springbuck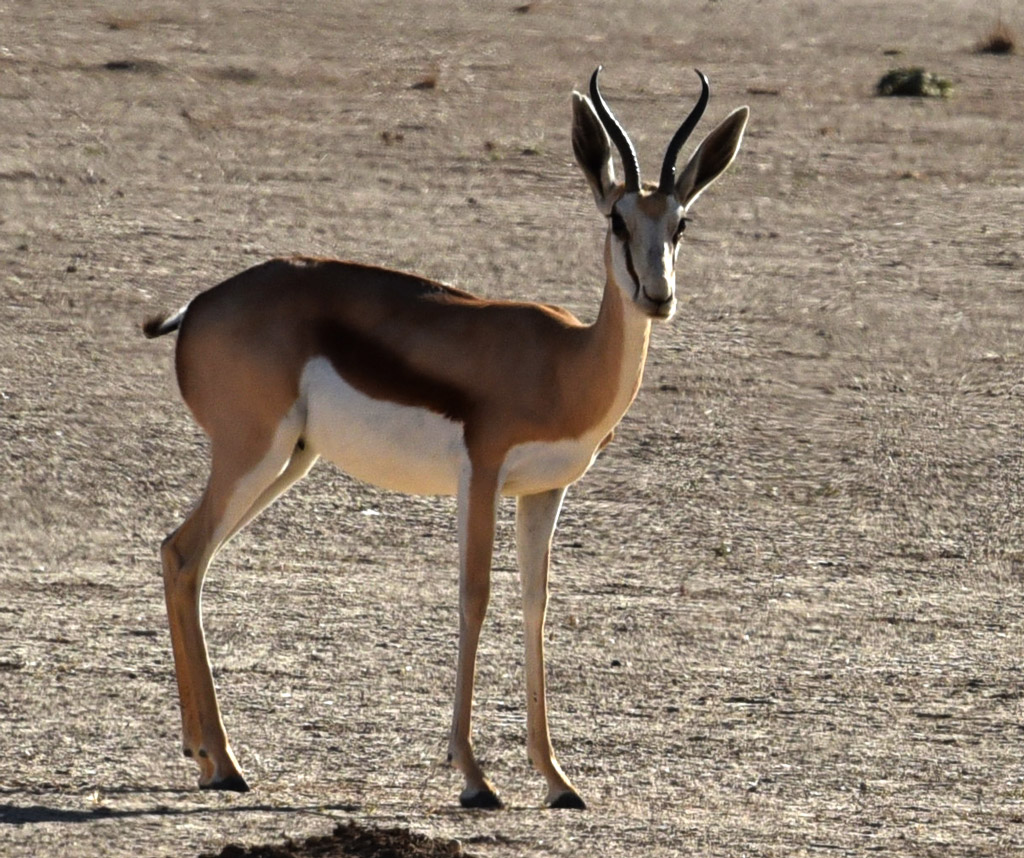 Bugs
Although the desert sand looks pristine with no vegetation or animals, there is a thriving life right under the surface.
Wild dog
Wild dogs and other animals (we're told) roam around the resort. All the rooms are raised a meter above the ground so animals and rolling mountain rocks don't bother guests.
We did see some wild dog-like creature as we filmed the desert sunset. Thankfully it didn't come close or we'd have to stop the camera and rush into the room.
Sociable Weaver
We saw enormous haystacks on trees and poles. Thankfully we stopped to look and discovered the most fascinating and unique desert creatures, the sociable weaver birds. I wrote another article on Sociable Weavers and their enormous communal nests and there is a good video in this Wired article.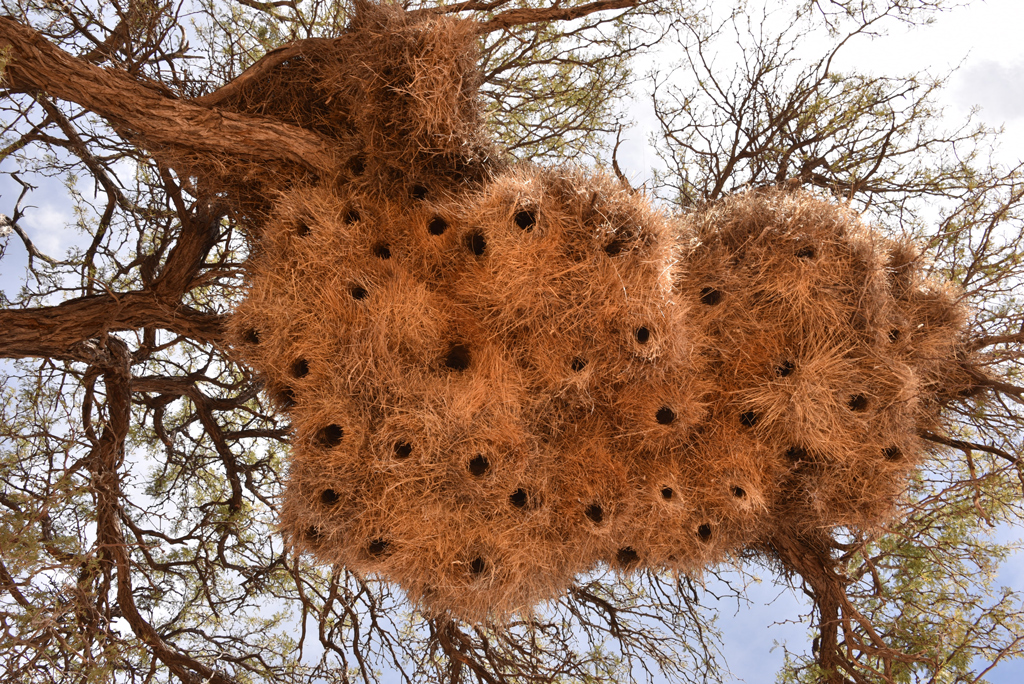 Karoo Korhaan Bird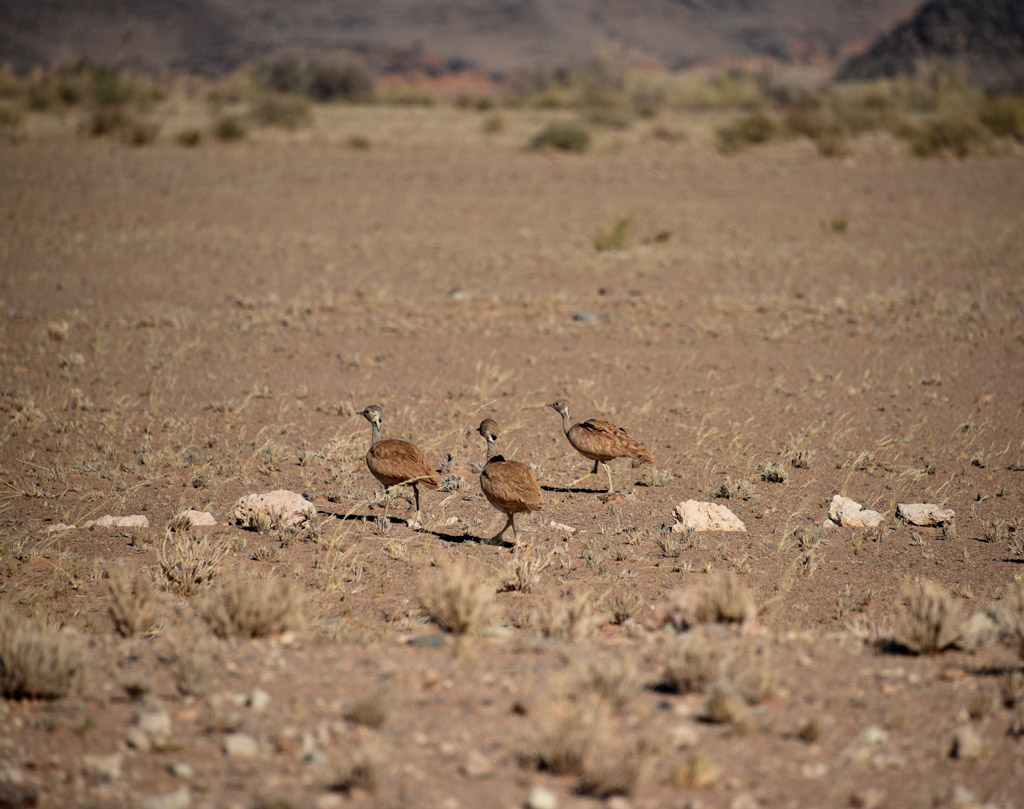 Itinerary for Windhoek and Namib-Naukluft National Park
Day 1: Fly into Windhoek
Day 2: Drive from Windhoek Namib-Naukluft National Park

Check-in to the resort, hotel or campsite.
Climb Dune 45 and watch the sunset.
Dinner at the Lodge.

Day 3: Namib-Naukluft National Park

Sunrise hike on Big Daddy
Deadvlei
Sunset on Elim Dune

Day 4: Return to Windhoek

Visit the Canyon or other parts of the National Park
Drive back to Windhoek

Day 5: Leave Windhoek

Sightseeing in Windhoek
Fly out of Windhoek
More things to do in Namib-Naukluft National Park
Zebra river lodge for mountain zebra safari
Visit Himba tribal village. They still live with their ancient cultures, costumes, and food.
Wildlife safari. We saw a lot of wildlife just by chance. There are more to be if you venture into areas with some water.
Additional Resources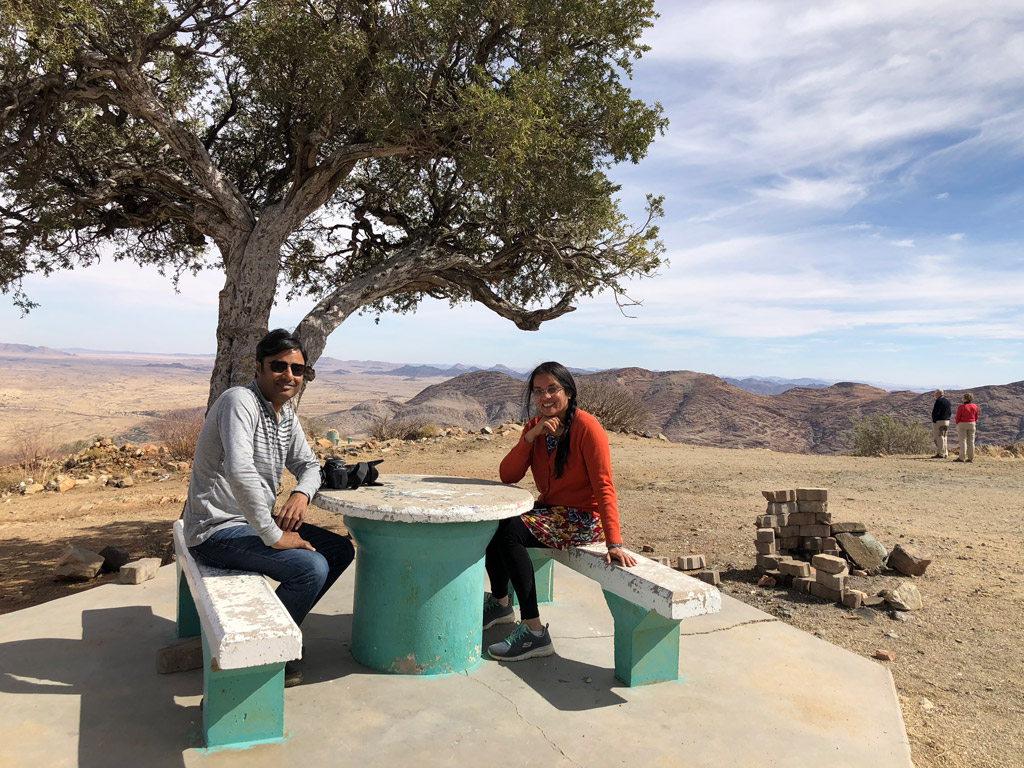 On Pinterest