Malta is popular for mesmerizing blue waters of the Mediterranean sea and the warm climate. But, Malta's claim to tourism fame is its rich history of over 5,000 years including its historic sites, temples, forts, and churches. 5 Days in Malta, including a day trip to Gozo and a day trip to Sicily – is sufficient but one could spend a lot longer because there are many things to do in Malta.
Being on the trade routes of Mediterranean Sea has been a blessing and a curse for Malta. The location has brought many riches from trade routes and also power struggles for domination of the region. Hence, the fascinating history.
About Malta, a Quick Overview
For thousands of years, people built elaborate temples and underground chambers on the island of Malta. After a quiet period in history, the last millennium brought occupation by Greeks, Romans, Ottomans, Knights of Saint John, Arabs, French and British. The fifteenth-century advances in technology brought about gunpowder, cannons, warships and therefore massive fortifications (like we saw in Jodhpur). The various invaders also brought their languages, religions, scripts, and food.
Today, Malta is a combination of its many past influences with a mostly Arabic language, a primarily Roman script, predominantly Christian religion, somewhat Italian diet all mixed with other influences and modified to make it Maltese.
Malta, the tiny speck on the world map, is now a very prosperous country with tourism and IT being their top sources of revenue. It is a tiny country with tons of cities (created centuries ago), each tiny city has its own distinct character. Unemployment is extremely low at 4%, so they get a lot of labor from other countries. The education system is excellent with a focus on English and Maltese language. Malta gets many international students who can get jobs in Malta and contribute to the economy. On the downside, many foreigners (mostly Russians) are buying property in Malta, causing property prices to skyrocket for the locals.
Where is Malta?
Malta is a tiny island country in the Mediterranean. The country and its travel information are hard to find before we arrive but information and infrastructure are very well organized once we're there.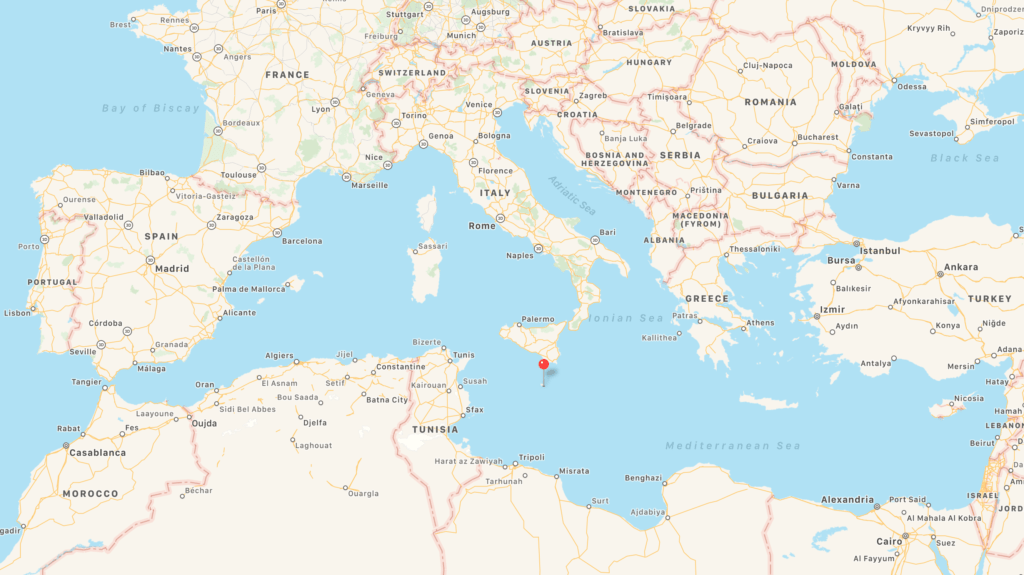 This post is an overview of sights we visited during our fabulous 5 days in Malta. If you have more time, there are many things to do in Malta.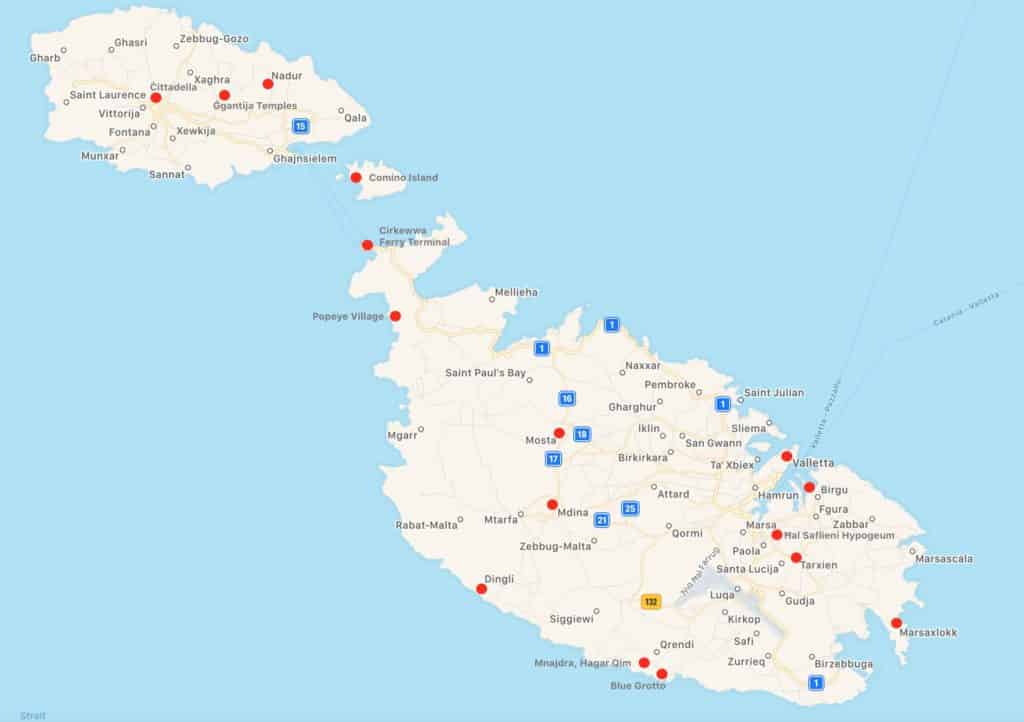 Day 1 – Valletta, the capital of Malta
Valletta, the current capital of Malta is also the most popular attraction for visitors to Malta. It had a very eventful history of wars and invasions. Valletta and the three cities across the bay are heavily fortified for protection from invaders.
St George Palace square
St George Palace square is one of the best places to start exploring Valletta. Many monuments like St John's Co-Cathedral, church museum, palace, library (Bibliotheca), cafés and more are located near the square. Our taxi dropped us near the square, it was astounding how she made it through the narrow streets. We visited Valletta on a Sunday so all the museums and St John's Cathedral were closed. But, there was a garden festival, street arts and crafts show in St George Palace square.
We took a rather unnecessary 30min mini train ride around the city starting from the cathedral. It gave us a good orientation for our later walks but also made us miss the Mdina Renaissance re-enactment.
Fort Elmo Area
Fort Elmo is another nice area with its views of the other cities, the Malta Experience 4D video, Knights Infirmary, open spaces, and cafes. The Malta Experience video gives a good introduction to the island's history. Also, we later found that visitor centers are well made with videos and museums.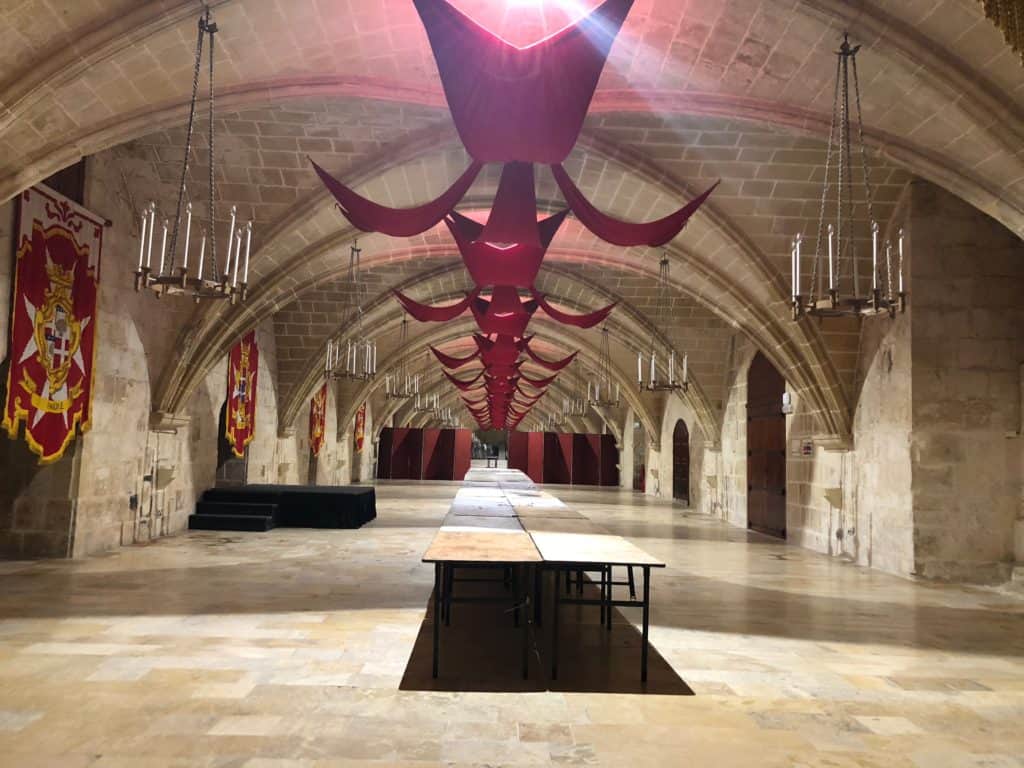 More Around Valletta
We wandered around Valletta neighborhoods and back streets taking pictures of alleys and distinctive Maltese wooden balconies.
Republica Street, the main street through Valletta, is decorated and lined with cafes. Due to the street festival that Sunday, it was very lively with performers and arts & crafts.
One can also take a look inside a typical wealthy person's house and by taking the tour of Casa Rocca Piccola. It's a period house of Valletta.
Upper Barrakka Gardens is beautiful with its gardens, arches, walkways, water fountains and most importantly the views of the three cities.
We wrapped up our first of 5 days in Malta with an Indian dinner in St Julien's.
Day 2 – Day Trip to Sicily
A day trip from Malta to Sicily or the other way round is pretty popular for visitors to either country. It is a long day with most of the day on ferry or buses. We were unsure of it but I'm so glad we did it. We got plenty of time at the stops and lots of naps on the ferry and drive.
We took a day tour organized by the hotel but one could also take their car and drive in Sicily. We also got advice from the friendly staff on the ferry to Sicily. The day trip to Sicily included a few stops –
Taormina
Taormina is a UNESCO world heritage site. The highlight was in Taormina is the ancient Greek theater, Lady Florence public garden, great food, shopping and the beautiful Sicilian town.
Mt Etna
Mt Etna is one of the few active volcanoes in the world. Like Iceland and Hawaii's Big Island, it has enormous lava fields. The fields are perfect for hikes or viewing from a cable car. It's like being on the surface of another planet – all black fields dotted with hundreds of volcanic craters.
Many excursions, cable car, restaurants and souvenir shops line the parking area.
Sicily Food Tastings
Tastings of wines, olives, olive oils, honey and the many Sicilian foods like sun-dried tomatoes, capers, artichoke etc is an absolute must in Sicily. I'm convinced that it's a way for the guide to make the extra buck. The location was obviously set up as a quick tour group shopping stop. Either way, it was certainly great to incorporate it into our day trip to Sicily.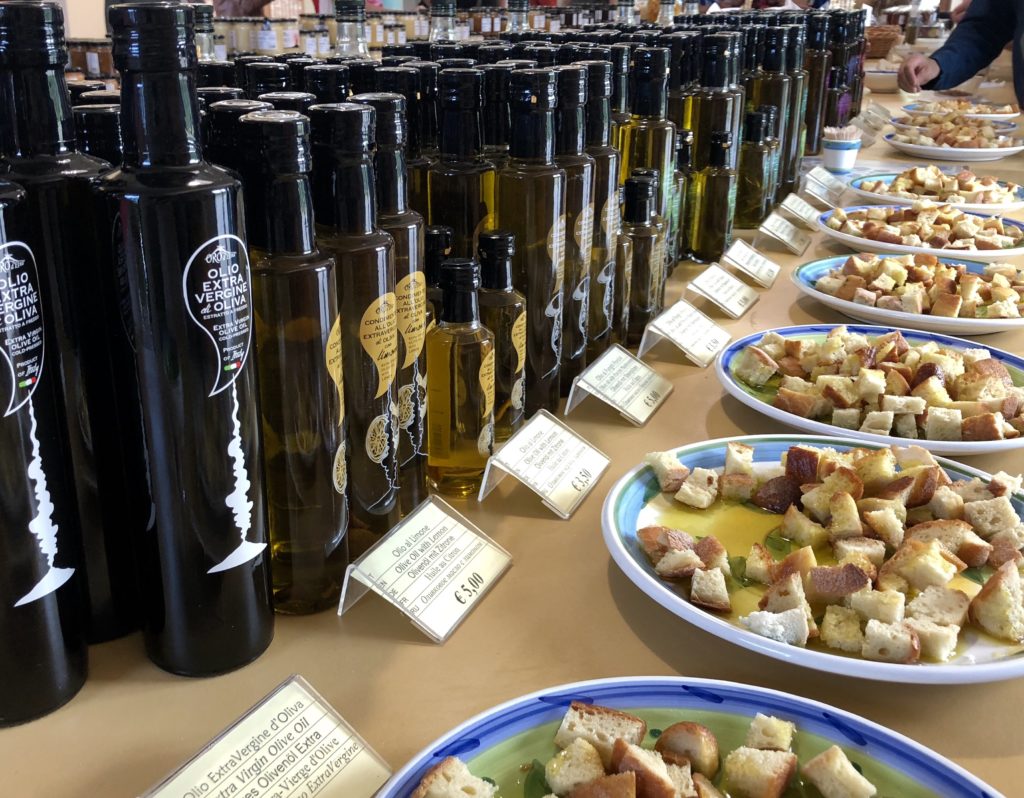 Next time I would do a self-drive trip but this worked well because we were jet lagged and unsure of driving on Sicily's roads. I would say our second of 5 days in Malta was pretty amazing. I would totally recommend the day trip to Sicily.
Day 3 – Prehistoric Temples, Coves, Fishing Village and Mdina
After the first day of getting by with taxi, public transportation, considering hop-on-hop-off buses etc., we decided that we need to rent a car for the remainder of the visit. It was a great decision because it earned us the freedom to go wherever we wanted whenever we wanted. Driving in Malta is quite easy as long as there are two people – one to drive and one to navigate. We used Apple Maps the entire time, except as always when one of us insists on Google maps. After much debate and running both apps simultaneously until Google Maps led us into the sea instead of the ferry terminal parking – the argument was put to rest and I was free to use Apple Maps. It worked without the slightest issues on the entire trip.
On Tuesday, our 25th anniversary, we drove around Central and Southern parts of Malta.
Ancient Temples in Malta
Ancient temples are some of the most important discoveries from the temple period, some 3000-5000 years ago when the islands were inhabited by the brilliant temple builders. Malta Heritage has done an incredible job of putting together the puzzles by picking up fallen pieces of rock and reconstructing the temples as best as possible. They are also doing everything possible to preserve these historic treasures for future generations or until our forensic science advances enough to decipher more about these amazing architects.
Temples of Mnajdra, Hagar Qim are in the south-west part of the island. Hagar Qim is right by the parking area and has a really informational museum and video. Mnajdra is a nice walk to the edge of the island. If you're short of time or not keen on walking uphill, with no shade, I'd suggest taking a ride in an airport-style cart for €1.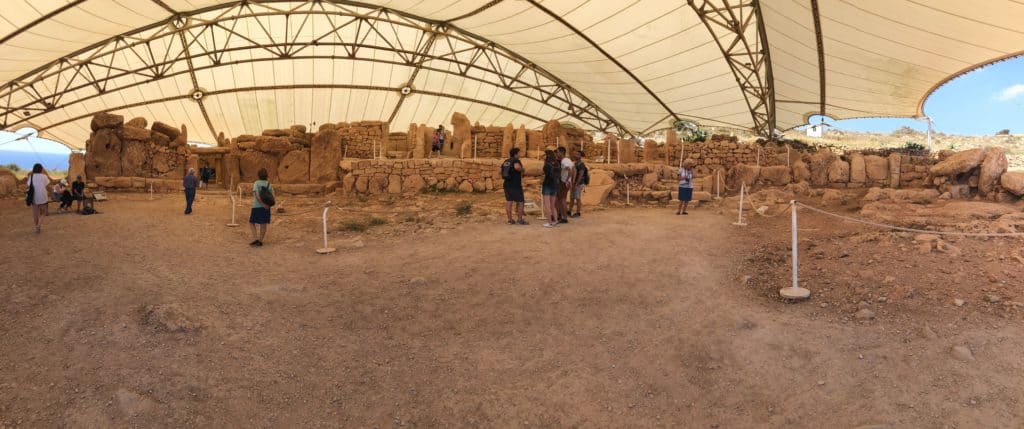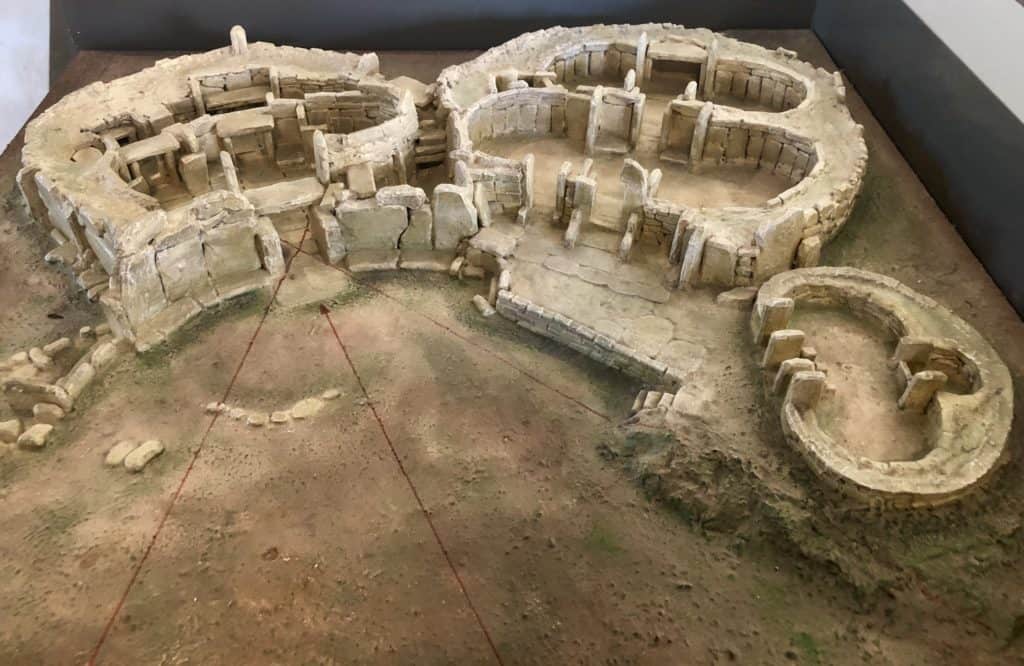 Tarxien is another ancient temple, right in the middle of a city, not too far from Hal Saflieni Hypogeum or Valletta. I suppose we could have combined it with one of the other visits. Quite similar in overall style with the earlier temples, it was from a different time with some important differences. Also, the cemetery next door is quite peaceful and beautiful.
Blue Waters of Malta
Blue Grotto near Qrendi, on the way to the temples, is an excellent stop for diving, swimming or boating in the crystal clear waters of Malta's coves and caves. It's relatively small and not as busy with tourists. It's a real hidden gem that we heard from a friendly local.
Jellyfish bloom season started a bit early this year, just in time for us to witness the magic. The Jellyfish were everywhere according to a volunteers reporting system from around the island.
Marsaxlokk is certainly the prettiest fishing village in Malta. Many of the postcards pictures with pretty boats are from this bay with an impressive church, beautiful balcony homes from a century ago and cafes. We had a wonderful afternoon in Marsaxlokk sipping delicious smoothies in an open cafe by the bay while watching colorful boats bobbing happily. We got extra lucky because the village was celebrating the annual Santa Maria festival and the whole village came out for a procession.
Mdina
Mdina was the destination for our Silver anniversary dinner. It was definitely special and forever memorable. We've visited many amazing fort cities around the world e.g. Dubrovnik Wall, Mehrangarh Fort in Jodhpur, Sinhagad Fort, Edinburg castle, and other Irish castles. But there is none like this picture perfect original capital of Malta. It is silent, imposing, serene and so much more. The pristine, narrow alleys were lit up golden with the ornate lamps and evening sunlight. We and a few natives of Mdina had the fort city to ourselves on this lovely evening. To top it off, dinner in Bacchus's medieval cave-like setting was charming. Thanks to the recommendation from our dear friend, Nisha.
There are many things to in Malta. Mdina, Marsaxlokk and Blue Grotto would be on the top of my recommendations list.
Day 4 – Day Trip to Gozo, the Laidback Island of Malta
Gozo is the smaller sister island, north of Malta. It is conveniently reachable by ferry from the north-most point of Malta. Gozo is very different and more rustic than Malta. People in Gozo speak a different language and life is slow and easy. They don't have busy cities. Most men work and stay in Malta during the week while women live in Gozo. So on a typical day, there are 3 women to 1 man in Gozo, not counting the tourists.
There is a ton to see and experience in a day trip to Gozo, maybe we should have driven all around the island but we spent more than planned time in transit and in soaking in the Ċittadella.
Temples and Windmill in Gozo
Gozo has the Ġgantija Temple site, which is larger and different from temples in Malta. It's set in a much larger compound with walkways around gardens of native plants including the huge cactus, wildflowers, vegetable patches.
About a minute walk from the temple is Ta' Kola windmill, which is a misnomer. It's not like the typical Dutch windmills. It's a traditional grain grinding windmill along with the restored machinery, a museum of tools and staged living quarters of a family from about a century ago. Many of the tools and gadgets in the house are not very different from those we saw in Indian towns as we were growing up. It makes me feel ancient, knowing the tools I saw my grandparents use are now in museums. The same tools may have been innovations just over a century ago. I wonder what we'll see in another 100 years with the pace of innovation continuing to accelerate.
Gozo's Cittadella
We spent much of our time in the beautiful Cittadella in Xlendi. Starting with its innovative visitor center and movie about the history of Gozo. We saw a temporary exhibition of original art from the 18th and 19th century. Thereafter, we visited many of the nice museums in the Ċittadella. We walked the fort wall for views all around and had a traditional Gozo lunch at a cafe on the wall.
Nadur
Nadur is one of the many little towns in Gozo. We went there for the 100-year-old Mekren's bakery and its amazing treats. The town square was really nice to hang out and have coffee with the locals.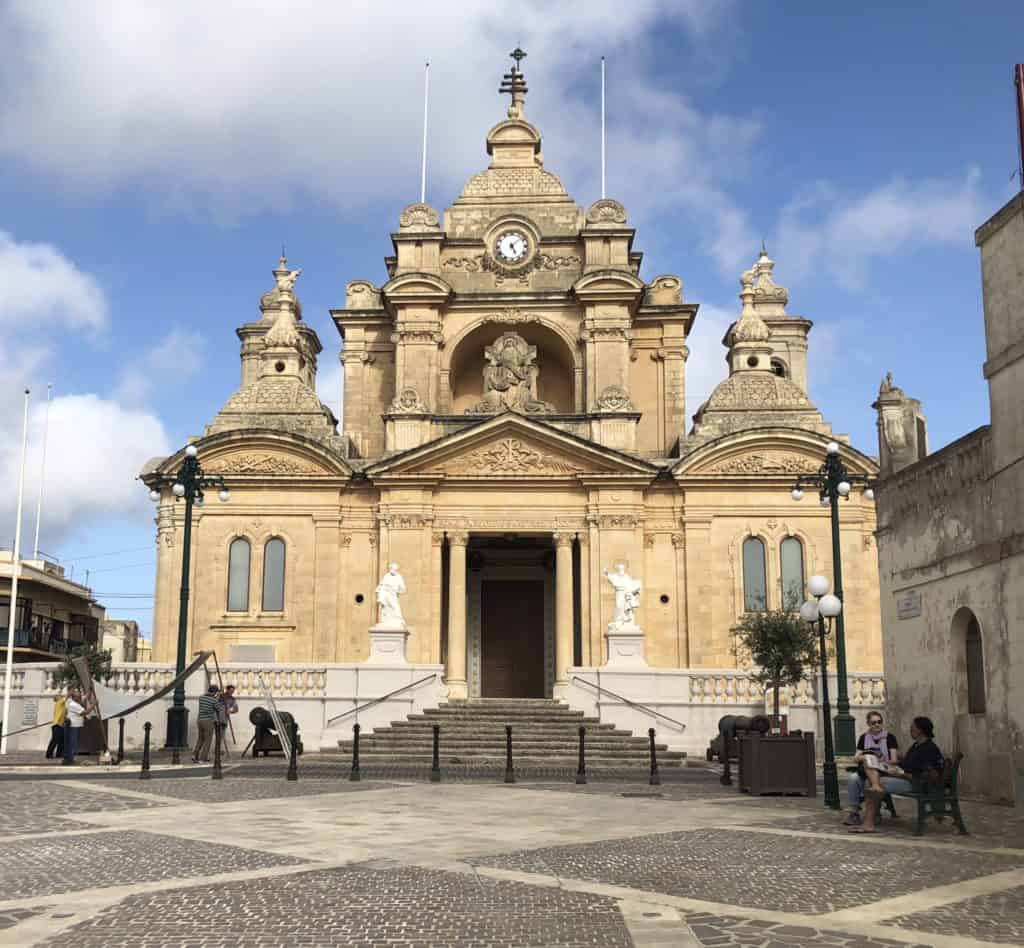 There is so much more to do in a day trip to Gozo, but it was time for us to leave and catch the ferry back to Malta.
Popeye village
On the way back from Malta's ferry terminal to our resort, we stopped by the picture perfect Popeye village for views of the sunset on the western coast. There is a nice walk along the cliff with views of the sun setting in the sea.
Popeye village looks like a real Malta fishermen's' village but in fact is a mini theme park for families.
The day trip to Gozo wrapped our fourth of 5 days in Malta. It was hard to fathom that we had already been there for 4 days!
Day 5 – Malta's Hypogeum, Three Cities, Mosta Dome and Hiking
By our 5th day in Malta, we were completely comfortable driving around the island. We could give locals directions on getting around Malta!
Hal Saflieni Hypogeum
We visited the much anticipated Hal Saflieni Hypogeum, the underground burial and ritual structures. It opened only a year ago after being shut down for construction of this magnificent museum. In order to prevent further deterioration, the tour is only by reservation and limited to 10 people at a time. The tours book months in advance. This is definitely a must-visit site for anyone interested in history. We got extra lucky and met the museum's next door neighbor who has lived on this site for his entire 71 years of life.
The Three Cities
The Three Cities are not too far from the hypogeum. The best way to see them is with the Rolling Geek. However, we decided to just walk around and chat with people in Birgu, the middle and most picturesque city of the cluster of cities.
Mosta
Mosta Dome was on my list because of its massive unsupported dome ceiling visible from the airplane and its gorgeous decorations inside. It certainly did not disappoint. The Cake Box cafè was a bonus. We wanted to see how Mosta Dome compares with the Pantheon in Rome and its grand dome that has lasted longer than any structure of its scale and engineering. There is no comparison with Rome or its behemoth monuments but compared to the size of this town of 100-200, it's extremely impressive.
Hiking Along Dingli Cliffs
Dingli cliffs hike on the west coast was a must before leaving Malta. Dingli cliffs with the beautiful views of the Mediterranean sea, the little villages, and the beautiful sunset was a wonderful way to wrap up our 5 days in Malta.
Tips for 5 Days in Malta
Tips on Things to do in Malta
Book the Hypogeum tour many months ahead of your visit. If you are not able to book ahead, a few next day tickets are sold at a couple of locations. People line up around 5 am and stand in line for many hours. Our resort was able to get tickets for by sending someone to stand in line for us. They needed the passport numbers and charged extra for the service.
Try the Maltese food, there are many vegan and vegetarian options too.
Everyone speaks English and everyone we met was very friendly and helpful. Don't hesitate to hang out and talk with locals.
It's a very safe country. We never heard of any warnings about safety – at day or night.
There are many things to do in Malta but the most important sites are the prehistoric temples. Valletta, Mdina and Gozo Cittadella. Be sure to visit at least 1-2 ancient temples. Unless you're really into history, 1-2 should suffice.
Check for festivals. There seems to be a festival every weekend and everyone shows up.
Getting Around in Malta
Rent a car if you prefer the flexibility to go anywhere any time; if you are comfortable driving on the left-hand side(like in the UK); and you have a passenger to help navigate. As a heads up –

Traffic is heavy and ad-hoc in some parts of the cities during commute hours. Otherwise, it's pretty easy driving.
There are many and frequent turns as all roads go through cities.
There are no freeways, just roads that look like freeways between cities.

Take 1 or 2-day hop-on-hop-off bus pass if you plan to stick to the tourist sites. It's also a very inexpensive way to see Malta but needs some walking to get to sites.
Take public transit if time is not a constraint. We waited for an hour for a bus on the first day but it never showed up.
Taxi is fixed price between cities. Just check before sitting. We didn't know if they were overcharging, but most people were honest. Also, we only saw then in busy city areas.
There is no Uber or Lyft in Malta. However, Airbnb is very popular.
Getting to Malta
If your itinerary allows, plan to fly Swiss Air. Their service is the best.
People do day trips from Sicily to Malta. But, I don't think it's sufficient.
Many cruise ships stop at Malta, but that would be too short a visit to this amazing country.
More Things to do in Malta
Despite 5 days in Malta including a day trip to Sicily and a day trip to Gozo, we didn't get to experience all that Malta has to offer. Here a few things to do in Malta that we had to skip –
Mdina museums – There are many museums in Valletta and Mdina. We didn't spend any time for indoor attractions, as we visited these cities when museums were closed.
The interiors of Valletta's museums, Saint Paul's Church, the palace and the library.
There are very few beaches on this otherwise rocky island. But, it would be interesting how they make and maintain the beaches.
Cruises around Malta. Another traveler in our resort mentioned they took the cruise around Malta and loved it.
St Paul's Catacombs. We skipped because we've seen catacombs in Peru, Rome and other places.
Comino island with its snorkeling, boating and caving activities looks amazing.
The resort amenities e.g. pools, beach, casino etc.
Please share your experiences in the comments sections below.
You will also love
5 days in Malta and overview of our visit to Malta, Sicily, and Gozo.
Story at Every Corner Malta Photo Gallery is a collection of our favorite pictures of Malta.
Vegetarian Food in Malta shows our favorite local foods of Malta.
Stories of Maltese People and Culture is a collection of conversations with people of Malta.