It was so engaging to learn about Maltese people and culture through stories of locals and immigrants living in Malta. For example Malta's Hypogeum's neighbor; people of Marsaxlokk fishing village; a native of Mdina and the Indian student studying in Poland and working in Malta.
Have you been fascinated by stories of people and places? Who was here before us? What happened to them? What did this place look like then? What is life like today? What does the future hold? One of our favorite ways to these answers is through stories of peohttps://storyateverycorner.com/5-days-in-malta/ple living in these places. It is enriching to hear stories such as those in Rajasthan, Sarajevo's tunnel, Sarajevo under siege and more.
To me, history is the collection of human stories.
Here are a few conversations from our trip to Malta. They tell so many stories of Malta –
Malta's Hypogeum's Neighbour
There was a slightly open garage door next to the Hypogeum's entrance. (It's probably a shutter to a storage room with a door that opens upwards and looks like a typical garage door in the US). A handsome older gentleman was squeezed under the garage door, working on something. It got me wondering what he was doing. Why was the garage door next to the hypogeum entrance? Why was the man in it? Who was he?
He seemed friendly because he voluntarily suggested we fix our parking on the one-way street to prevent a parking ticket. I needed to find out more about him and the neighborhood. Here is our conversation converted to an interview, paraphrasing what we spoke to the best of my memory.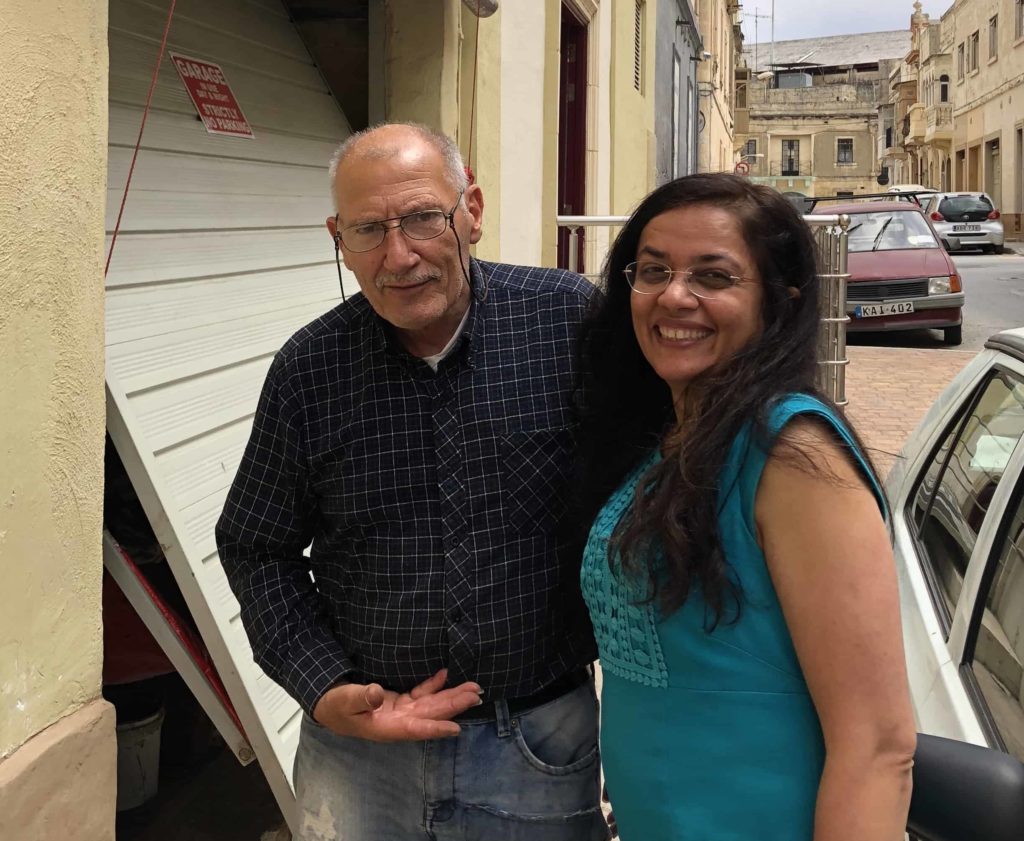 Us: What are you doing in the garage?
HN (Malta's Hypogeum's Neighbour): I'm fixing something that's stored inside.
Us: Why are you slouched inside the tiny opening instead of opening the shutter all the way?
HN: If I open it all the way, it will be inconvenient to the visitors walking on the sidewalk. Also, I don't want people to see the mess inside (he says with a chuckle).
(The door was one piece and it opened upwards right into the narrow walkway. It would be in the way for the very few people that walk by.)
Us: What's up with this garage next to the Hypogeum's entrance?
HN: This is part of my house. I've lived in this house for the entire 71 years of my life!
Us: Wow! You're the next door neighbor of such an important pre-historic site! What do you think about so many visitors coming to your street every day?
HN (unfrazzled by the recent construction, the overhaul, and the many tourists): I'm happy to help visitors find their way, answer questions, park or anything else. I know I'm doing my part in Malta's economy. (I wasn't expecting a 71-year-old taking such change in stride. He was able to see the big picture and how important tourism is to their economy. He felt good about playing his part).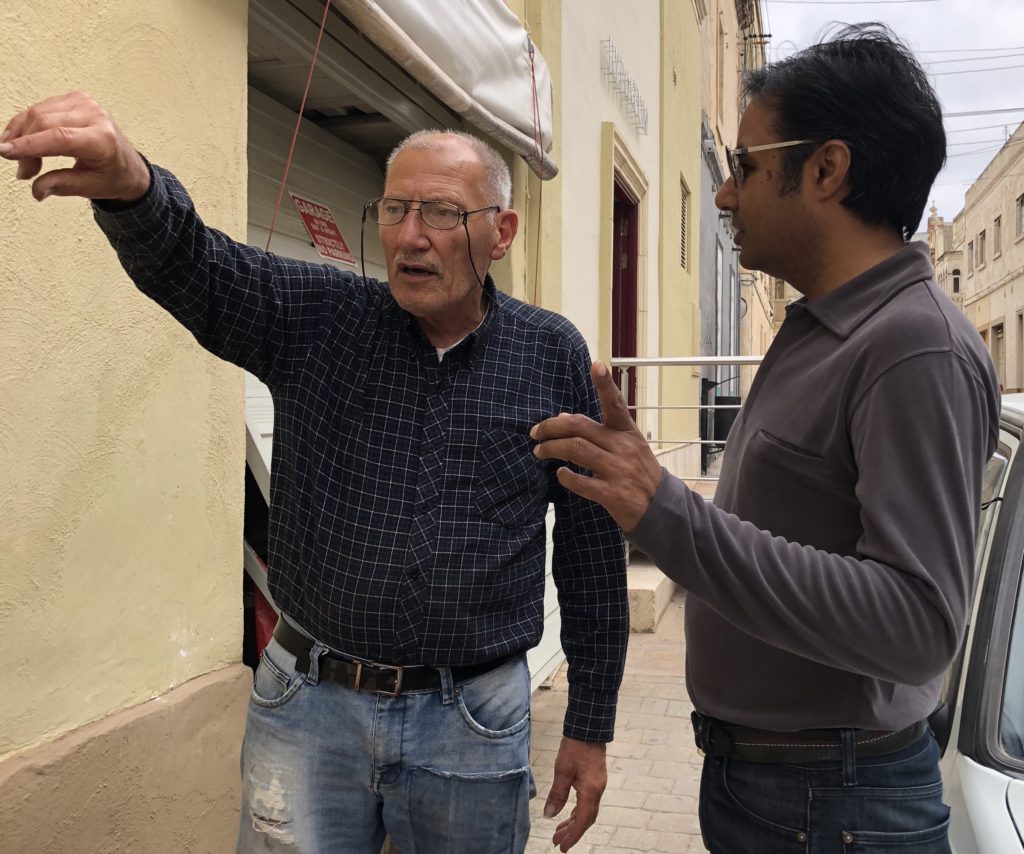 Us: Did you lose parts of your house to archeology?
HN (Malta's Hypogeum's Neighbour): Our house was not impacted because the hypogeum site is next to us but the house behind us was affected because it was on the site.
Us: What was this place like before it became this fancy museum and important archeological site?
HN: As kids, we played on the streets and the underground halls. We didn't think of it as anything more than our playground. Over the years it served different purposes. During the war, it was our underground war shelter. The neighborhood used it as a protection from the bomb threats.
Us: Since this was a burial site for hundreds of years, back in 3000-4000BC, did you find bones or other remains from those times?
HN: Yes we found bones and other things as we played in the underground. But, the bones were so old that they disintegrated to the touch.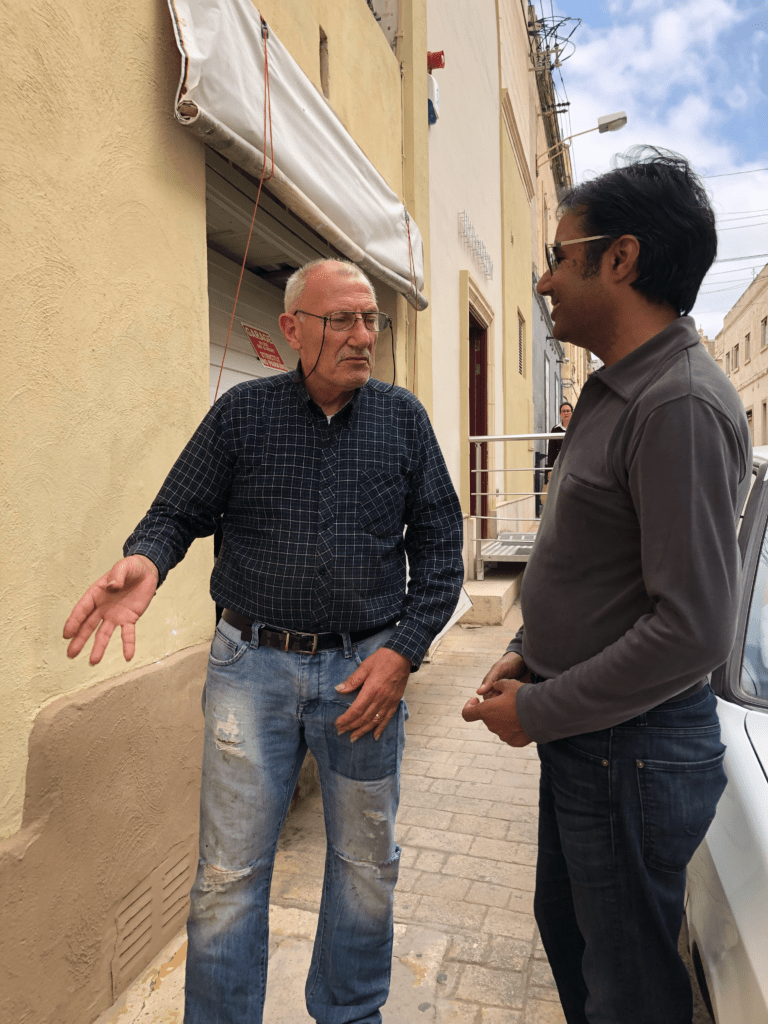 (It's sad how much was lost with the chambers being open to general use for a hundred years until enough was known to start preservation efforts. With the constant exposure to air and humidity, the chambers were gradually covered with green algae, which covered the ceiling paintings.)
Us: What job do you?
HN (Malta's Hypogeum's Neighbour): I'm enjoying my retired life with just me and my wife living in the house now. I worked in the post office for my entire working life of 45 years. Back in the day, Malta's economy was not good like today. There were very few jobs, so if we got a job we stayed with it. Post office job was a very good one. I did well.
Us: Do you have children?
HN: I have two sons and grandchildren. They all live in other cities in Malta. We're going to visit them tomorrow for our granddaughter's birthday.
Us: How long have these houses been here?
HN: A few hundred years. They were made with the local limestone mixed with plaster.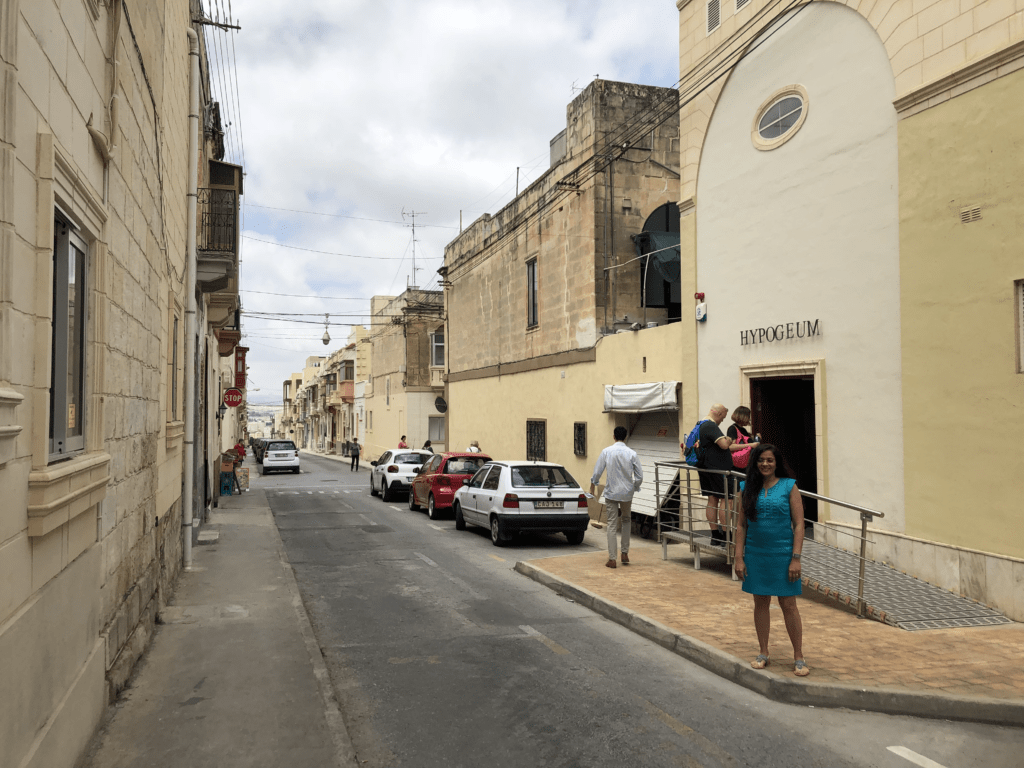 Us: Is there a café you would recommend nearby?
HN: haha. I live here! My wife cooks really very well. I've never been to a café near here. I should go home now.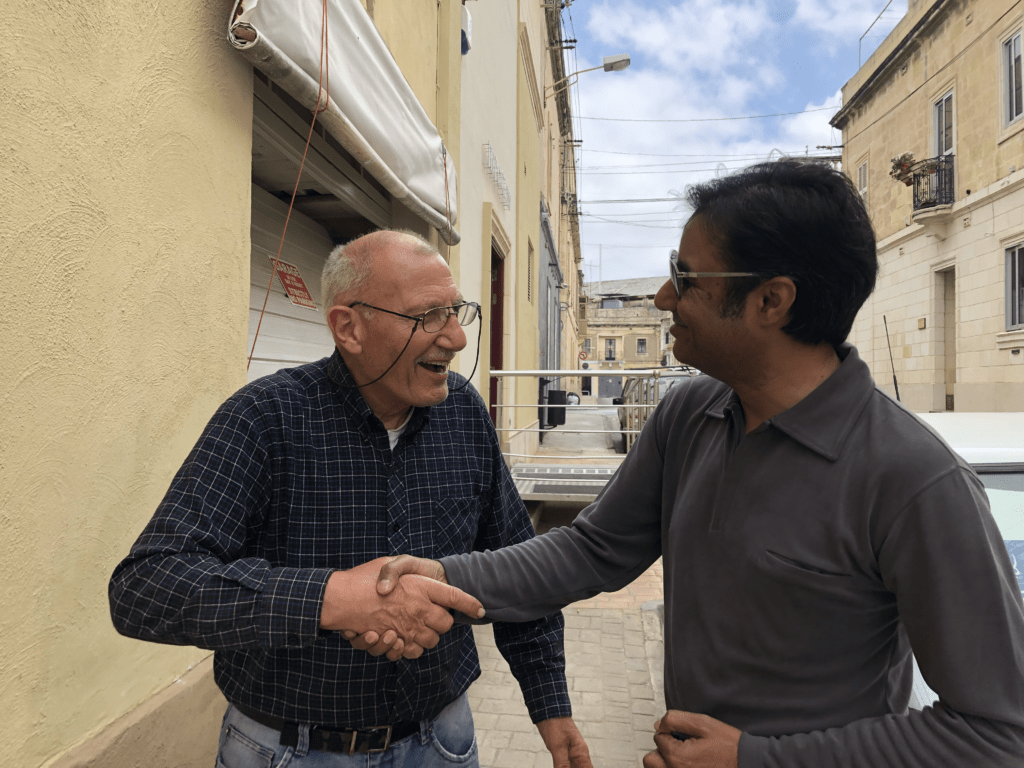 I was secretly hoping he would invite us to his house for coffee, so we could see what one of these 300-400 hundred-year-old houses looked like on the inside. Oh well.. we headed around the corner and found an Irish family also coming out of the Hypogeum, in search of a café.
A Pilot in Birgu, Malta
As we were aimlessly wandering the streets of Birgu, we stopped passersby to take a picture of us. If they seemed friendly, I struck a conversation to see where it would go. One of these persons started talking with us about India and where we came from. He had been to many Indian cities although he couldn't remember all the names. Soon enough we were deep in conversation.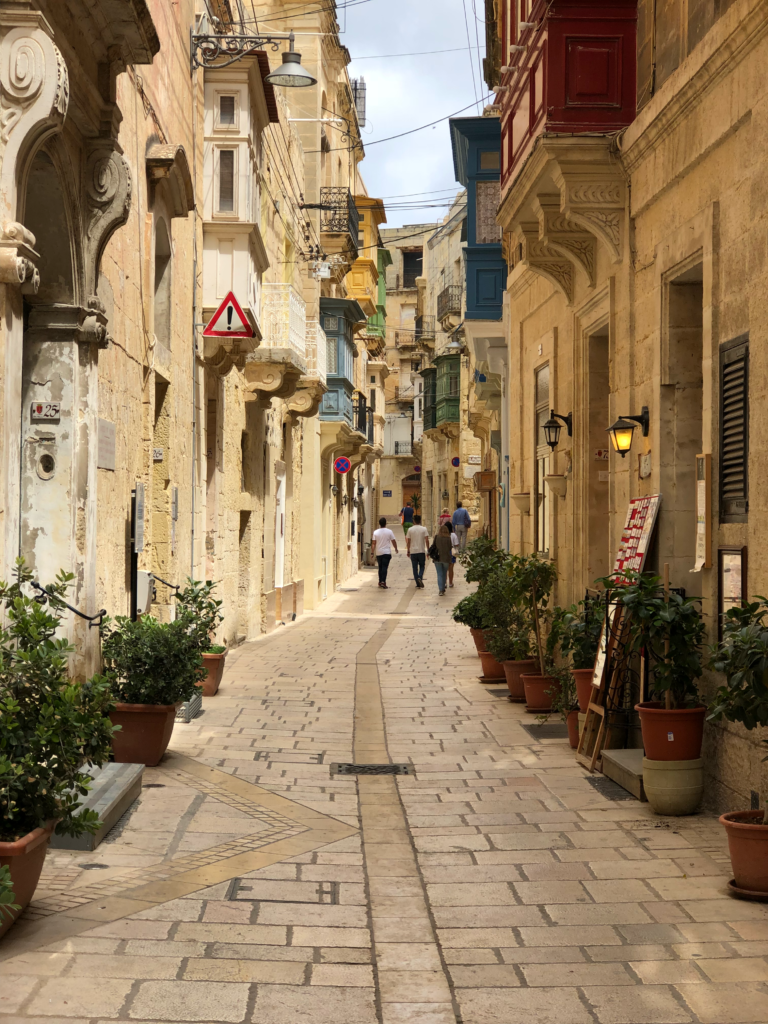 He started asking us why we came so far to Malta from California, there could be many other places to visit.
But soon he learned that our curiosity and sense of wonder takes us to all kinds of places, so why not Malta?
We've traveled to over almost 100 countries, so why not Malta?
We love history and culture and nature and everything quirky, so why not Malta?
We soon found that he has one of most interesting careers one could imagine! Here are some excerpts from my memories of the chance encounter.
Us: How do you know so much about India?
Pilot in Birgu, Malta: I was a pilot in Pakistan Air Force! So I flew all over India. Thereafter I flew passenger aircraft.
Us: Which airlines do you fly now?
Pilot: I retired from commercial flying. Now I fly private charter aircraft for the rich and famous of the world.
Us: What do you mean by the rich and famous?
Pilot: I fly royal families, football (soccer) and sports teams, anyone who doesn't fly commercial airlines or if their own private jets are busy.
Us: What is it like to fly a football team?
Pilot: The airplanes for football teams are huge and set up with beds for each player. The players come directly from their game and immediately go to bed. They have a very tight regiment of play and rest. They sleep the entire flight duration so they get a full rest. They generally don't even use food or other services. (so sleep is the soccer players choice of performance enhancer!)
Us: you mentioned the royals. Which royal families have you flown?
Pilot: I've flown members of the extended royal family of England and those of Arab countries. The royal families have their own aircraft but if their aircraft are busy flying other family members they use the charter flights.
Us: What is it like to fly British Royals?
Pilot: All our clients are very private we provide the flight service but don't interact with them. We have a wide range of aircraft. Depending on the clients' needs we use smaller or larger aircraft.
Us: Do you have any stories about flying the Saudi Royals?
Pilot: They have many wives and by religion, the men have to treat all wives equally. However, in reality, life happens. Some wives travel in their own fancy aircraft and some use the charter flights. But, they make it up in different ways. For example, they shop like you can not imagine. One time, one of the wives flew to Paris with us and went shopping. This is no regular shopping or even high-end shopping. She went shopping at the top designer houses in Paris! She bought so much stuff that she filled the entire aircraft. But that was not enough, she rented a second aircraft just to carry the remaining shopping!!
(I wonder if these were wedding gifts or party favors for a special occasion.)
Us: What makes you think their own jets are better than the charter flights?
Pilot: Well I've seen them. They're like their palaces with the most ultimate luxuries you can not even imagine.
Us: What do you mean? What is their palace like?
Pilot in Birgu, Malta: I've been there, sometimes. I can not even begin to describe their grandeur and scale. I don't know what to compare with. Even the bathroom I used was unbelievable. For example, the faucet was made with real gold!
It was fun chatting with the pilot doing errands in Birgu. We continued talking about arbitrary things like traffic and laws in Malta. He had a good summary – people in Malta feel empowered with the freedom to choose what they want to do. For example, only residents are allowed to drive and park in the tiny fort alleys. But everyone, including himself, drives right in. There are lane markings on the roads, but people choose to drive with freedom. Despite centuries of colonization, personal freedom is the hallmark of Maltese people and culture
It's nice to see that a country so young has adopted freedom and democracy so naturally!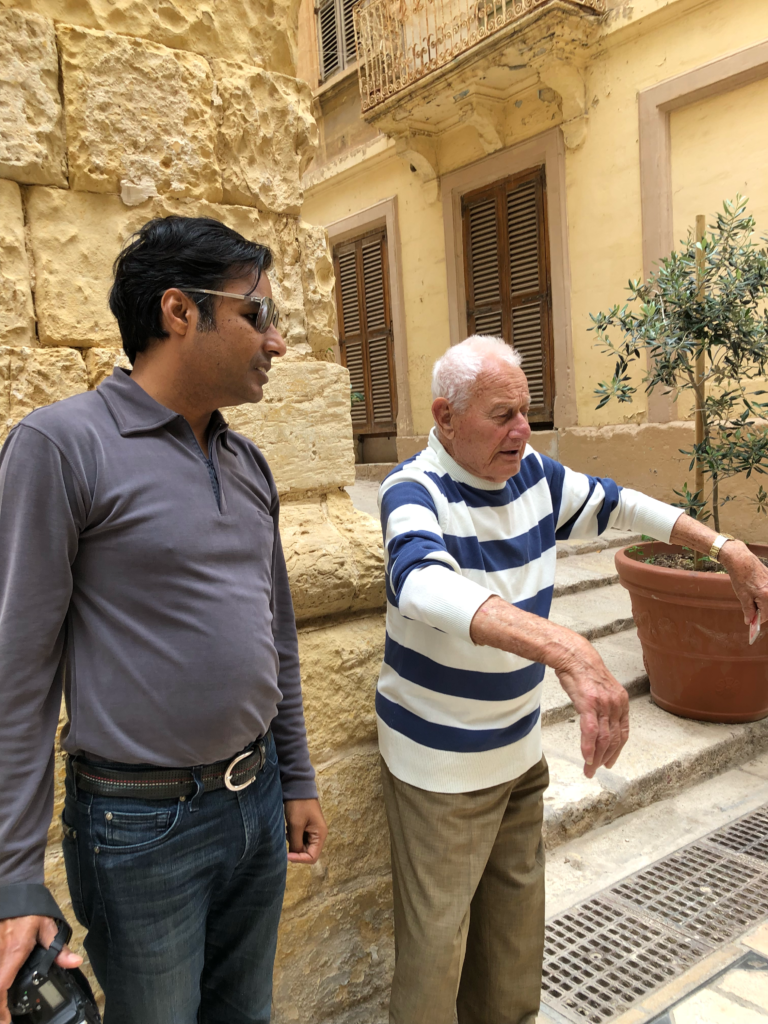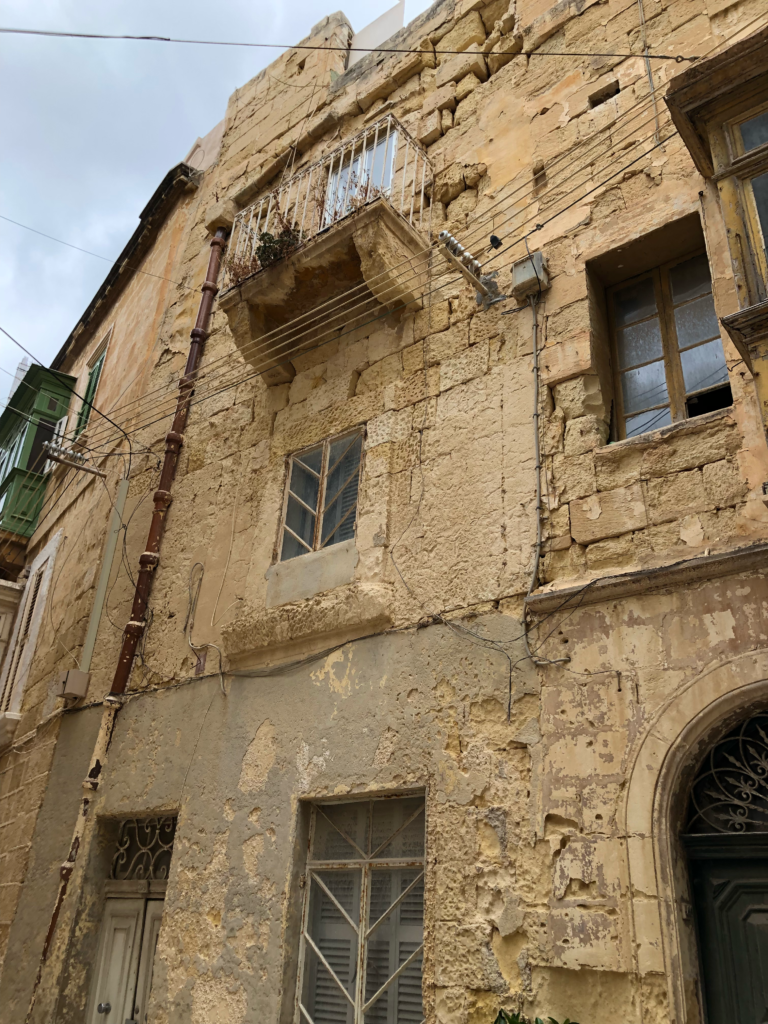 Staff Member on Malta-Sicily Ferry
The ferry from Malta to Sicily was long. After reading all the local news in the English newspapers, I started walking around the ferry. My walk led me to the ferry's gift shop. While the ferry shop didn't have an iPhone charger for me to buy, the salesperson we really fun to chat with. Here are some fun factoids I learned from her –
Weather Sudden Cancellations
While the sea was so calm that I could walk about without Dramamine, it can get extremely rough sometimes. Just two days ago, she arrived at the port, just to learn that the captain had decided to cancel the ferry. All the staff and riders quietly returned from the port. Sometimes ferries get canceled on consecutive days. It's just nature's unpredictability.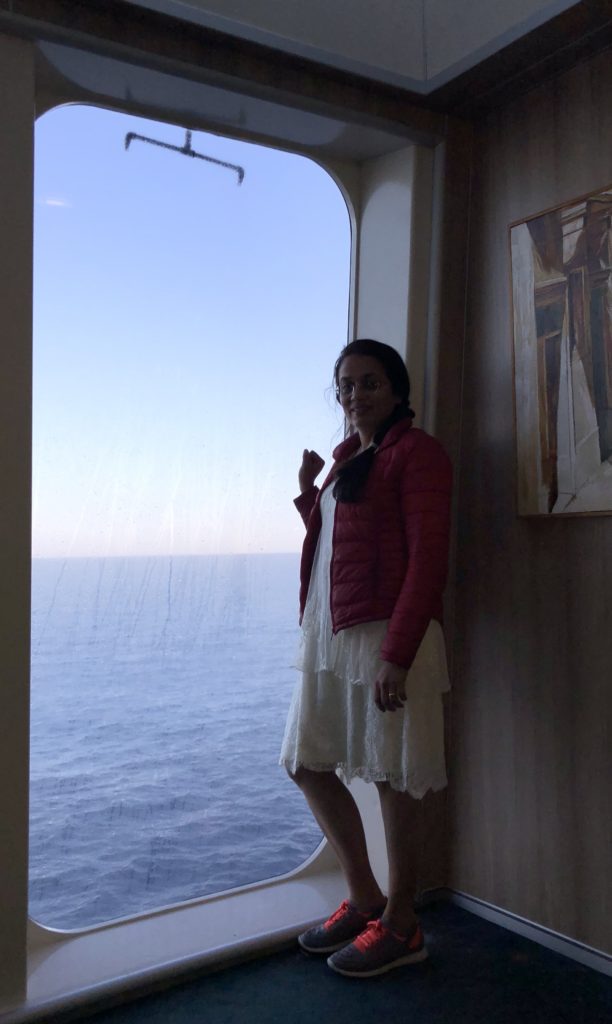 If a ferry got canceled in the Bay Area, it would be a huge deal for all commuters. In Malta the impact is at a different scale – Malta doesn't grow any food and has no fresh water (other than desalination plants). So, when the ferry is canceled for a few days, grocery stores run low on food and water! The temporary staff doesn't get paid and tourists get stuck.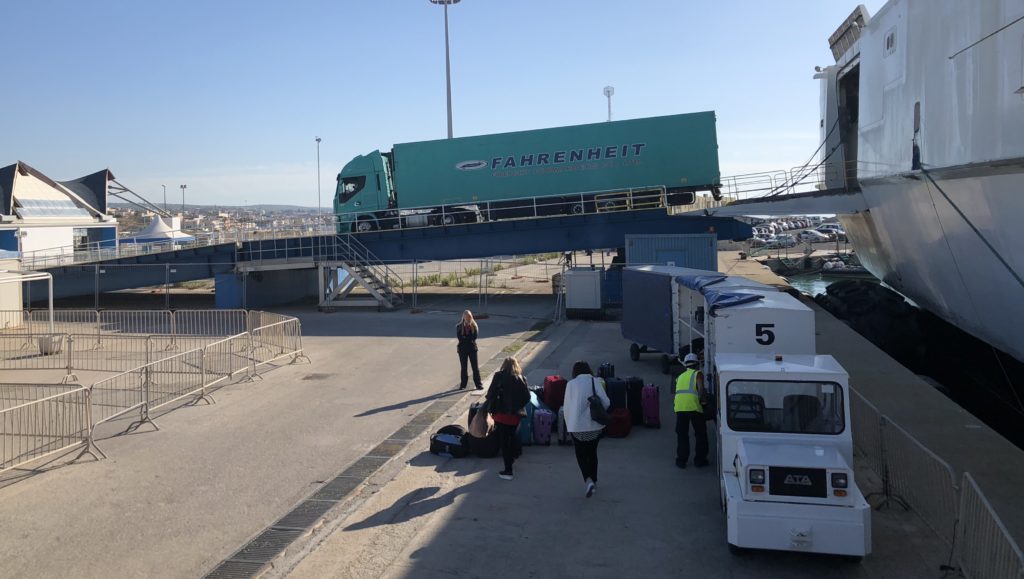 Middle-Class Living
For traditional Maltese people and culture, it used to be common for women to stay home and raise kids. Now, many women like her have to work to have a decent middle-class life. For her, as a single parent, staying home is not an option. She can go to work because her mother watches her son and she works 14 hour days, 3 days a week.
The living expenses are sky high, especially renting an apartment. Apparently, Russians are filling up Malta. They're buying property at high prices and jacking up the price for everyone. Sadly the apartments lie empty while locals struggle to find a place to stay. It's like the Chinese buying property in Venice, Vancouver, and California and pushing the locals out of the homeownership market. Or Indian NRIs buying apartments in Pune and leaving them vacant. Or Bay Area's wealthy buying vacation homes in Tahoe while workers struggle to find a place to live.
Food and Sightseeing
The ftiera is Malta's must-try food, which to me looks similar to the Sicilian pizza, with different fillings – sheep cheese and potatoes. But, it tastes very different from a pizza. It has many variations all over the islands.
Sicily grows food for the region, so Malta gets much of its food from Sicily. She recommended we try the Sicilian arancini, olives, wines, pasta and much more. Our tour was pre-determined, but anyway she suggested lots of places to visit in Sicily for next time.
Blue Grotto near Qrendi is a must visit swimming hole and kayaking spot with its crystal blue waters where few tourists reach. I'm glad we followed her advice instead of taking a day to visit the crowded blue lagoon near Gozo.
We missed the annual Mdina historical enactment the day before. It was her day off, so she took her kids to visit and they all absolutely loved it. Malta has lots of festivals, everyone should check them out to get a taste of the local spirit.
Jellyfish
Malta was experiencing an early and massive jellyfish bloom season. They have a crowdsourced reporting process. Volunteers take pictures of jellyfish across the island and report their observations and pictures on Facebook and email. We saw tons of gorgeous jellyfish everywhere.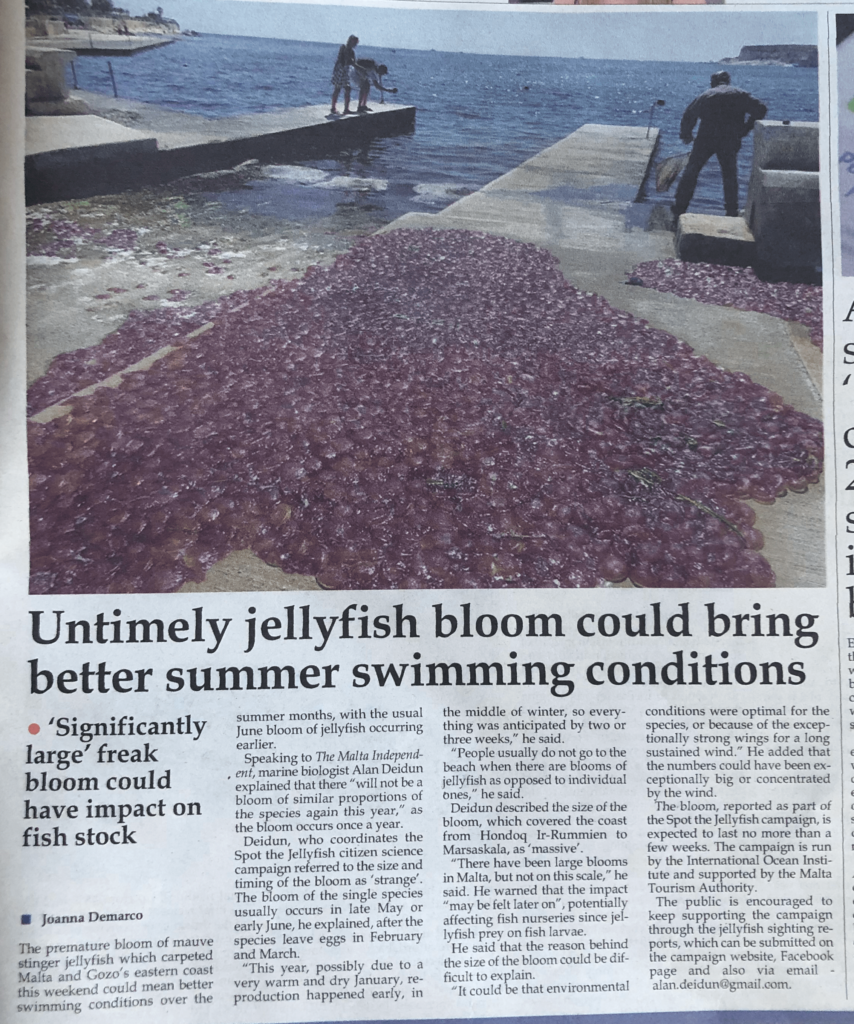 Economy and Leadership Foresight
Malta's economy is booming, led by tourism, information technology, and education. Thanks to the right programs and sustained support from the government. I'm most impressed by the foresight put into the education system. It's no coincidence that all Maltese people speak English and Maltese. In fact, Malta has a strong reputation for the best English education in the region. Malta attracts students for English and higher education from the entire Mediterranean region and much of Europe. As the article below suggests, the policies even encourage international students to work there. It's the ultimate strategy to fuel the economy with talented young people and secure the future of Malta.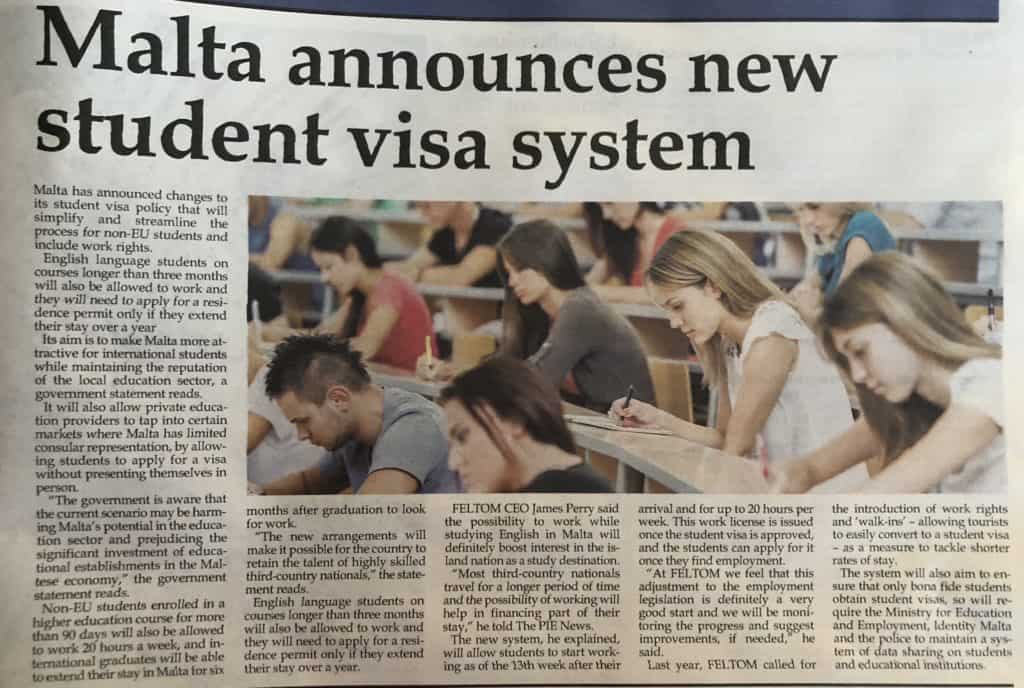 Native of Mdina
Mdina, the silent city has under 400 residents, mostly elderly. During the day, the medieval fort city is a bit lively with tourists but we visited in the evening when it was quiet and beautifully lit by the evening sunlight. We got a glimpse of a couple of residents, well one of them was probably a tourist staying in an Airbnb.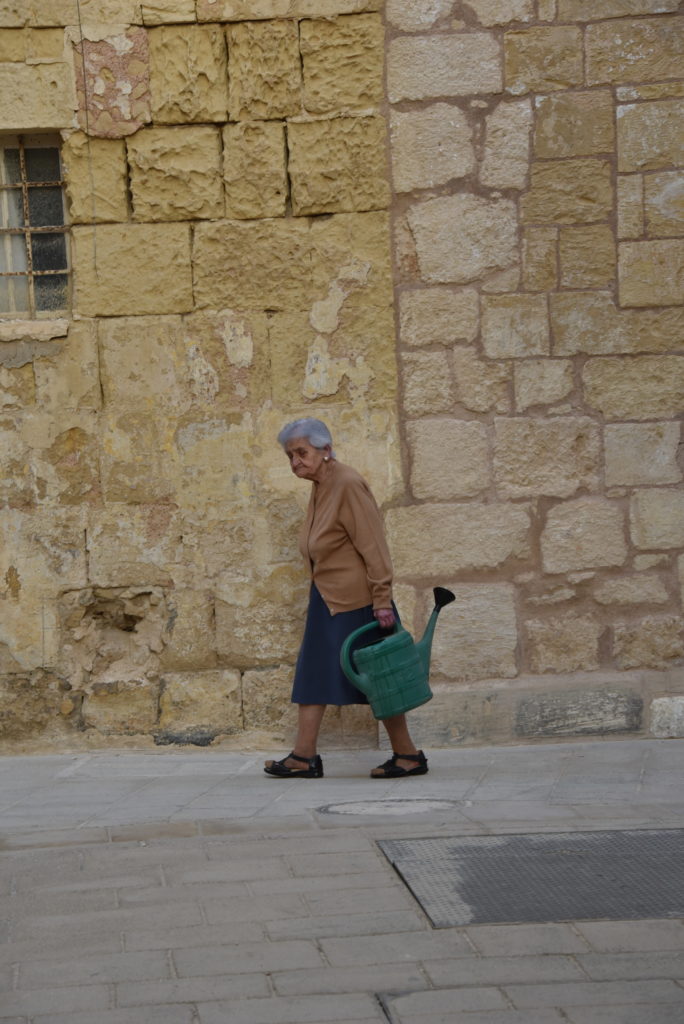 We started chatting with the elderly lady, who was walking with a garden watering can. As we started chatting with her, we learned that she was a long time resident. Recently, she found a distressed baby plant peeking through the soil in a nearby house. So she starting caring for it. She didn't know what plant it was – a weed or a tree or a flowering bush. She just started caring for it and watering it every evening before sunset. In a few weeks, it's doing a lot better. She was right, to her immense pride, the plant is flourishing.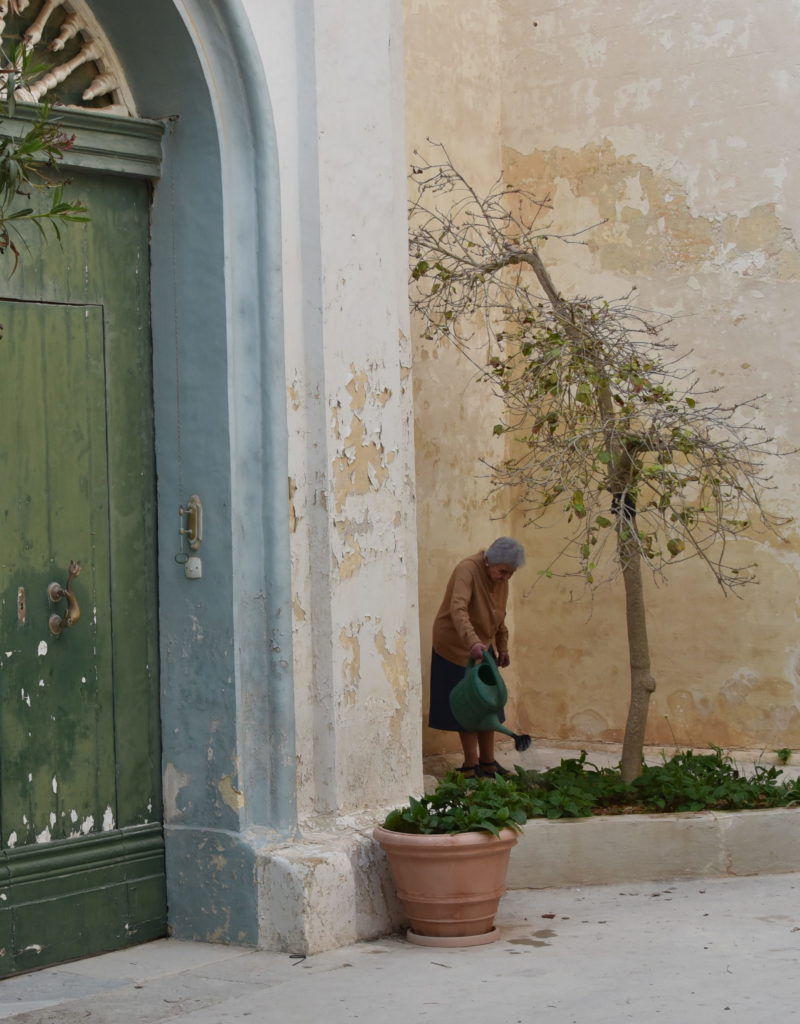 We all choose different things to care for. The things we care for and nurture will blossom. But in the end, we will be the beneficiary of the joy it brings. The old lady, a native of Mdina, was so content and pleased at bringing the plant to health. It reminded me of the ailing orchids I had once restored to health. They brought such joy and pride to me.
People of Marsaxlokk Fishing Village
We visited Marsaxlokk because it's the picture-perfect fishing village that's shown on postcards of Malta. But we didn't expect the village to be so alive with action. Amidst the cafes filled with relaxing tourists, village life was happening in plain sight.
The Fisherman of Marsaxlokk Village
Marsaxlokk is a laid-back fishing village. While there are many tourists in cafes and taking pictures on the docks, people of Marsaxlokk fishing village going about their daily lives. We started chatting with many of them and they were very friendly.
I wondered, how all the fishing boats look so vibrantly colorful? I got my answer from this middle-aged fisherman who sat quietly painting a boat. It was a little hard to understand his accent but we managed a simple conversation.
Us: Hi there, what are you doing?
Fisherman: I'm painting my boat. I paint it every two years all by myself with my brush and paints. I'm putting the base coat now.
(So the boats are not just props for tourists. They look so pretty because all the fishermen paint them regularly, by hand. He explained the long process for painting the boat, with its many coats of base and many colors.)
Us: How often do you go fishing?
Fisherman: I go out once a week. I used to go more often but now there are too many fishermen and too many nets. We don't have enough fish. So, I just go once a week.
Us: Do you have children? (I was curious if his kids follow his trade.)
Fisherman: I don't have a wife or children. I never got married.
I wonder why? Is it too expensive with a fisherman's wages?
Immigrant Labor
Malta's economy is doing so well that they are short on workers. So, they have many immigrants in all kinds of jobs, skilled and unskilled to fill the gaps and to fuel the economy.
We met these young hard working boys from Indonesia working as fishing helpers, repairing nets on this gorgeous harbor.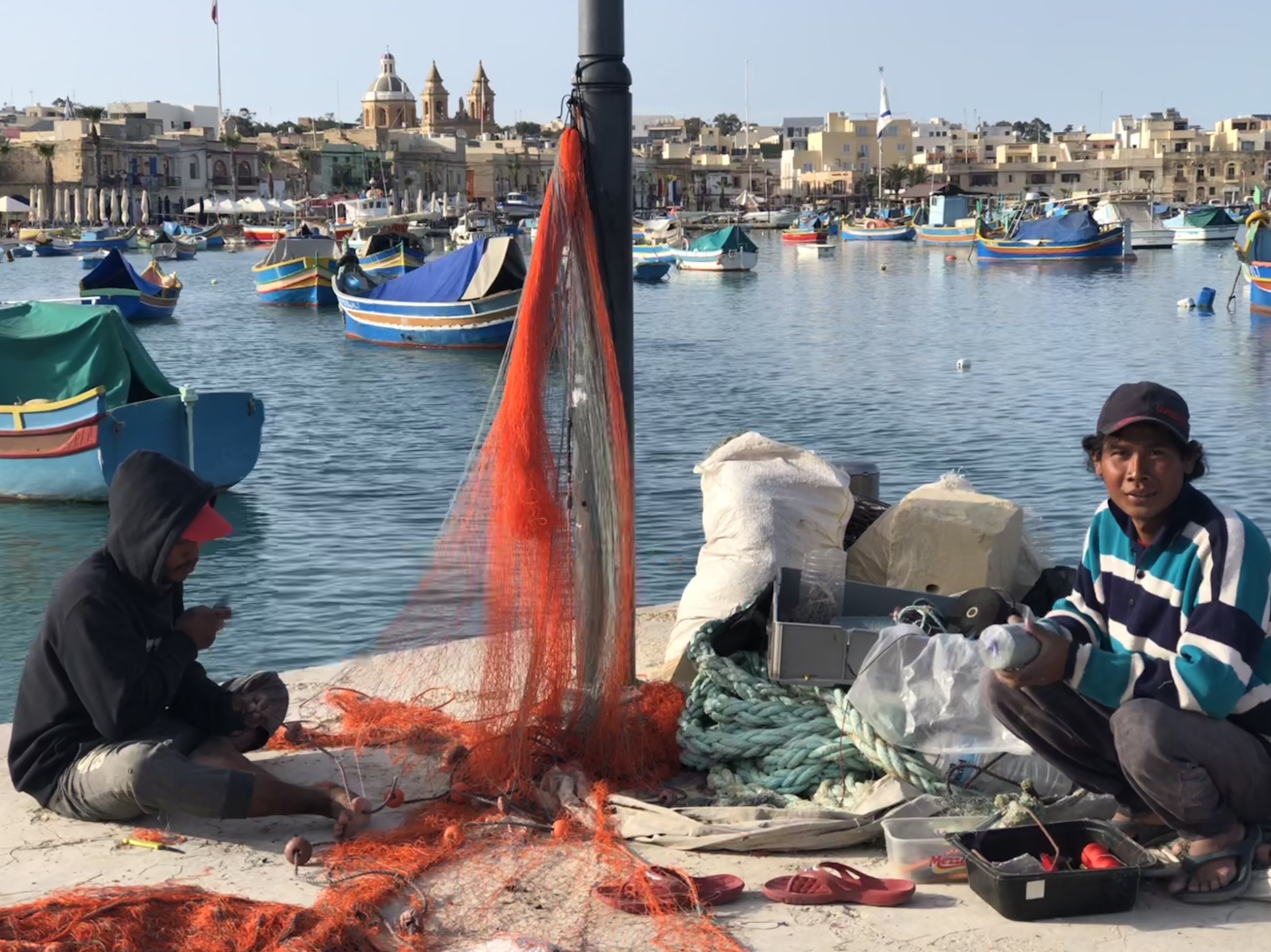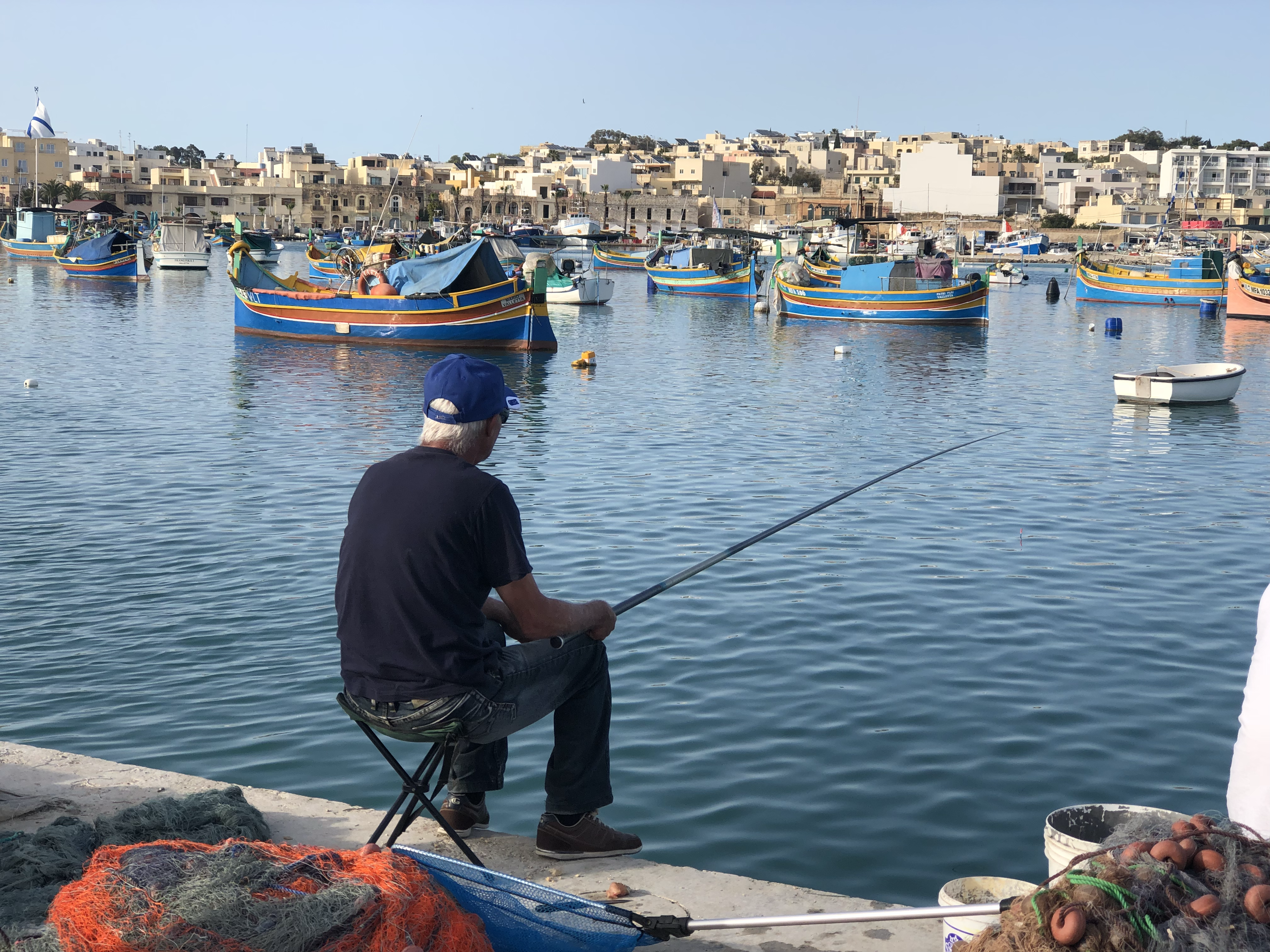 A family getting ready for the parade
As we were talking with the fishermen, a crowd started to gather around. People were dressed up, little boys and older men dressed as priests. Obviously, I wanted to know why, so we started talking with everyone.
Us: Hi, what's going on?
A Mom: We're getting ready for the parade.
Us: Parade? What's the parade about? (it certainly did not look like our gay pride parade, black lives matter, march for science, women's march or any of our mostly protest parades.)
A Mom: Its the Santa Maria parade. It happens every year to celebrate Malta's patron saint. We all walk down the street along the harbor to the church. The church and streets are decorated and people from everywhere are seated on chairs to listen to the preacher.
Little Boy: Hi! Look at this (Showing his toy cars filled in his little hands)
Us: Wow cool cars!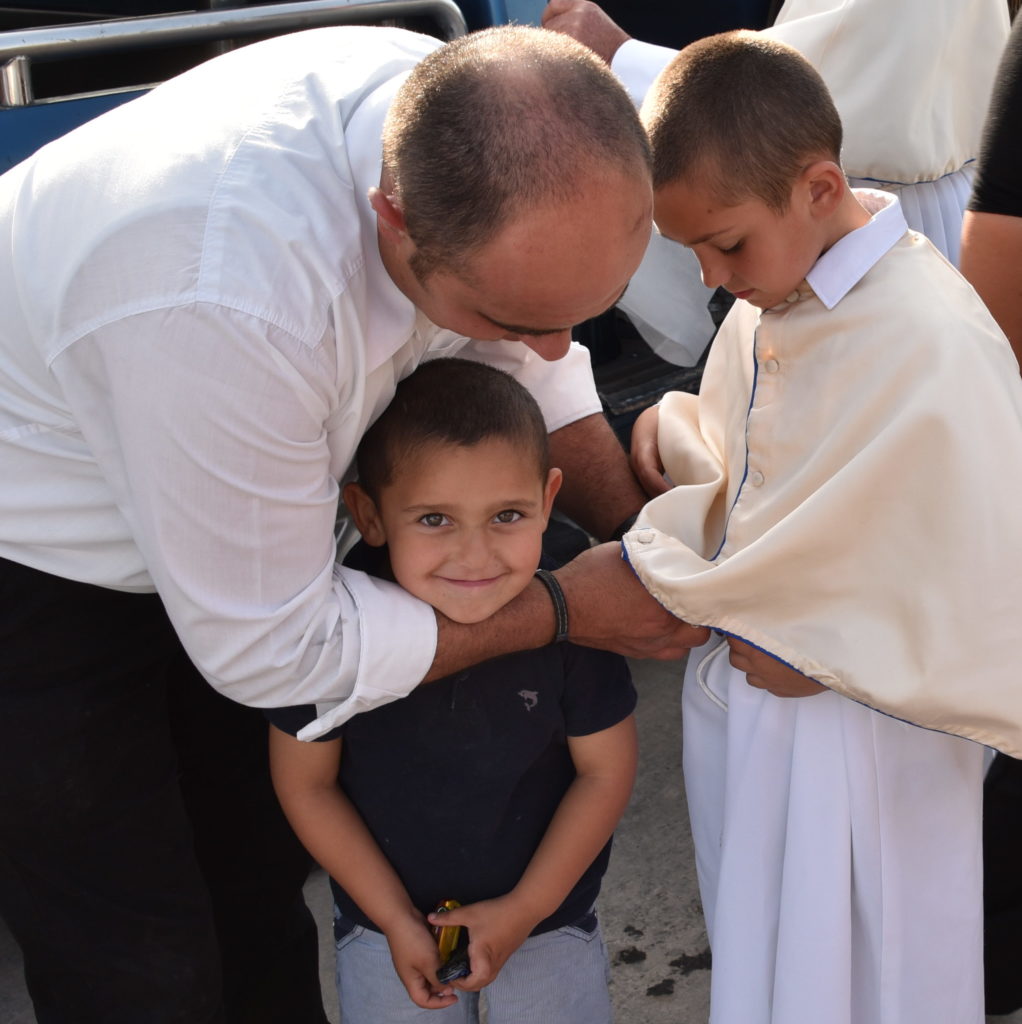 Soon, everyone gathers around to take their places in the parade – first the older priests with a cross, followed by boys in black gowns with white tunics, followed by men carrying a picture of Santa Maria and then the entire village. They all walk somberly and slowly from one end of the village to the church in the center of the village.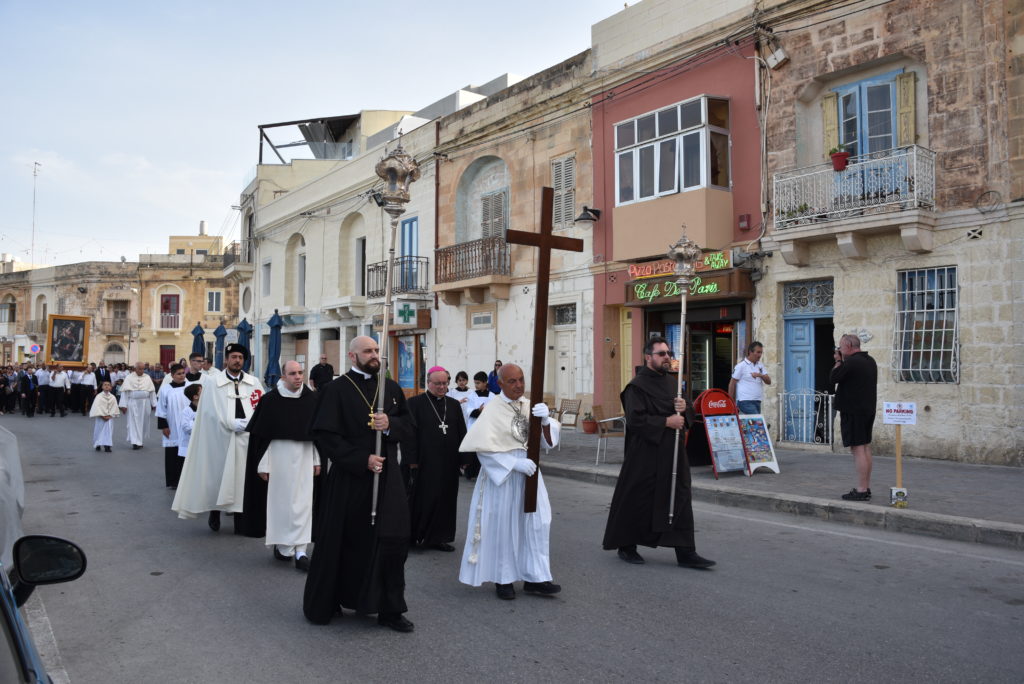 Outside the church were at least 100 chairs facing a podium, where I suppose someone will give a talk. As it was time for our dinner reservations in Mdina, we took out our car to head out of the village. To our horror, all roads were closed. There was no way out of the village, except on foot. So, we asked one of the policemen hanging out.
To our delight, the policeman graciously removed one of the road blockers so we could pass before the parade reached us! In the US it's unlikely a cop would bend rules, even if the parade was 30min away. In India, if in the remote chance there was a cop, it would take a few dollars to pass through even if it meant driving through the procession.
Indian Student Studying in Poland and Working in Malta
On our last evening in Malta, we ventured into Shiva's restaurant for dinner. However, the senior server at Shiva's could not answer our questions so he said he'll send someone who knows Indian food. The server he sent was a young Indian student, on a temporary work visa. That was great because she knew Indian foods and was able to tell us all about the menu and ingredients. As always we started chatting and her story got really interesting. Here are some excerpts that tell us so much about employment and economy in this part of the world.
Us: Where are you from?
Student: I'm from Kerala but I'm a student in Poland. I'm working on my Master's degree in international tourism.  I'm spending a semester in Malta.
Us: Really? Why Poland?
Student: I had been working in India for three years as a tour operator. After a while, I realized that I need a masters degree in international tourism to progress my career. My friends were going to a university in Poland so I looked into it. They promised internships and jobs in the European tourism industry. So I applied and got in.
Us: Cool! How did that work out?
Student: Well, that was just good marketing. They have no jobs or connections to get good jobs. The few jobs in Polish companies are too low paying and require the Polish language.
Us: What is it like to live in Poland?
Student: Living in Poland is very hard. Everyone speaks only Polish. It's hard to find anyone to talk to, except fellow students. Good food and living are a problem. I share an apartment with another international student so I've been ok.
Us: Is the university's education good?
Student: The coursework and education are good. So, I want to finish my degree in Poland. But, I know I will not find any jobs there or in Europe.
Us: What brings you to Malta?
Student: I need to make enough money to pay for next semester. Some friends told me there are many jobs in Malta. So, I came here. But, most tourism jobs require standing in the sun handing flyers for hop-on-hop-off buses and the many attractions. They pay very little and work is exhausting. I luckily found this job at Shiva's and I like it.
Us: Will you return to Malta after you graduate?
Student: I don't know yet. I may become part of the Maltese people and culture or return to India and get a better job in Indian tourism.
That's a smart young lady. Indian tourism industry is booming. The international exposure, multilingual skills, Indian local experience will certainly move her up in her career while being close to family, friends with good living conditions and good food.
You will also love
5 days in Malta and overview of our visit to Malta, Sicily, and Gozo.
Story at Every Corner Malta Photo Gallery is a collection of our favorite pictures of Malta.
Vegetarian Food in Malta shows our favorite local foods of Malta
Sarajevo under Siege (1992-96) tells the story of Sarajevo under siege through the life's story of a 30-year-old living historian and guide.
Sarajevo's Tunnel of Hope is the story of human resilience, sacrifice, endurance and the tenacity to live in the face of imminent annihilation.
Stories of Maltese People and Culture is a collection of conversations with people of Malta.
Stories of villagers living in the dunes of Rajasthan's Thar desert.