by Yogita Khandge
As we landed at Vantaa, Helsinki on 24th Dec 2018 at 15:50 hrs, the sun had already set and I wondered how we would manage with our 10 year old daughter in the dark streets at sub zero temperatures (around -16 deg Cel).
Finland is Europe's seventh largest country and straddles the Arctic Circle, encompassing 1,88,888 lakes, acres of wilderness and very few people! They say each month in this wonderland is amazing and different – winters are mostly dark with temperatures dropping to -30 deg Celsius. But as the Finns say, there is no bad weather, only bad clothing! True that. There is no problem walking/ playing in the snow, enjoying reindeer and husky rides, snowballing, in short, doing anything, provided you are dressed up appropriately.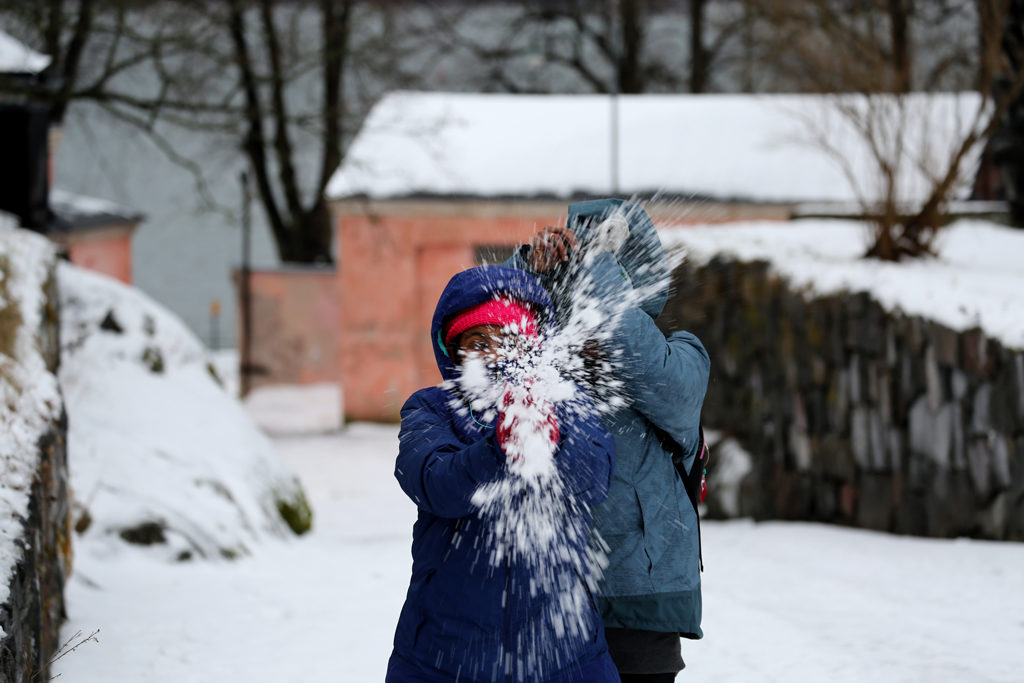 Another quintessential way of combatting the cold is the loyly (steam that comes out when you throw water on hot stones in a sauna). Among a population of 5.4 million, it is estimated that there are 3.3 million saunas. Most of the houses have a sauna built in. It is more like a way of life. The country's President has an official sauna, as does the Prime Minister. The charming place where we stayed, Hotel Artic City Suite in Rovaneimi, which is actually an apartment, too had one.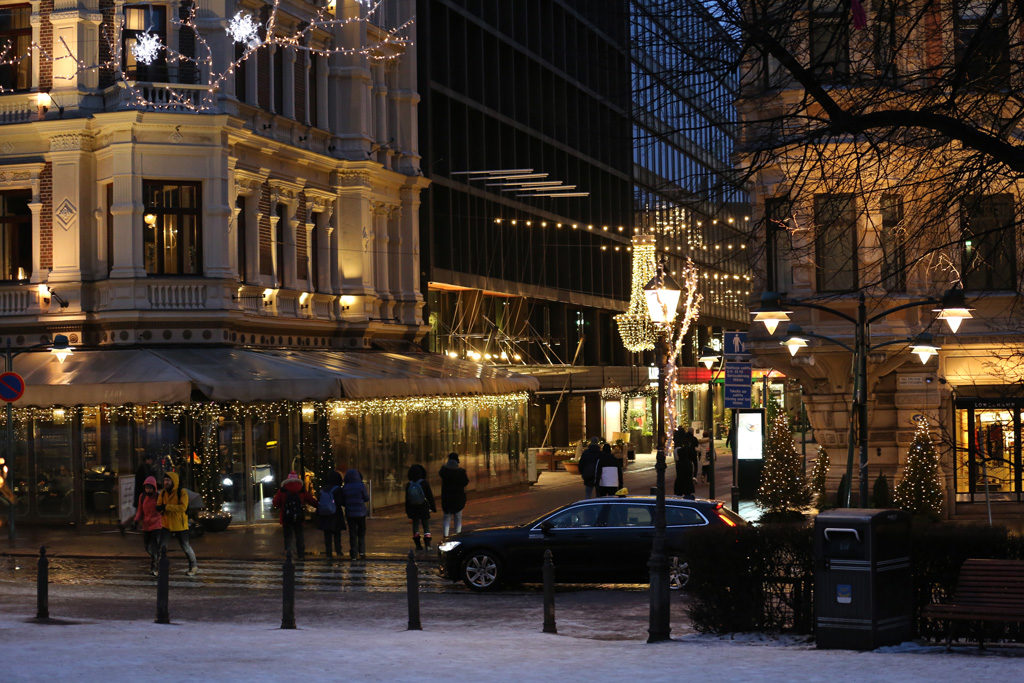 Day 1: Helsinki over Christmas
Disembarking the plane, we could see the Christmas spirit everywhere in Helsinki. The cabin crew wearing caps waved us off with a Merry Christmas and we were welcomed by the ground staff, again with a cheery 'Welcome to Finland'. Saying 'Kiitos' (pronounced as 'Keetos' – "Thank You" in Finnish..I had learnt a few words before our trip!), we were all set for our visit! Immigration took hardly a few minutes at the airport and every nook and corner was decorated in the spirit of Christmas.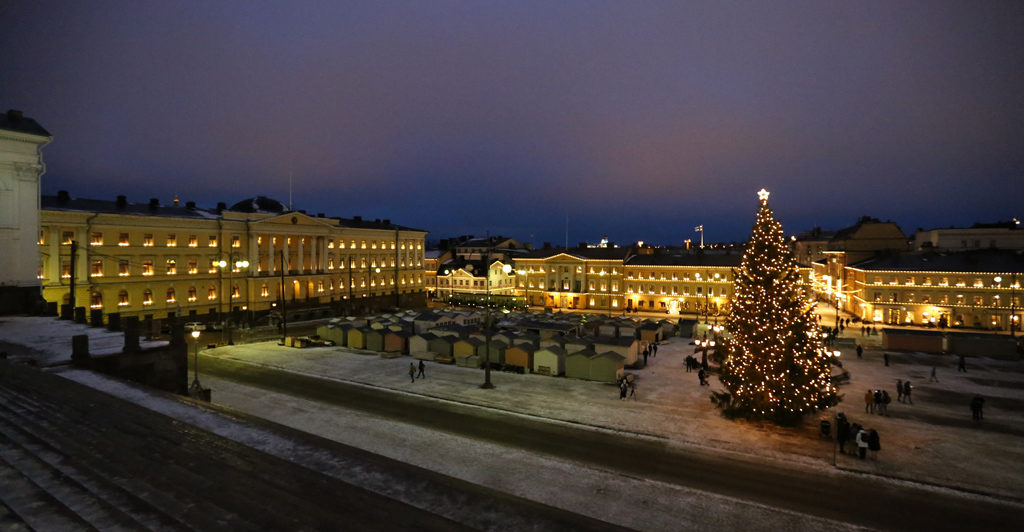 We reached Hotel Arthur located in the city center. Established in 1907 and having more than 200 rooms, we were surprised to see only a couple of charming and efficient ladies were managing the entire show! It was Christmas time and almost all staff was on leave. Even the hotel restaurant was closed and the lady at the booking counter showed us to our room. We were hungry and after a few minutes rest, we decided to walk down to the market. While most of the shops and hotels were closed for Christmas, there was no dearth of people walking down the streets that were lighted up beautifully and the snow covered streets glittered in the golden lights, giving it a fairy tale look. It was truly a Merry Christmas! We found a nice, cozy restaurant where we had a great dinner!
Day 2: Helsinki Cathedral and Day Trip to Suomenlinna Fortress
The next day being Christmas, most of the popular tourist attractions were closed, so we decided to visit the Suomenlinna Fortress. Situated on the islands off the coast of Helsinki, it can be reached in 15 minutes by ferry. A UNESCO world heritage site, it boasts of around one million visitors every year. There is a beautiful church built in 1854 and the island also has museums, restaurants, some galleries and shopping places (though most of them were closed for Christmas!). The entire island was covered with snow and it was just beautiful.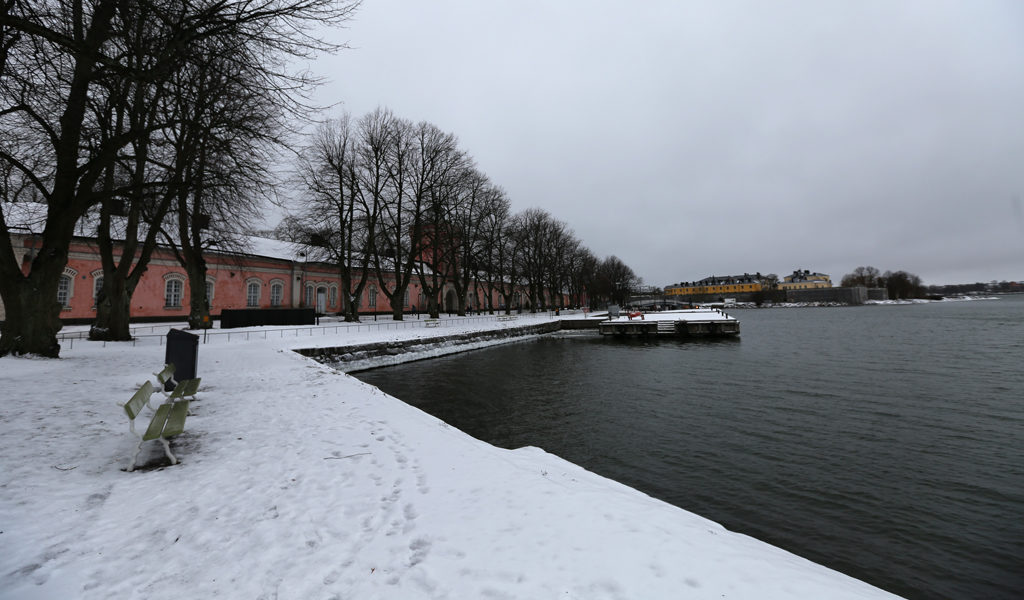 After coming back to Helsinki, we visited the grand Helsinki Cathedral, the Finnish Evangelical Lutheran cathedral of the Diocese of Helsinki, a major landmark. After spending some calm and peaceful moments in the Cathedral, we called it a day.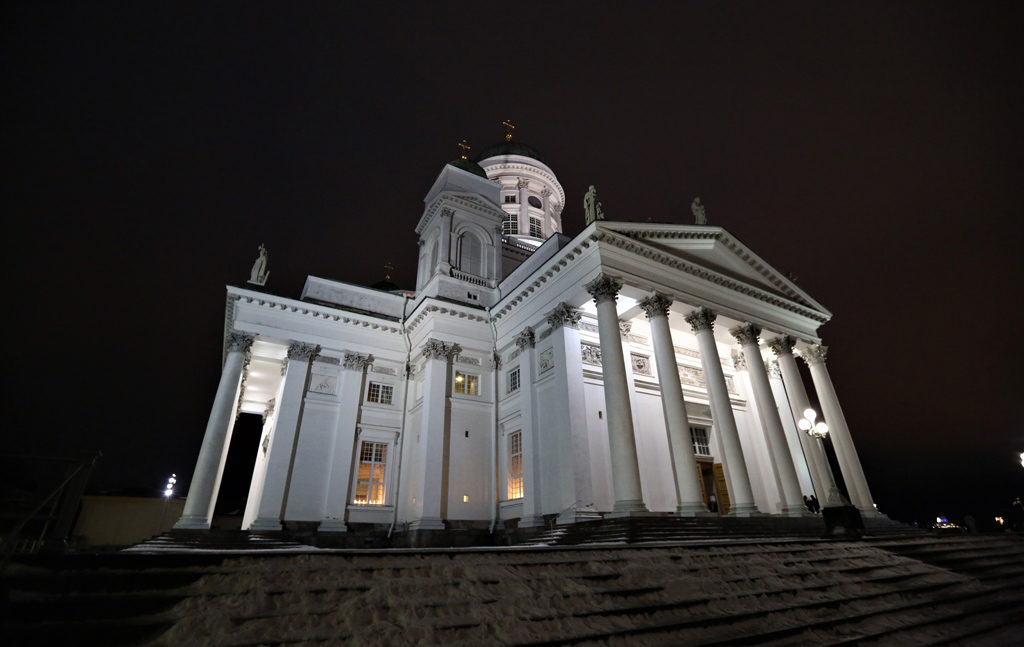 Day 3: A Day in Rovaniemi, the Santa Clause Village
The next day dawned with excitement, especially for our 10-year-old, for whom this trip was actually planned- at last we were going to Rovaniemi, the official residence of Santa Clause! Rovaniemi, according to the Finns, is the place where amidst the Arctic wilderness, culture, wild activities, and fairytales come together. And isn't that true! As we landed at the small airport and went to the baggage claim, we were greeted by a big Santa on his sleigh flying across the roof and there were life-size models of elves with wrapped up gifts. As we looked around, we got the feeling of being in a fairy tale place, engulfed in the spirit of Christmas. It is as if Santa Clause and his elves were waiting to sweep us off our feet and take us into their magical world of snow and starlight! As we came out of the temperature regulated airport, at -9 deg cel we were comfortable with our warm clothing, but it was the surrounding beauty of the white landscape that took our breath away! It was simply mesmerizing..but this was just the beginning.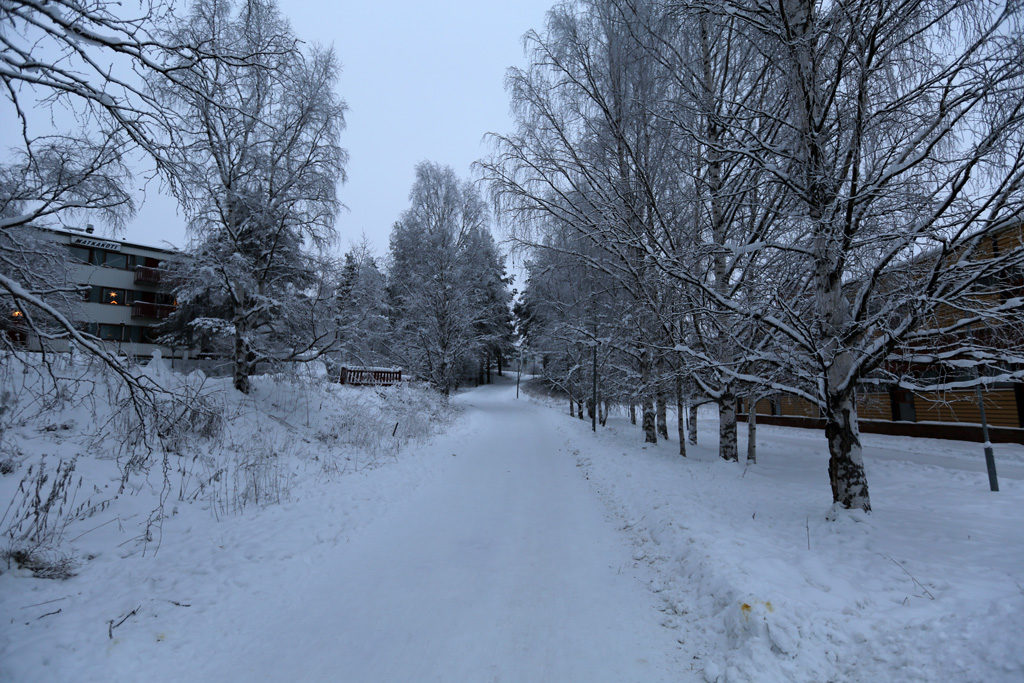 Instead of going to our apartment, we went straight from the Airport to the Santa Clause village at the Arctic Circle. The reason being we wanted to spend as much time in the daylight as possible (sunset was expected around 15:00 hrs). They have locker facilities in 2-3 places and you can keep your bags for the day (around 5 Euros per bag). At first sight, it looked like a scene straight out of a fairy tale..lights glowing, snowy trees, happy, laughing people. Santa Clause has his office here, even a Post Office (they get millions of letters every year from all over the globe) and you can meet Santa himself and get yourselves photographed! We were surprised to see his picture with our very own Shri Pranab Mukherjee on the wall of fame!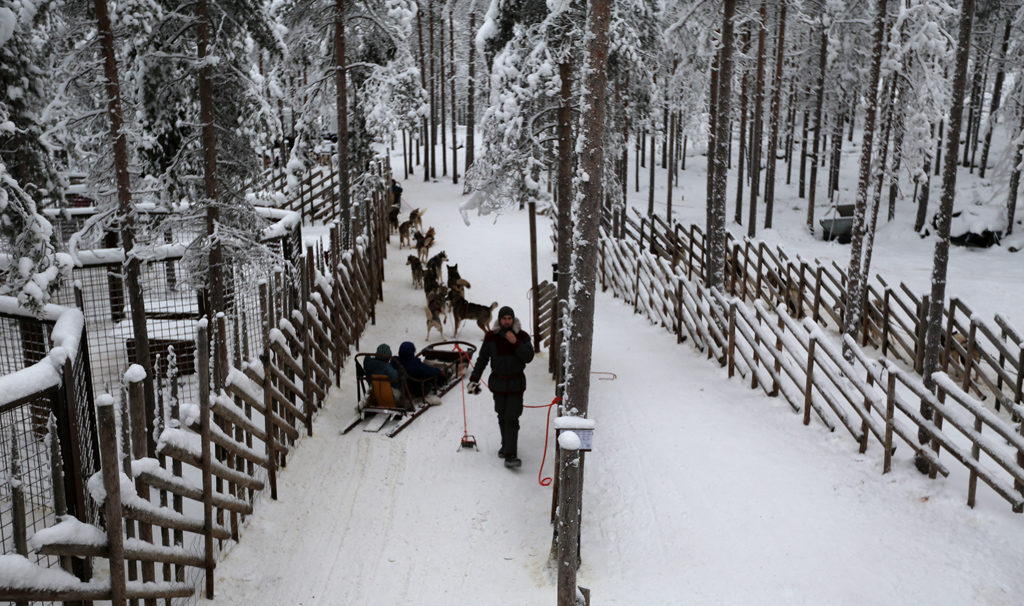 We spent a delightful day exploring the park, visiting the Moomin Castle, playing with the husky dogs (and riding their sled!), reindeers and crossing the Arctic Circle (they even give you a certificate for that!). At the Santa Park, our daughter lost herself in the magical world meeting the Ice Princess in her Ice Gallery, sitting in the Fairytale Train, learning skills in the Elf School, visiting Mrs. Gingerbreads Bakery and making cookies etc. She again met Santa, chatted with him, took lots of pictures and even touched his beard!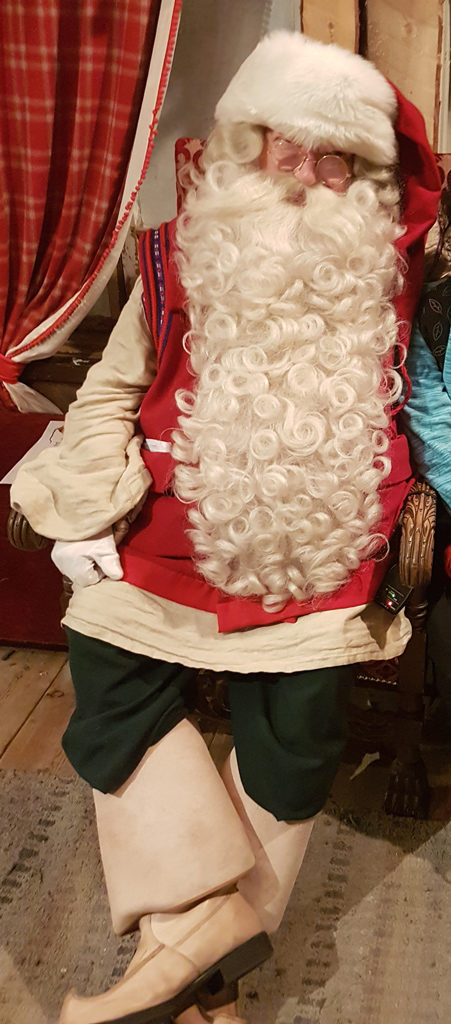 They have a lot of restaurents in the park at the entrance of the park, if you just cross the road, there is a great restaurent just next to the gas station..it has a variety of food including hot dogs, and something called as a tupla dogs (like a hot dog, but with 2 sausages), buffet and vegetarian as well as vegan options, hot drinks and much more..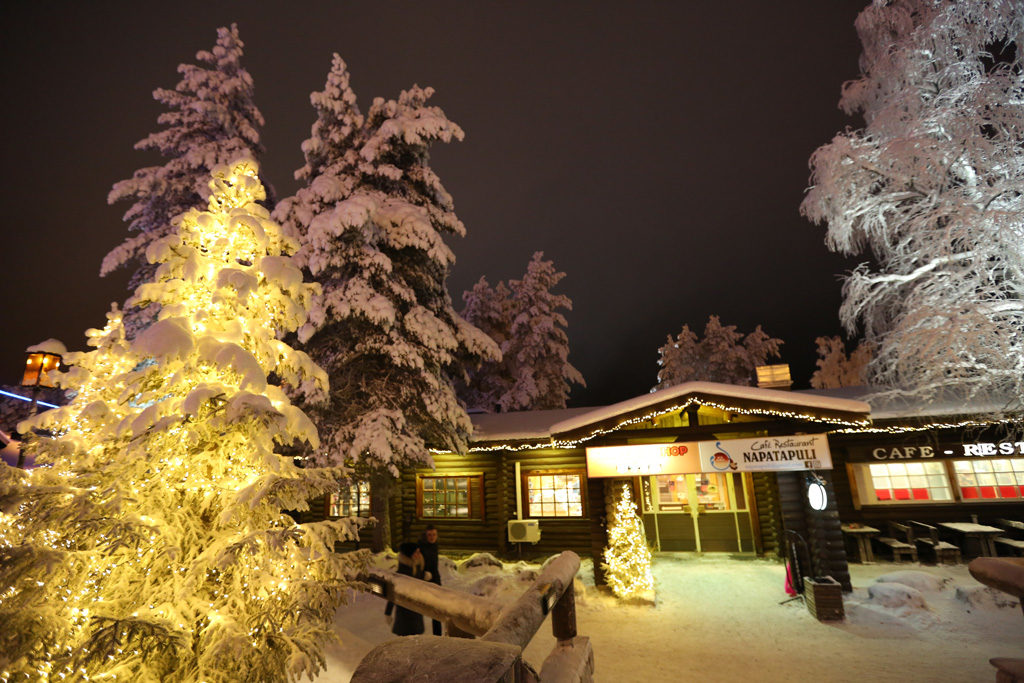 Day 4: Arctic Snow hotel
The next day we visited the Arctic Snow hotel where everything is made of ice. Inside Arctic Snow Hotel you can find approximately 30 hotel rooms, Ice chapel, Ice restaurant and Ice bar. The temperature is between 0 and -5 degrees Centigrade at all times (even when it is much colder outside!). Dinner at the Ice restaurant sitting on ice benches, drinking from ice tumblers and eating dessert on ice plates, was a lifetime experience! They also have accommodation, but spending the whole night in the chill did not seem like a really great idea! They have igloos too where you can stay and if lucky, experience a sight of the Northern Lights or Aurora Borealis from the rooms..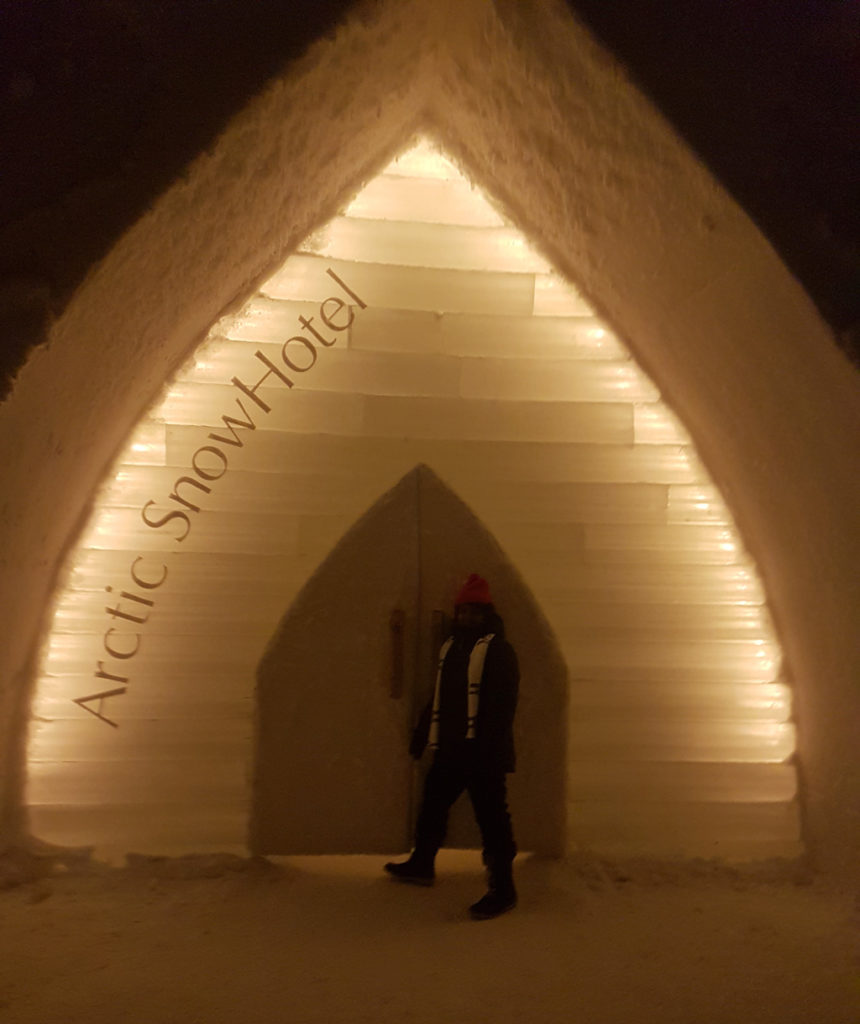 Finally, it was time to leave the enchanting fairyland and we took our flight back to Mumbai with our hearts filled with fond memories and the magical moments of Finland…
Aurora Borealis (Northern Lights)
While a visit to Rovaneimi was planned basically for our kiddo to experience the magical world of Santa, what we were keen on was experiencing the magic of the Aurora Borealis or Northern Lights. Unfortunately, throughout our stay, the skies remained cloudy and though we went for three hunts, they remained elusive. But as like Paulo Coelho says in The Alchemist, "When a person really desires something, all the universe conspires to help that person to realize his dream." As our flight Norwegian Air D8129 took off from Rovaneimi for Helsinki, it was around 2100 hrs and lo and behold! there were the Northern Lights dancing in the skies..we were above the clouds and in the clear night sky, the Aurora Borealis waved us goodbye, making it the perfect holiday…Finland never disappoints!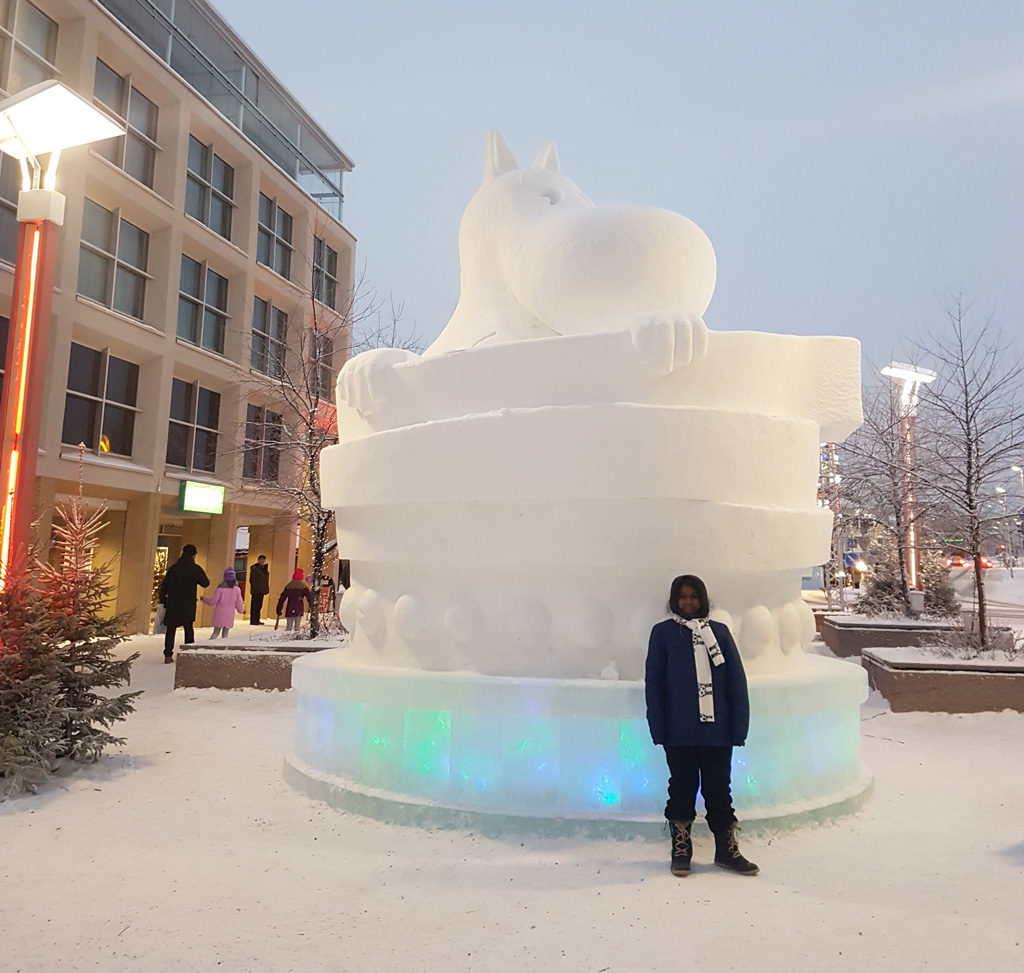 Frequently Asked Questions
What should I wear in Helsinki in December?
Layered clothing: Thermal inner wear, covered by a fleece jacket and finally a hooded snow jacket, muffler, hand gloves, woolen socks, snowshoes.
Decathlon stores have all these at reasonable prices.
What to Eat?
Vegetarian and vegan food was available at most of the restaurants, though there was not much variety. Non-vegetarian food is available everywhere, with choice of chicken, lamb and reindeer.
Local Must try:
– Korvaapusti (cinnamon buns)
– Karjalanpiirakka (pie)
– Ruisleipa (rye bread)
– Reindeer meat is very popular (No, we didn't try!)
What is the best time to visit Helsinki?
Anytime. Christmas time is best if you want to experience the magic of Yuletide
How to get to Helsinki from India?
No direct flight from India. Icelandair and Norwegian Air are good for internal travel. If you take a flight post 21:00 hrs, watch out for Northern Lights from the window!
How many days are sufficient in Rovaneimi?
The ideal is 2 nights 3 days.. Santa Village including the husky rides, reindeer rides, etc on the first day, Santa Park on the second day, local life in Rovaneimi on the third day. If you plan two nights, you must go for the Northern Lights Hunt (do it on the first day..if you don't see the lights, most operators take you on the 2nd day free of charge)