Words such as 'Portugal', 'vegan', 'vegetarian' don't go together. So, when we started planning the trip, our vegetarian food list was the first thing we put together! To our delight, we found quite a few vegan restaurants that we were excited to try. We also found many vegetarian-friendly cafes and restaurants in Porto and Lisbon. Read on to learn more about our favorite restaurants and cafes in Porto and Lisbon and their stories.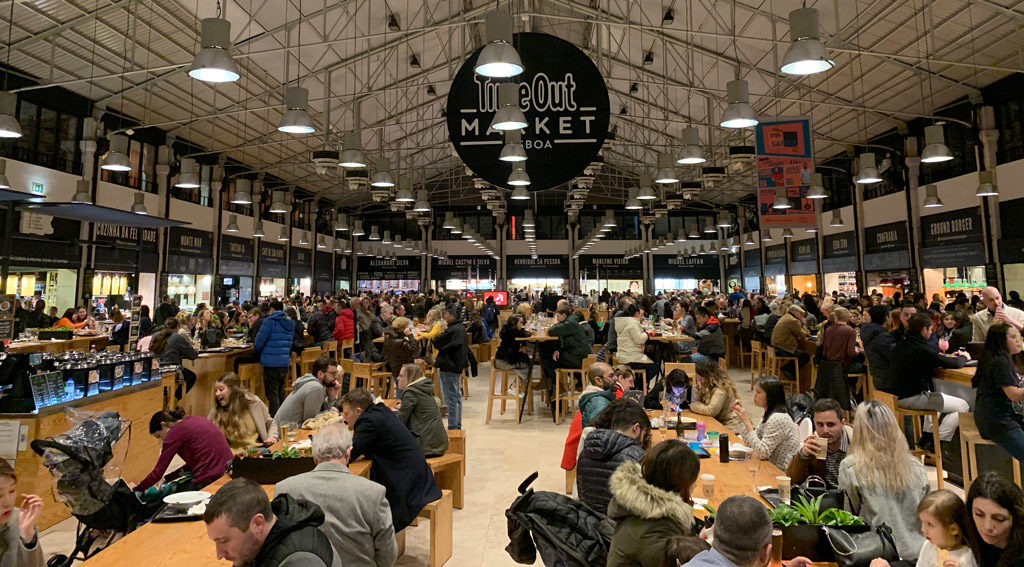 Vegetarian Restaurants in Lisbon
Knowing that Portuguese food is mostly meat based, we came armed with a list of must-try vegetarian restaurants in Lisbon and Porto. We flew in from San Francisco to Lisbon, via London – both known to be very vegan-friendly places, unline Portugal. Our occasional Uber driver and full-time civil engineer turned travel business owner insisted that we go to Time Out market for dinner. She highly recommended the river-side walk from our apartment to the food market. There was a drizzle when we arrived in Lisbon but it cleared after dinner, so we could enjoy a lovely walk back to the apartment.
A pro-tip – if you're using Uber in Lisbon, give it plenty of time to arrive, no matter what the app says.
Time Out Food Market
I had been exchanging notes with Wendy of Nomadic Vegan. We had long been planning to meet in Lisbon. But, many restaurants are closed on Sunday. Wendy had suggested Veganapati, which looks awesome. But, after last-minute discussions in our family, we landed in Time Out Market because we love local food markets. Wendy wasn't sure we would find vegan choices. But she came early and found about half a dozen options for us to try! We had a lovely dinner together.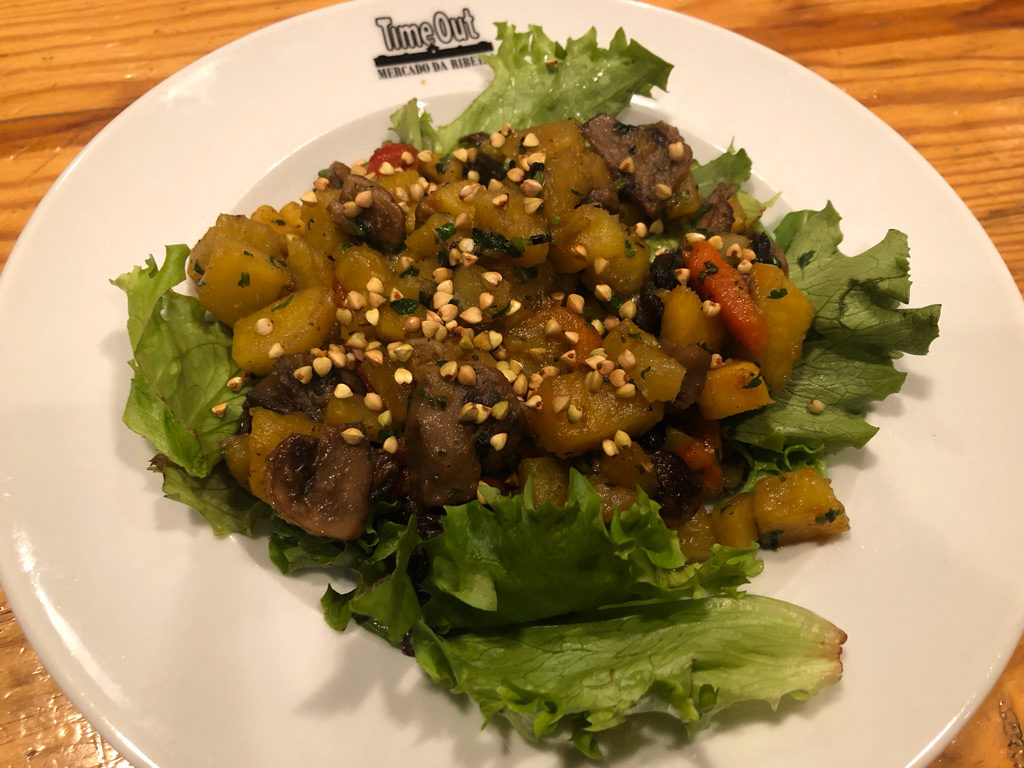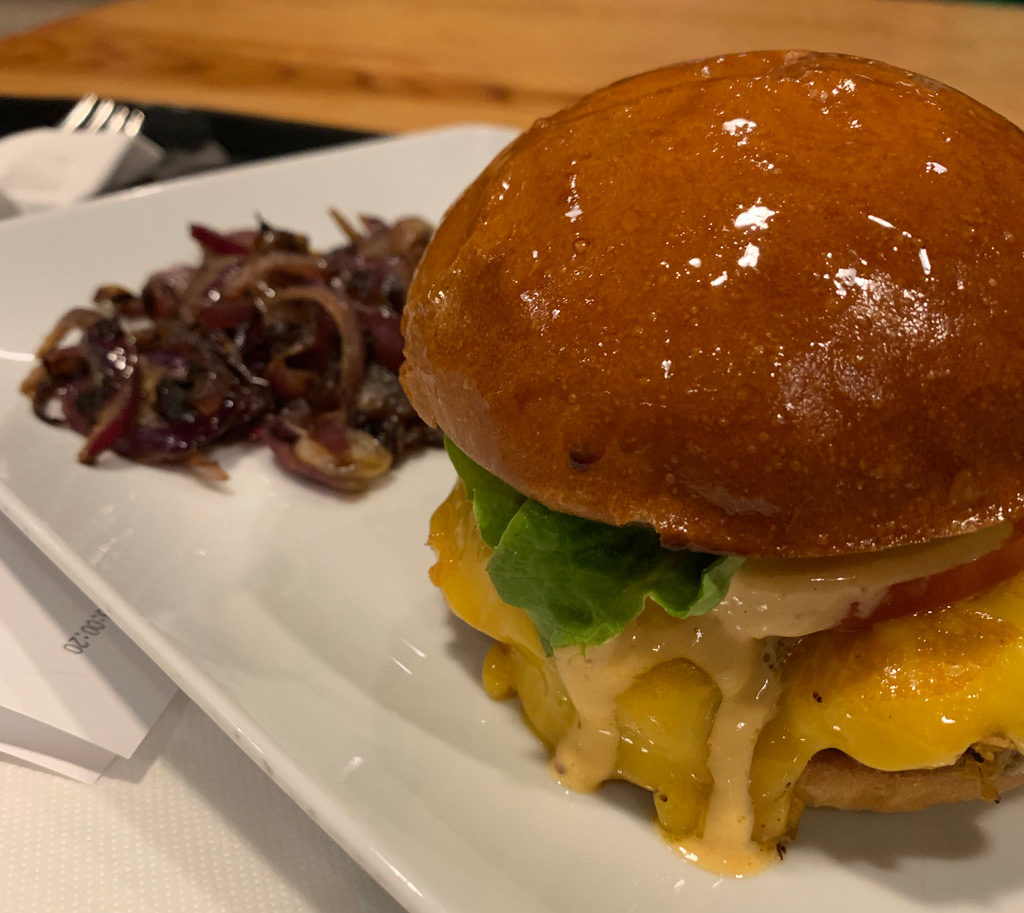 Ao 26 Vegan Food Project
Ao 26 Vegan Food Project restaurant in Lisbon was totally my kind! It had a large selection of vegan foods. Each item sounded amazing and all the dishes that servers were bringing out looked so appetizing. The only issue was that it was very hard to pick just a few dishes.
Mushroom, spinach, asparagus, and walnut Risotto

Street food – mini burger sampler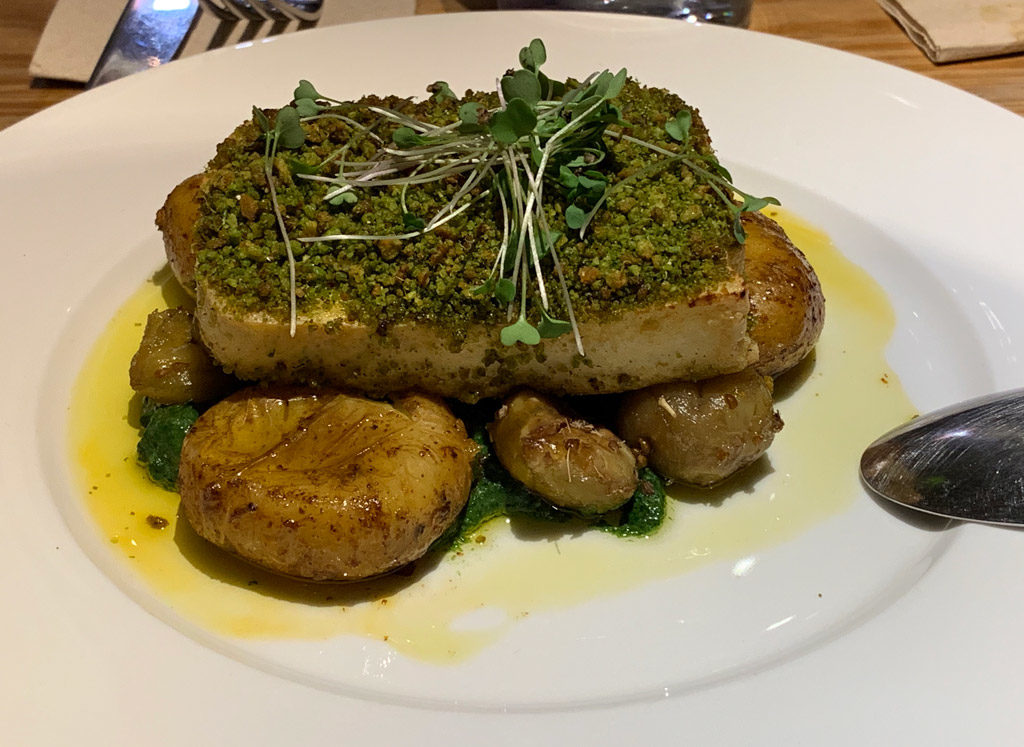 Pizzeria Romana Al Tavolo in Alfama
We found this lovely pizza place in Alfama that had opened just recently. The Alfama location is a small sit-down restaurant while its other location in Lisbon offers only take-out slices. Both restaurants have a vegan and at least one vegetarian pizza on the menu.
Every time we passed by to get to our apartment, the simple, modern and clean design of the restaurant drew me in. So we stopped by for a dinner and the pizza were absolutely delicious. So, we ended up going there a couple of times, which is rare when we're traveling.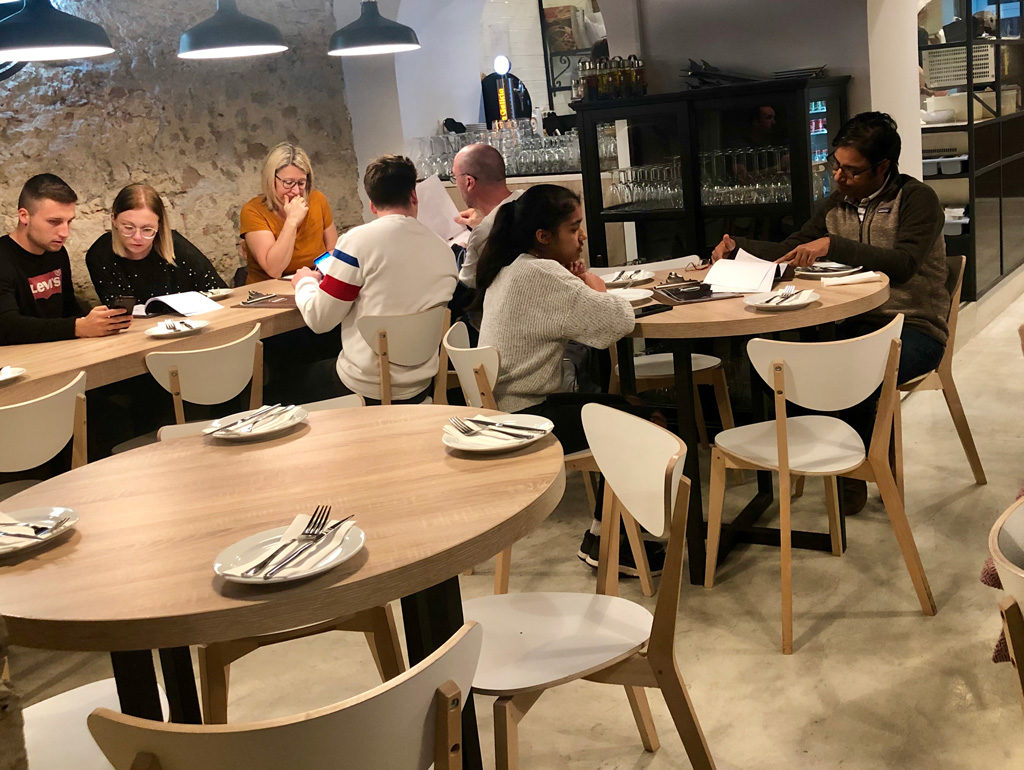 I totally recommend a meal at Pizzeria Romana Al Tavolo in Alfama. All the three vegan and vegetarian pizza we tried were scrumptious. The vegetarian pizzas we ordered were Margherita and Tartufata (minus speck). The vegan pizza was called Ortolana which means "from the vegetable patch" in Italian. I loved how it was topped with loads of bright & colorful vegetables and packed with flavor.
Margherita and Tartufata (minus speck)

Ortolana
Tapas n' Friends
Expecting Portugal to have tapas like Spain, we were on the lookout for tapas places that might have some vegetarian options. We found one on our street just a couple of minutes away. It had at least 15 vegan/vegetarian tapas.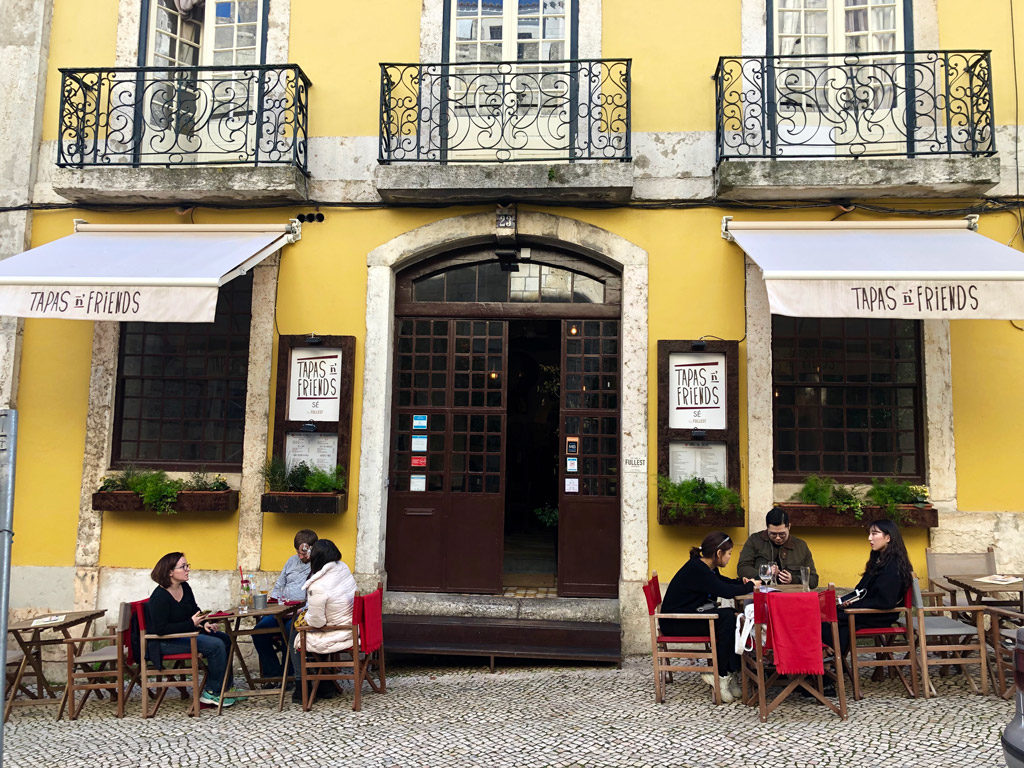 The peppers, asparagus, and olives were awesome at Tapas n' Friends . The burrata cheese on bread, topped with honey was delicious. The bread basket at was ok.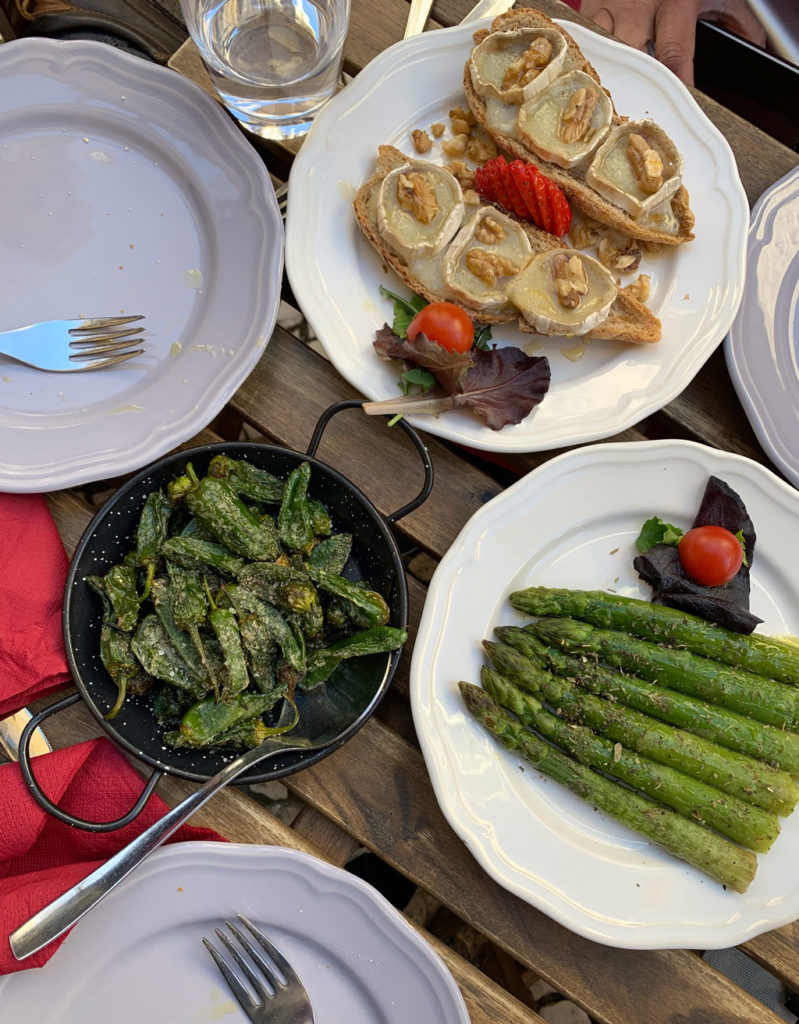 Pão Pão Queijo Queijo in Belém
After spending the morning exploring Belém, we were ready for lunch. We hadn't picked a restaurant in Belém and our guide told us that all the restaurant along the main road were either authentic Portuguese food or his favorite – McDonalds.
His pro-tip was to avoid places with printed menus and go into restaurants with handwritten menus on black chalkboards. That's because the handwritten menus are based on the fresh catch of the day. So we knew to avoid the entire street – we didn't want the seafood or the bad touristy food. But we found Pão Pão Queijo Queijo, a few doors from Pastéis de Belém. It was a falafel place in the heart of Lisbon. Definitely not authentic, but certainly had vegan options.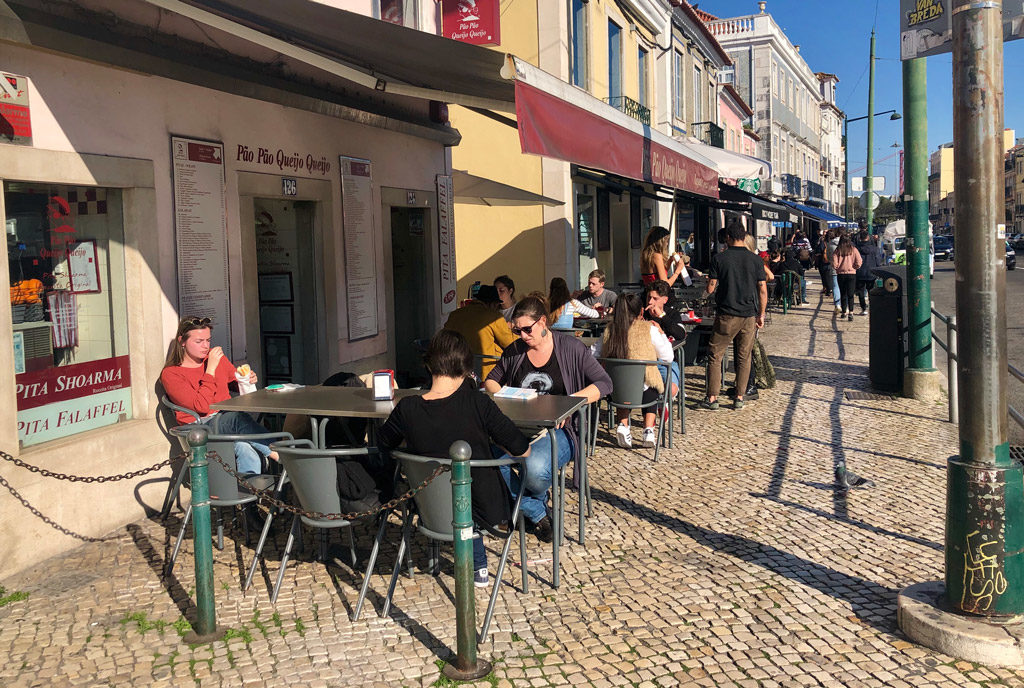 While the menu was printed and extensive and the crowds didn't look crazy on the outside. But the restaurant was packed on the inside! They must be doing something right, we thought. Pão Pão Queijo Queijo was packed during the late afternoon in the non-peak season while many neighboring restaurants were nearly empty.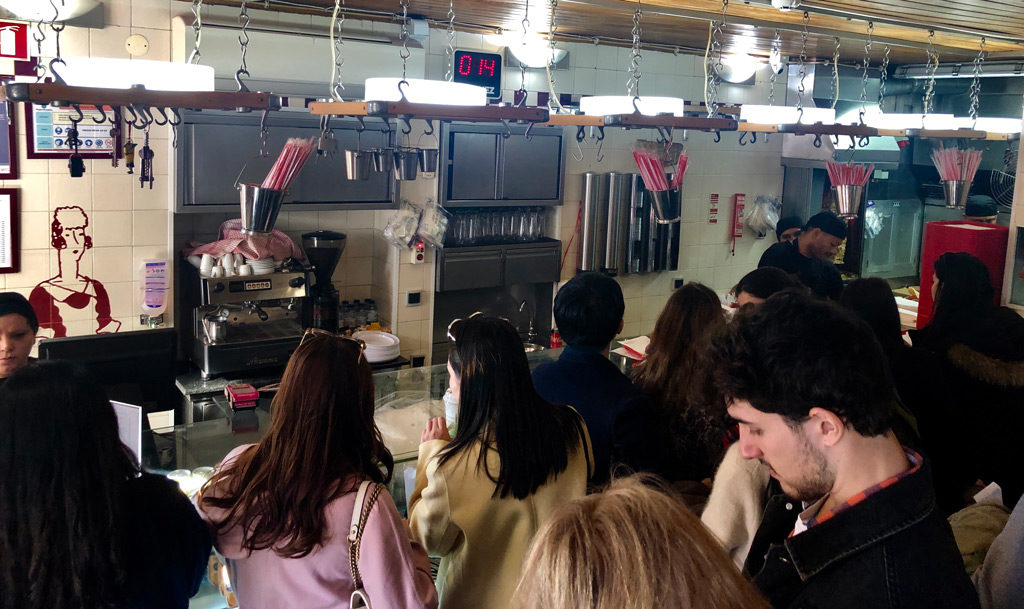 The food was ok but nothing like a falafel in US. It was more like fried lentil ball in a pita or roll and stuffed with salad, sauces etc.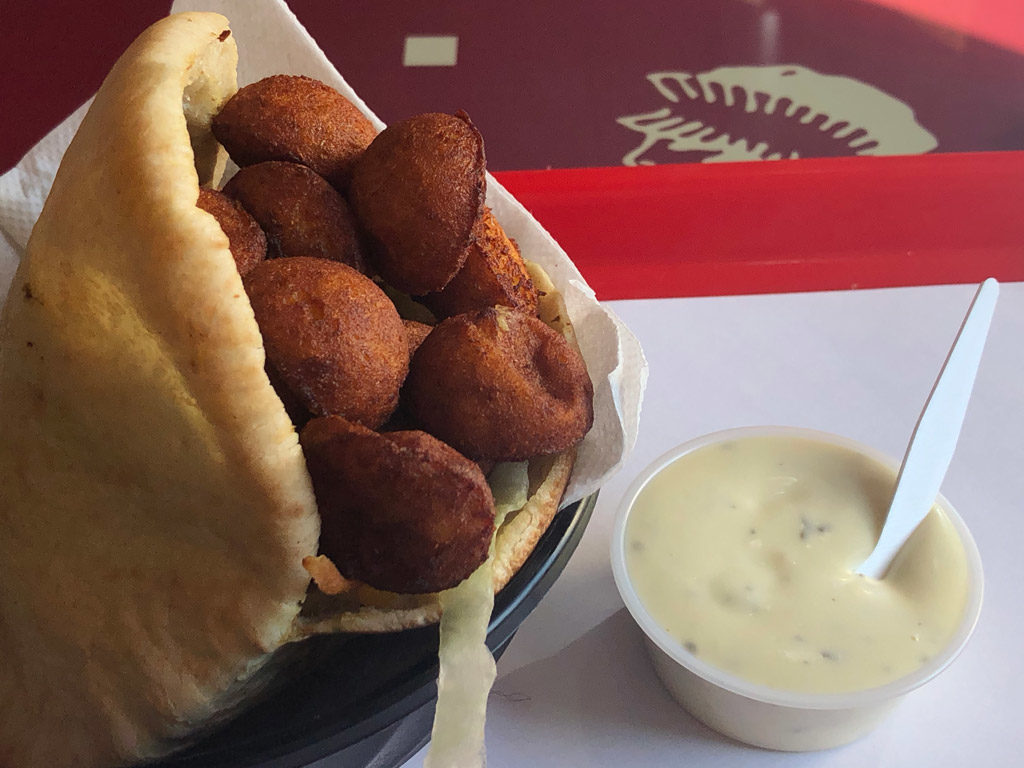 More Vegetarian Restaurants in Lisbon
We had a long list of restuarants for Lisbon. Here are a few we would try next time. Please do share if you've tried any of these or find more restaurants so others can try them too.
Bar 52 (Tapas)
The Food Temple (Vegan)
Tasca de Esquina (Portuguese Tapas)
Forno d'Oro (Pizza with Portuguese flavors)
Jardim dos Sentidos (Vegetarian)
Adega Machado Restaurant (Fado & Food Group)
PSI Vegetarian
Mercantina (Naples style pizza)
Our Favorite Cafes in Lisbon
Pastéis de Belém
After lunch at Pão Pão Queijo Queijo, it was time to finally visit Pastéis de Belém. Read all about it at Authentic and fun things to do in Lisbon. Also, read about how you can make your own vegan paster de nata in Lisbon and watch our video of the process.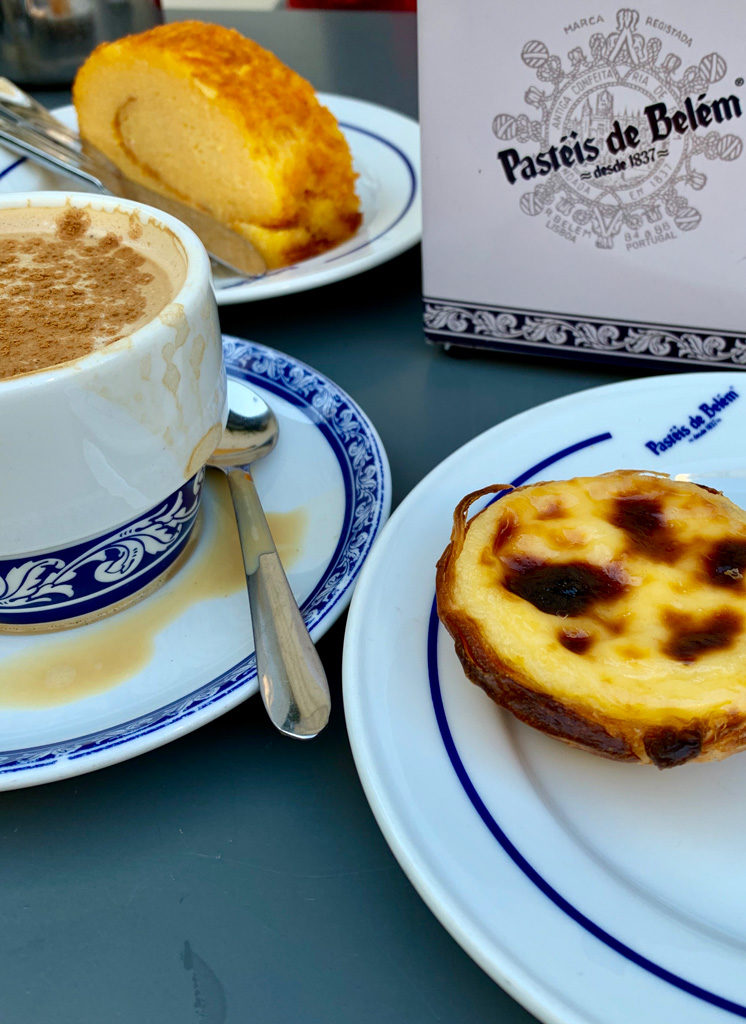 A Brasileira and Casa Havaneza
Café A Brasileira (translates to The Brazilian Lady Cafe) has a long history from the days of Portuguese occupation of Brazil when this was the only place for people to get their authentic Brazilian coffee. Over the centuries it has seen its share of ups and downs. During the renaissance, A Brasileira hosted artists and art collectors. Today people go to the café simple to enjoy the company of paintings from famous artists that adorn the walls of the café.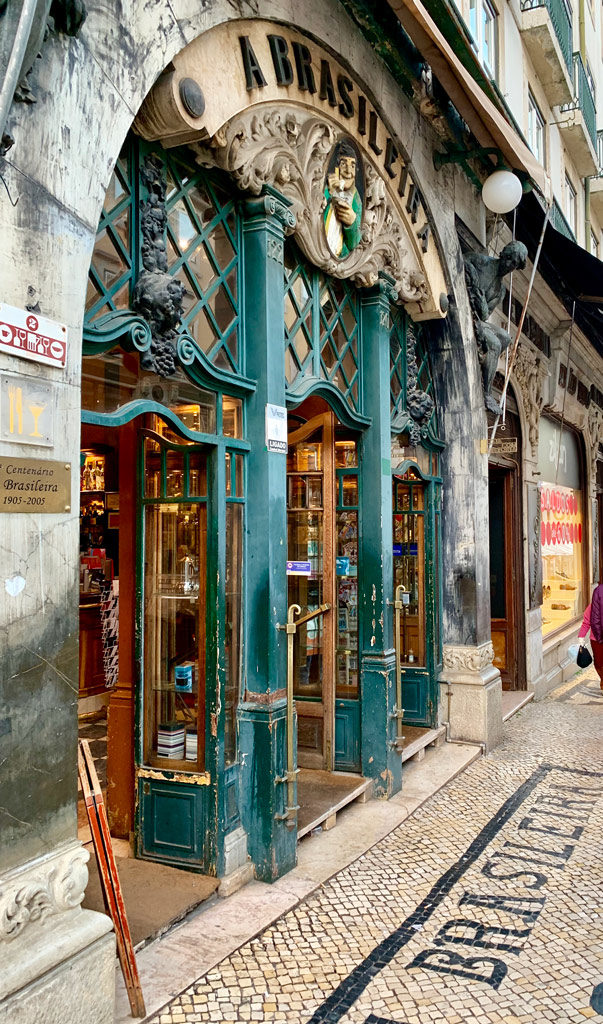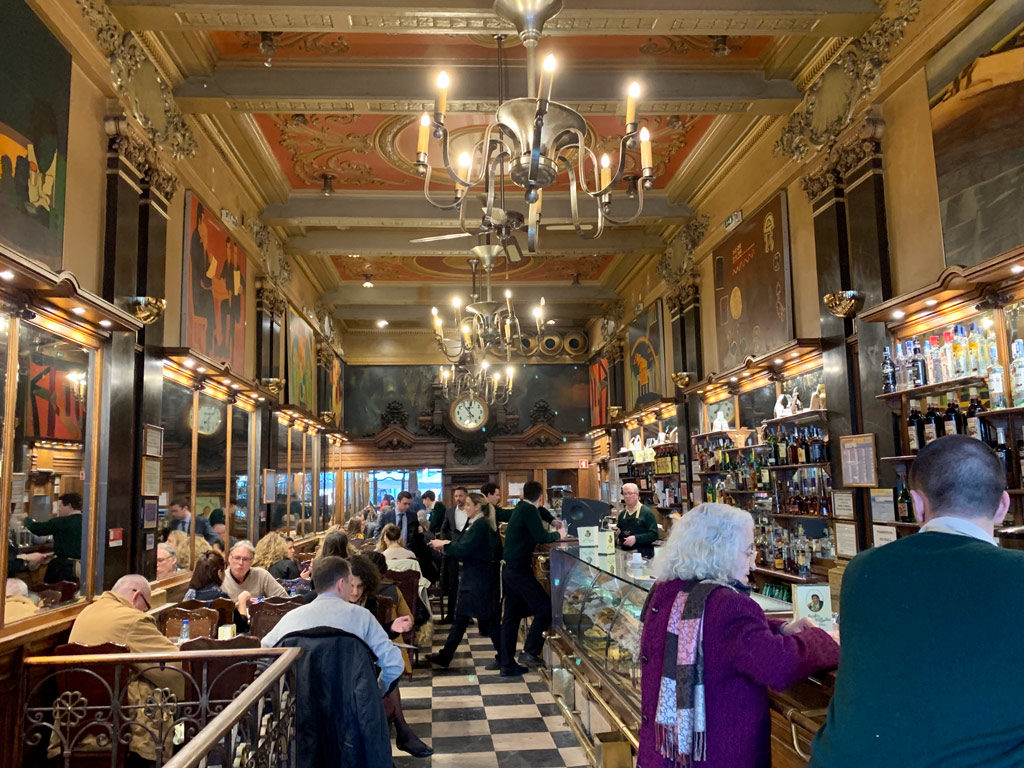 Fernando Pessoa was a famous poet, writer, critic, philosopher, and genius. He spent a lot of time at A Brasileira and next door in Casa Havaneza. He wrote as many, completely different personalities and in entirely different voices. Some say he took on the character that he wrote about and others say he himself had many personalities. To the extent that if his girlfriend came to the cafe for a date and he was in a different personality, he wouldn't recognize her. He would tell her that Fernando Pessoa was traveling.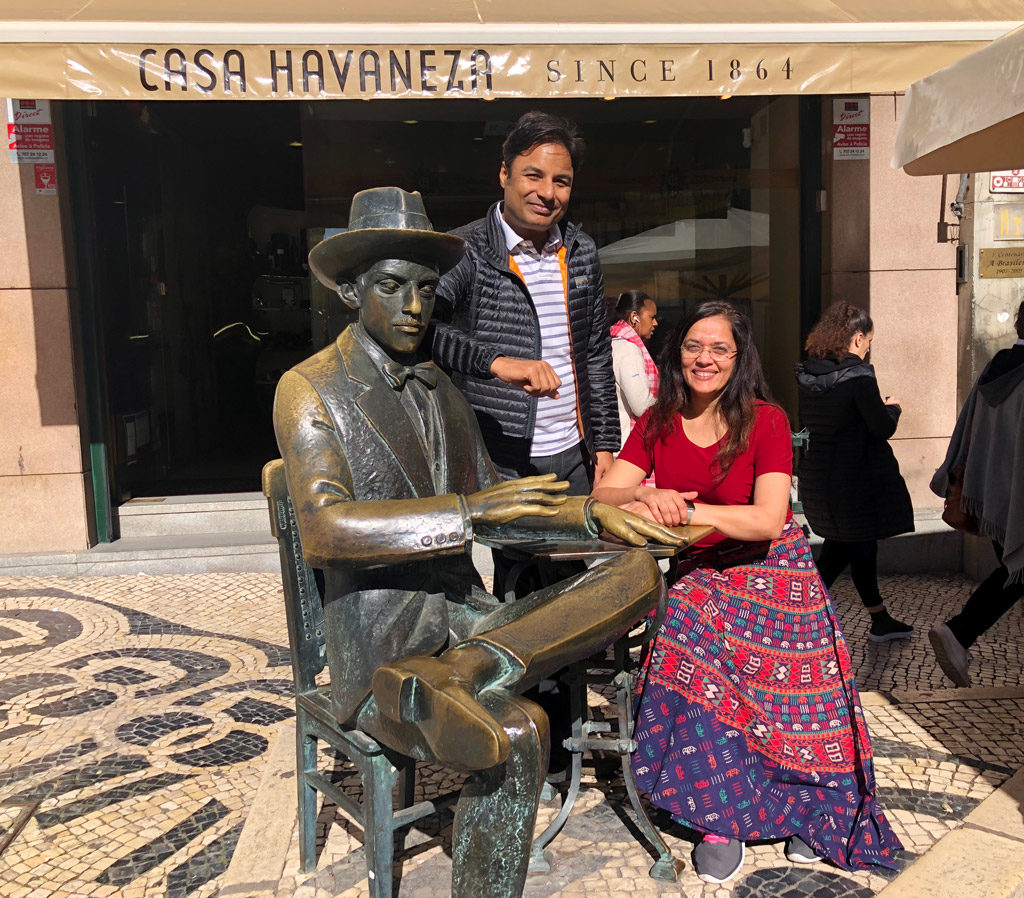 Fernando Pessoa was a prolific writer and had about 75 personalities (heteronyms) each distinct with their own voices and with extreme perspectives. He was and is still considered a genius.
We visited A Brasileira around a time that we were not hungry so we didn't try anything. If you try something do leave a comment below with your experience.
Vegetarian Restaurants in Porto
Words such as Portugal, vegan and Francesinha don't typically go together. So, as we started planning the trip, the first list we started was our vegetarian food list! We did find quite a few restaurants serving highly recommended local vegan dishes.
O Oriente No Porto
O Oriente No Porto is my most memorable restaurant because of its story, the story of the family that runs it and the delicious francesinha. O Oriente No Porto has a very simple menu of freshly made dishes.
We knew that francesinha is the most popular Porto dish. Everywhere we went in Porto, there was a restaurant that has this Porto specialty on its menu. Francesinha is primarily a meat dish, but a few places serve a vegan version. We had read that O Oriente No Porto has the best vegan francesinha in town. So, we had to go there just for their famous vegan Francesinha.
The day we visited, the menu includes –
4 starters
3 main courses –

Vegan Francesinha with fries
Portuguese vegan sausage with sides
Combo with soup and dessert

2 desserts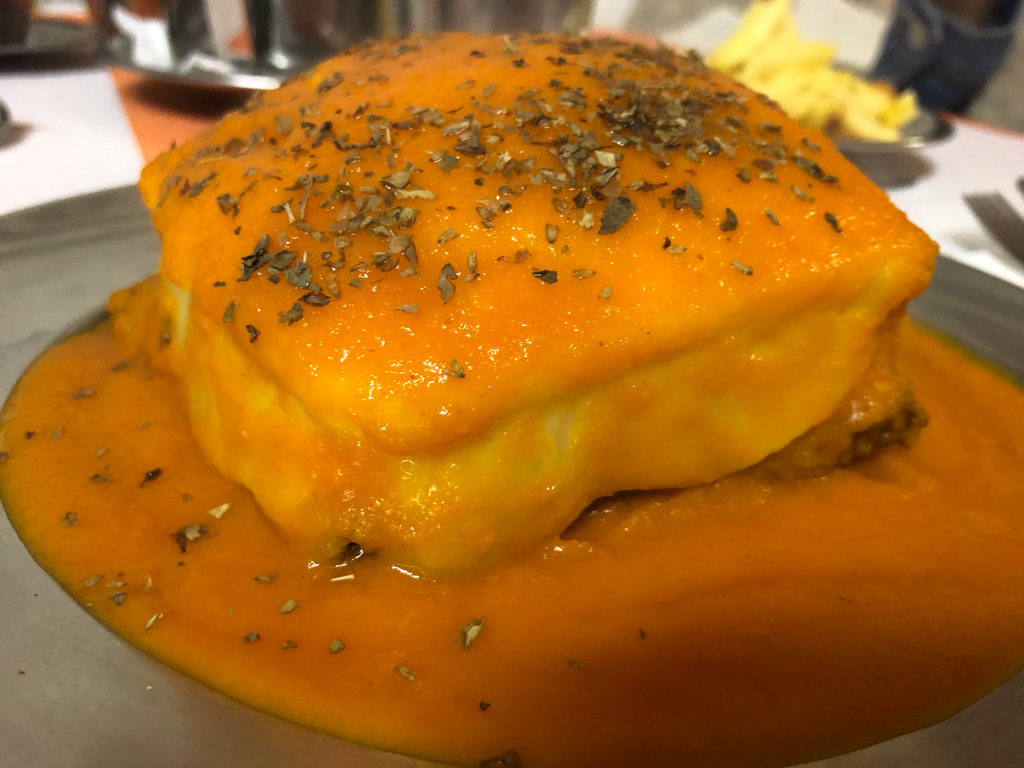 True to all the reviews, francesinha in O Oriente No Porto was amazing. We also learned why the vegan francesinha was so good. The restaurant as it turns out is part of the Iskon temple of Porto. It was started 22 years ago by the family that still runs it to this day. The same woman has been cooking and perfecting the food for decades. The same family serves its clients and temple visitors with love. Her talent and passion for perfection were apparent in the dishes we had. All the food was authentic and clearly made with care and affection by the owner, as they would make for the family.
O Oriente No Porto was started in 1997 by a young Portuguese couple that arrived in Porto with a one-year-old baby. They were part of the Iskon temple in Lisbon and migrated to Porto. During our dinner, the excellent service was provided by the son who is now 23 years old. He is working towards his education as a pilot for commercial aircraft.
The Iskon temple in Lisbon has a large following. Outside of Lisbon, there are many smaller communities, including in Porto and surrounding towns. The Iskon temple in Porto has Sunday chanting and other regular Iskon gathering at this beautiful location.
The temple has 5 floors. Each floor opens to a balcony overlooking the river, bridge, monastery and breathtaking views.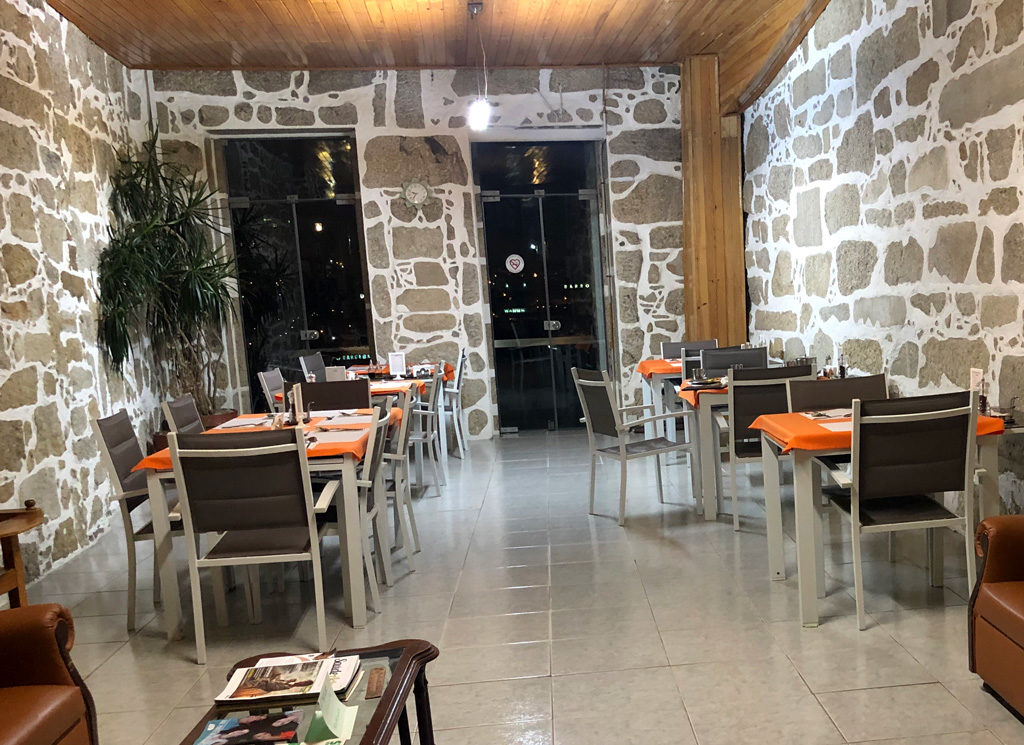 The ground floor, which looked like a basement to me, houses the kitchen and a dining area.
The main floor has more dining space and a shop that sells Iskon (Indian) merchandise like food, prayer clothing, rosary, books, etc.
The next floor up has the residential quarters where the family lives.
The floor above the residence is a community hall, where Iskon followers gather on the weekends and for events.
The top floor houses the Isnkon temple of Porto. During prayer and chanting times, Iskon followers gather here.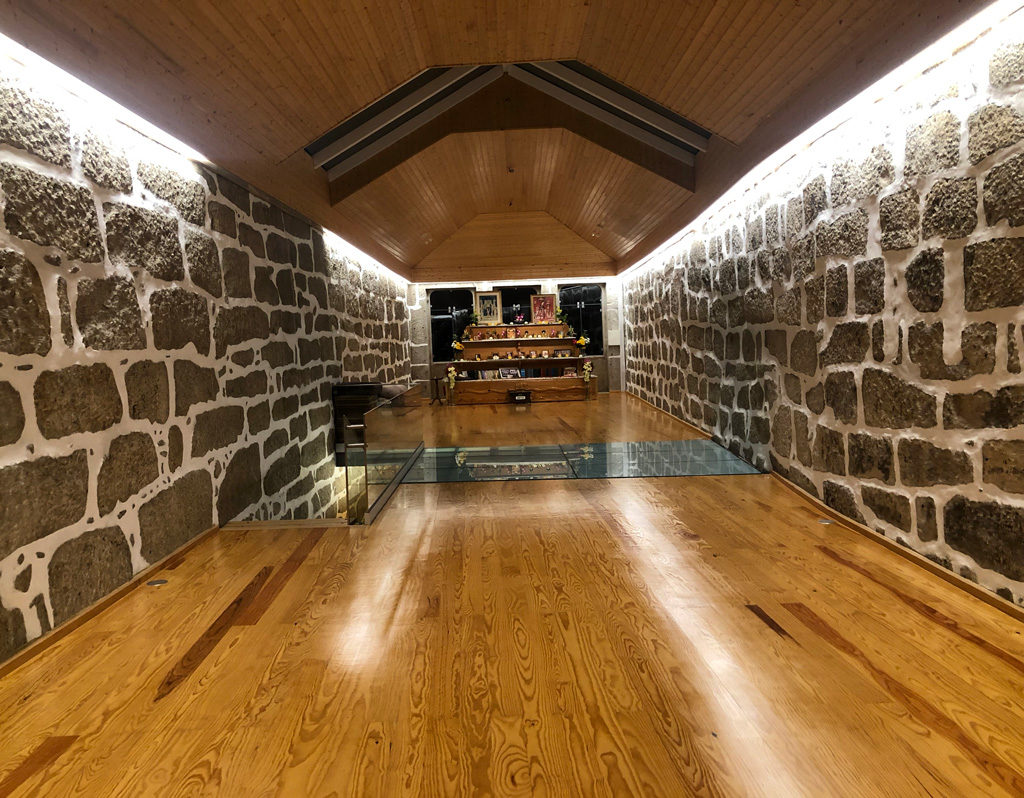 A' Sandes do Porto – Best Sandwiches in Porto
We ran into A' Sandes do Porto on our first evening on Valentines' Day, because all other restaurants on our list were busy or closed. It's a tiny hole in the wall that seats about 20 people. It's not a vegetarian restaurant but the vegan & vegetarian sandwiches are awesome.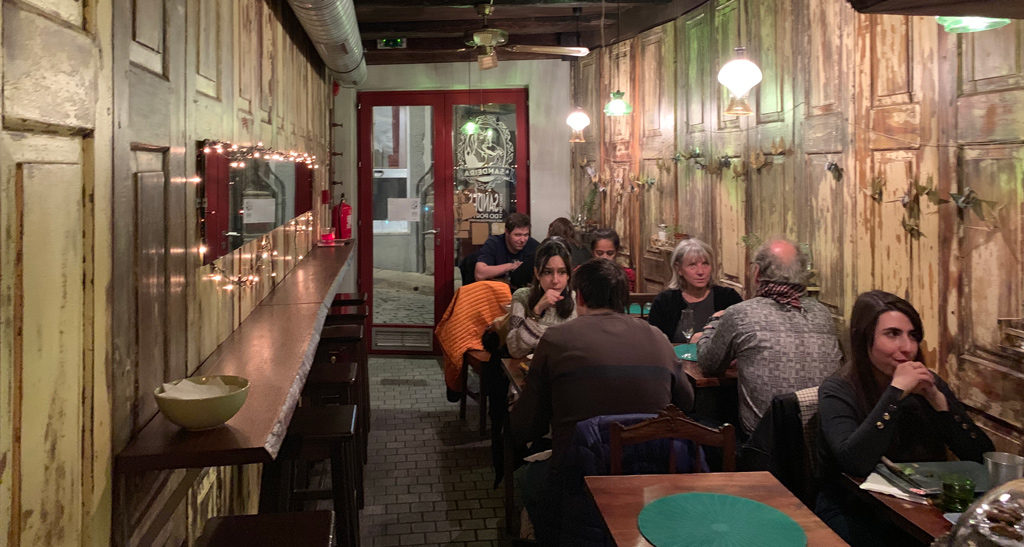 Black Mamba – Burgers & Records
Contrary to popular belief that Portugal is not vegan-friendly, we found numerous vegan restaurants in Porto and Lisbon. Black Mamba is one such trendy and popular vegan burger joint. They had about 6 vegan burgers on the menu the day we visited for a very late lunch.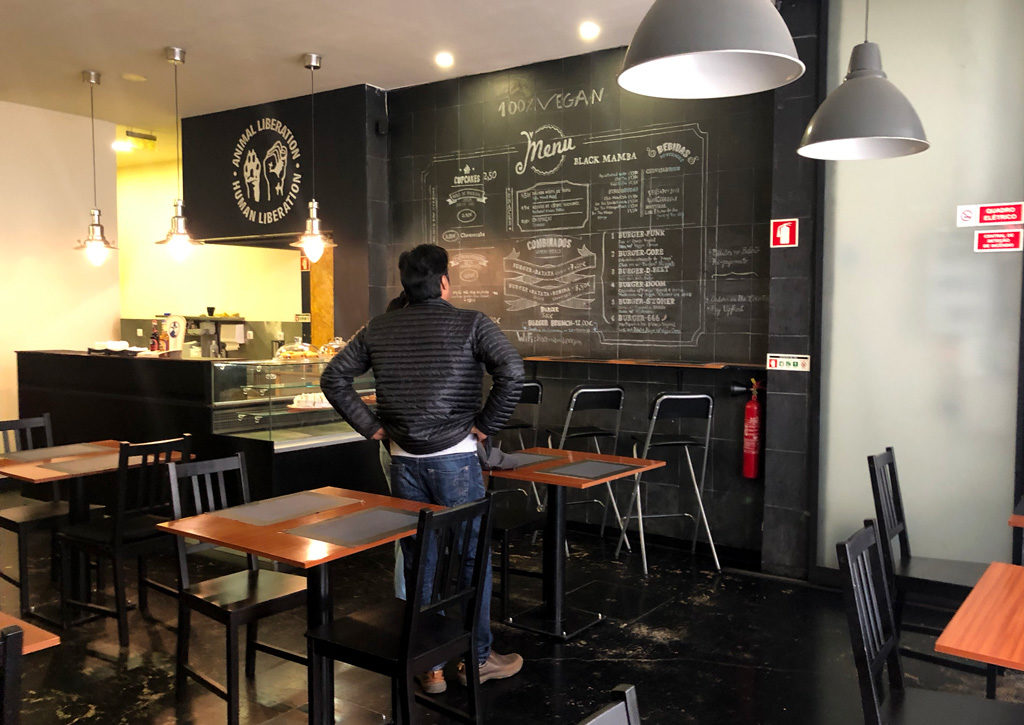 We ordered three of the burgers. It took a while for them to come out because they were made from scratch in the kitchen, as we could see. All three were very good but the beet patty was our favorite.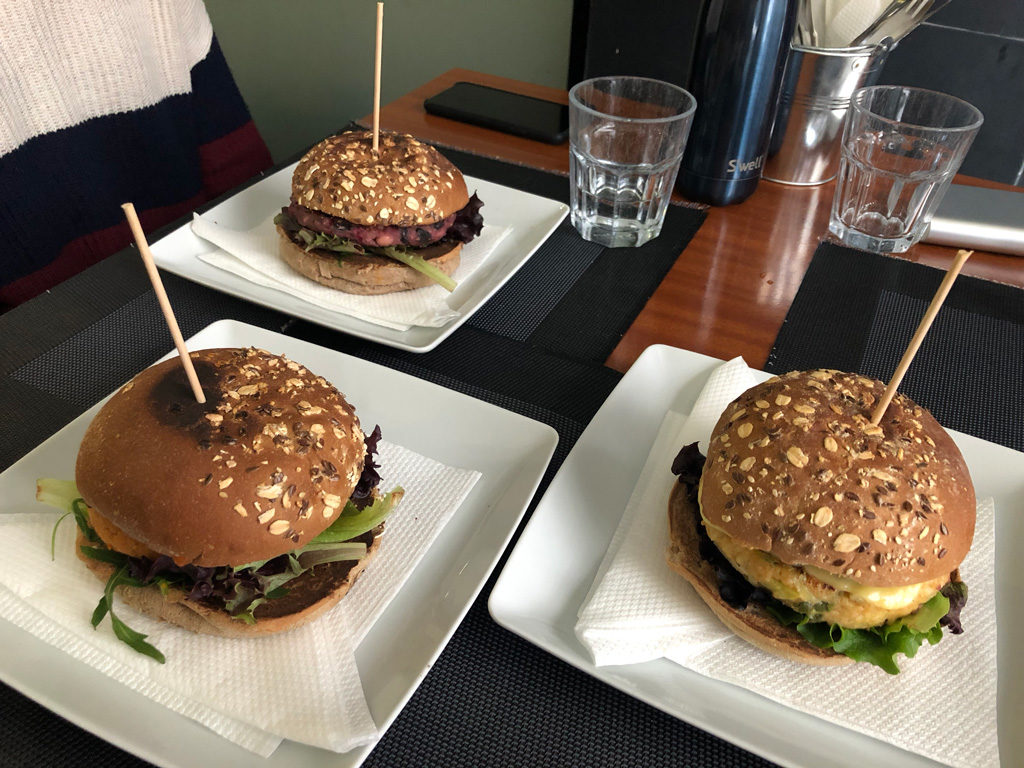 In addition to the restaurant, Black Mamba sell other merchandise like music records, disks and clothing.
Vegana by Tentúgal
Vegana by Tentúgal is a vegan restaurant and grocery shop. They also carry miscellaneous merchandise like gifts, vegan-friendly goods, and cloth bags.
Vegana by Tentúgal has super cute signs.

Vegana by Tentúgal promotes love for all.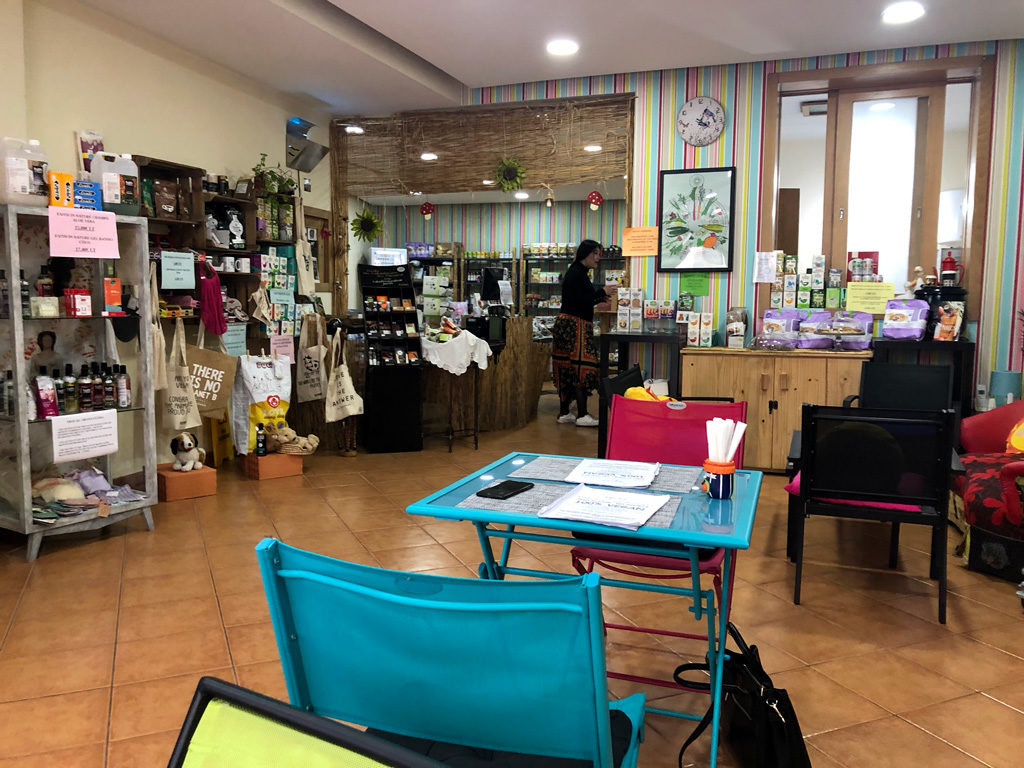 We ordered soup, salad, and a sandwich. They were all really fresh and delicious. I was tempted to buy groceries because even in California, is not easy to find some of the vegan products that Vegana by Tentúgal carries.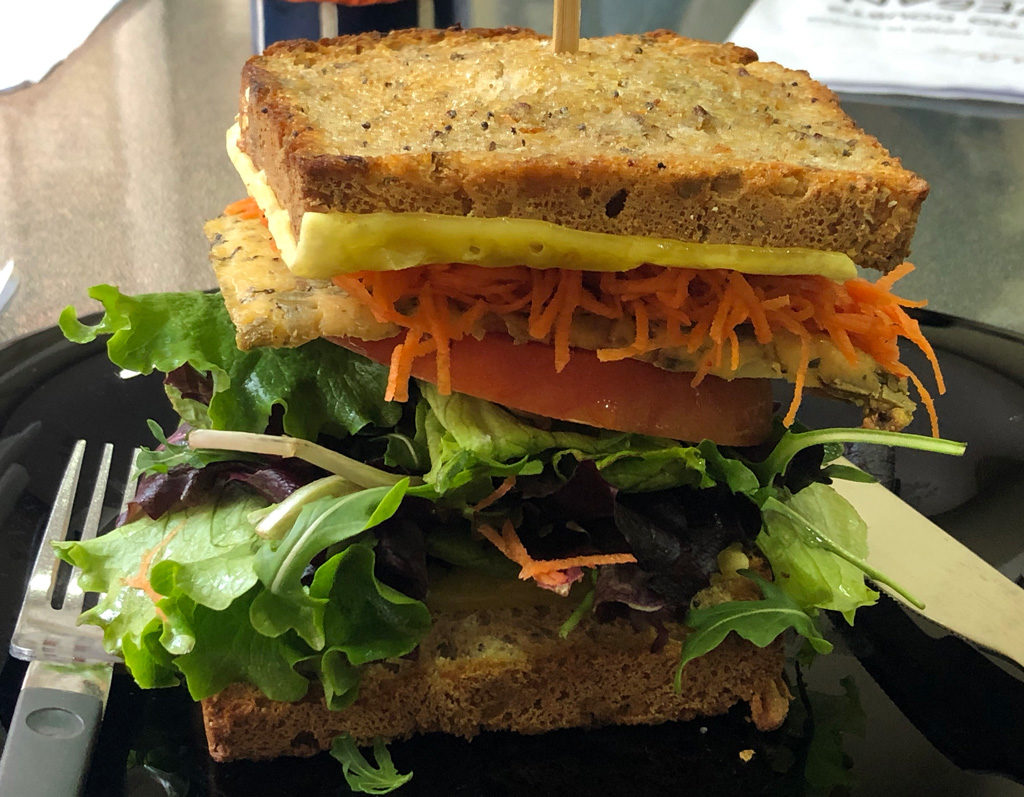 More Vegetarian Restaurants in Porto
Our list was a lot longer than time allowed us to visit. Here are a few more that we had wanted to try. Do let us know if you try them.
deTerra is a vegan buffet and well suited for times when you have a good appetite for mostly cold foods. When we visited on Valentines' day dinner and it had a long wait but they were not sure how long. So we went to A' Sandes do Porto instead.
Pão Nosso is said to be a great vegetarian and organic bakery.
Fava Tonka
Lupin restaurante vegetariano
Casa da Horta, a cultural association.
Our Favorite Cafes in Porto
Majestic Café
A coffee in Majestic Café on Santa Catarina Street is an absolute must for every visitor to Porto. The café offer a wide selection of snacks, lunch, and desserts. But, mostly you need to visit Majestic café because it is one of the most beautiful cafes in the world. The staff says it's ranked #6 on the top Café list of the world.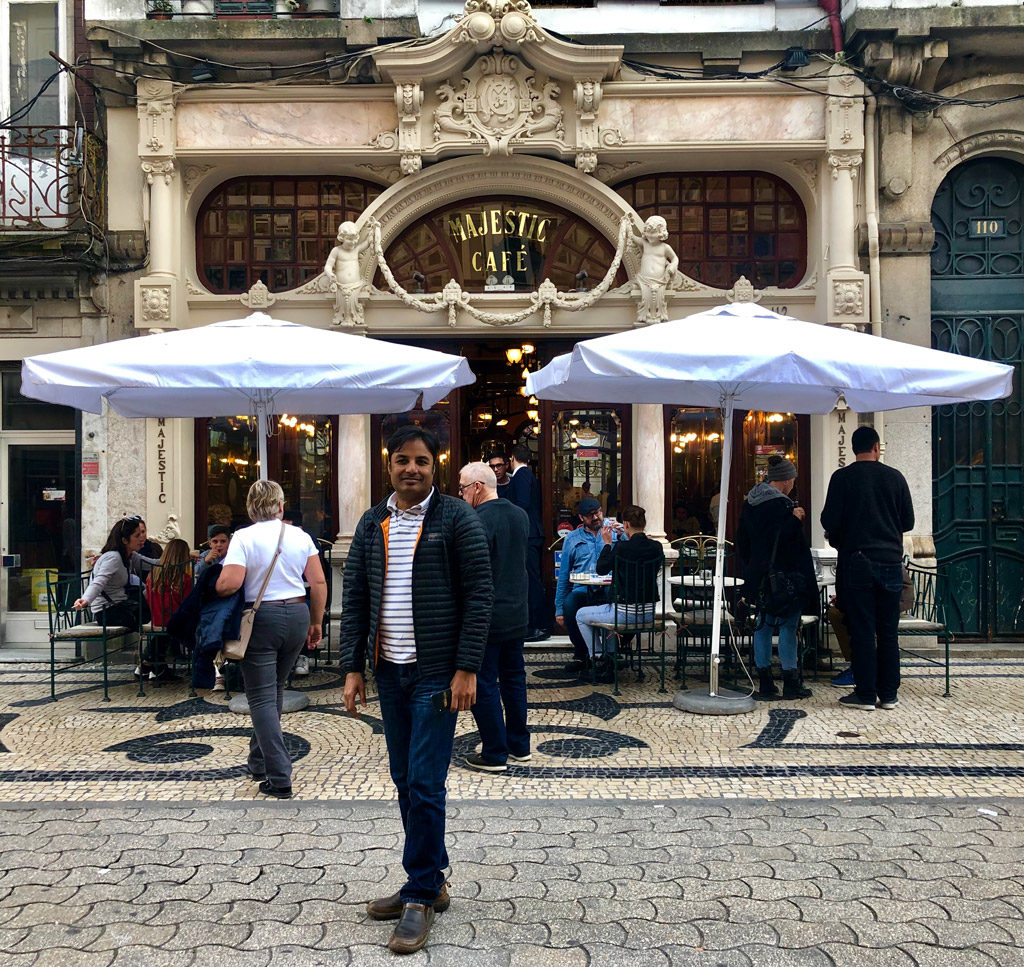 Majestic café was established in 1921 and was the cafe of choice for revolutionaries, businessmen, writers, poets, thinkers, and people seeking leisure, coffee, and conversation. Many of Porto's historic decisions we made on these premises. The ambiance and decor were as charming and luxurious back in the '20s as it is now. However, for many decades in the middle, the cafe lay in neglect and disarray, until its restoration in 1994 to its original grandeur.
Majestic Café is one of the important stops on Harry Potter walking tours of Porto. According to JK Rowling's biography by Sean Smith, she spent hours here as she wrote her first book Harry Potter and the Philosopher's Stone. Our server at the café was funny. She said that she doesn't remember seeing JK Rowling in the café, just like the author likely doesn't remember her.
I asked our server if she liked working there. She said that she's very lucky to work in this absolutely gorgeous cafe of the world, with the best possible colleagues and amazing customers. She had been there for nearly a decade and she loves it more every day. What else could an employer ever want!
egan coffee in Majestic Café

essert in Majestic Café
Majestic Café in Porto is famous because it's one of the most beautiful cafe's in the world, the food is delicious, the service is top notch and famous people like JK Rowling made history here. It's pricy compared to other cafes in Porto, but it's totally worth it.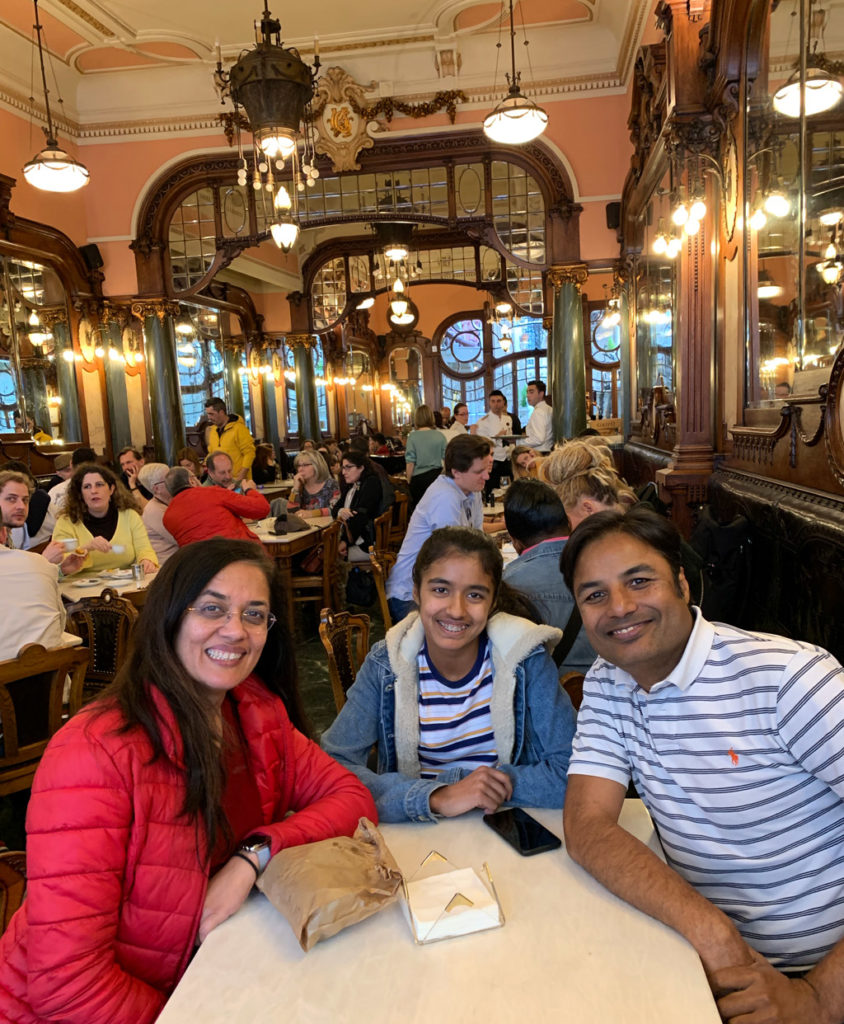 Santini's Gelati and Coffee Shop
As you can tell, the Portuguese like their cafes. A large percentage of the workforce is employed by the small, individually owned cafes. Gelato places are equally popular but unlike other countries the gelato shop, coffee and breakfast are generally all in one.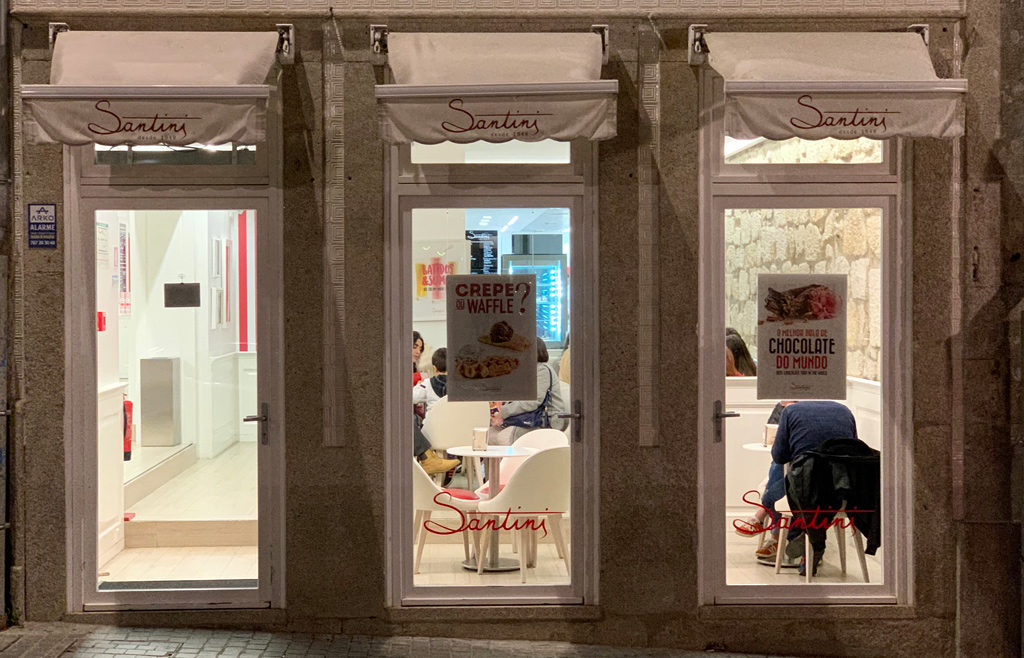 Santini had lovely modern decor, very friendly staff and delicious gelato. We tried so many flavors, we were wondering if the staff would get annoyed. On the contrary, they seem to be having fun and suggesting more options for us to try. No wonder their website says its the most famous ice cream in Portugal.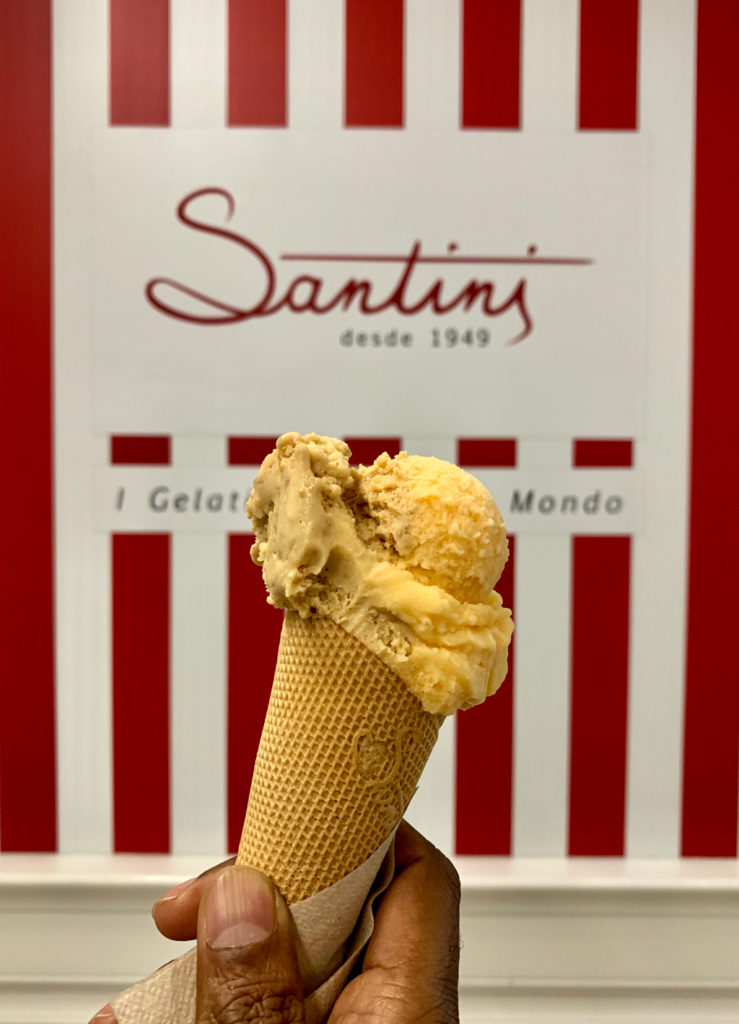 Related Articles
On Pinterest