by Gigi Griffis
When you think about traveling the world in search of the best vegetarian food there is, Italy might not be the first place to come to mind. Italian vegan dishes are not a very obvious thought for vegetarian or non-vegetarian person.
And that's fair.
After all, the country is known for meaty lasagnas and thinly sliced prosciuttos, fatty mortadella and pork-stuffed tortellini.
But here's the good news: Italy has plenty of exceptional vegetarian cuisine to offer as well. Just stay on your guard and make sure to ask if the thing you want to eat was prepared with any meat products (sometimes veggie dishes are cooked in meat fats) before you make your order.
So, what should you look for on Italian menus if you're keeping to a vegetarian diet? Here are 15 suggestions:
Dishes marked with an * are also usually vegan! (Though again, it always helps to double check.)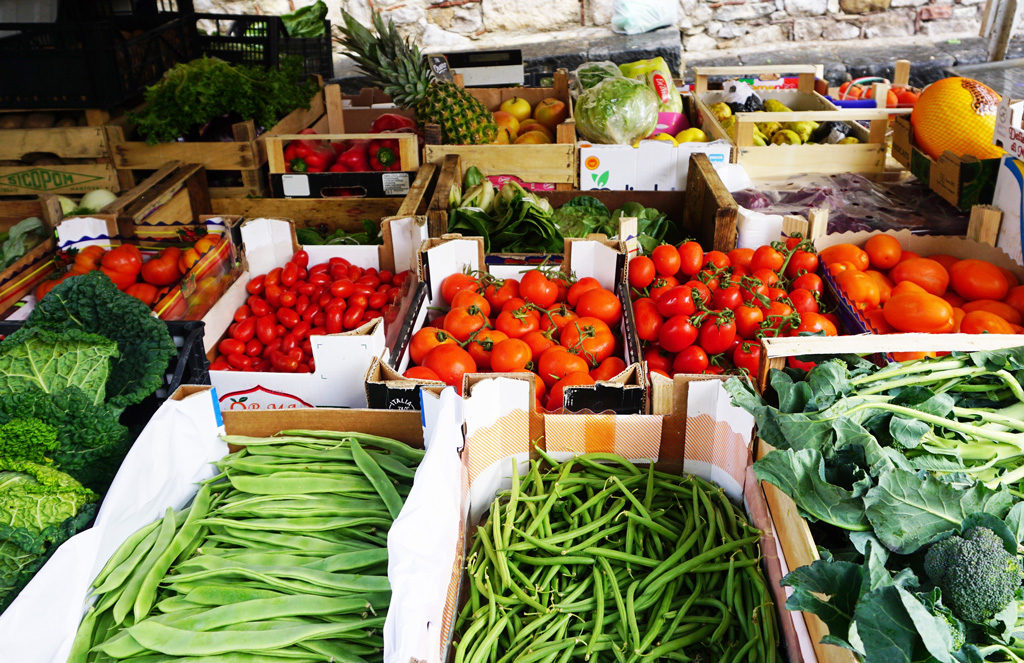 1: Roman Artichokes*
Head to Rome in winter and you'll find these on every menu. They're braised in white wine and water, stuffed with herbs and spices, and served soft and well spiced.
2: Jewish Artichokes*
These artichokes are also a Roman winter classic. But loosen your belt buckle because these babies are deep fried. The flavor is a bit like a salty potato chip with just a hint of the classic artichoke flavor.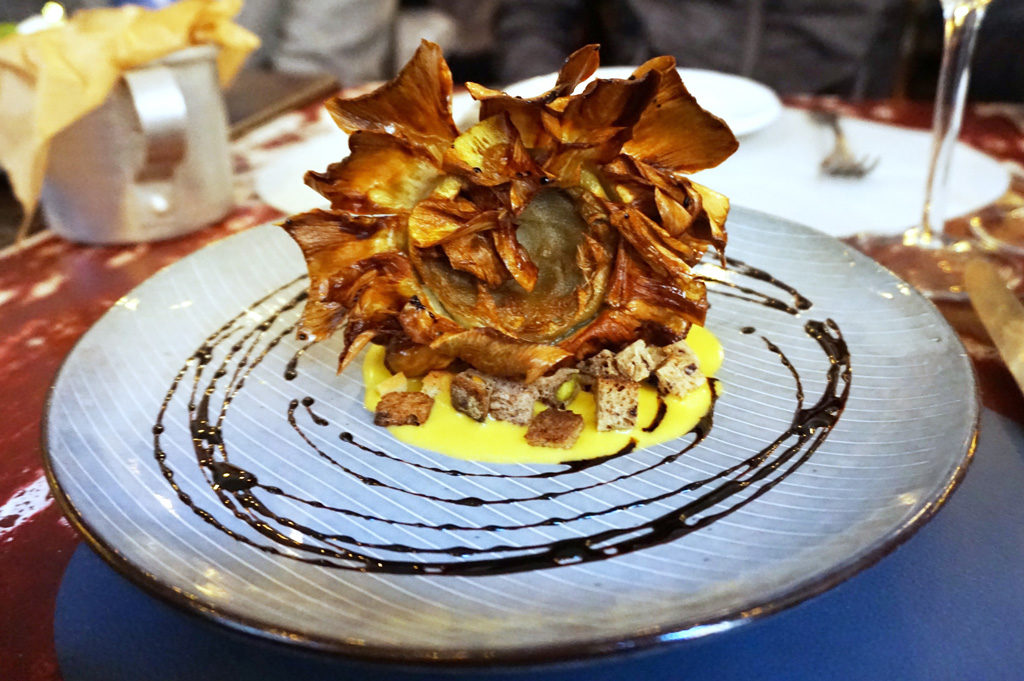 3: Famous Italian Cheeses
Vegetarians who appreciate cheese won't be disappointed by Italy's famous fare. Mozzarella, buffalo mozzarella, and Parmigiano-Reggiano are just the tip of the iceberg when it comes to cheese. Make sure to ask for DOP versions of each cheese. That designation means they are the real deal—from their characteristic regions and meeting Italy's high-quality standards.
One of my own most exceptional cheese experiences was breakfast at Villino di Porporano just outside Parma. Another was a good tour with The Roman Guy.
4: Bruschetta*
These popular little toasts piled with tomatoes, onions, and herbs are even better here in Italy. They're usually served cheese-free and thus can be a nice vegan treat, but always double check because restaurant recipes vary. In fact, double check that it's vegetarian before you order as well; there's a version of bruschetta in Abruzzo that incorporates salami.
5: Crostini*
These thin slices of grilled bread boast a wide variety of toppings. Watch for spinach and cheese, olives, pepper, cheese, and garlic, or a simple preparation of olive oil and salt.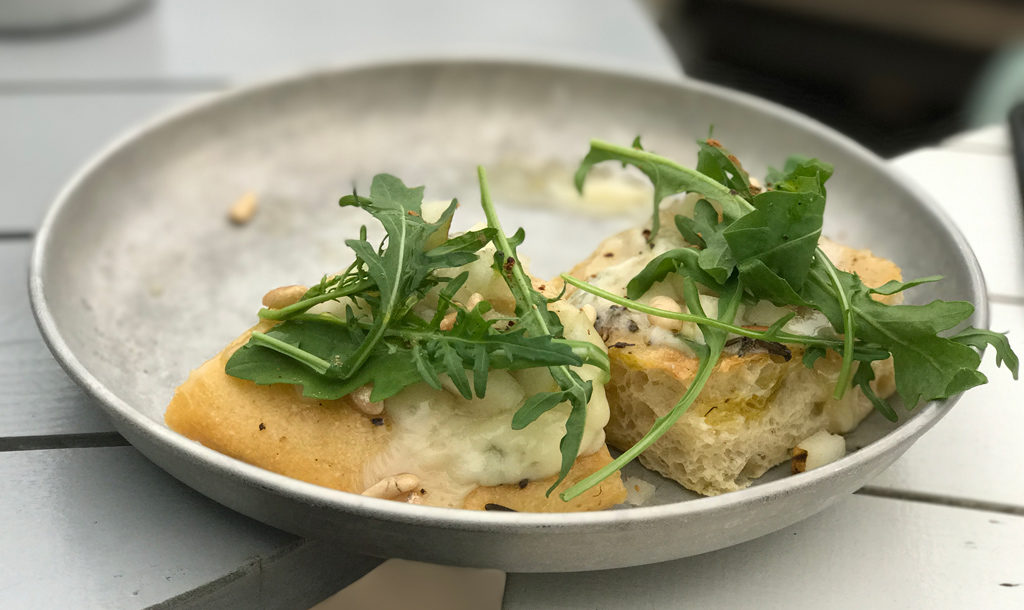 Oh, and fun fact: the tradition of these little toasts started in Medieval times—when peasants were too poor to afford plates and made do with grilled bread instead. They naturally turned to vegetarian foods in Italy.
6: Pizza
One of Italy's most popular treats, pizza originated in Naples and today the quest for the best pizza in Italy is a hot contest between Naples and Rome.
Try the best of the best at Da Michele in Naples where they only serve up two kinds: regular and extra cheese. A pie feeds two (though you may well want to order a pie each; they're that good) and costs about $5.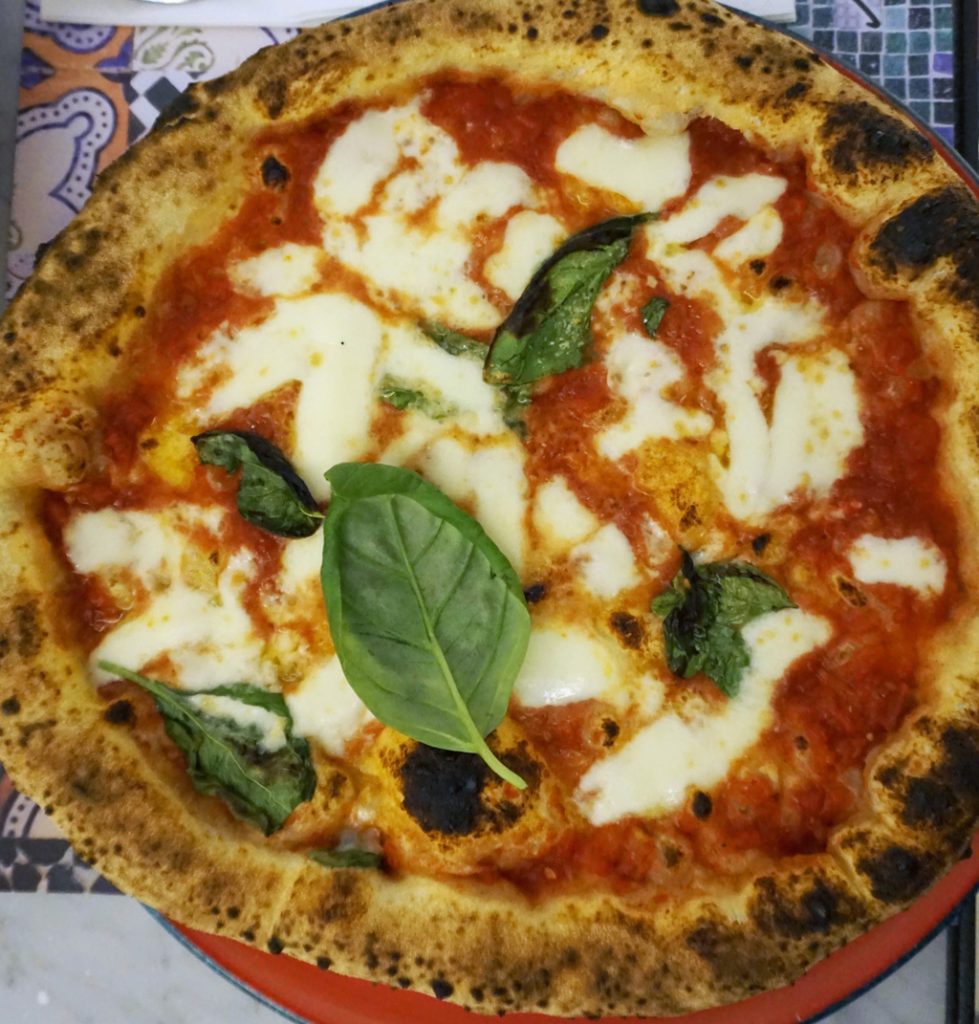 A traditional margherita pizza is vegetarian-friendly, made with yeasty dough, tomato sauce, basil, and cheese.
7: Ribollita*
This Tuscan bread soup is an autumn favorite, traditionally eaten after celebrating the year's wine harvest. The main ingredient here is beans, slow cooked with herbs and olive oil overnight. Next, you add veggies (whatever's fresh in the garden) and stale bread to make it hearty (and keep from throwing out any bread).
Traditionally, this dish is gluten-free, dairy-free, and meat-free, so it's generally a win for anyone with dietary restrictions. Although this is a lesser know Italian food, it certain a vegan dish in Italy.
8: Pici*
These noodles look a little like spaghetti, only fatter. In Tuscany, you'll find them drenched in a spicy garlic tomato sauce called aglione. In Rome, they're the base of cacao a pepe (a cheese and black pepper sauce, so this version isn't vegan-friendly).
The noodles themselves are made with just two ingredients: flour and water. A lot of Italy's pastas are made with eggs, so this one's a boon for the vegan crowd.
9: Stuffed Pasta
Speaking of pasta, you'll find it in all shapes and sizes across the Italian countryside and one of my personal favorite meals is homemade stuffed pasta drenched in some sort of sauce.
Stuffings vary by region, but you'll find plenty of vegetarian options out there, including spinach and cheese, squash, pumpkin, raisin, potato, and even egg yolk. Most pasta for stuffing is made with eggs, so if you're vegan, make sure to ask before ordering even if the stuffing sounds okay.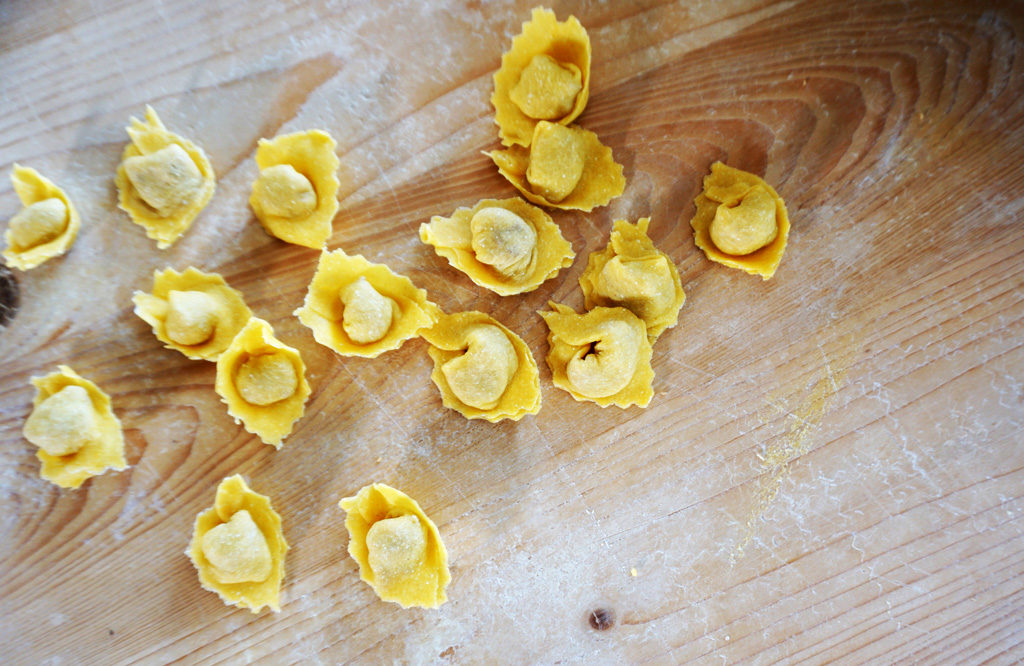 10: Pan di Ramerino*
An Easter tradition in and around Florence, this sweet bread is infused with spices, red wine, raisins, and walnuts. It's served in buns, scored and shining.
11: Cantuccini*
Did someone say biscotti? Because here's an Italian favorite made with almonds and twice baked. Italians soak them in fortified wine, but you can also munch them dry or dip them in your coffee (even if you get a few odd looks).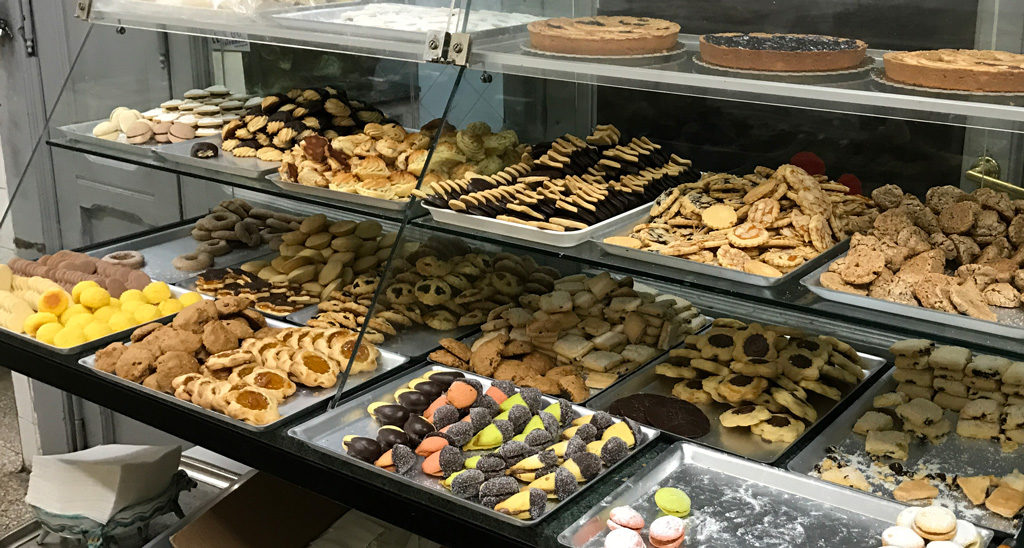 12: Castagnaccio*
This chestnut flour cake is a local-loved dessert from the northern and central parts of Italy where you'll find variations that include rosemary, orange peel, or perhaps even dried fruit. Have a slice with some local chestnut honey or ricotta.
Some recipes don't call for any sugar, preferring to let the chestnut flour and raisins create the cake's sweetness. And because it's made with chestnut flour, the cake is also often gluten-free.
13: Cannoli
Heading to Sicily? Here's your island must-try: a crispy cannoli shell filled with lightly sweet ricotta. The dessert comes from Palermo, but you'll find it well prepared all over the island. Just don't expect it to taste the same on the mainland. In my experience, they haven't quite mastered it outside Sicily.
14: Granita*
Another Sicilian must-try, granita is a partly frozen ice-cream-like dessert made from water, sugar, and natural flavors. Here in Sicily, almond and lemon are classic, popular flavors and you'll find plenty of seasonal fruity choices that are the perfect addition to a warm, sunny day.
If you'd like to try some truly authentic granita, make your way to Taormina's Bam Bar. The almond flavor will blow your mind.
15: Gelato
A denser version of ice cream with more intense flavors, the best, most authentic gelato is made daily with fresh, seasonal, local ingredients. When you go in search of gelato, make sure to look for the real artisanal stuff. Sadly, there are more and more vendors each year serving a powdered version that's a sad echo of the real thing.
How can you tell the difference? Look to the colors. If banana is bright yellow and pistachio is neon green, run in the other direction. If the banana looks like the actual mashed-up inside of a banana (in other words, kind of greyish-white), you'll probably found a gelato shop using real ingredients.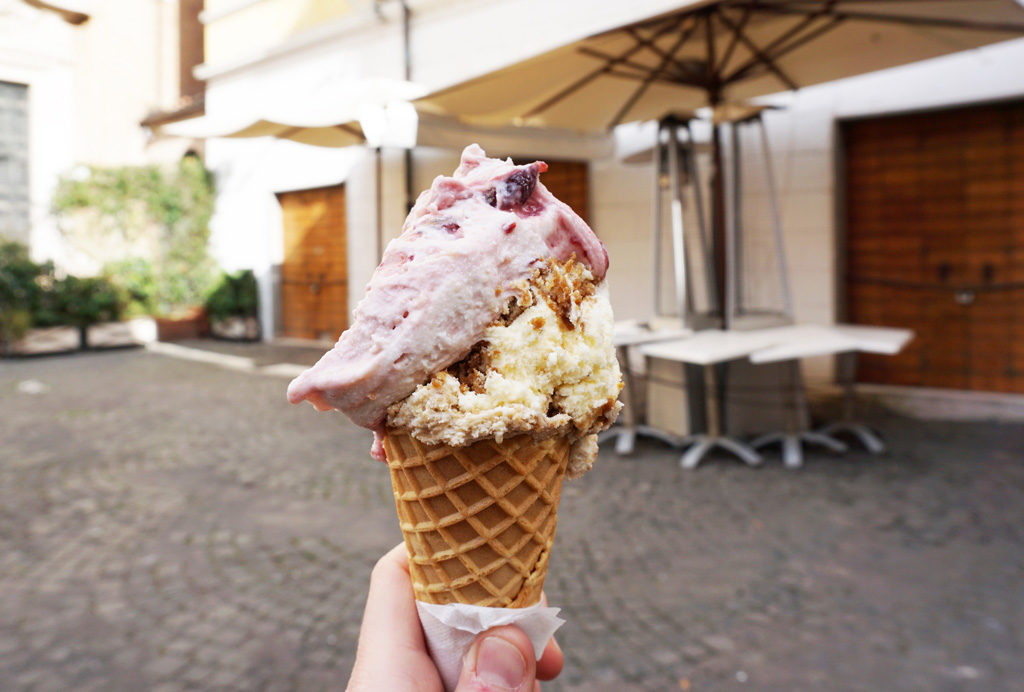 You'll find incredible artisanal gelato (with flavors like raspberry sage) at Gelateria del Teatro in Rome.
About the Author
Gigi Griffis is a world-traveling entrepreneur and writer with a special love for all things European food and adventure. She's been traveling full-time in Europe since 2012 with her pint-sized pooch and oversized appetite.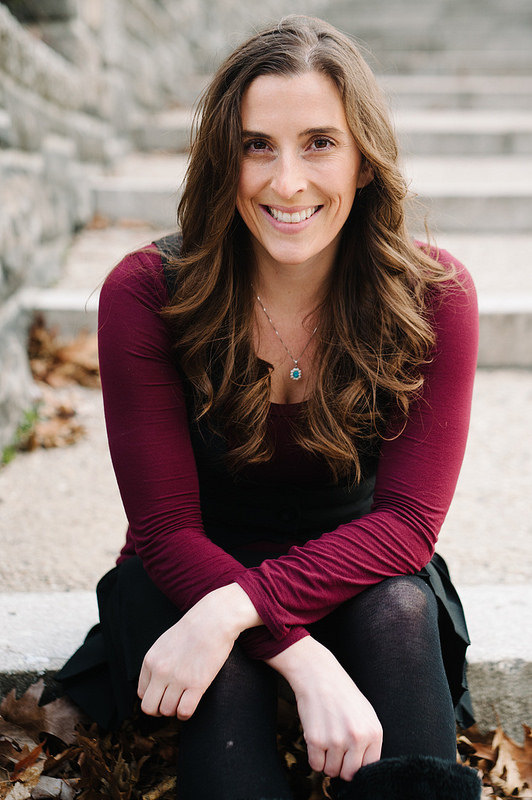 You can find Gigi at viciousfoodie.com or gigigriffis.com. Also on Facebook and on Twitter.
Related Articles