I've wanted to visit Joshua Tree National Park for decades but for some reason or another we couldn't visit the park on our previous trips to Palm Springs and Southern California. I was so excited when we included it in our plan this time, I could wait to get there. Joshua Tree National Park is a great 1-day trip from Palm Springs area. If you have 2-3 days you can do so much more. The park has something for everyone – photographer, casual hiker, non-hiker, backpacker, rock climber, history buff, geologist, botanist, wildlife enthusiast, adventurer, athlete, and really anyone.
Joshua Tree National Park may be one of the smaller national parks I've visited in the US but I definitely recommend you visit if you're in Southern California, especially if you're in Palm Springs Area. The park is about 800,000 acres. While much of it is inaccessible by cars, it is accessible by hiking, 4WD and jeeps tours.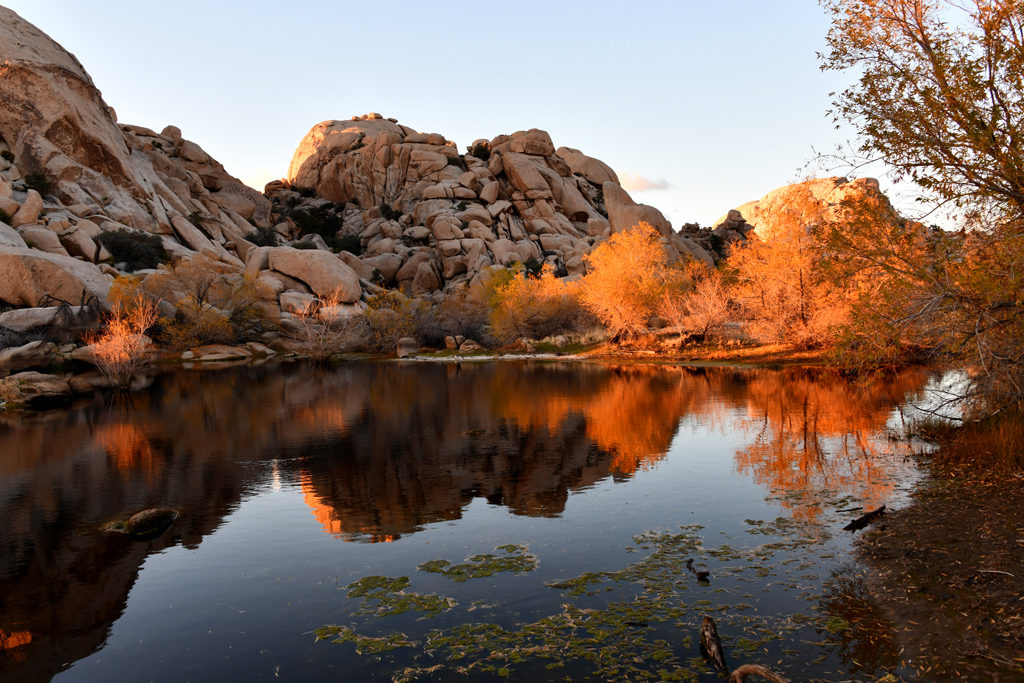 What to expect in a National Park during a Government shutdown?
We visited Joshua Tree NP over 2018 Christmas, a time when our federal government had been shut down. The employees were given 4 hours to shut down everything – set out of office replies, voice messages, websites etc for an indefinite amount of time.
All we knew before going was that there will be no federal employee on site – so no check-in, no rangers, no guided hikes, no bathrooms, no food, no cleaning etc. etc. We didn't even know if Joshua Tree National park would be open during the federal government shutdown. But we went anyway.
The park was open and free but there were no services. Our plan to bring our own food helped. A few bathrooms were open. I hope the federal government reopens before our parks are littered or damaged.
Entering and Orienting to Joshua Tree National Park
Most of the developed parts of Joshua Tree National Park are concentrated in one general area in the north-west area of the park, along one main road. All along the road there are marked exhibits and short walks explaining various features of the park.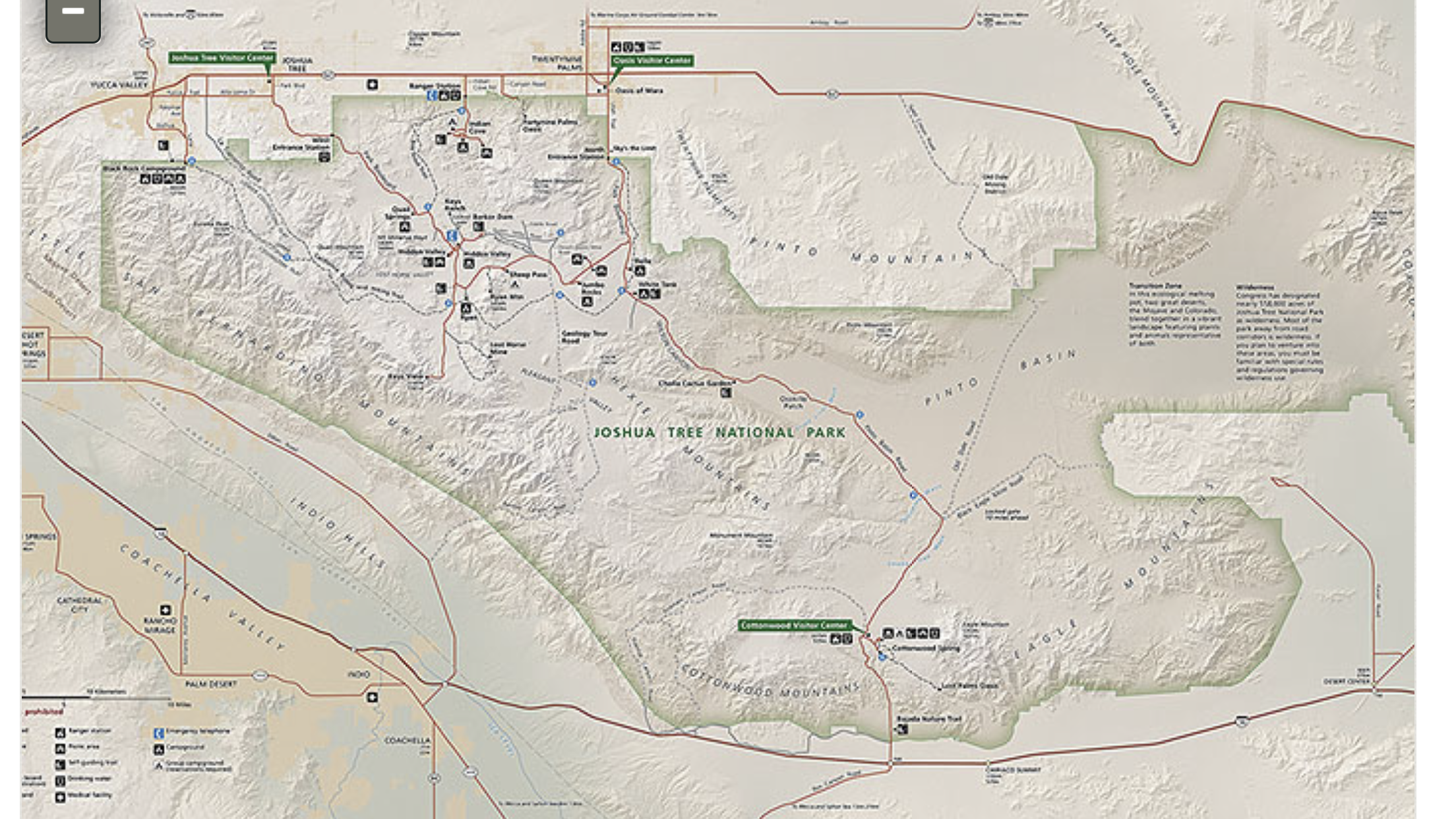 Here is an itinerary for a day trip to Joshua Tree National Park, plus additional sites to visit if you have the time.
We entered the park through the Cottonwood entrance on the south end of the park. It was the closest entrance to our rental house in Palm Springs Area. Most people enter from the towns of Joshua Tree or Twentynine Palms, which are located right outside the national park entrances on the north-west side.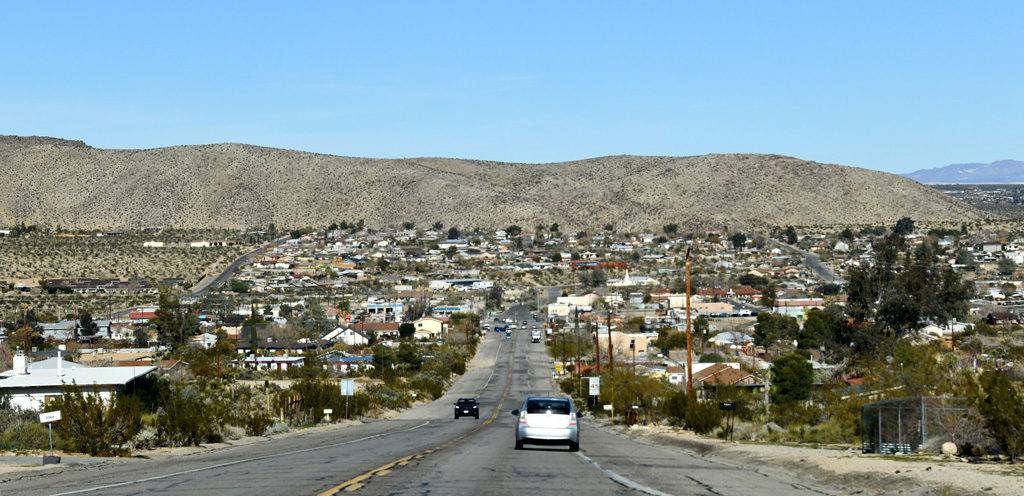 Sunrise in Cholla Cactus Garden
Cholla Cactus Garden in Joshua Tree National Park has thousands of cacti dominating the landscape for miles. It is grander than any cactus garden I've seen. The whole cactus garden lights up with breathtaking morning colors at sunrise. But it's fascinating to visit at any time.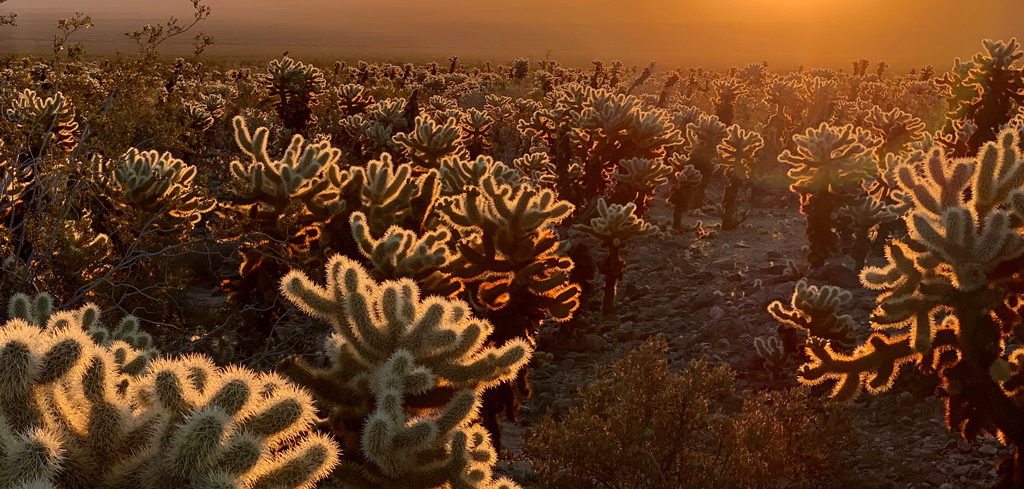 The Cholla Cactus Garden walk is very easy and right off the parking lot. There are many walking paths, bridges and some fenced areas for visitors. One can walk for 2min or an hour.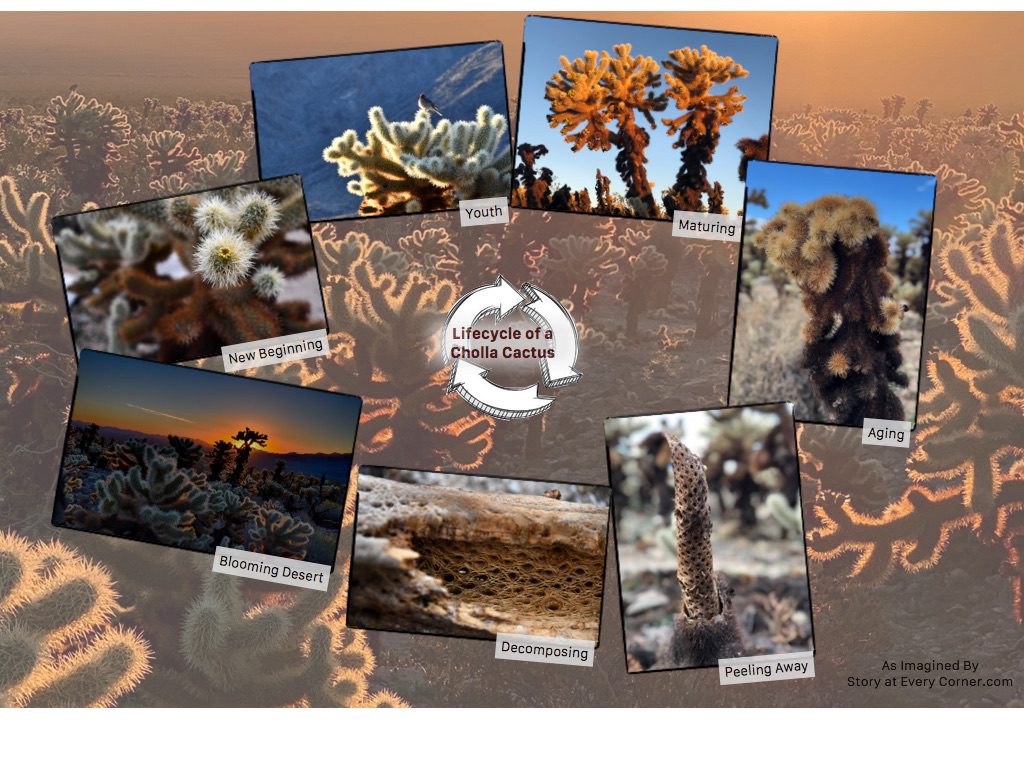 Warning – Beware, of the cactus thorns as they are extremely sharp and clingy. Stay on the paths and watch your steps and all your movements, or the thorny balls lodge into the skin through any number of layers. The effect is painful and can last for hours or days.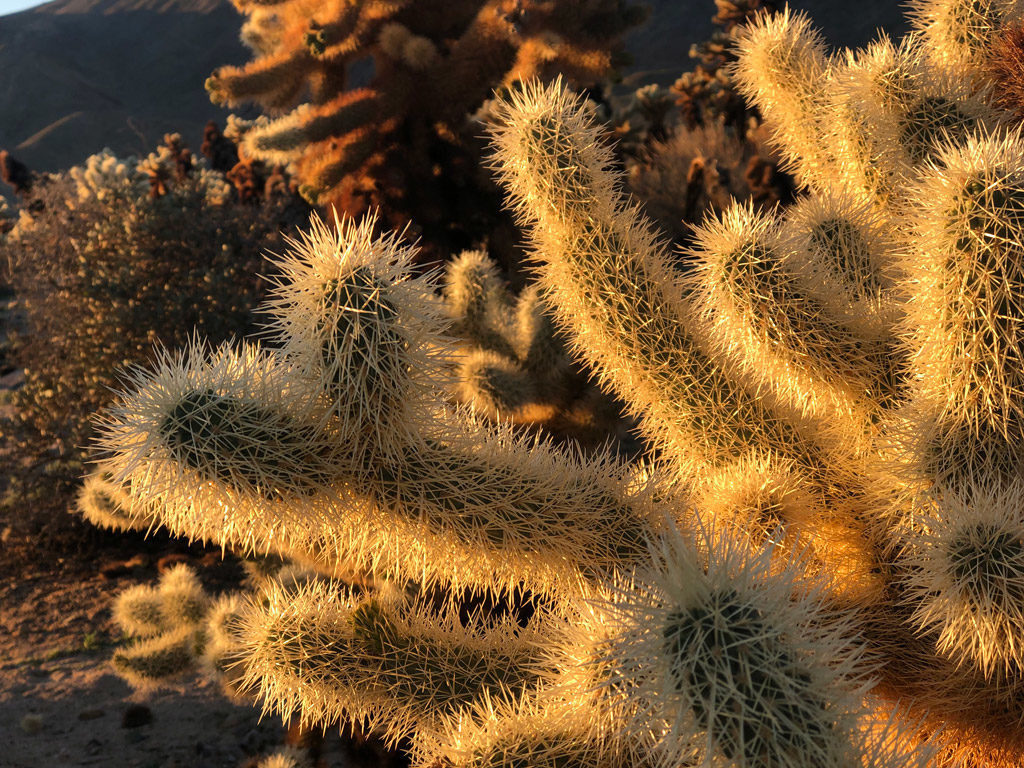 Jumbo Rocks in Joshua Tree National Park
Arch Rock Hike
Rock Arch structure is synonymous with Arches National park. But this one is in Joshua Tree National Park.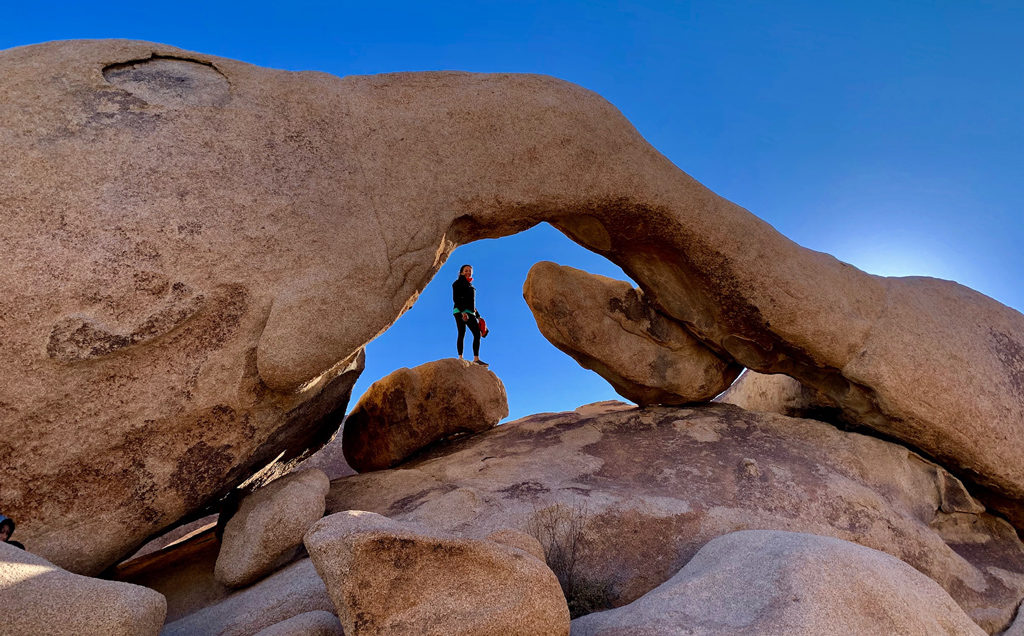 A few minutes after the White tank camping area is a small parking lot for Twin Tanks, backcountry hiking and Arch Rock trail.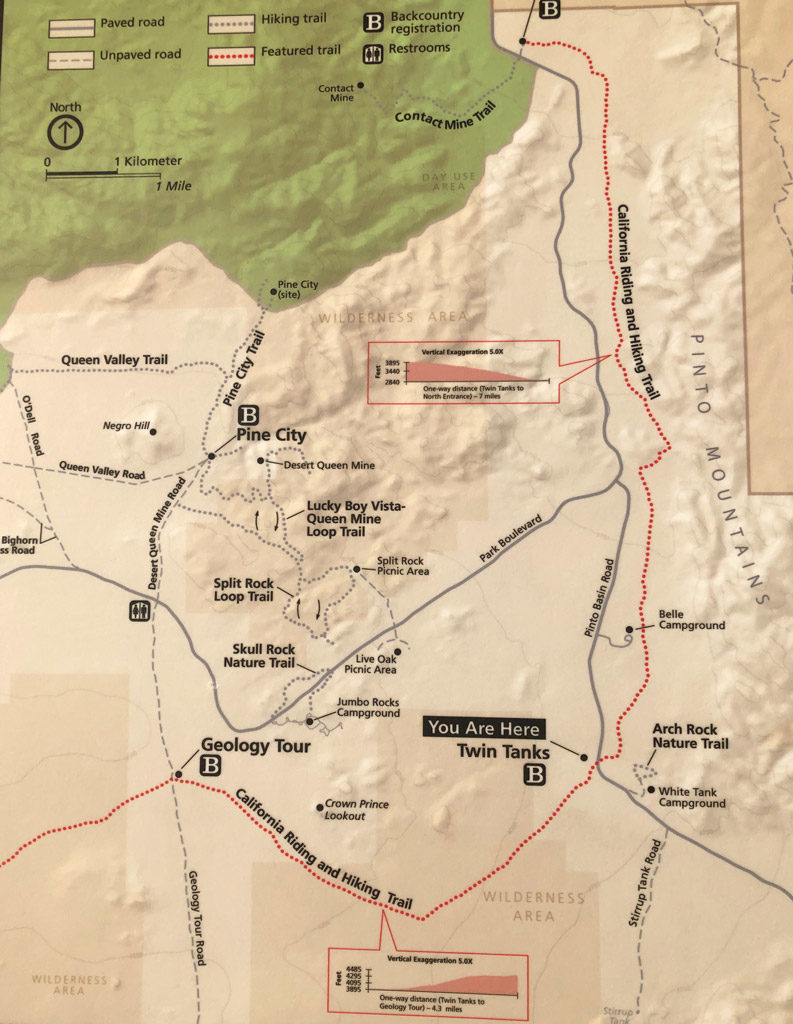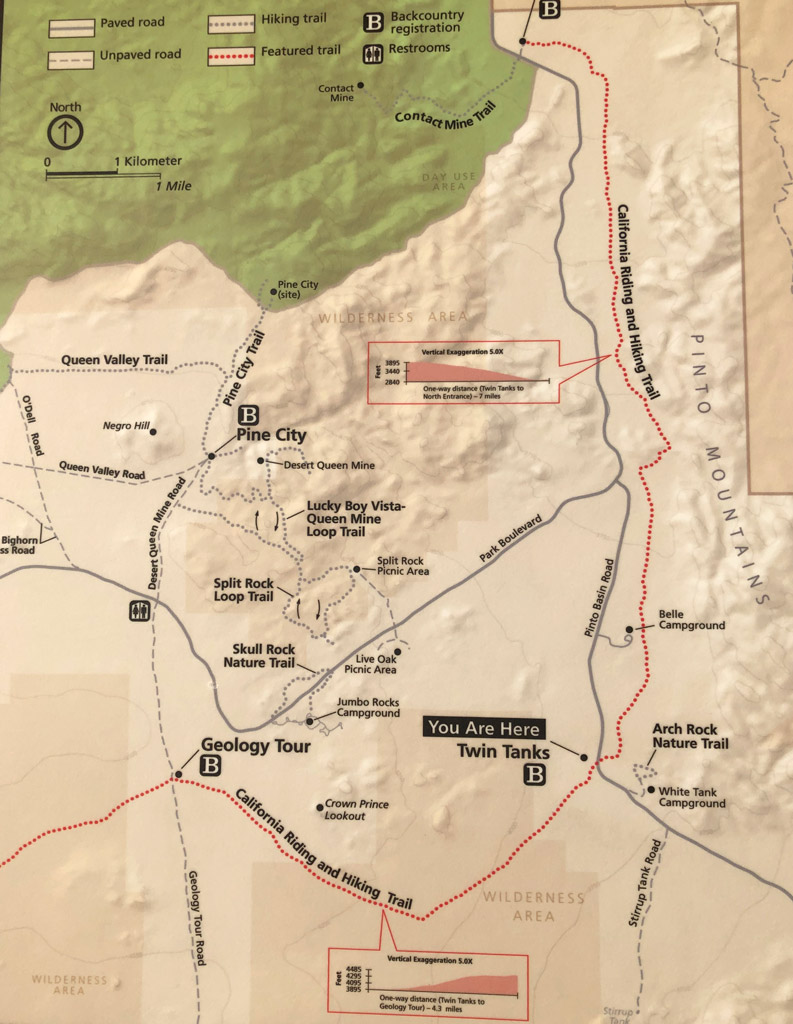 The Arch Rock trail is a flat hike for about 30min followed by an easy climb over boulders and steps. The hike is through the flat desert land with a variety of vegetation. It's fairly easy to wander off into the desert. So it's best to stay on the path marked by signs and rocks. But it would be really hard to actually get lost in an open desert with only one main road.
Following a few pictures from our walk to Joshua Tree Arch. But this site has much more information.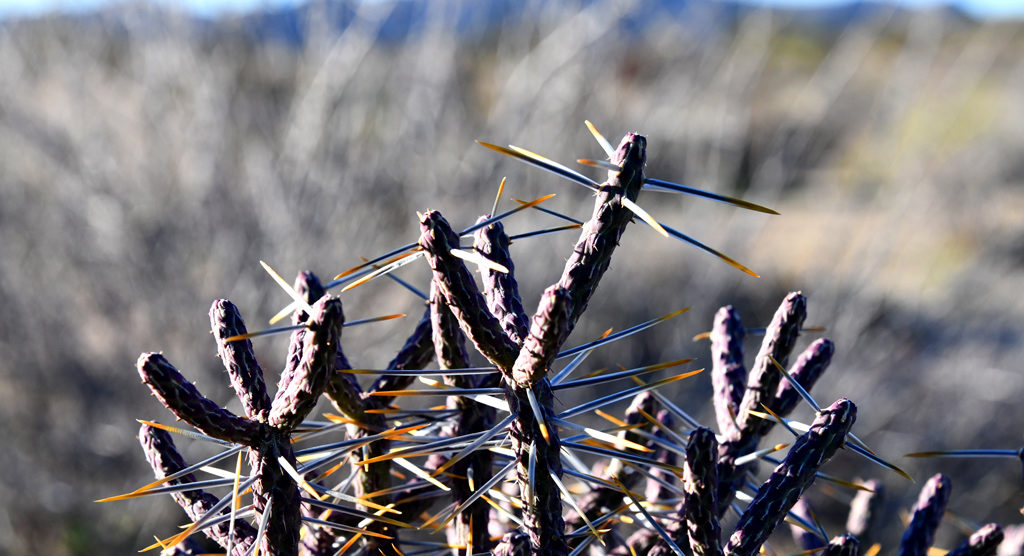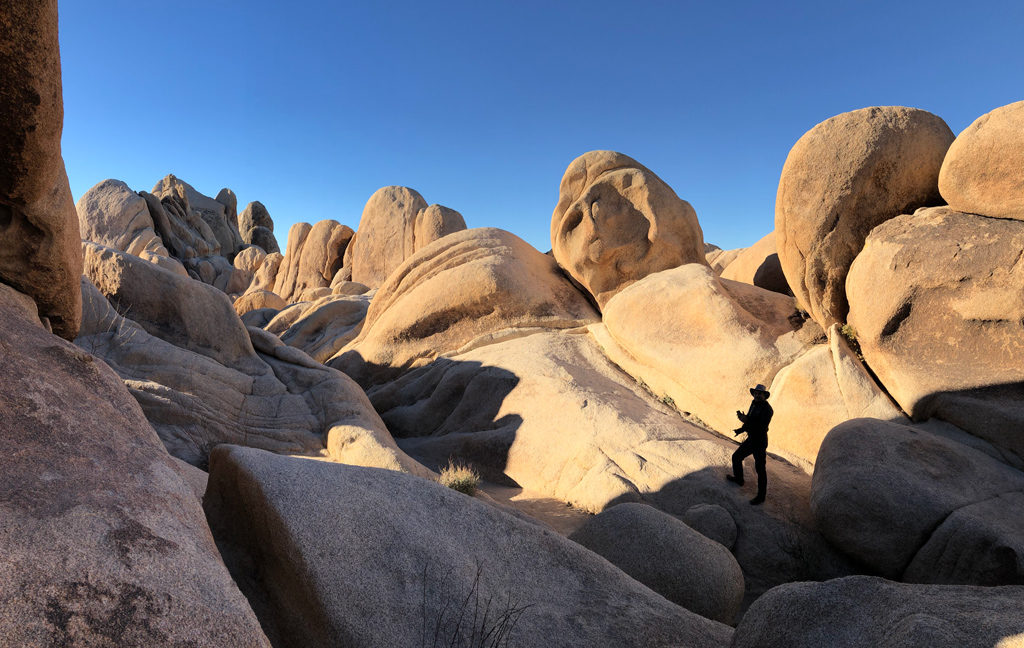 Geology of Joshua Tree National Park
The geology of Joshua Tree National Park is fascinating. I'm sure the Rangers do a fabulous job of explaining the geology on normal days. There are also 4WD geology tours in the park. We'll plan to explore the geology on another trip. But in a nutshell – most of the boulders thrusting out of the land are Monzogranite granite representing 85million years of geological activity. Joshua Tree National Park has two prominent varieties of granite rock – Monzogranite and Pinto Gneiss. The Pinto Gneiss are even older. They are 1.6 billion years old, about half the age of the earth.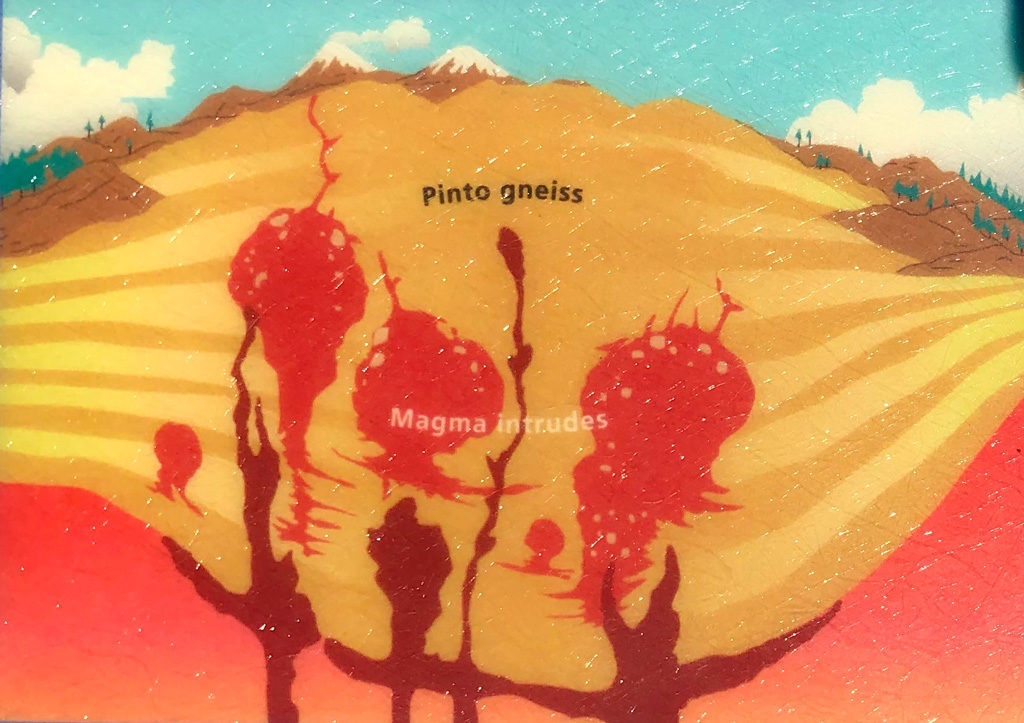 Skull Rock
Some of the prominent features in Joshua Tree National Park are the massive boulders that were once thrust up from the within the earth by volcanoes and then eroded by weather. Unlike smooth granite like igneous rocks in other parts of the earth, these Monzogranite granite rocks are somewhat porous and offer traction to the shoes, making them easy to walk on.
With ages of weathering, the rocks have assumed a variety of shapes. Visitors imagine all kinds of shapes in the rock formations. But, the skull shape is so clear, it needs no imagination. The rock is located a few steps from the road and is staring down at the road. If you have time, climbing the rocks and imagining shapes is a fun activity for kids and grownups alike.
Hidden Valley Hike and Picnic Areas
The hidden valley hike and picnic area are located off of the same parking loop but they are far enough that you might want to decide where to park. The first part of the parking loop is by the valley entrance and the later part is by the picnic areas with a short hike around the tall rocks.
Hidden Valley Hike
Hidden Valley has a unique ecosystem concealed within the tall rocks that surround the nearly circular basin filled with vegetation. In the early to mid-1900s the hidden valley basin was used to conceal cattle stolen from Arizona and horses from California. Cattle grazed on the then plentiful grasses in the safety of the rock walls, hidden from law enforcement and other ranchers. They were beefed up and sold for handsome profit across the state. With the gradual decline in rainwater and increasing pressure from law enforcement, the cattle grazing diminished. A small opening was created for hikers to enter when cattle concealing was no longer a need.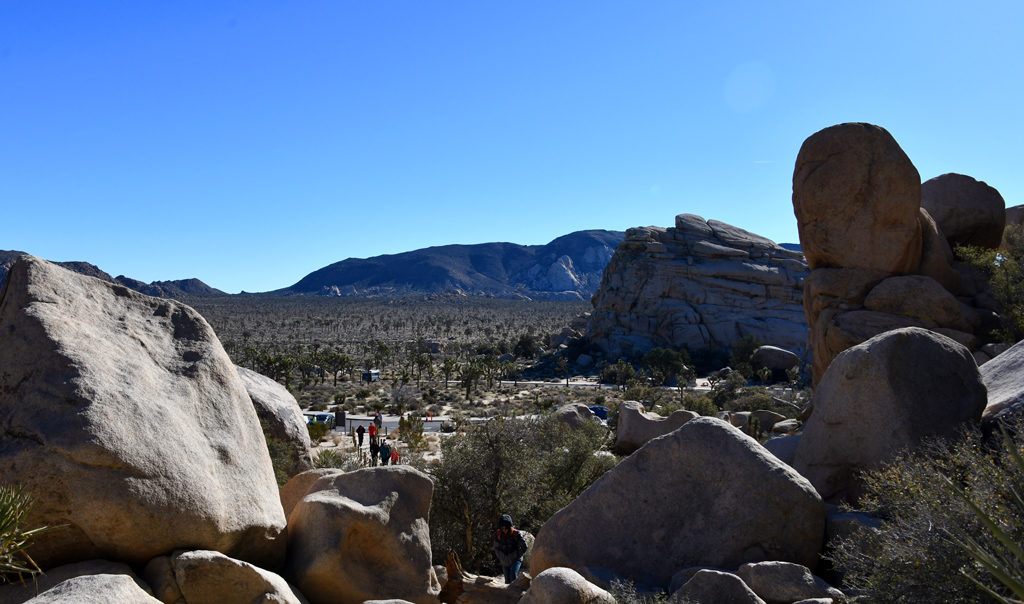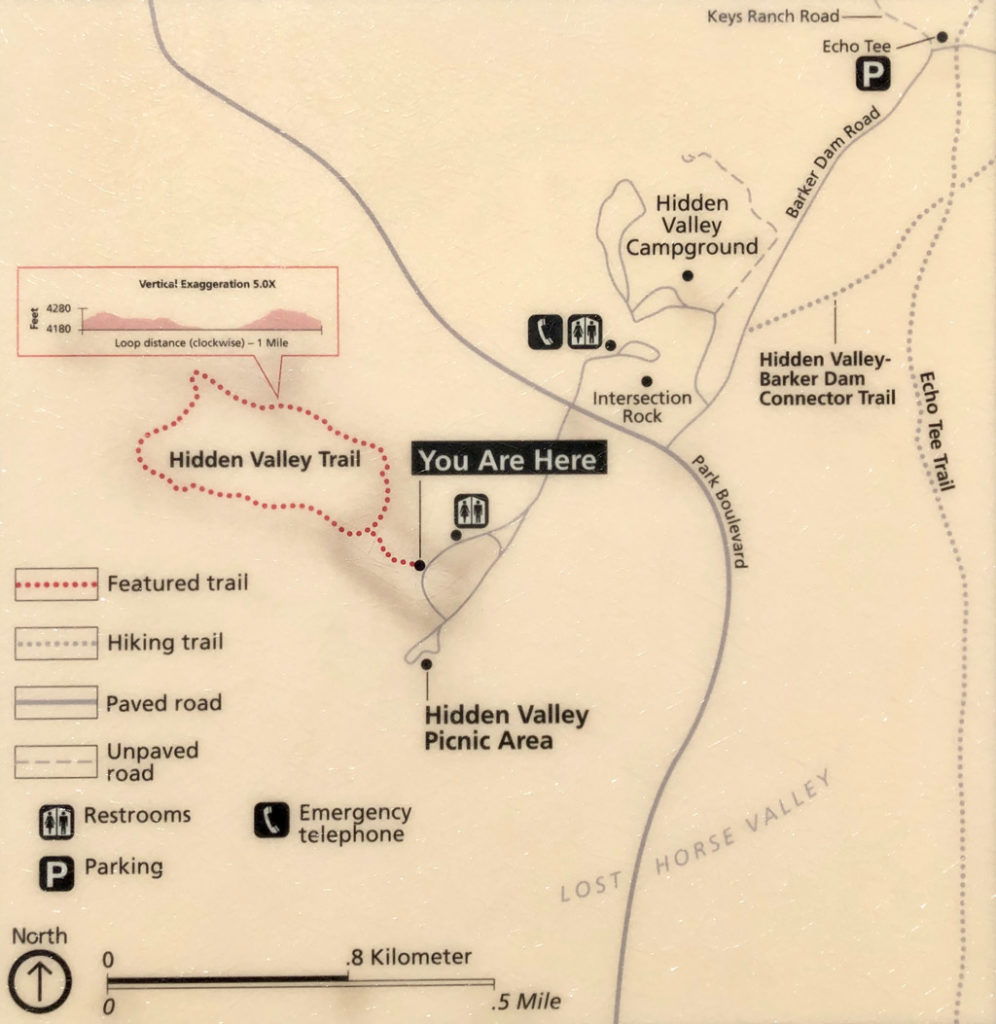 Today, Hidden Valley is an easy one-mile hiking loop in a unique ecosystem. The granite is very popular for rock climbers.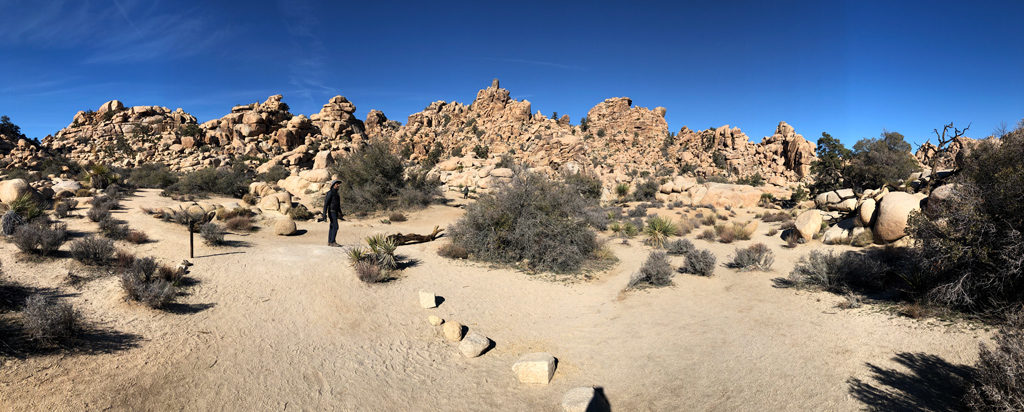 Just look up around the sheer cliffs, you're sure to spot some climbers making their way up the rocks. Or better yet, bring your climbing gear, climb the rocks and share your experience in the comments below.
The ecosystem here has an unusual blend of coniferous trees, cacti, and grasses. The coniferous trees along the rock faces are reminders from decades ago when this was a thriving green valley. Even today, rainwater channels through cracks in the granite rock and collects in the granite erosion soil bowls beneath the rocks to provide water for the trees. The rocks also provide shelter from the dry desert winds.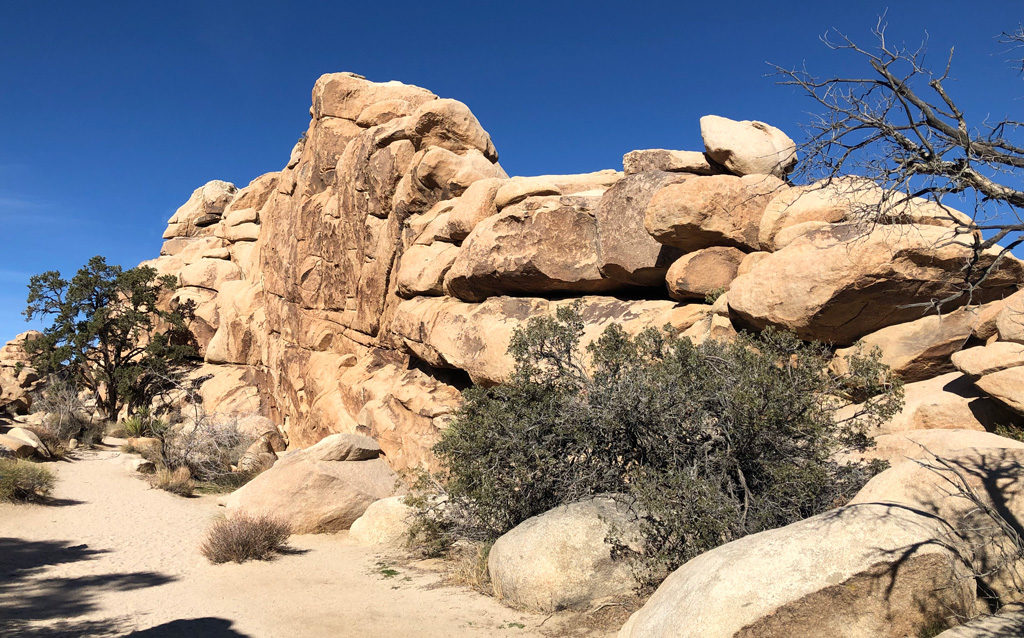 Cracks in the rocks provide great footholds for rock climbers. But, the rock crevices are also a preferred shelter for snakes and lizards. A little factoid – the chuckwalla lizard in Joshua Tree National Park can live up to 40 years!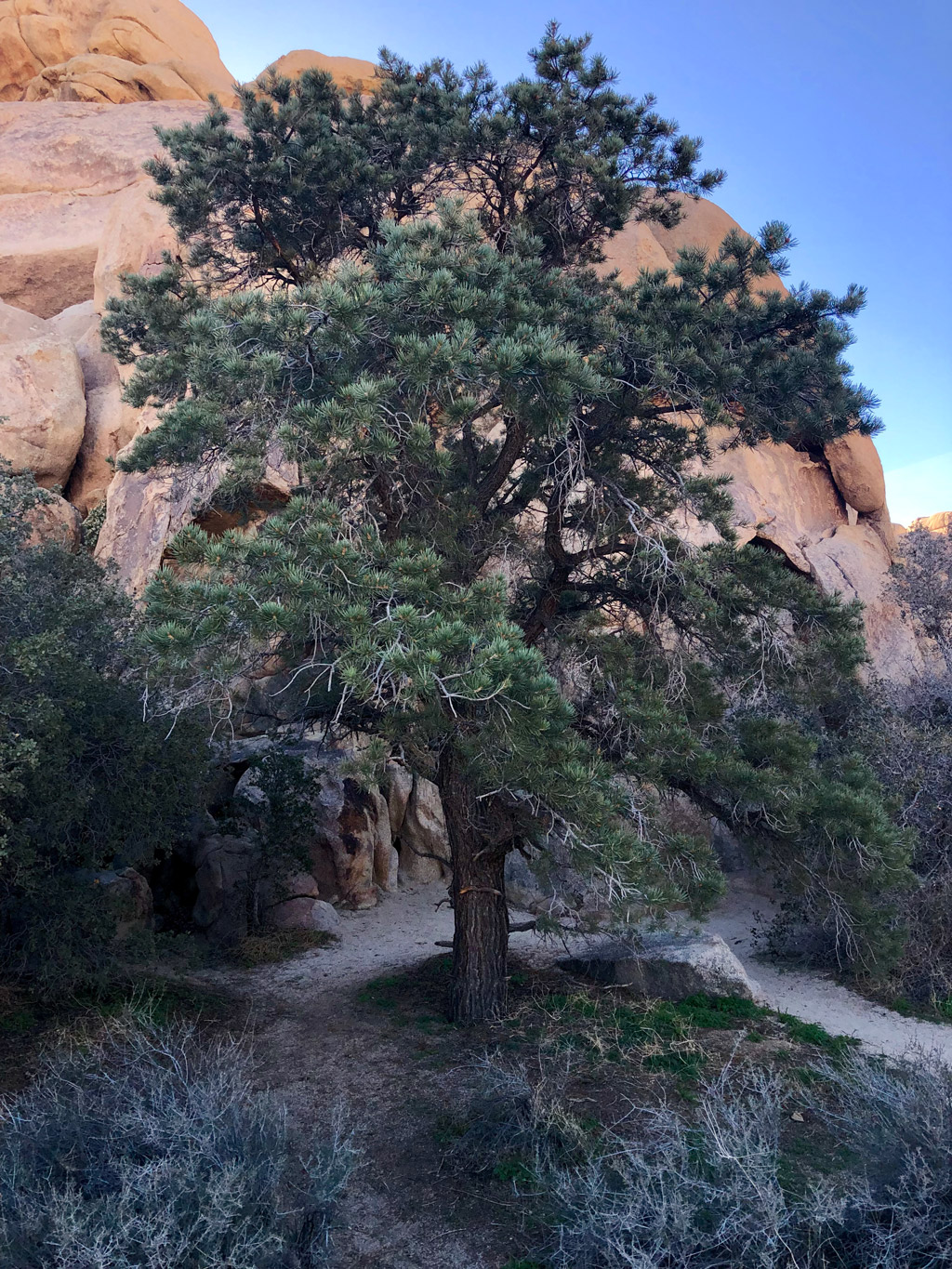 The Pinyon Pine was of utmost importance for the native people of the desert. They roasted the nuts and ate the nutritious seeds. The Pinyon Pinewood was used for construction and cooking. The pine pitch made excellent glue for repairing baskets and pot.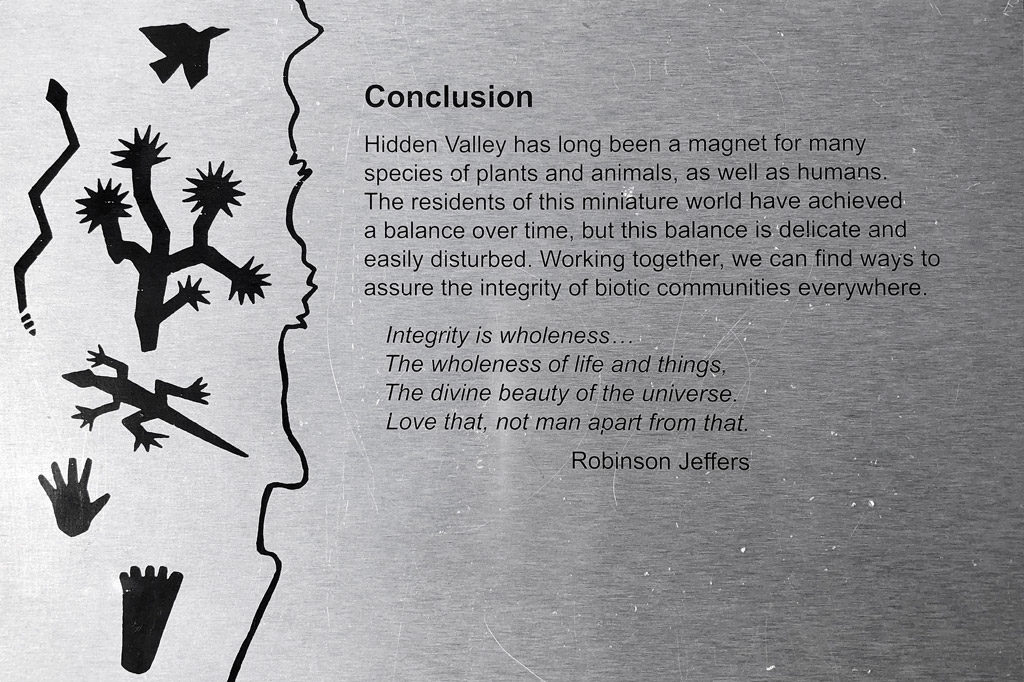 This phrase in Hidden Valley of Joshua Tree NP applies to all ecosystems. While an ecosystem seems in perfect harmony, the balance is delicate and important let it be.
Sunset in Barker Dam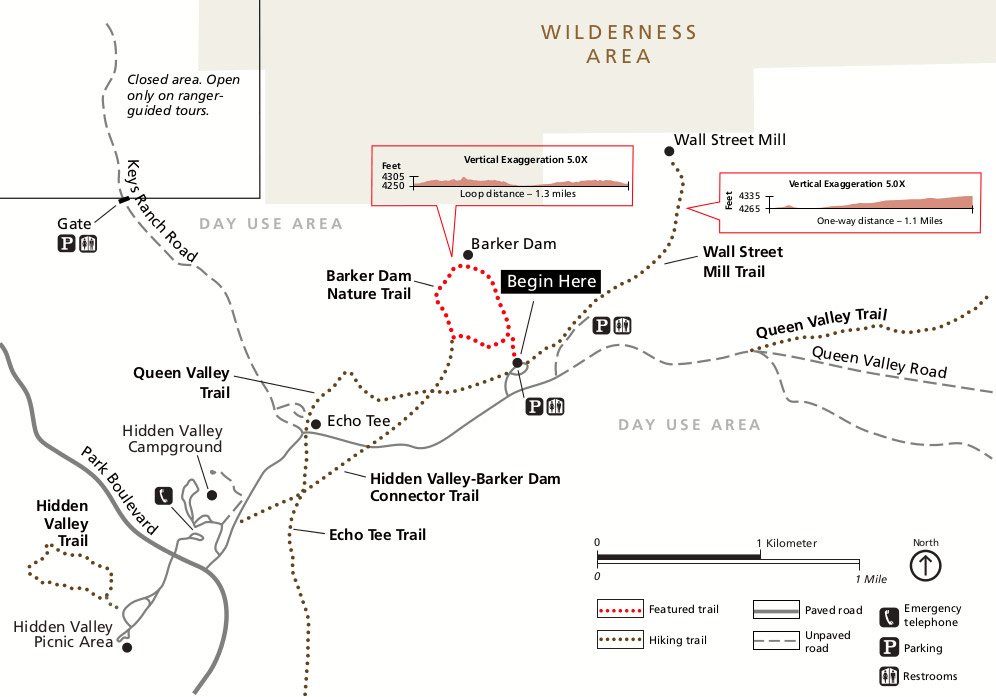 Barker Dam, a Desert Oasis
If you have time to visit just one place in Joshua Tree National Park, I highly recommend making Barker dam that one stop. I hope some of the pictures will inspire you.
To reach Barker Dam, we used Big Horn Pass, a scenic dirt road. It's quite comfortable for SUVs. The alternate but longer tar road would be better for cars.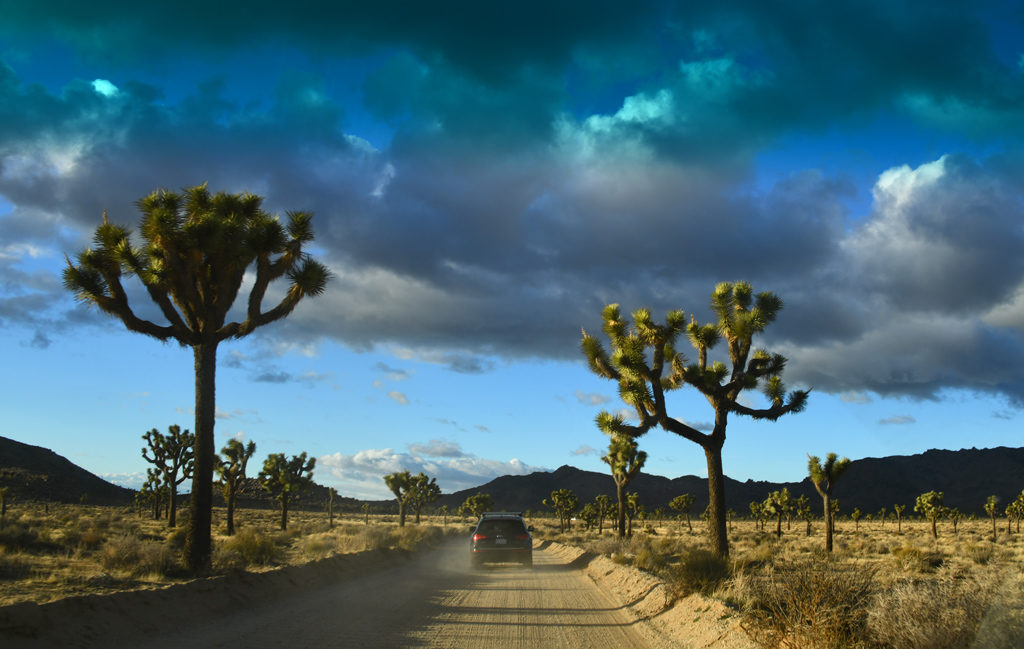 Barker dam is set in the mountains that make a reservoir when closed in one small section. There is a short hike to get to the dam. Along the hike are interesting plants and wildlife such as wild sheep.
The dam was built by Barker and Shay Cattle company to provide water for cattle raising in 1902. Also, it put a stop to fights between rangers and miner for the precious water resource.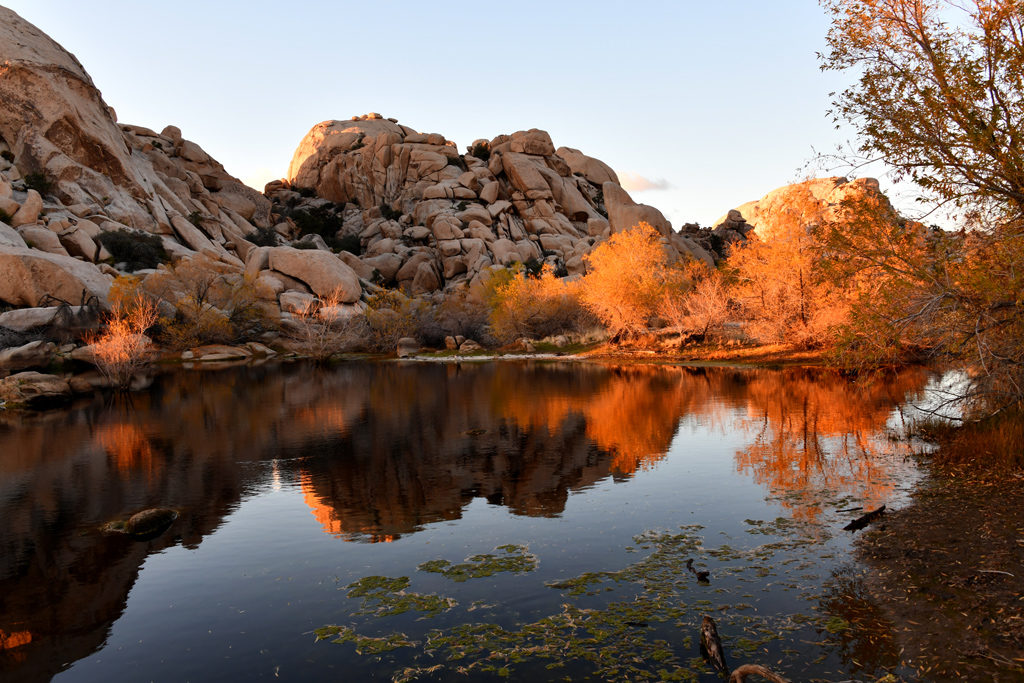 The Keys family made improvements in 1949-50 and raised the dam wall for more water collection from the river and rains.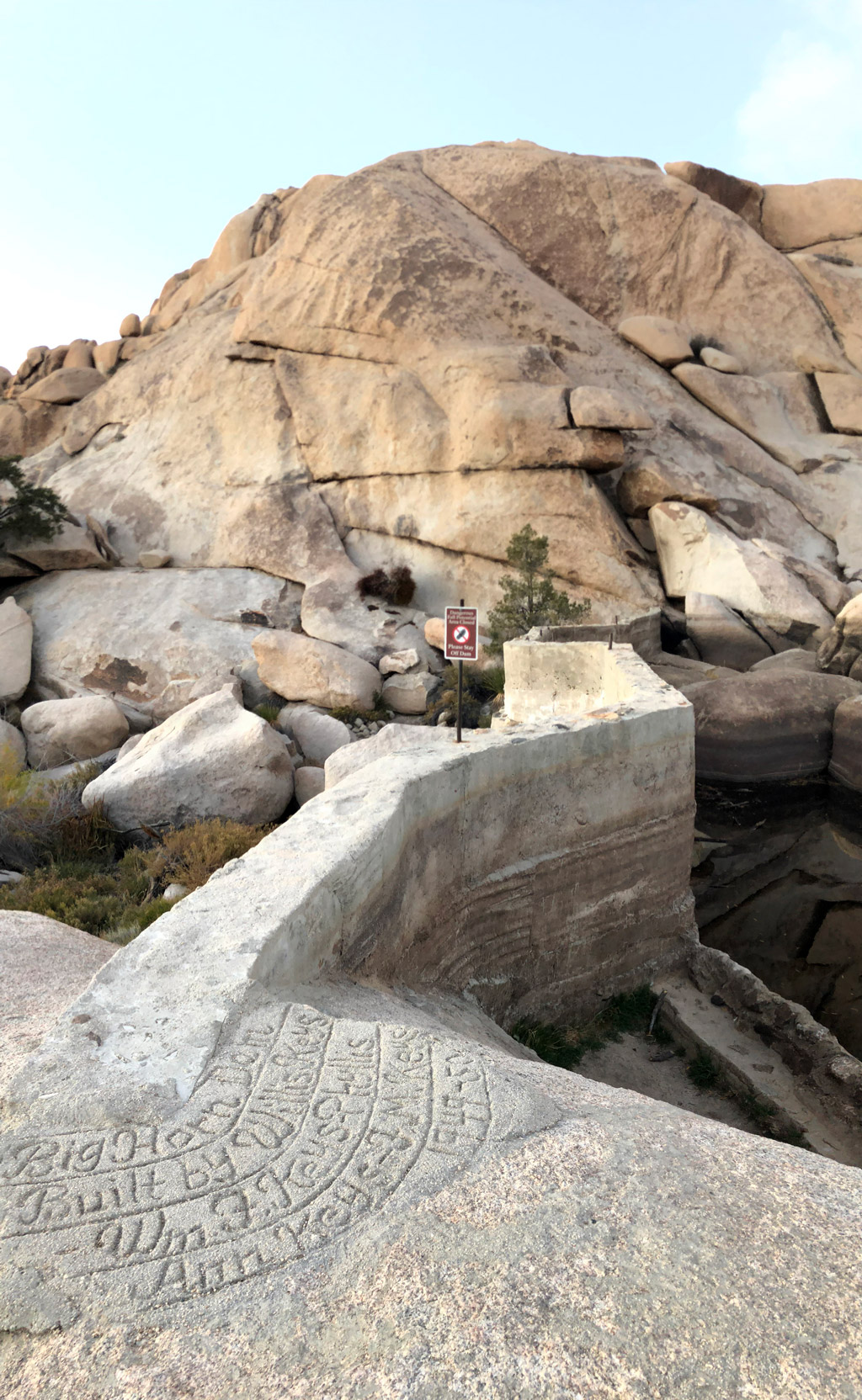 But once water started to run dry, the cattle companies moved to greener pastures. For perspective, this area used to get 10 inches of rain a year at that time compared to 2-5 inches now.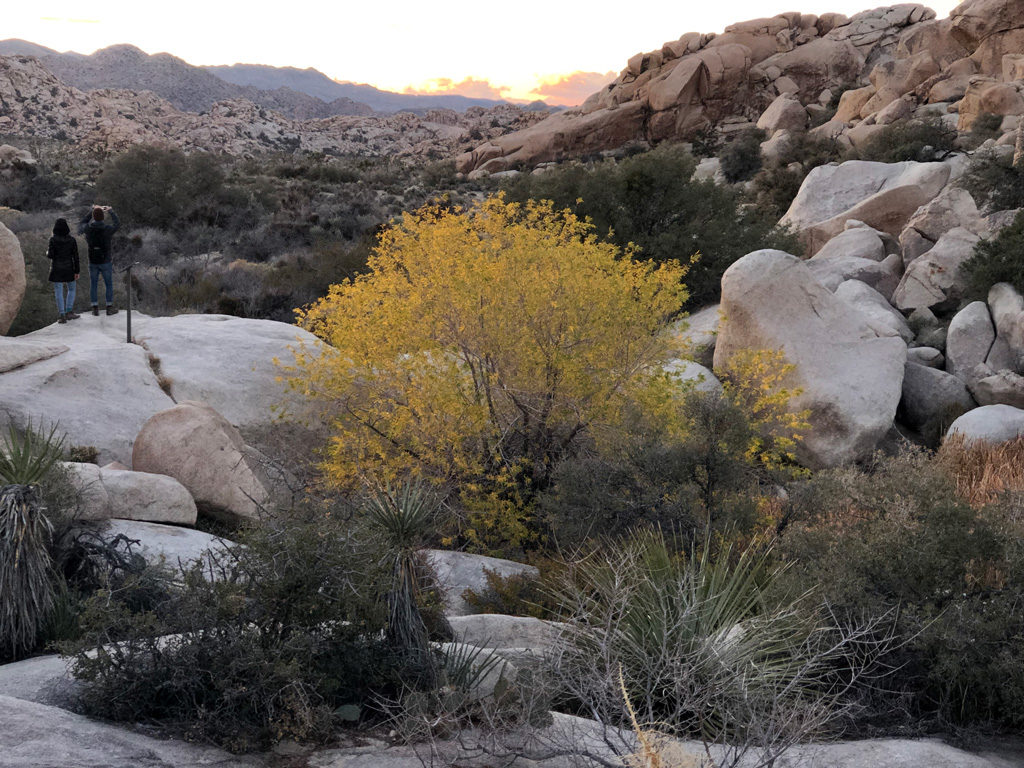 Now Barker Area is a quiet place of serene beauty and Barker Dam is the precious water source for wildlife like wild sheep and birds of Joshua Tree National Park.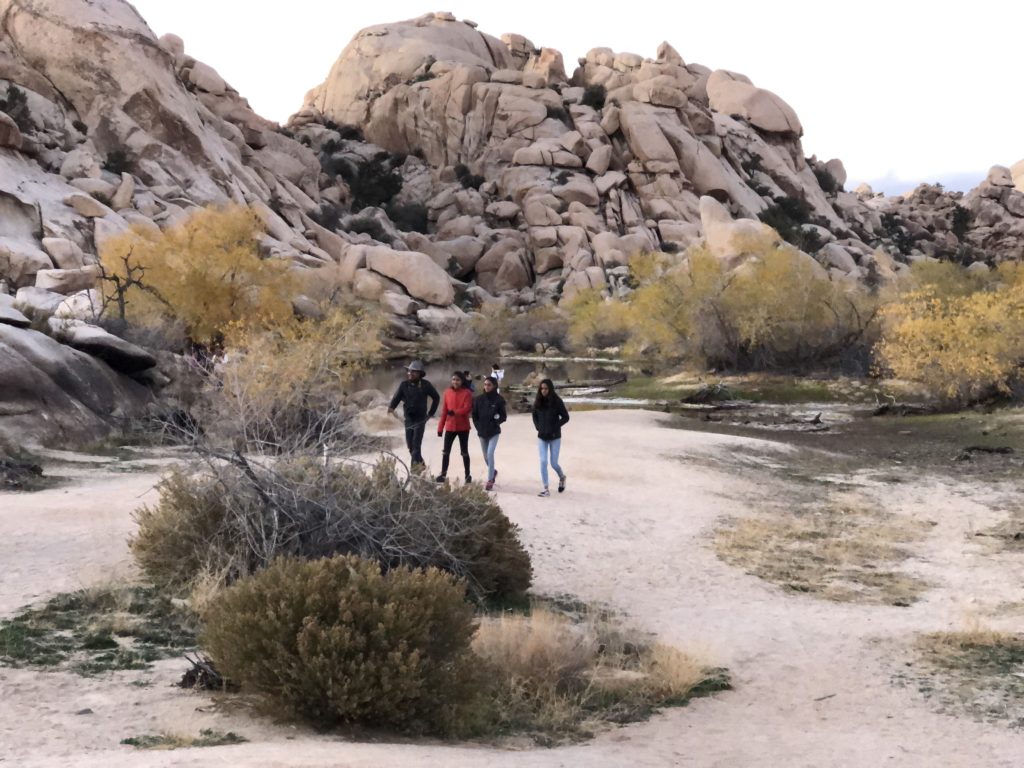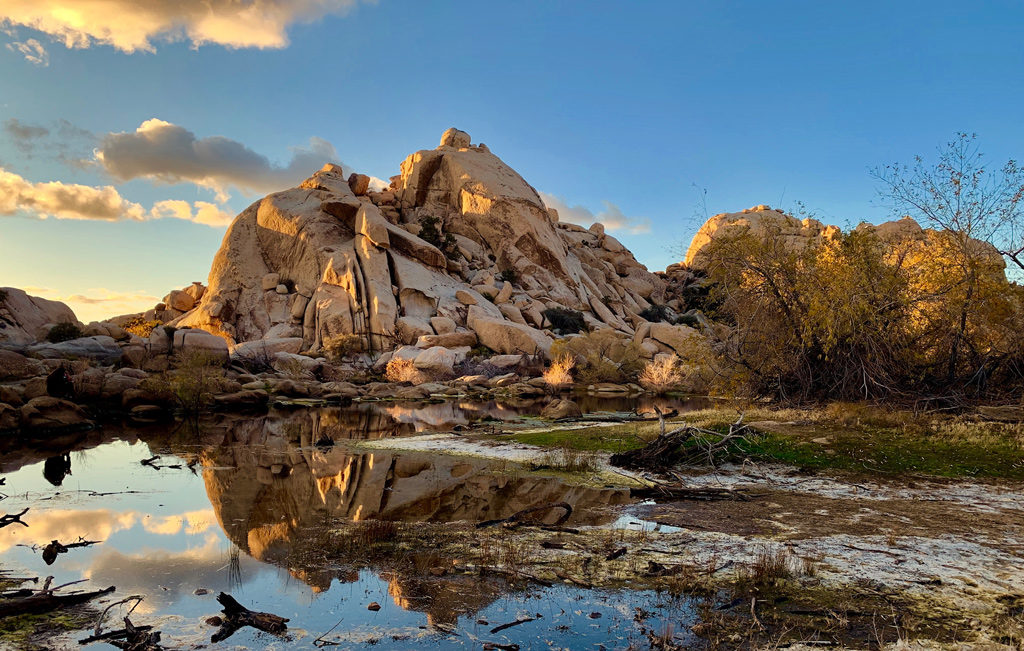 Wall Street Mills
The trail to Wall Street Mill starts from the same parking lot as the Barker Dam. It's the finest example of a gold processing mill of the early and mid-1900s. Bill Keys bought the land in 1930 and built the mill for the small mine operators. Once processed here, the gold would be sent to the smelter in Mohave or US Mint in San Francisco.
We ran out of time and skipped the Wall Street Mill hike on this trip.
Keys Ranch
Keys Ranch is only open for ranger-led programs. It was closed during our visit due to the federal government shutdown.
Keys View Drive
Keys Viewpoint is a drive to a high peak over Joshua Tree National park. It is surrounded by amazing sights for 360degrees around the peak. Both sunset and sunrise are worth watching from the peak.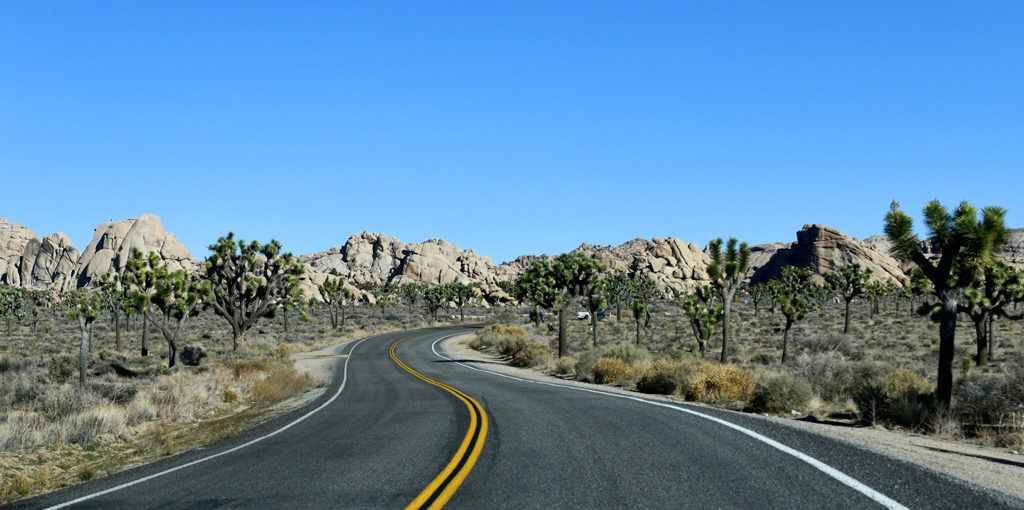 A typical drive through Joshua Tree National Park.
Ryan Peak Hike
Ryan peak hike is supposedly a short and very steep uphill climb. It is also said to be very memorable and scenic. We would do the climb if we had another day in the park.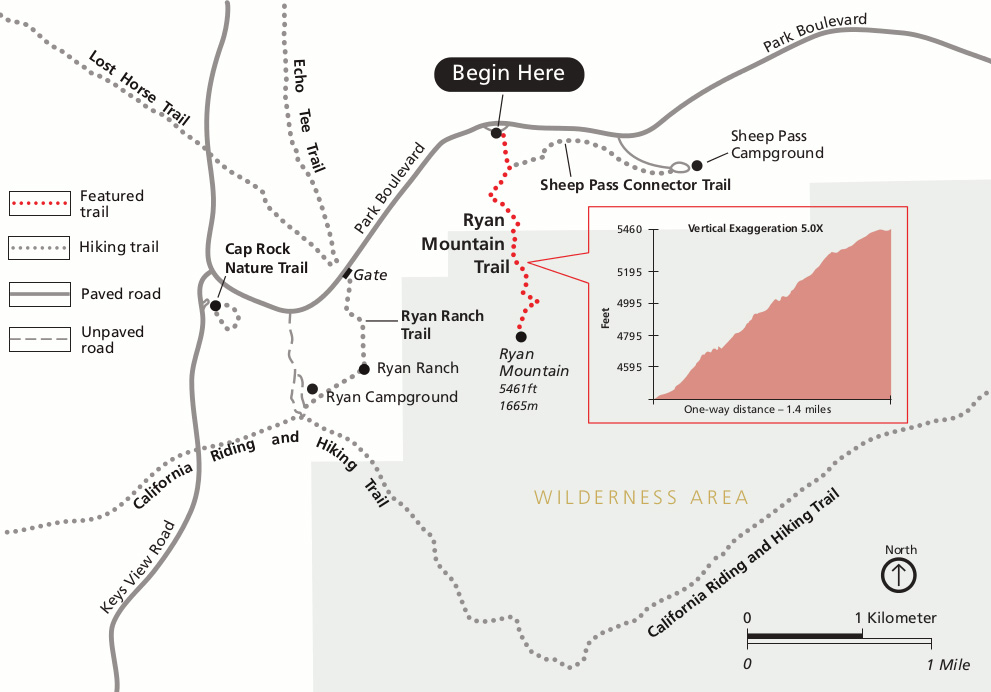 Ryan mountain trail map in Joshua Tree NP
Milky way in the Night Sky
The night sky is absolutely stunning in Joshua Tree National Park. With the higher altitude, clear desert sky and no light pollution, the Milky Way pops out of the sky.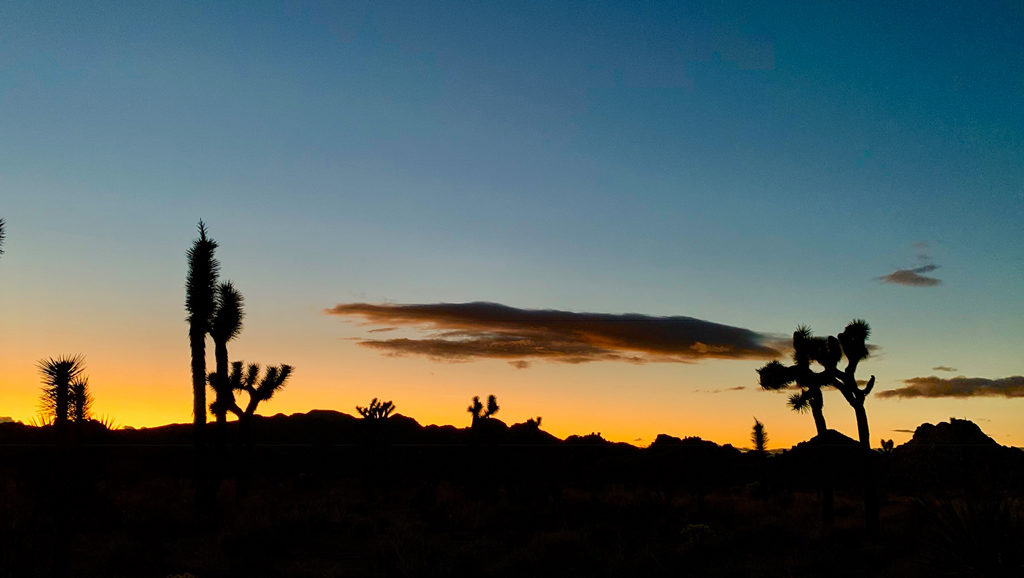 Unfortunately the day we visited Joshua Tree, it was a full moon night and we had made Christmas dinner reservations in Palm Springs, so we didn't stay to watch the night sky. If you're there, be sure to incorporate stargazing into your schedule and share a link you pictures in the comments below.
1 Day Itinerary for Joshua Tree National Park
Tips for Visiting Joshua Tree National Park
Before heading out, here are some tips, FAQs and what to bring to Joshua Tree National Park for a day trip (or longer) –
Take your sense of curiosity and wonder. Have fun and do share your experiences in the comments below.
Related Articles
On Pinterest