We love African wildlife safaris in cars, trucks, SUVs, boats and on foot. But we also wanted to try horseback safari in Africa. Luckily, Victoria Falls National Park and Mosi-oa-Tunya – located on either side of Zambezi River and Victoria Falls are perfect for horseback riding as well as many Victoria Falls activities. We ultimately took the horseback safari in Livingston, Zambia during our 14 Days in Southern African. We chose to take the safari from our accommodation near Victoria Falls because of proximity, and we fell in love with the stables because of the amazing people and their horses. Read along to find out how and why…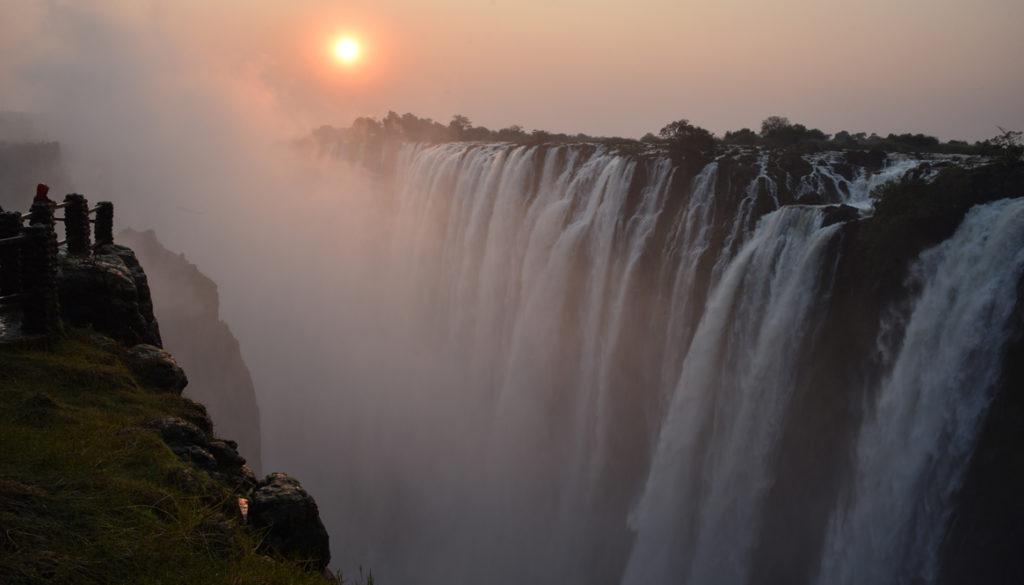 Having a rider in the family, we look for unique horseback riding opportunities everywhere we travel – Ireland, Costa Rica, Mexico, New Zealand, Iceland, Utah, Turkey, Panama, Rome, etc. Our Southern Africa trip was no different. This article is my attempt to share the stories of the horses, their trainer and the fun of experiencing a national park on horseback. Read along for tons of information on the ride, accommodation near Victoria falls, park experience on horseback, plants, wildlife, and the story of Likwita – the trainer.
Orientation – Victoria Falls in Zambia and Zimbabwe
The mighty Zambezi River, shown in dark blue line in the map below, forms the border between Zambia and Zimbabwe. Zambia is to the east of the Zambezi and Zimbabwe on the west. Victoria Falls, the world's largest waterfall (by volume) is on the Zambezi River, split between Livingston, Zambia & Victoria Fall, Zimbabwe.
The green areas indicate national parks. In Zambia, the National Park is called Mosi-Oa-Tunya which is a translation for The Smoke which Thunders, a local name for Victoria Falls. On Zimbabwe side, it's called the Victoria Falls National Park. Further to the west is the Zambezi National Park, followed by Chobe and a network of several National Parks in Botswana.
Getting to Victoria Falls and Stables
Horse Safari Stables in Royal Livingston offers horseback riding safaris in Mosi-Oa-Tunya National Park in Zambia. We took a resort golf cart to get over to Royal Livingston. If you're not living in AVANI or Royal Livingston, you can use a taxi or rental car to get to the resort.
Accommodation in Victoria Falls
AVANI or Royal Livingston in Livingston, Zambia are the most convenient resorts to stay for visiting the Victoria Falls or Zambezi river because they are located at the falls and allow for free access. They also offer many activities on Victoria Falls and Zambezi River, including helicopter rides over the falls, horseback rides, carriage rides etc.
AVANI

Royal Livingston
Flying into Victoria Falls
We flew into Zimbabwe and drove about 15min to AVANI. But, there is helicopter landing pad in the resort, for those that have less time or the need to fly straight in. I suppose this is used for both incoming visitors and flights over the Victoria falls.
About Victoria Falls Horse Safari Stables
Victoria Falls Horse Safari Stables has beautiful facilities, well-kept horses and well-trained staff, as we could tell from the few hours we spent there.
Likwita, the Amazing Horse Trainer
We've taken trail rides in many counties all over the world but I've never come across a trail guide as impressive as Likwita. He's extremely caring with a gentle and pleasant demeanor and a great sense of humor. He's very knowledgeable about horses as well as all plants and animals in Mosi-Oa-Tunya National Park and elsewhere in Africa. Additionally, he is able to articulate his knowledge in fluent English.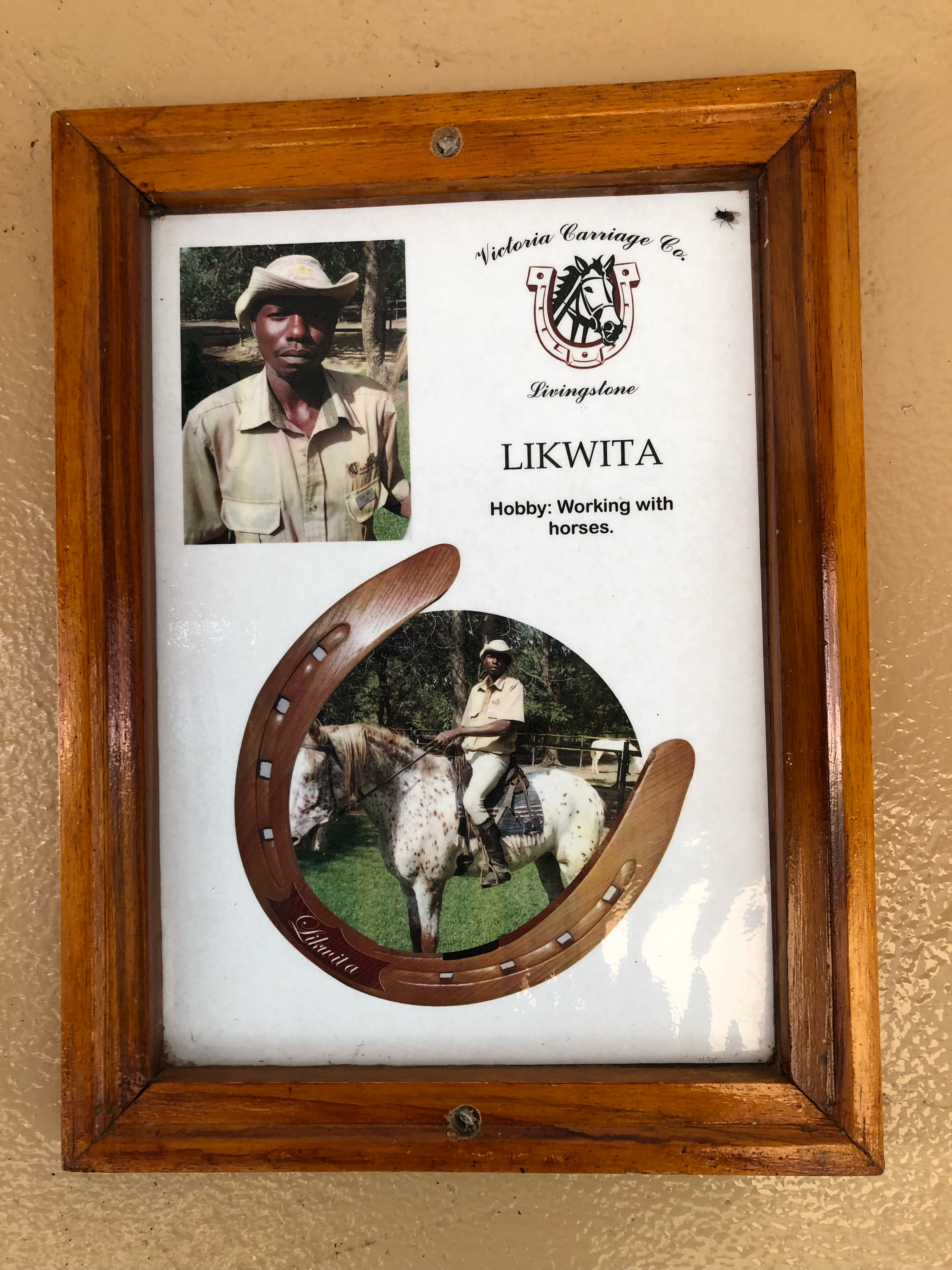 Likwita has been riding horses for 15 years. He started as a stable hand, caring for horses, tacking and grooming them for polo riders. He is obviously a very intelligent, capable and wonderful person. With his skill and capability, he has grown through the ranks and is now a horse trainer in Victoria Falls Horse Safari Stables. He has trained 9 horses. He trains for English and Western riding.
Training Horses for the Trail
The Victoria Falls Horse Safari Stables company runs the trail riding program. They buy retired polo horses and Likwita trains them for trail riding, safari, and carriage riding. The carriage and trail-ride horses also have to be trained to tolerate noises and beginner riders.
It only costs about $2,000-$3,000 to get a 7-8-year-old retired polo horse, which is so much cheaper than a similar horse here in California. If they are well cared for, the horses will retire in their 30s. Once they retire, the horses are sent to the farm to live their remaining life resting and eating.
As Likwit says, he treats the horses like his own children. It's also apparent from the gorgeous healthy look of the horses, the beautiful stalls, the well-kept arena, and his gentle but firm demeanor.
There are several other riding schools, polo clubs and many riders in this area, and much of Southern Africa. The entire experience is very reminiscent of the old British aristocratic lifestyle.
Future of Riding in Southern Africa
In a sport that's predominantly white and a culture where blacks consider horseback riding dangerous, Likwit is inspiring change. He has two sons, 9 and 11years old. He is teaching them to ride horses already. He brings his family to show how amazing and wonderful horseback riding can be. Likwit trains horses at both English and Western riding, but his kids prefer western riding, at least so far.
One day Likwit's kids, despite the color of their skin, may compete in riding, if they so choose.
Introducing the Horses
Before heading on a trail ride, we get our introductions to the horses we were going ride.
Sepriso, Likwit's favorite horse
Likwit's favorite is Sepriso. The first time he rode her, she threw him off, not just once but twice. After much work, he has earned her trust and respect. Now they get along very well.
Later, the Calm, Mature and Work Horse
Victoria Falls Horse Safari Stables uses a carriage for weddings and for rides around the resort property. The carriage can have up to 6 adults and a couple of kids. So, it's a lot of weight.
Later is the only special horse who is trained and able to pull such weight and a carriage full of excited people along paths with wild animals.
King's Glory, the Chill and Hungry one
Nirmal rode King's Glory. This horse would be happy just staying home and eating all day.
During the trail ride, King's Glory kept stopping to eat and made it very difficult for Nirmal to pull him up even with all his might.
Bluff, the smartest horse of the pack
I got to ride Bluff, the smart one in the group. He did not want to follow the pack or walk the beaten path. But he knew he was expected to follow the leader, so he took smart short cuts. He strategically waited while the group went around. When the group was far enough, he took a quick short cut and rejoined the group. He used the bonus time to pull grass all the way from the root. Once on the go, he happily shook the soil and chewed the grass.
Bluff is always the last one in the group so he can do what pleases him. He hates being in the middle and be followed by another horse, so he kicks horses following him. It was safest for us to be at the back and do as he wished.
Plants and Animals of Victoria Falls National Park on Horseback
Mosi-Oa-Tunya National Park is known for the Rhino re-introduction programs and the inhumane murder of the white rhinos by poachers in 2007. Two white rhinos were procured from South Africa to kickstart the otherwise diminished rhino population. However, the poachers killed and stole the horn from one and injured the other. So the national park had to buy more rhinos and tighten security around them with 24×7 surveillance. The rhino population is now rising.
There are many elephants, impala, baboons, buffalo, giraffe, zebra etc. but on the day we visited they had all taken off, probably for the river. So, the safari trucks along the Zambezi River probably got to see them in large numbers. Without the distraction of the large mammals, we got to explore and learn about the trees, animals and birds.
Weaver Bird Nests
We saw tons on trees filled with weaver bird nests all along the Victoria Falls National Park. The little sparrow like birds make gorgeous new nests every year. The older ones are abandoned and left on the tree. The new nests have the distinct golden color while the old ones turn dark brown.
Read all about sociable weaver nests and these special birds.
Male Impala
The male impala must prove his strength to win over a lady impala. Losers are thrown out of their community. If you spot a solo impala it's because he lost a challenge and has no female companion. He can challenge another impala in any group, win the challenge and get a spot in the group.
Essentially strong impalas get to transfer their genes to future generations.
Mahogany trees
Mahogany trees are used to make furniture. The wood is so strong that even iron nails are of no use. The wood pieces are held together by wooden pegs instead of nails to hold together.
Quinine tree for malaria prevention
Quinine trees are very common in these parts. They are a lifesaver and used all over Africa for malaria prevention.
Baobab Tree
Baobab trees are massive and ancient. They are said to live up to 3000years. The famous Baobab tree is also called the Big Tree or the Livingstone's tree. It's located about 2km from the Victoria Falls. They say Livingston, the British explorer+missionary, found Vic Falls for the British and etched his name in the Big Tree. It's now a tourist attraction.
If you'd like to learn more about the Baobab tree, check out this article.
Animal poop study
Likwit showed us how to recognize the various animal tracks and poops. The elephant pops is shaped like a tight cylinder about 4-5inches in diameter. The hippos spray their poop to mark their territory so it's a crescent-shaped spray about 2-4 feet in diameter. The buffalo poop we saw was more like cow poop but smaller in size.
Looking at the number of tracks and poop, it was clear that many elephants, buffalo, giraffe, zebra, hippos, and others roam these Zambian jungles. We only came across a large group of baboons on an expedition. The rest of the animals were gone, probably they knew it would be a hot day and so they headed to the river.
Elephants
The elephants love the trees with the butterfly-shaped leaves. Typically we would see many elephants in in this area. However, the day we visited there were none at all.
The locals love the worms that live on these trees. Even Likwita loves the worms. He so enthusiastically explained all the different ways they eat the worms. But, all I could feel was grossed out.
Is horseback riding safari a good idea? and how to make the most of it?
Horseback safari in the wild is relatively but it's offered in most countries. These are some of our thoughts, advice, and experiences to help you decide if horseback safari is for you. If you've decided to go on a horseback safari, they'll help you make the most of your experience.
Horse-back safari provides a different perspective compared to car, truck, boat or walk. We've taken numerous trail rides around the world – Ireland, Iceland, Mexico, Turkey, Utah, Costa Rica, Panama, Rome, etc. Each of them was unique in its own way. The common thread is that no matter where we are, horseback provides a completely different perspective of a place compared to being in a vehicle, hot air balloon, boat, helicopter or on foot.
Not all stables are created equal. Not all stables treat their horses with kindness, love, and respect. Do your research and never take a trail ride where the animals look sad or mistreated. As you've read above, the company we rode with takes great care of their equine friends.
If you're not familiar with riding, it can seem intimidating and your legs to be very sore after the ride. All stables we've seen provide safety helmets. Be sure to pick one that fits you well or take your own. Just be prepared to exercise and discover new muscles, you never knew existed.
The horses are trained for trails and to follow the group. But take ownership of your ride. Horses have a mind of their own and they can immediately read the riders skills and temperament. Feel confident and take charge, or the horse will take you for a ride.
If you are a seasoned rider, you'll know this is a trail ride. While some places allow for a trot and occasionally a gallop, it's not the thing to expect in the forest.
On a wildlife safari in a vehicle or on horseback, you may or may not see wildlife because animals don't live in cages, they move around freely without informing humans. With a vehicle, you can cover larger distances in a shorter time so there is a higher chance of finding wildlife, although it's never guaranteed. On our horseback safari, we saw very few large animals, because they were probably off to the river.
On a horseback safari, you have no control over what wildlife you'll see. Go with an open mind and enjoy what nature has to offer – that day or that hour. In African safaris, we focus so much on the large animals, we miss the wealth of life that lives in these forests. There are amazing plants, birds, small animals, each with its story. If you don't see big animals, be sure to use the opportunity to learn about the forest.
Typically the horseback safari takes riders through the Zambezi river. But depending on the water level of the Zambezi, it may not be possible. We couldn't wade in the water because the current was too strong for horses to walk in. However, the water level was just right for viewing the Vic Falls. In the dry season, the falls are just a trickle and in the rainy season, the mist covers the entire falls.
With horseback or walking safari, it's possible to reach places where the forest is dense and does not have roads. It feels a lot more intimate with nature and the wild.
Very few people go on horseback safaris. We saw exactly zero people on the entire trail ride, whereas the roads can get quite busy. Would you like to be your yourself or love the company of many other tourists?
In a nutshell, our safari may not be exactly as expected, but we loved every moment. The people, the forest, and the gorgeous horses were such joy to be around. Do share your experience and your thoughts in comments below.
Related Articles
Click and Pin for later