Kenya is an absolutely spectacular country to explore. It's unlike any other place on the planet with its magnificent wildlife and other natural wonders. Within Kenya, Masai Mara Safari is the #1 most popular destination for wildlife viewing and for good reason. When to visit Masai Mara
Masai Mara is the most popular and the most important park to visit in Kenya. It is almost always the #1 place for visitors coming to Kenya. There are many nice hotels, resorts, and camps in Masai Mara and around. Read more about places to visit in Kenya.
This National Park is called Masai Mara in Kenya and Serengeti in Tanzania. But the animals are not aware of the borderline. They come and go as they please. One time we lost track of time and didn't have navigation systems back then. We think we went into Serengeti, but we'll never know. Luckily the hotel staff got worried and sent someone to find us.
When to visit Masai Mara
We've done Masai Mara safaris is all seasons and it's amazing all year round. Broadly there are two different seasons that provide two very different experiences.
The dry season – June to Oct.
The dry season is the time for the greatest wonder of nature, the great African migration when millions of wildebeests, zebras, and others arrive from Sarangeti in the south. It's feast time for all carnivores. The most spectacular sight is at the rivers, where the wildebeests and zebras crossover as a great force of nature while crocodiles, lions, and many others greedily feast.
The skies are blue and vegetation is thin so it makes finding animals and birds easier.
This is peak season, so Masai Mara is packed with tourists and everything is expensive.
The wet season – Nov to May
Even during the low season, there is plenty of wildlife and we've been able to spot pretty much every animal or bird on our wishlist.
The hotels and staff are less busy and less expensive.
Everything is lush green and the park looks beautiful. But it can rain any time. If you're not bothered by rain, it'll be fun.
This is the time when babies are being born, and normal life is happening. We witnessed lion in their many seasons of life – newborns, mating, hunting, feasting, resting, hiding (from a Masai man) – all without interruptions from other tourists and the great big migration.
The question of 'when to visit Masai Mara', has an easy answer – any time of the year, depending on the experience one is looking for.
Accommodations and Breakfast in the Bushes
Masai Mara has many accommodations options – luxury camps, resorts and boutique hotels, each with their own character and charm. All places we've stayed at had great service and wonderful experience.
Do plan to get the breakfast in the bushes, where the staff will take you out to the park and set up a fancy breakfast in the bushes. One time we ate near the Mara river and witnessed hundreds of hippos hanging out below us on the opposite river bank. It was spectacular watching hippos playing, swimming, arguing, lazing, basking in the warm morning sun… just being hippos.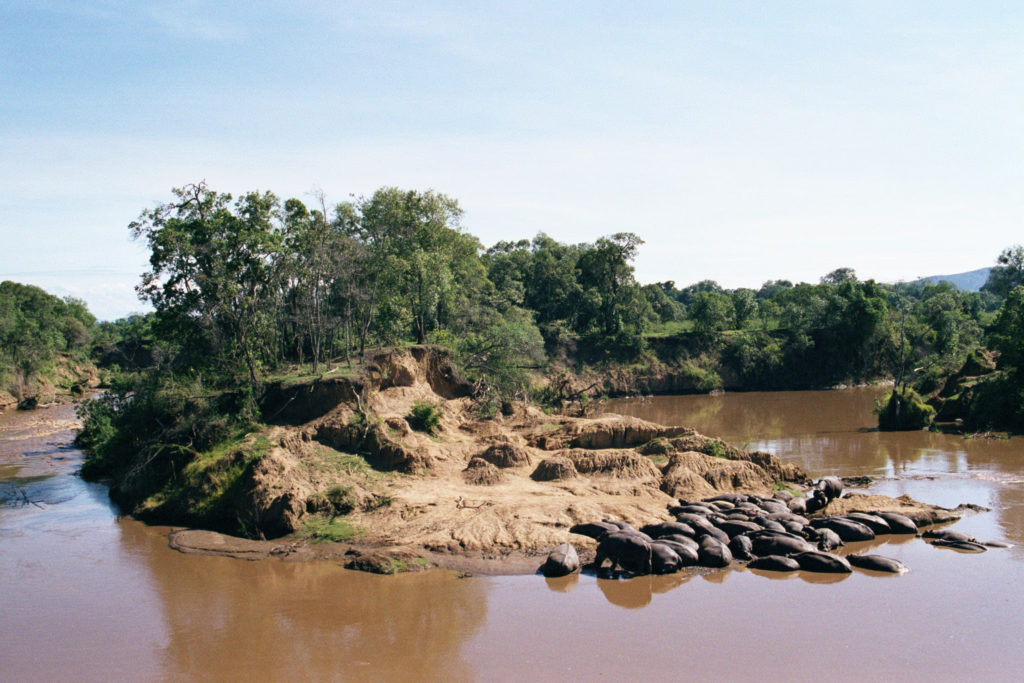 The hotels provide English speaking guides, drivers, SUVs and other options to make our experience memorable.
We found the chefs to be awesome. Upon arrival, we told them about our vegetarian/vegan diet and they made special food for us every day, not just food minus meat, but actual full delicious meals. For anyone with a taste for Indian food, almost any hotel has chefs who can make great Indian food.
Masai Mara Safari – Guide or No-Guide
We've usually visited Masai Mara in our own SUV and driver but once we flew in and used the hotel's transportation and guide. Both work well. There are plenty of animals and birds that we can spot mostly ourselves. However, having a guide is helpful because
Guides know the park like the back of their hand. So, they'll bring us back from any safari, while we've been lost in the enormous park. It's not wise to be lost during evening hunting time.
Guides are in touch with each other, so they share sightings of hard to find animals and birds, making it easier to find them.
We've had good storytellers guides and we learn a lot about the park, it's history, it's future, efforts & struggles and the Masai people. They know answers to most questions as many of them are local Masai themselves.
As the hotel will recommend, be absolutely sure to take the sunrise safari. It's the most spectacular safari drive.
Our Masai Mara Stories
One of my most favorite memories of all time is standing up in the open rooftop SUV as it drove through the savanna towards the deep red sunrise. I can still feel the pleasant breeze on my face and the crisp clear air.
As we were driving, we spotted some zebras grazing at a distance. Close-by was a lion feasting on his kill from earlier in the morning. Hyenas were hanging out waiting for the leftovers. It dawned on us on that daybreak, that unlike us humans lions don't kill and take lives for pleasure. They only hunt for food and when they have their food, everyone knows they are not going to kill for a while. Even the most defenseless, roam freely with confidence.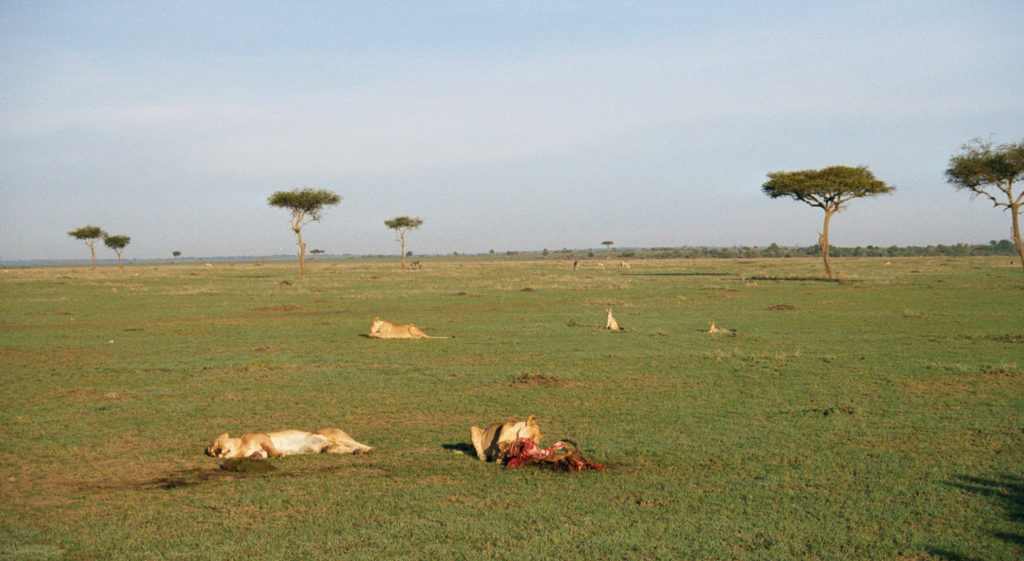 Other wild cats, like leopards and cheetahs, are much harder to spot. They lie in trees and move fast. But, people with trained eyes can find them despite their spots and dense leaf cover. One other thing that gives them away is their piercing eyes that shine in the dark. Sometimes we've seen them crossing streets/paths. Having the camera ready comes in handy because they tend to be shy and very quick.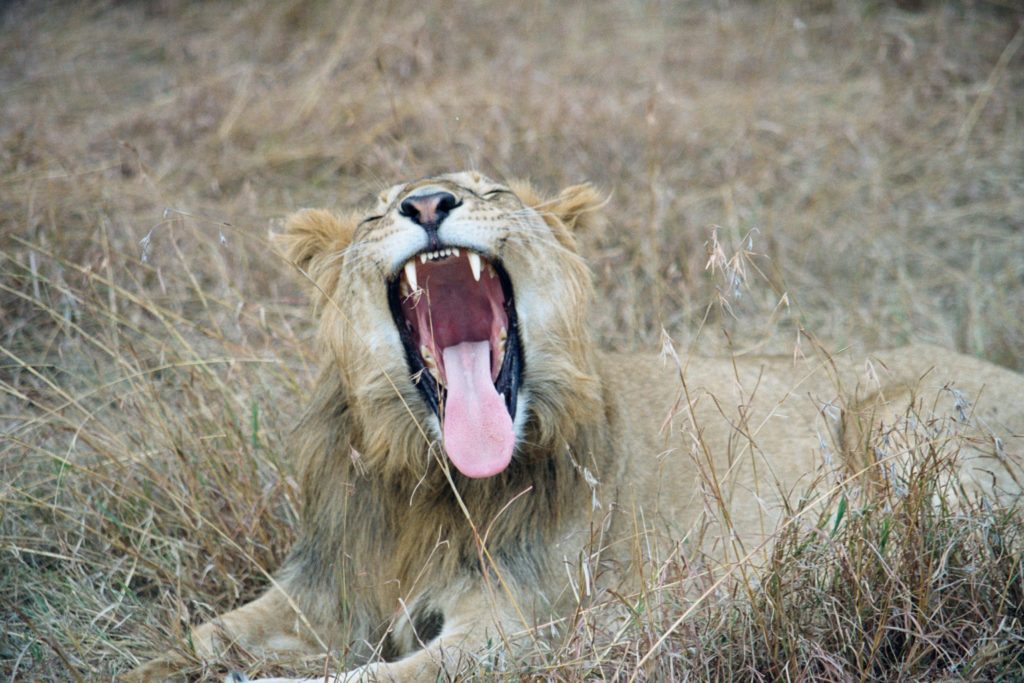 Our cutest lion encounter was of lioness and cubs crossing a dirt road in Chobe National Park in Botswana.
Likely the most stylish of all animals is the majestic giraffe. In real life (versus a zoo) they are much more majestic and divine. Their graceful walk, beautiful run, luxurious coat, or even chewing of leaves from the tall flat-top acacia trees is a sight to stop and watch in awe. I could watch them for hours. The good thing is there are plenty of giraffes in Masai Mara and they hang out in groups. So, unlike some of the big cats, giraffes are easier to find and photograph.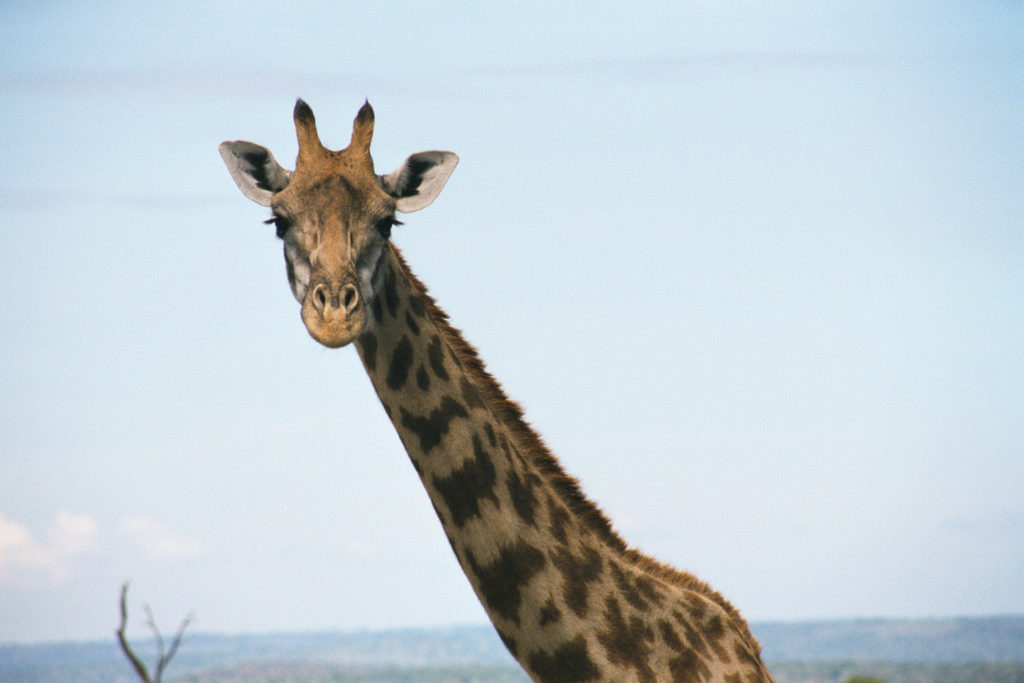 The most dangerous animals in the park are the hippos. They are enormous and very fast. It's best to observe them from sufficient distance. Despite their massive size, they are nimble and beautiful swimmers. They are also very territorial, marking their area with their poop.
Masai Mara has contributed to saving the rhinos from extinction. They are extremely few left in the wild, so even the wild rhino are well cared for by the rangers.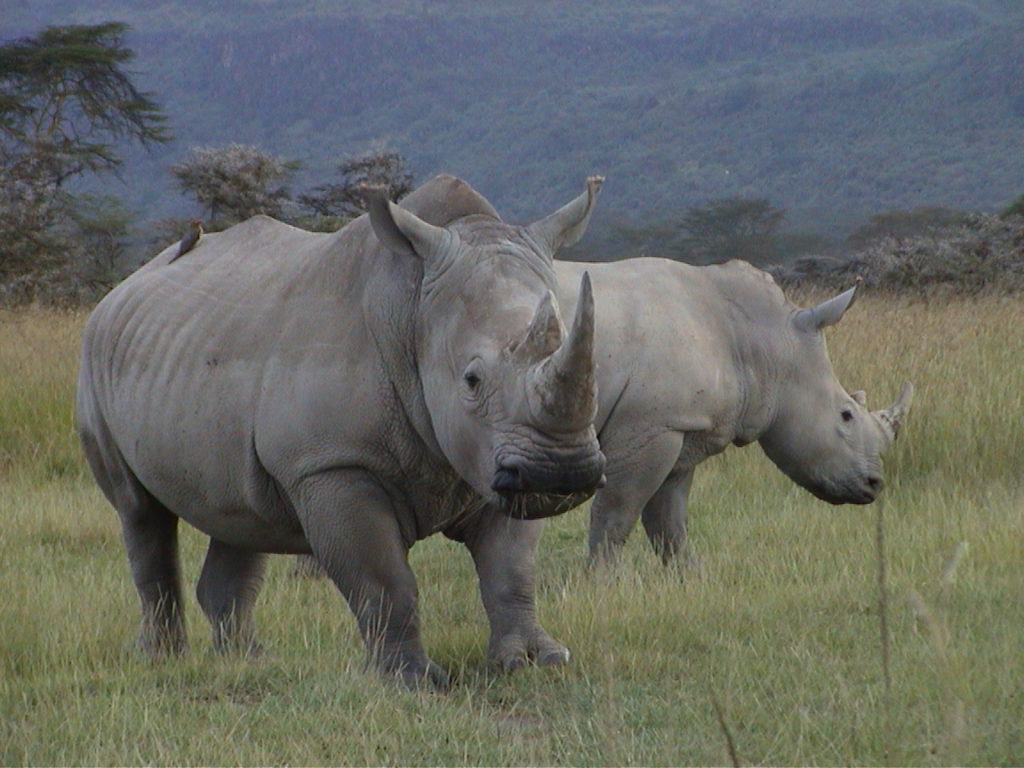 Elephants generally travel in herds led by the oldest female elephant. They are very smart creatures and just so much fun watching them in groups. They are plentiful in many national parks in Kenya and Uganda. But, sadly, they are routinely killed for their tusks by smugglers and poachers. It's an enormously cruel act and an unimaginably painful death for the innocent elephants.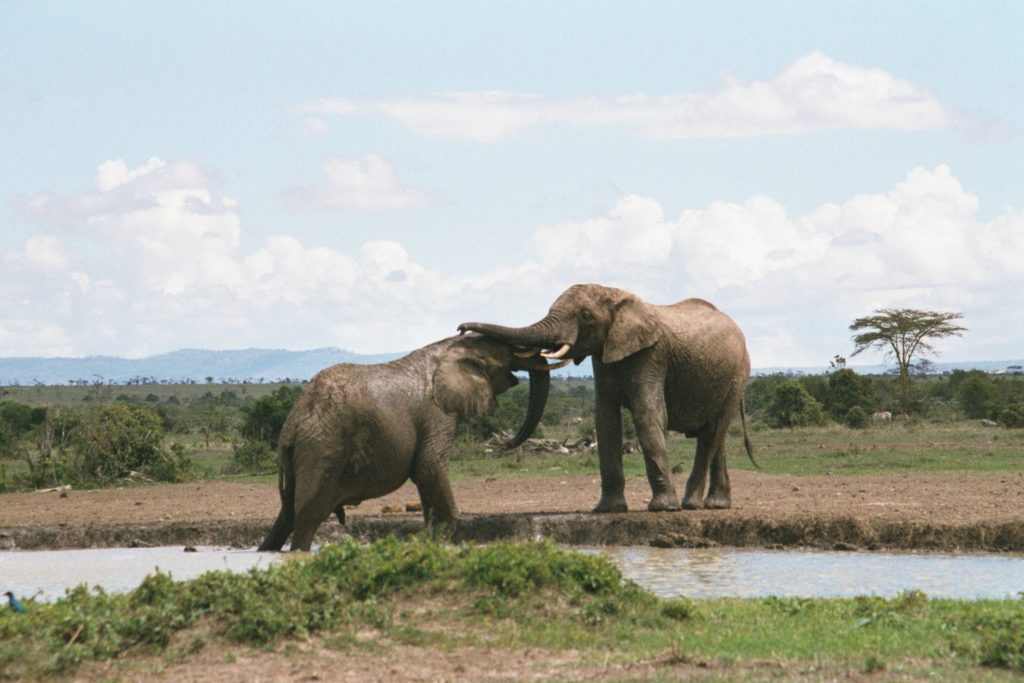 Many of the other beautiful animals like zebra, guzzle, wildebeests, dik dik, duiker, impala, crocodiles, to name a few are relatively easy to spot and photograph.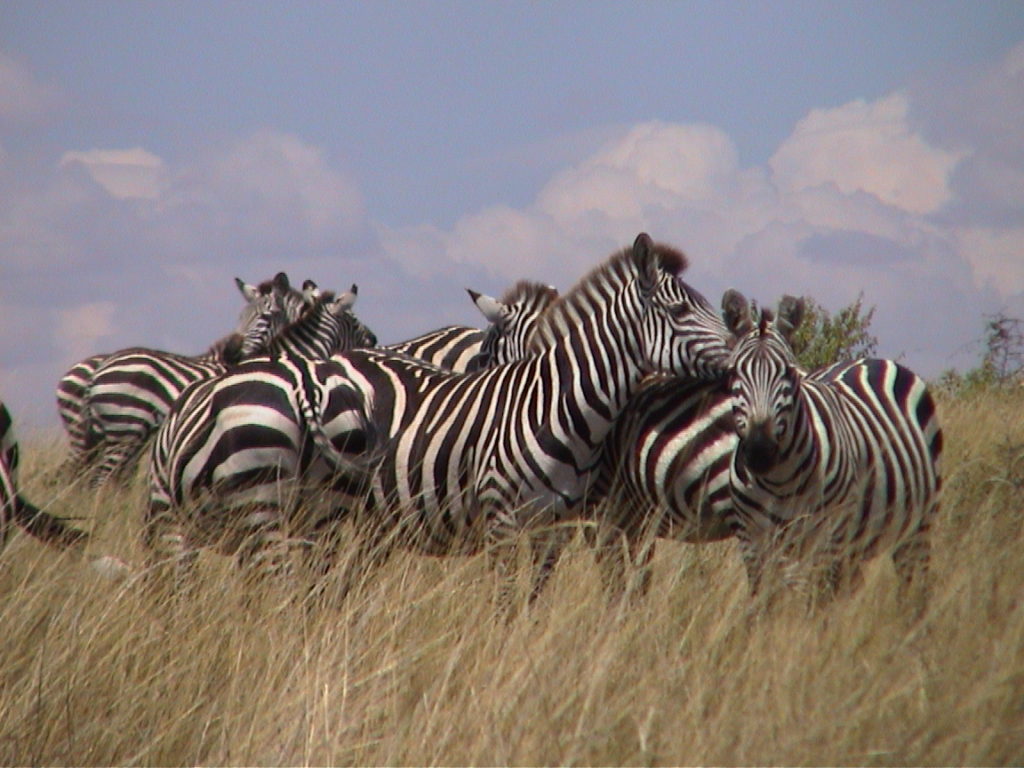 The Masai People
The Masai are a distinctive tribe in Kenya and probably the world. You can tell a Masai by their tall, skinny and strong built. More noticeably, their outfits are very ornate, red fabric and lots of bead necklaces around their neck and chest.
The Masai people have always lived with the lions and large animals. Lions fear the Masai people like antelopes fear lions. This is because, traditionally, a Masai boy would need to kill a lion to prove he was ready to get a girl in marriage. The Masai people killed lions with bare hands and a piece of wood carved into a lethal weapon.
The Masai people are also known for their long distance running skills and are on the world stage alongside Kenyans of other tribes.
Poverty is still extensive in their communities and the plight of women is sad. So, many NGOs are working diligently to provide education and growth opportunities for the Masai people. Many Masai people work in the tourism industry and organize visits to the Masai settlements.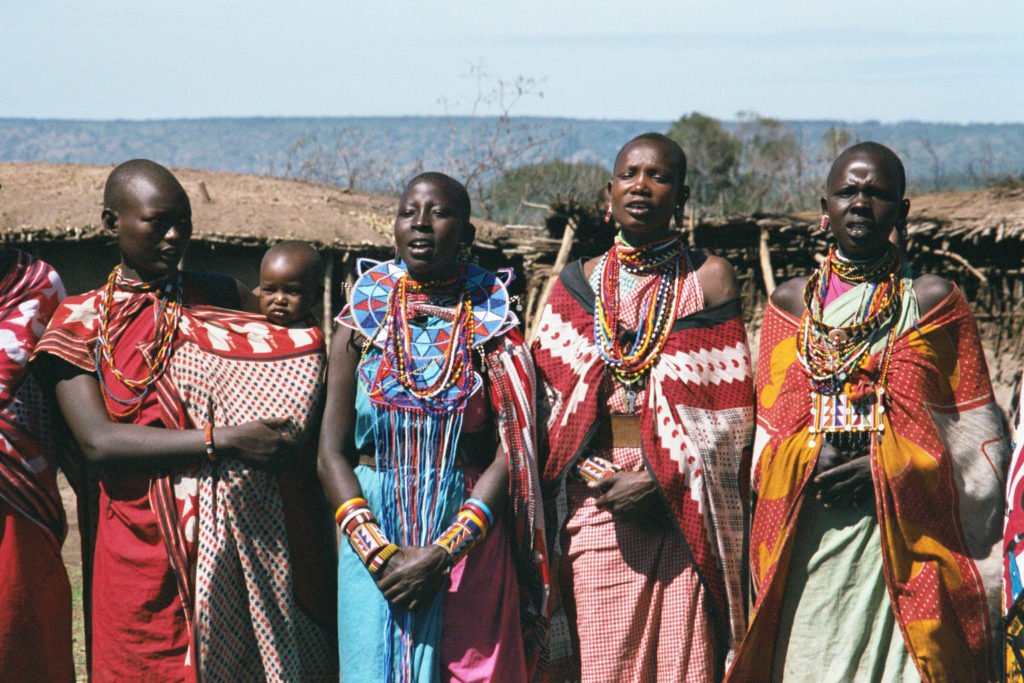 The Masai settlements are temporary, they live in one location for a couple of years. Then, they burn it all down. They clear another patch of land and build the huts and animal shelters all over again. It's one way to do spring cleaning.
Tips for Masai Mara Safari
Be sure to carry your passport when visiting Kenya's national parks. They will likely be checked it at the hotel reception and the National Park entrances.
Pricing for non-Kenyan nationals is much higher than for residents. Sometimes, non-Kenyan citizens working in Kenya will get the low resident prices.
When in Masai Mara be sure to experience at least these – a pre-sunrise safari, breakfast in the bushes, the Big Five (lion, leopard, rhinoceros, elephant, and cape buffalo) and visit a Masai village.
Learn the common phrases and words of Swahili. It'll go a long way in connecting with the extremely friendly Kenyans and shopping.
Kenyans are in general very happy people. It's normal for random strangers to greet each other like they are lifelong friends. Everyone smiles and greets very enthusiastically.
You'll have many accommodation choices in all price ranges and service levels.
Have fun and don't worry.

Hakuna Matata
Related Articles