I was blown away by the Portuguese blue & white azulejos art in Porto; black & white pavement designs in Lisbon and Belém; and exquisite 3-D tile art of Sintra. As everyone says, tiles in blue, black and every other color adorn pavements, churches, house walls, shops, museums, palaces, and every other structure in Portugal. They are absolutely everywhere. No wonder Portuguese tiles are famous the world over for their beauty and variety.
To learn more about the art, we joined a workshop in a Porto art studio and painted our own blue tiles in the traditional Portuguese style. This is my attempt to share pictures of Portuguese azulejos and share all about the tile painting workshop we attended.
A Quick History of Portuguese Tiles
I had assumed that these beautiful tile designs originated in Portugal. But no! The tiles were originally Arabic and later brought from Spain. They were also made in the Portuguese colonies. But, everything changed with the historic earthquake of 1755 when much of Lisbon was destroyed. Marquês de Pombal, the then minister, took charge to rebuild an earthquake-resilient, stronger and more beautiful Lisbon. The reconstruction incorporated gorgeous tile designs and everyone wanted more tiles. With the massive surge in demand, many tile experts moved to Portugal and locals learned the art of ceramics and tile work. Portuguese tile expertise blossomed and has since been known worldwide.

Some Highlights of Portuguese Tiles
As with any fashion, it became the norm for every building to be adorned by beautiful azulejos of Portugal. There are hundreds or tile designs in Porto alone. We took pictures of a few but there are teams of people curating catalogs of tile designs of Portugal. Here are some examples, with more details to follow later in the article.
An artist busy at work in Sintra

His tiles on display in the store next door.
A small rest and drinking hut in Sintra's Pena Palace gardens is covered with tiles.

Pavement tiles outside historic Igreja da Madalena (Magdalene Church).
Azulejos Workshop in Porto
Having seen so many azulejos of Portugal over the prior 4-5 days, we were itching to find a workshop to try our hands at this beautiful tradition. Luckily, Francisco Pessegueiro, a ceramic artist, was able to organize a workshop for just the three of us. I'm ever so grateful for that.
We joined a tile painting workshop with Francisco at his studio. The class started with a discussion on a variety of tile designs – old vs. new designs, single vs. multi-color styles, 2D vs. 3D designs. The most popular and iconic works in Porto are made with just one ink – cobalt blue.
The old heritage tiles have recently earned a protected status in Porto. People can't just pull original tiles from walls or damage them. Therefore, artists are now creating replicas of the old tiles. Francisco acquired some beautiful replicas to show in his workshops.
Tiles, Colors and Mixing
We started with white tiles that were coated with a raw glaze. We then used the traditional cobalt blue color to paint the tiles.
Azulejos art requires a special kind of ink that can withstand a few thousand degrees Fahrenheit. At high temperatures, the true color of the ink is revealed. The ink is extremely concentrated in its natural state. So, before painting, the ink needs to be mixed with a lot of water to get the correct shades of blue. Too much water will make the blue too light, and too little water will turn the blue to black.
Like an alchemist, Francisco mixed the paint with water to create two shades for us – a light and a dark blue. I can imagine artists that painted the São Bento train station had hundreds of shades as they made the gorgeous designs out of one color.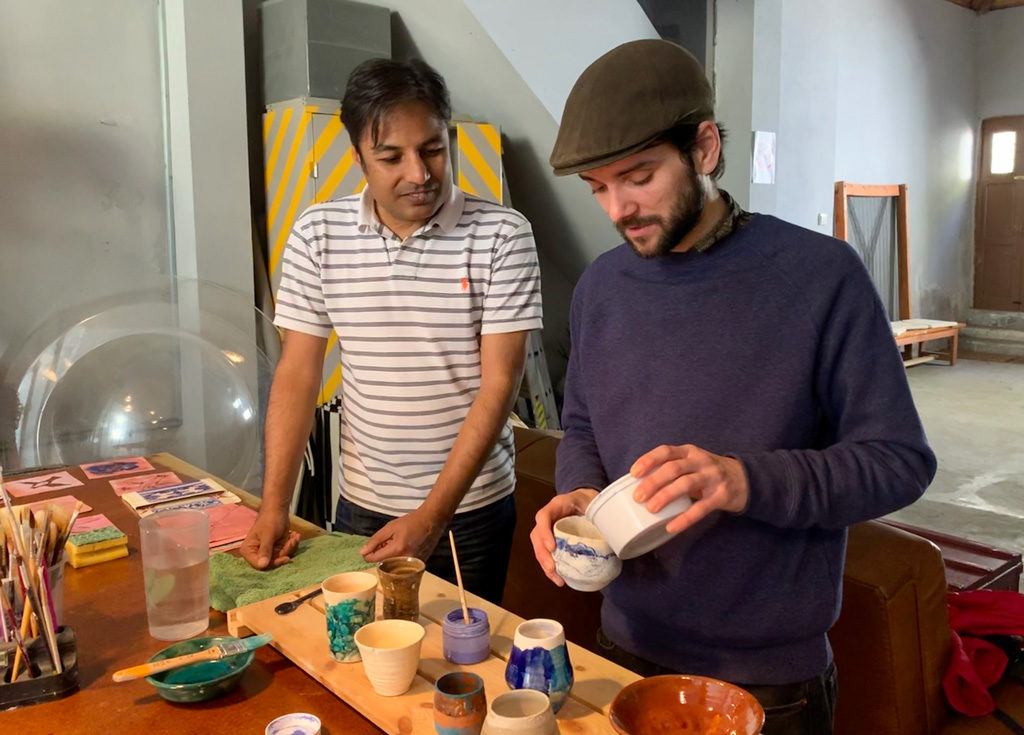 After the tiles are painted, they are baked at 1020º in the kiln to get a shining look from the melted glaze and the blue pigment.

Azulejos Painting with Stencils
We painted 2 tiles each. Our first tile was made with stencils which we chose from Francisco's spread of designs. Based on the design, we picked 1, 2, or 3 stencils to layer different shades of blue. We finished up the tiles by blending, highlighting, and scraping color with an array of tools.
Symbols and Freehand Design on Portuguese Tiles
For our second tile, we chose our own symbols, dot stencils, or freehand designs. Francisco showed us many techniques with brushes, charcoal doll, pins, scrapers etc to get the effect we wanted. Most of all, as we worked on the tiles, he gave awesome ideas to incorporate. He encouraged us to try out techniques on another tile before applying them to our final product.
Baking and Curing Painted Azulejos
Once we were done making our tiles, they needed to be baked. The studio has a small and a tiny kiln. The tiny one is perfect for a small number of ceramics, and it cools down a lot faster than the bigger ones. When our tiles were painted, Francisco loaded them in the kiln and set them to bake for the night.
We picked up our tiles once they had baked and cooled. Francisco packed them securely in an ingenious packaging. We took the azulejos with us on our flight back home and they arrived in perfect condition. He can also ship the tiles anywhere in the world, for a fee.
About Francisco and Silver Studio
Francisco is an artist and a graduate from ceramic school. He rents studio space in Silver Studio near Bonfim area, not too far from the center of Porto. You can find his class on Airbnb Experiences or you can reach him directly via his Facebook page.
Silver Studio is a project initiated by two brothers – Andy Calabozo and João Garcia. Their vision was to create a multidisciplinary co-work platform that would allow creative artists and professionals to share their ideas and experiences. Currently, Silver Studio hosts professionals in the areas of illustration, painting, ceramics, photography, video, and editorial design, among other collaborators. They often promote initiatives such as workshops, concerts, and yoga classes.
A Closeup of Portuguese Tile Designs
If you've seen a picture of Lisbon or Porto, you must have admired the Portuguese tiles. There are hundreds or thousands of tile designs developed over the centuries, each design unique and beautiful in its own right. Here a few pictures we took as we explored Lisbon and Porto.
Intricate 3D tile on a ceiling in Pena Palace

Pena Palace captured on tiles

On a building wall

Blue azulejos on a building

Tile designs on a rock near São Bento

Dark blue with white tiles

Azulejos on the walls of Pastéis de Belém

In Sintra's Pena Palace

On the exterior walls of Pena Palace

A display of multi-color azulejos in Sintra.

Capela das Almas – Azulejos Art in Portugal
Capela das Almas, or Chapel of Souls, is located on Rua de Santa Catarina in central Porto. It stands out with its most ornate blue tile-art clad walls. Its grandiose panels of blue and white Portuguese tiles tell stories of the saints of Portugal. The tiles were painted by the artist, Eduardo Leite, in the early 20th century in a style representative of the classic 18th-century, when the church was originally built. Some famous scenes included in Chapel of Souls are Catherine's martyrdom and the death of St. Francis.
At Capela das Almas

Capela das Almas
Black & White Moasic Pavement of Portugal
All the pavements in Lisbon and Porto have exquisite inlay designs with black tiles against a background of white tiles. As we learned from our walking tour guide Graça (of City Lovers) – originally, the pavements were made with a white rock similar to what we saw in Dubrovnik. When it rained, these slippery rocks became dangerous for pedestrians. To improve safety, someone came up with the idea of adding black basalt rock to introduce friction. Soon, the idea caught on and agencies started comissioning beautiful pavements (I'm not sure of the accuracy of this story. If you know more about this please do share in the comments below).
A pavement in Lisbon

Pavement tiles in Rua-Garrett

A pavement design in Porto

Pavement design in Belem near Pastéis de Belém

A simple utilitarian black & white checker design in Porto

Pavement with a flower design.

Pavement in Rua Augusta

Wave designs in Belem's waterfront pavements

Tile design in our Airbnb apartment
Lisbon, like any old city, has many squares (or largos in Portuguese) with historical significance. These are a couple of the significant squares in Lisbon:
Largo do Chiado is named after the legendary poet, António Ribeiro. It was once a literary center and is now the fashionable center of Lisbon. More information is here.
Praça Luís de Camões is a quaint city square and popular meeting spot with a monumental statue of the legendary 16th-century poet.
Largo do Chiado in Lisbon

Praça Luís de Camões in Lisbon
São Bento – The Mindblowing Train Station
As the sign outside the station says – The train station of St Bento was built at the beginning of the 20th century, based on a plan designed by the architect Marques da Silva. In 1916 the large hall was totally refaced with tiled panels by painter Jorge Colaco.
The main hall of São Bento train station is lined with panels of Azulejos paintings that depict the history of transportation, ethnographical aspects and famous events in Portuguese history. The paintings in the upper 1/4 section are multi-colored while the lower 3/4 section is painted in hues of blue.
Posing in São Bento

A corner of São Bento
Music and Sunset at Miradouro de Santa Luzia
Miradouro de Santa Luzia was our favorite sunset lookout point in Alfama district of Lisbon. The lookout point is located just beyond the garden next to the church of São Brás. The garden is lovely with flowers and many tile designs. The long lookout area, rather an outdoor balcony has walls and seating, ornately embellished with Portuguese azulejos. It's easy to get there by the cable car #28 that stops here on Largo de Santa Luzia (street). Read more about it here.
Portuguese Tiles Adorn Homes, Apartments and Offices
As you can see, one of the most striking features of Portugal is its beautiful tile art. Gorgeous tiles are everywhere – in churches, train stations, houses, pavements, on floors, interior walls, exterior walls, ceilings – just about anywhere you look. Here is a gallery of tiles on a few houses, apartments or office buildings that we clicked as we walked by.
A newer looking building in Lisbon

The tile design up close
Related Articles
You'll also love these articles from Portugal –
Subscribe and follow us for more articles on Portigal.
Have you been to Portugal? Are you planning to go? Either way, do leave a comment below on your thoughts about tile art in Portugal.
Pin on Pinterest for Later