While visiting Portugal we enjoyed many uniquely local experiences in Lisbon. I'm excited to share our best memories with you – First, pastel de nata, the most authentic Portuguese food that originated in Belém, Lisbon. Then, Fado music, the quintessential representation of Portuguese saudade. Read along to learn all about Fado in Lisbon, pastéis de nata, vegan pastel de nata, and pastéis de Belém, but more importantly, learn how you can have a local experience through these most authentic and fun things to do in Lisbon.
All about 'Pastéis de Nata' and 'Pastéis de Belém'
Pastel de nata is the uniquely Portuguese dessert. From the moment you land in Lisbon, you'll see pastéis de nata everywhere. All cafes and restaurants sell these mini custard tarts. Looking at chefs rhythmically baking pastries, through large windows of many cafes, we were intrigued. What are they? What are they made of? Are they all the same? How to choose the best pastel de nata? The more we learned the more interesting it got. Here is what we found –
What is Pastel de Nata?
In very simple terms, pastel de nata is a crisp puffy pastry shell, filled with soft custard, and caramelized on top. The trick is getting the right taste and texture – crisp on the outside, caramelized black marks on top with a very smooth and soft center. The texture lasts a very short time after cooking, so it's best consumed soon after it comes out of the oven.
Where do Portuguese tarts come from? What is the origin of Pastel de Nata?
During the revolutions that swept much of Europe, Lisbon was no exception. The monarchy and clergy were removed from their comfort zones and made to fend for themselves. In 1834 monks and nuns of Belèm's Jerónimos Monastery (Mosteiro dos Jerónimos in Portuguese) were thrown out and left with no funding.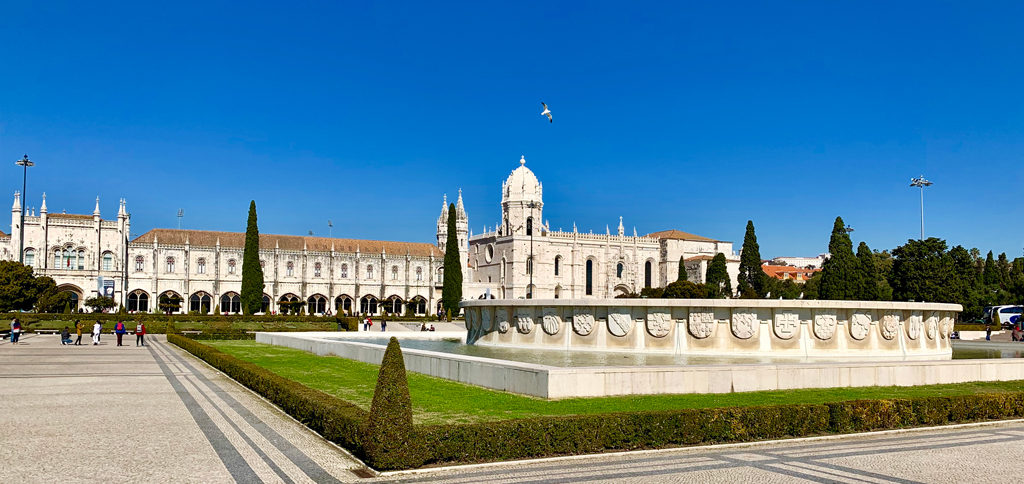 According to local stories, monks used to apply egg whites to whiten their outfits. Instead of throwing out the yolk, they made pastries out of them. After the revolution, looking for a source of income, one monk started to do what he knew best. He started baking and selling the custard cups they made in the monastery from the leftover yolk. The townspeople loved it! With the rising demand, the business-savvy monk launched a shop in 3 years! In 1837 he started a shop not too far from the monastery and called it Pastëis de Belém. Today, it still stands in the same location and the rest is history.
Where to find the original Pastel de Nata in Lisboa?
Pastëis de Belém (located in Belém district near Lisbon), to this day, sells the original pastel de nata. However, there are many variations all around Lisbon, Portugal, and the world. Locals say that none is quite the same as the original recipe. But, all variations in Lisbon are amazingly delicious in their own ways. Eating pastel de nata is one of the most fun things to do in Lisbon. Try them all and leave me a note in the comments below.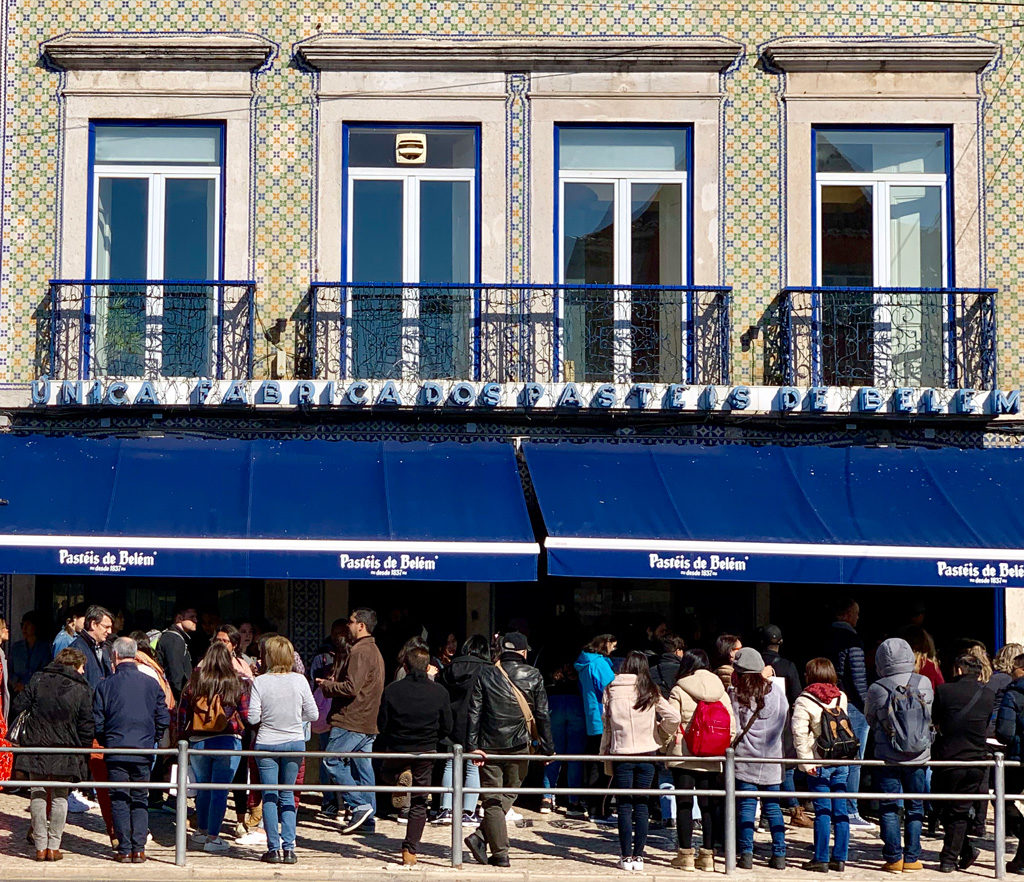 What is 'Pastel de Nata' vs 'Pastéis de Nata' vs 'Pastéis de Belém'?
All these names essentially refer to the same Portuguese tart. Pastéis is the Portuguese word vs Pastel is the English word that means pastry. Pastéis is plural, while Pastel is singular.
'Pastéis de Belém' is the specific tart made in the flagship store of Fábrica de Pastéis de Belém located in the district of Santa Maria de Belém. It has its own name because this is where pastel de nata originated. It is considered distinct from other Portuguese tarts served all around Portugal and the world.
What is the original Pastéis de Nata recipe?
No one knows! Well, only one 70+ year old man knows the full recipe. He is always in café, as we learnt from our server. He is always the first to arrive at the store and greet every single employee, every single morning. He leaves late in the afternoon after saying goodbyes to each staff member.
Three other men know one aspect of the recipe each. But no one knows the entire recipe.
These men are the sixth generation of the original priest who started the now flourishing café. More recently, a younger descendant, the seventh generation is getting involved. He is said to be the 34year old son of the older man.
How many pastries are made at Pastéis de Belém?
It is said that 20,0000 tarts are made and consumed every day in Pastéis de Belém. Each pastel de Belém is hand made, with the original recipe and generally served within the hour of being baked.
If the recipe is a secret, how is it that Pastel de Nata can be found everywhere?
Pastel de nata can be found all over Portugal and the world because people have come up with their own variations. No one has the real recipe. The real recipe for the custard takes all night to make. In Pastëis de Belém, three people know one step of the custard making process each. Every night, the person with the first step comes and does his step. A few hours later the second person does his part and then a few hours later the final step is completed by the third person. No one knows the actual recipe but everyone uses their creativity to come up with their own masterpiece.
How has Pastëis de Belém changed since 1837?
They say the recipe has been carefully preserved by 6 generations, and it is still unchanged. But Pastëis de Belém cafe has grown immensely since it's inception in 1837. Now it occupies nearly an entire block in Belém. The restaurant is a series of halls and outdoor sitting areas with 400 chairs.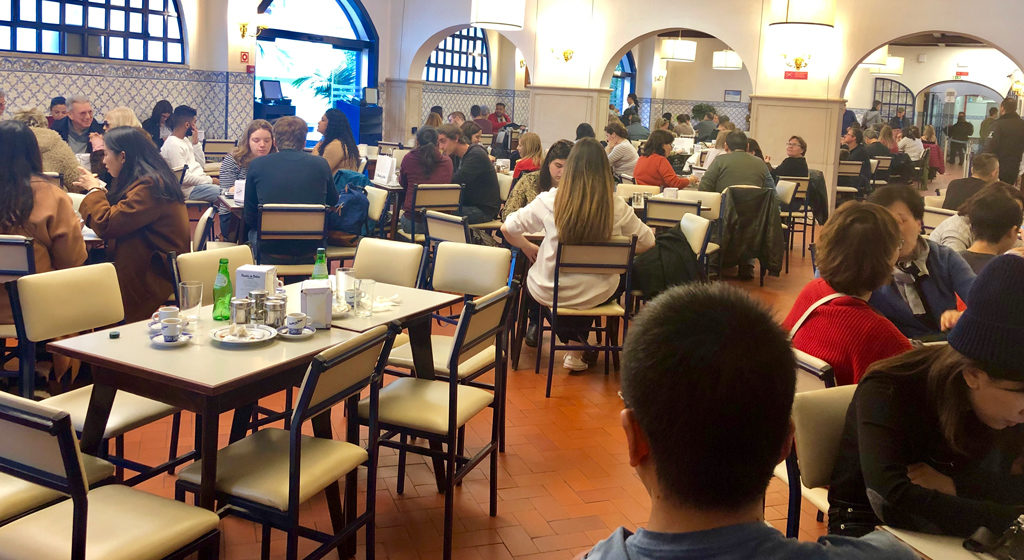 How many locations does Pastëis de Belém have worldwide?
The owners have had offered to franchise the café and spread around the world. Our guide said that a large American company offered to work with them in franchising the concept. The owners want to keep the recipe authentic to its origin and have turned down all offers to open additional locations.
Today, every tourist must visit this one local shop – Pastëis de Belém. Also, most locals come to the shop often. We heard about it from our Uber driver as we landed into Lisbon. She had just made a stop there to pick her daily snack.
How to eat Pastëis de Nata?
Pastëis de nata are best eaten straight from the oven (after it has sufficiently cooled down). Most people sprinkle powdered sugar or cinnamon dust on top. It is best enjoyed with a strong Portuguese espresso coffee.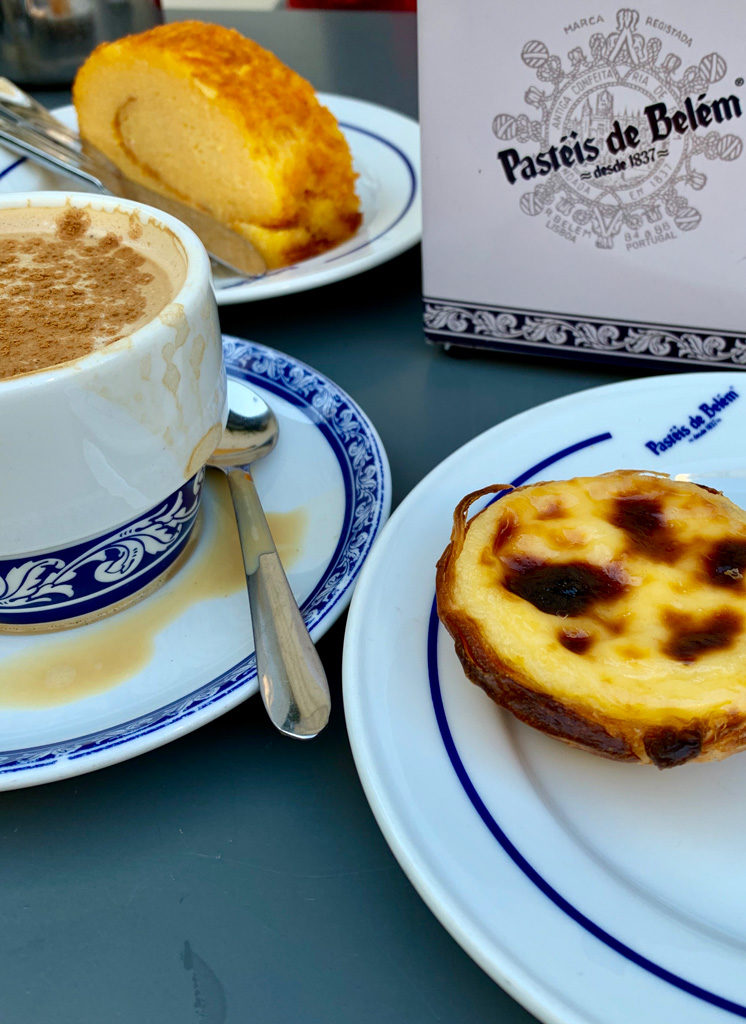 How long does Pastel de Nata keep?
They say pastëis de nata can last a couple of days and can be made crisp again in the oven. I doubt it'll taste nearly as good. We finished all of ours in one sitting so I can't attest to it.
What is the best time to eat Pastel de Nata?
Our guide said that older people like his father eat a pastel de nata every morning with their strong espresso. But, people eat them at any and all times of the day – breakfast, lunch, dinner or snack.
How much do Pastëis de Nata cost in Lisbon?
Another thing that's constant about pastëis de nata is its affordability. They are ubiquitous and inexpensive. In Belém, the price is steady at €1.10 so every one can afford a good pastel de nata any day.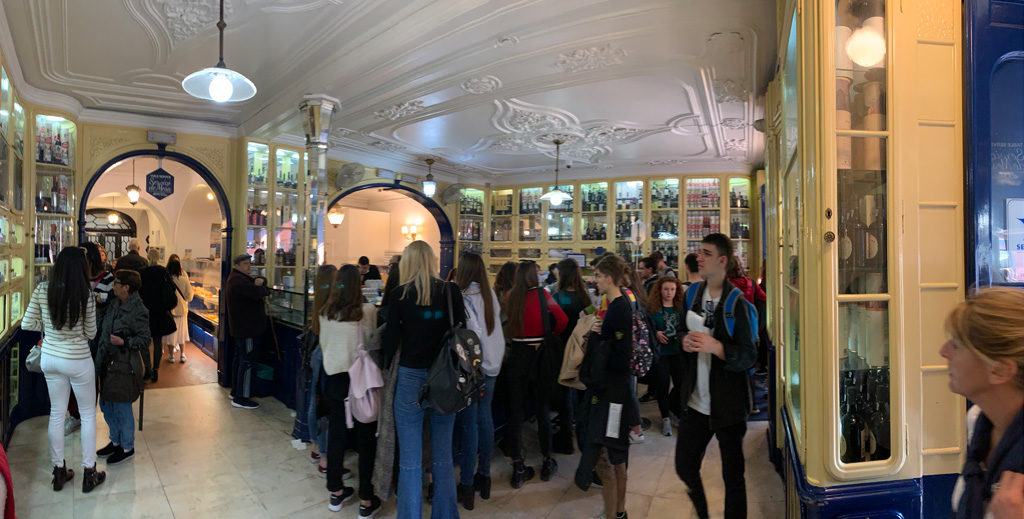 There are 4 Starbucks in Lisbon. The government has mandated that Starbucks keep the price of espresso at the local price level of about €1. That way, Starbucks won't be able to control the market price of this fundamental Portuguese necessity and everyone will be able to afford a good espresso.
Where did egg tarts originate?
As the story goes, when Macau was a Portuguese colony, the rulers brought over their favorite pastel de nata from Lisbon. In Macau the desert is called egg tart and not pastel de nata. Egg tarts are now extremely popular in China, Hong Kong, and Macau.
The Asian version of the desert has subtle differences in texture and taste. Thats because the Asian egg tarts are made from evaporated milk and whole eggs whereas the original Portuguese pastel de nata are made with heavy cream and egg yolk
In the 1940s the egg tart arrived in neighboring Hong Kong. In more recent years the egg tart has spread to China. Read all about the Macau egg tarts in Stories by Soumya. Its fascinating to see the journey of this little pastry across Europe and Asia!
Bake your own Vegan Pastel de Nata
If you're a vegan or allergic to eggs or don't eat eggs for any reason, you can't eat the regular Portuguese egg tarts i.e. pastel de nata.
Not to worry, there are several vegan options! But there is one special vegan pastel de nata that's amazing! You can learn to make vegan pastel de nata and eat them fresh and crunchy with tea.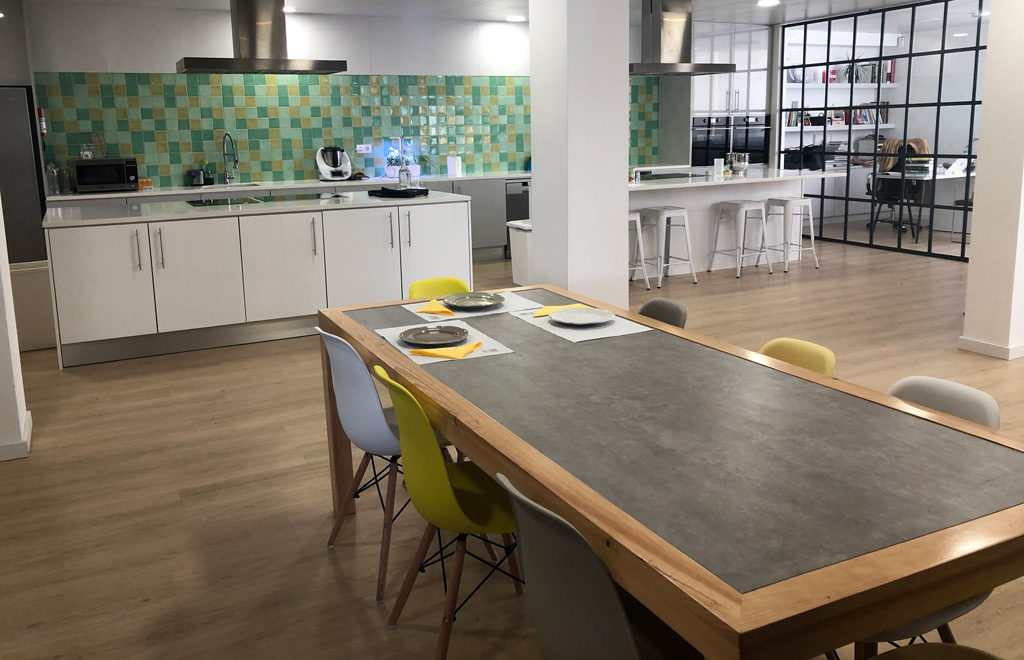 We took the class organized by FoodieBookings.com. Ana has worked her culinary magic to perfect the recipe and get as close to the original Pastel de Belém as possible. Ana is an amazing chef, researcher, scientist, foodie, teacher, and a lovely person. If you're in Lisbon, whether or not you're vegan, I recommend trying your hand at making delicious pastel de nata, other Portuguese and non-Portuguese dishes with Ana and FoodieBookings.
During the baking class, you'll learn a ton more than just the process for making pastel de nata. You'll learn baking basics and advanced techniques by applying them to achieve perfection. We learned how to make puff pastry from scratch, what utensils to use, where to buy them, how to use salt to get the right textures and shine, how to best use the oven… and so much more. If we had more time we would take all their classes.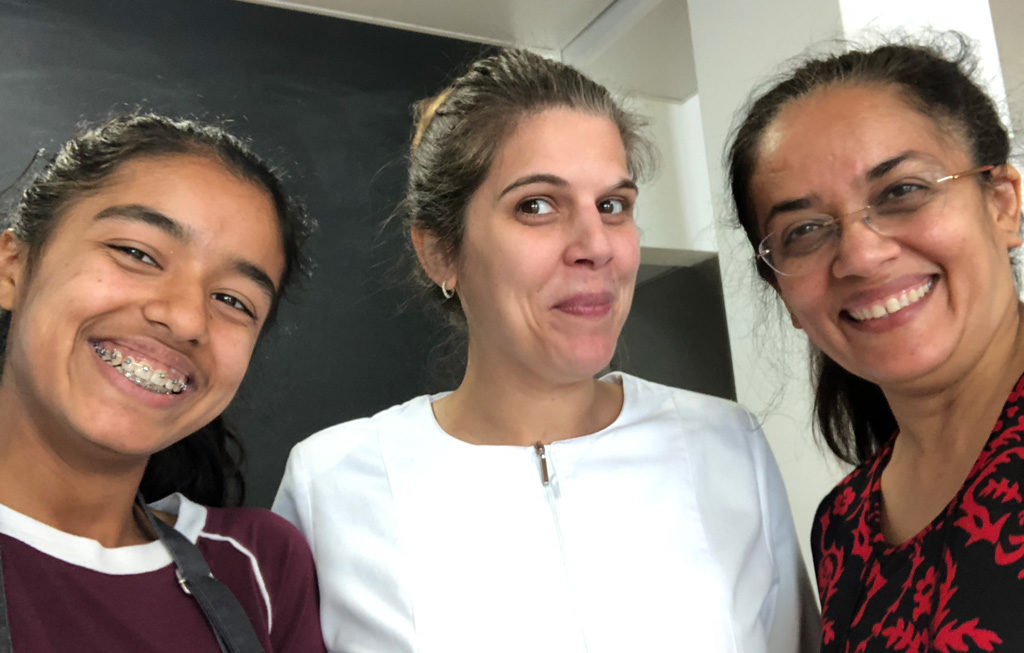 Fado, the Quintennial Portuguese Music
Fado is the traditional lament of the soul, originating in Lisbon. The mournful music is raw and touches the core of one's existence. It's hard to put down a description of what Fado music really is. Our native Lisbon guide, Graça, tried very hard to explain, but struggled. The best way to understand is to go down to Alfama neighborhood, get a seat at one of the many restaurants that play hours of Fado music over dinner and experience the music like local and famous musicians do. It's definitely one of the most fun things to do in Lisbon and Portugal.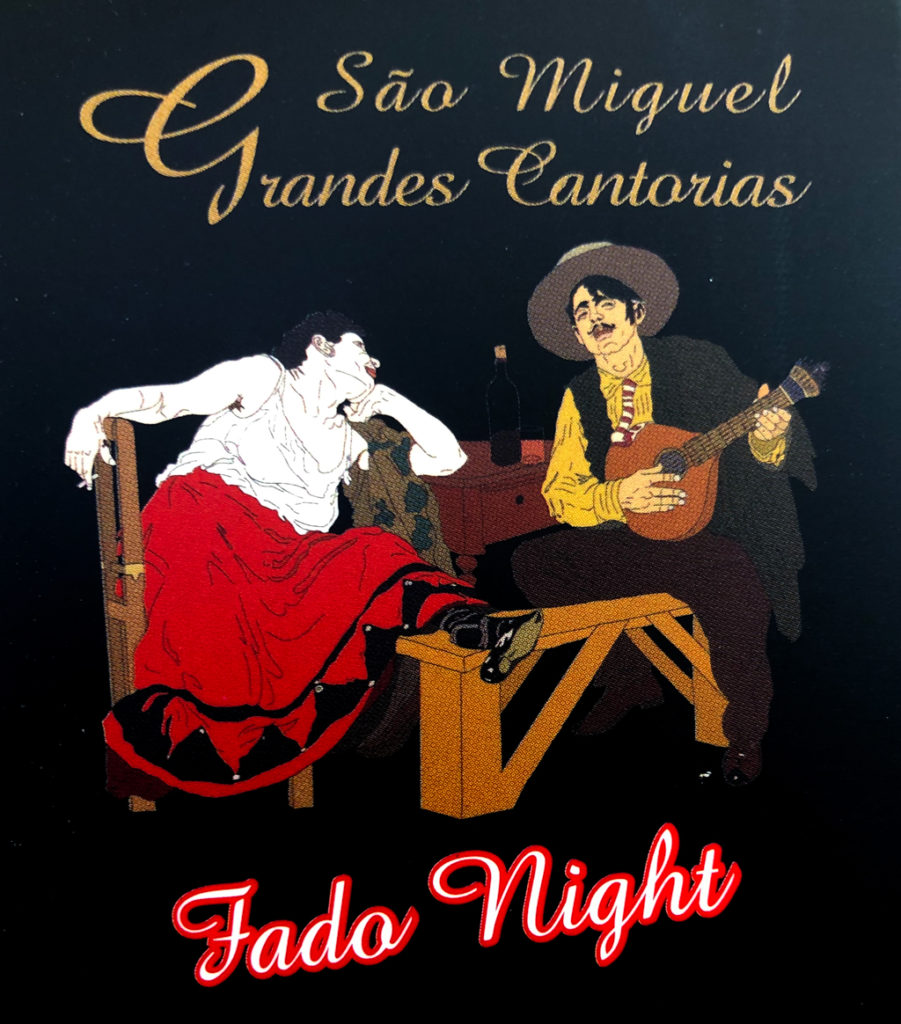 Madonna moved to Portugal a few years ago, as was covered in the news. Accorings to the locals – when she's in town, she frequently comes over to Alfama's Fado joints in Lisbon to listen and sing with the locals.
What is the best place to listen to Fado music in Lisbon?
When in Lisbon, we stayed in Alfama neighborhood. It's the heart and soul of Fado music. As we walked around, we saw signs Fado everywhere. In the evenings the locals come out and you'll hear sounds of fado music all around the Alfama neighborhood. We could hear soul touching music from restaurants in just about every little alley of this beautiful old part of Lisbon.
Fado Singer in Alfama, Lisbon

Fado Performance in Lisbon
Some restaurants offer Fado music dinners with a local menu and 3 hours of Fado music in Lisbon. Alternatively, you can listen to Fado music at a bar with appetizers. Most places have a minimum spend requirement.
Our guide Graça, of City Lovers walking tours, highly recommended Tasca do Jaime in the Alfama for its authenticity and popularity amongst the locals. We went to the one across from it called São Miguel d'Alfama and it was awesome.
What is the origin of Fado Music?
Fado music originated back in the 1820s. When Portuguese rulers were sending voyages around the world, many sailors were gone for very long periods of time. Many died on the long expeditions. Their wives waited at home for months or years at a time. They made songs as they waited, lamented, yearned for their husbands. They waited in agony and sang songs of their daily lives. The music is profoundly melancholic and expressive of the feelings of lost sailors and widowed wives that defined much of the 1820s in Portugal.
Evolution of Fado Music in Lisbon
Originally women played Fado songs at home and it slowly moved to bars where prostitutes sang for sailors. Later it became music for the upper class in lounges with pianos. It started to become popular again in the 1900s.
There was once a prostitute named Maria Severa. She had a deep romance with a noble but when he didn't return, she made songs waiting for him. The songs touched many. Soon, famous people started singing her poems on the streets. Since people couldn't carry the piano on the streets, they improvised with guitar-like instruments.
However with the censorship in the 1920s, music was all but banned in Portugal.
Once again, Fado music saw its resurgence in the 1990s with a famous movie, radio, and discovery in the music circuit on the world stage. Today people sing fado everywhere, although its most popular in cafes, restaurants, and bars.
The performers now use 12 string guitars, violas, and occasionally a small 8 string bass. They sing songs of love, of missing, longing, the nostalgia of yearning and of daily activities.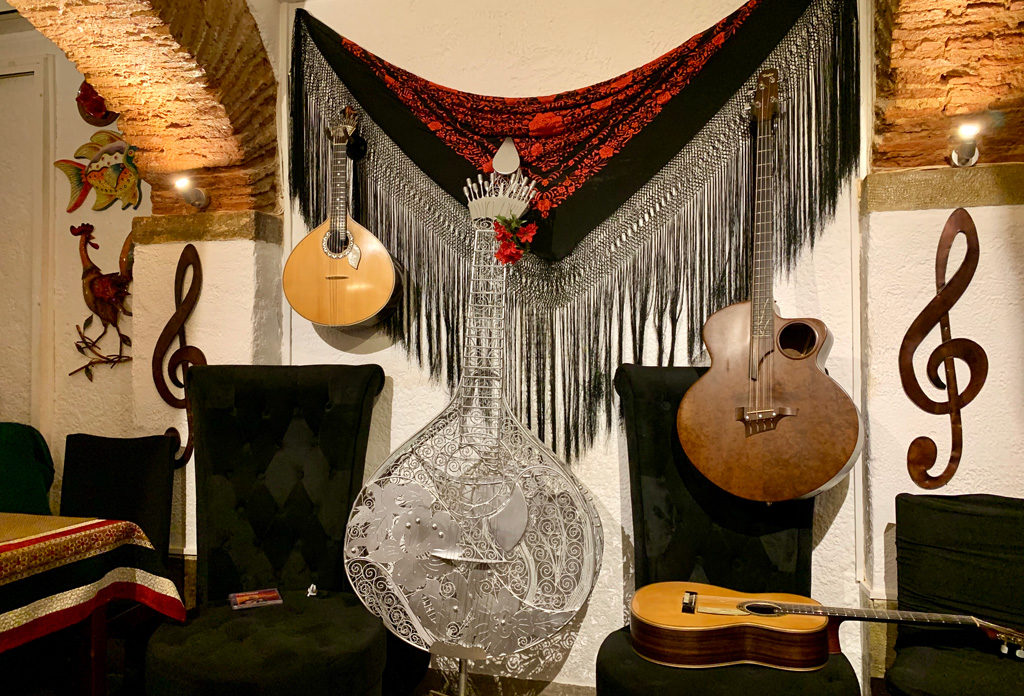 In Portugal, Fado represents a way of living. It's the quintessential Portuguese experience. It's best described by the Portuguese word saudade, a very nostalgic way of living and singing.
In a Nutshell
Portugal has incredible experiences to offer with amazing – food, music, culture, architecture, art, tiles, history, beaches, wineries, hikes and a lot more. We found listening to fado music and baking pastel de nata to be two of the most fun things to do in Lisbon.
You should try them too and leave me a note below.
Related Articles and Links
On Pinterest